Was Michigan's presidential vote rigged, hacked, or otherwise tampered with?
The 2016 election, more than any in recent memory, invoked cries of "fraud" or "rigged" by partisans from across the political spectrum. Some of these issues will be discussed for years, including the primary process, the rules for who is allowed to vote, how we verify voter eligibility, and who is behind the release of hacked emails.
While these are legitimate and important issues, the very gravest threats to our democracy have to do with what happens on Election Day. The recount petition submitted to the State of Michigan earlier this month by Jill Stein goes directly to the heart of this threat, alleging "mistakes, fraud, or tampering" in the process of counting votes.
To investigate these claims, we performed an analysis of county-level vote totals in Michigan. Since our state runs elections in each county separately, any tampering with the ballots or the vote counts would have to be done separately for each targeted county. Our forensic analysis of this voting data, summarized in a letter sent to the Secretary of State on December 16th, did not uncover any evidence of tampering.
What can we tell by looking at county vote totals? We can tell two things. First, there were no "outliers" that were very different from other counties in a way that couldn't be easily explained. Looking at the distribution you see three "outlier" counties with unusually low Republican vote shares (and correspondingly high Democratic vote shares). On closer examination the outliers are Wayne, Washtenaw, and Ingham Counties, which are reliably dominated by Democrats in presidential elections — no surprise there.
With no outliers that surprise us, we can all but rule out the most ham-fisted type of tampering typically reserved for banana republics: manipulating one or two counties to drastically alter their vote share. In fact, most counties had a similar partisan outcome in 2016 as they did in the 2012 presidential election, though Mr. Trump consistently outperformed Mr. Romney.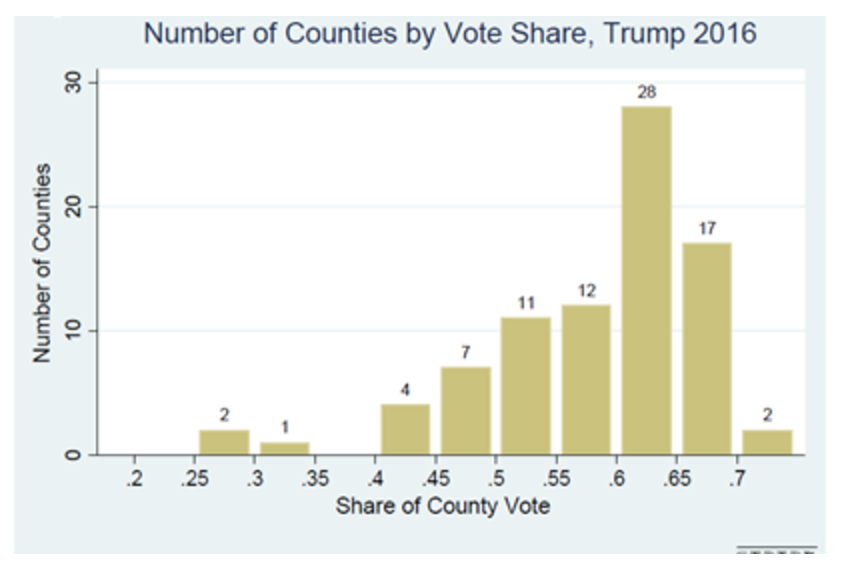 Furthermore, none of the county vote shares shifted by an unusual amount toward the winner — some counties voted about the same way they did last time, but most counties shifted a bit toward the Republican candidate.
Second, looking at the distribution of county vote shares — the whole range of outcomes of all counties looked at together — reveals no anomalies, surprises, or suspicious outcomes. The distribution shifted toward the Republicans, and the shape of the 2016 county vote share distribution had similar features to that of the 2012 election. (This is confirmed by statistical tests we describe in our letter.) Put in layman's terms, we looked for evidence that a subset of counties had unusual voting behavior that "broke the pattern" set by the rest of the counties, and did not find it.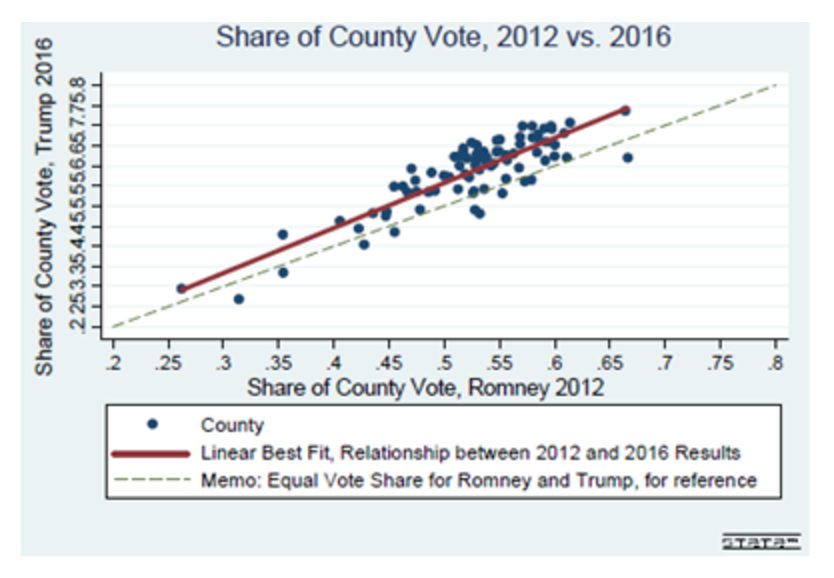 Taken together, our analysis finds no evidence that there was a county or set of counties that look like their vote totals were altered or otherwise tampered with. Without additional, specific evidence of tampering, looks like we just had a clean, close election where the voters surprised the pundits and pollsters.