How we make the call
A false statement about a candidate's position or a fact involving policy. It's one thing to point out differences between records. It's another for a candidate or third-party group to present false information or inaccurately portray a candidate's political record.
A statement that distorts a candidate's record or a fact involving policy, or which omits a fact that is essential to understanding a candidate's position.
A statement that may be generally truthful, but lacks context and could easily mislead or be misconstrued.
A statement, however strident, that is based on accurate facts.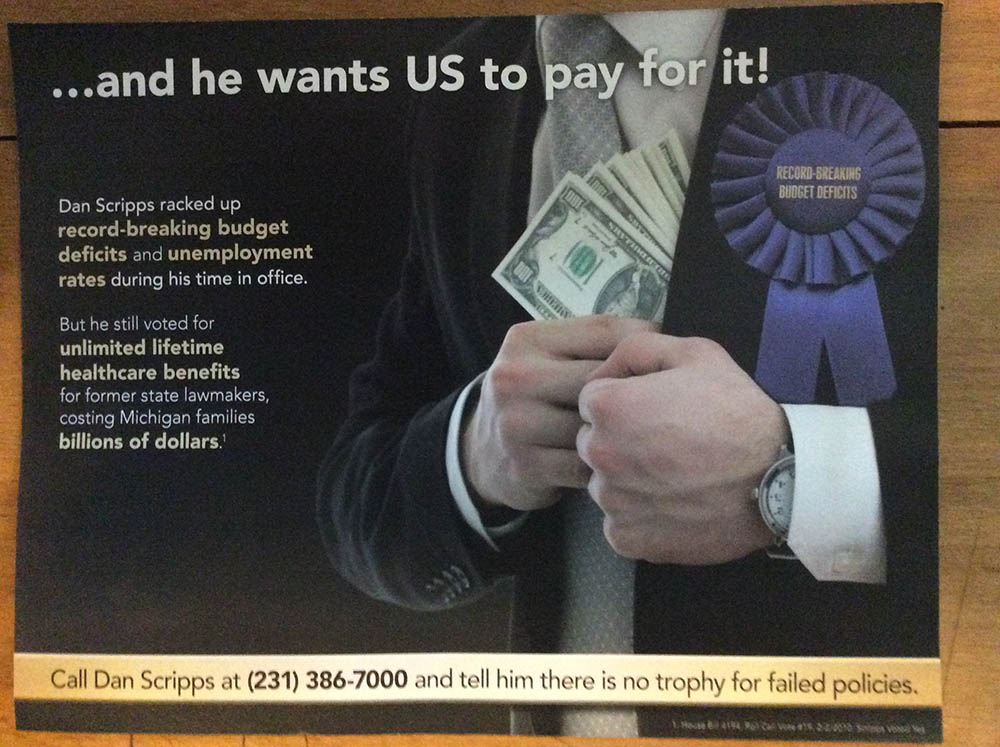 | | |
| --- | --- |
| Who | Michigan Republican Party |
| What | Flyers in 101st District State House race |
Democrat Dan Scripps, a Northport attorney and former one-term legislator, and Republican Curt VanderWall, owner of a lawn care and pest control service (Turf Control Mole Man) in Ludington, are running for the Michigan House of Representatives in the 101st House District, which covers Mason, Manistee, Benzie and Leelanau counties. The current representative of the 101st District, Ray Franz, R-Onekama, is serving his last term because of term limits.
Residents in the district have received several flyers paid for by the Michigan Republican Party making critical claims about Scripps' time in the Legislature.
Relevant statements
"Dan Scripps racked up record-breaking budget deficits and unemployment rates during his time in office. But he still voted for unlimited lifetime healthcare benefits for former state lawmakers, costing Michigan families billions of dollars."
Statement under review
"Dan Scripps racked up record-breaking budget deficits and unemployment rates during his time in office."
Scripps served as a member of the House of Representatives for one two-year term, 2009-10, in the depths of the Great Recession. In both years Scripps served in Lansing, legislators and Gov. Jennifer Granholm struggled with huge budget deficits of more than $1 billion, brought on in part by plummeting tax revenue. His term also corresponded with the highest unemployment rate in Michigan since the 1980s. When Scripps and other legislators entered the capitol to begin the 2009-10 term in January, 2009, the state unemployment rate was 11.2 percent, and it was 11.2 percent when the term ended in 2010. The jobless rate peaked at 14.9 percent in June, 2009.
Stretching credulity like cheap taffy, though, is the suggestion that a first-term representative, who came into office when the state economy was already in freefall, somehow "racked up" the deficit and unemployment rate. The state Legislature was consumed during 2009-10 with cutting costs to balance the budget, not passing policies to run up more red ink or put more people out of jobs, as the flyers imply.
"But he still voted for unlimited lifetime healthcare benefits for former state lawmakers, costing Michigan families billions of dollars."
Here's where the claims go from stretching the truth to snapping it, setting it on fire and then running it over with a pickup truck.
A representative of the Michigan Republican Party, responding by email to a Bridge inquiry, said this claim is based on Scripps' vote on HB 4194
All legislators elected after March 1997 who served at least six years in either the House or Senate were eligible for state retiree health insurance benefits, with the state picking up 90 percent of the cost of the premiums, when they turned 55. HB 4194, passed in 2010, eliminated retiree health insurance for future legislators.
An email from the Michigan Republican Party said:
"The bill we're referencing in the mailer is House Bill 4194 of 2010. When the House voted on the bill, Dan Scripps voted yes. The bill would allow for all legislators elected prior to 2010 to receive lifetime health benefits if they served for at least six years."
Not to put too fine a point on this, but this is the sort of claim that explains why voters distrust politicians.
Retired legislators were getting taxpayer-funded health insurance before HB 4194. The bill, rather than give veteran legislators health coverage, took away that sweet benefit for all future legislators. That's a cost savings for taxpayers. As the Senate Fiscal Agency analysis of the bill explains, the bill "would reduce costs to the Legislative Retirement System," with the savings growing over time as more legislators who would have gotten state health insurance retire.
To say Scripps "voted for unlimited lifetime health care benefits for former state lawmakers" is not only wrong – Scripps did the exact opposite.
And he wasn't alone. The bill passed the House 103-1, and the Senate 28-10.
The flyers also claim Scripps's actions to allow former legislators to get state-funded health insurance would cost Michigan families "billions." According to the House Fiscal Agency, the state spent $4.7 million on legislative retiree health care benefits in 2007-08. At that rate, to save "billions," (Truth Squad will low-ball "billions" at $2 billion), would take 425 years.
Truth Squad sent a follow-up email to the Michigan Republican Party with its concerns over the logic used in the flyer, but did not get a reply.
Republican candidate VanderWall, who did not pay for or prepare the flyer, also did not return an email inquiry about the claims made.
In a truly Orwellian effort, the Michigan Republican Party ad argues that a vote that will cut retirement benefits for legislators is actually a vote that will cost the state "billions," with the justification for that claim as thin as the paper you'd be reading this on if computers were never invented.