In partnership with Crain's Detroit Business, Business Bridge covers the intersection of business, politics and policy across Michigan.
Articles
House Republicans adjourn for the week after failing to square their measure with a bill passed by the Senate.
Senate proposal would allow community colleges to offer bachelor degrees in nursing and other fields. State universities push back.
Critics say legislative leaders should be meeting now with Gov. Snyder to hash out permanent roads fix for Michigan. But House prefers to wait to see what the Senate comes up with first.
Democrats introduced the bill to prevent employers from discriminating against workers or potential hires over the issue of birth control.
A 2013 report promising more than $200 million in annual savings from a repeal has drawn criticism and some backtracking by its author. Republican leaders, defying Gov. Snyder, are pressing ahead with a ban.
Two state groups seeking to legalize adult recreational use of marijuana in Michigan have received approval for their petition language from the Board of State Canvassers.
Wish lists and bottom lines at the Mackinac Policy Conference.
Nearly 6-in-10 businesses surveyed said they expect to maintain current employment levels over the next year
Democrats accuse Republicans of going back on their support for local government control; Republicans say allowing local governments to set their own minimum wages would create a patchwork that discourage business investment.
Fuel or sales tax hikes are favored options among 300 Metro Detroit business owners and managers polled after Proposal 1 flopped on the state ballot this month.
The Michigan Legislature will consider a Republican bill this week, with lengthy negotiations expected leading into the summer.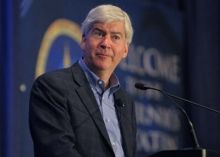 Despite the failure of Proposal 1, the governor pitches a "comeback story" to audiences in California and New York.
Unrest in cities far from Michigan will spark discussion at the annual policy conference, presented by the Detroit Regional Chamber. Speakers include the architects of Detroit's bankruptcy deal, authors and lawmakers.
Pages