Jobs v. China: How politics, communist ties roiled $2.3B Gotion plan in Michigan
Michigan's first megasite proposal drew cheers in October. More recently, plans to build a massive battery component factory have been driving a wedge in the Big Rapids community. (Bridge photo by Paula Gardner)
Business Watch
Jobs v. China: How politics, communist ties roiled $2.3B Gotion plan in Michigan
Gotion announced a $2.3 billion battery component factory in Big Rapids area that could produce 2,350 jobs
Since then, initial celebration has been met by growing opposition over the company's ties to China
Officials backing the project say they're frustrated by social media rumors
---
April 20: Michigan Senate narrowly clears $175 million for China-linked Gotion plant
April 13: Amid Gotion furor over China, Michigan vows to change how it vets firms
April 12: Gotion funding on hold in Michigan, amid uproar over China ties
BIG RAPIDS — Few people in this mid-Michigan college town seem able to escape the polarization that's been building for six months after Gotion Inc. chose the community for a 3 million square foot, $2.3 billion battery component factory.
Many continue to call it "a great economic opportunity," Mark Gifford, the city manager, told Bridge Michigan. Supporters are energized by expectations of 2,350 eventual jobs residents hope will keep more people in the region.
But others in the area and beyond are "questioning things," Gifford said. And that group is growing, fueled in part by social media and politicians criticizing the Chinese ownership of Gotion's parent company.
Related:
Today, Gifford said, "There's really a divide."
The divide splitting this community comes as the state seeks to lure large-scale developments to Michigan as part of an estimated $1.3 trillion in new projects that will be tied to the automotive industry as it shifts from gas-fueled engines to electric vehicles.
A site in Marshall is proposed for a $3.5 billion Ford factory, while officials and residents are facing off over another one in Eagle Township.
In Big Rapids, the line of demarcation over its megasite may have been drawn at 6:30 p.m. Wednesday night, when hundreds of people lined South State Street in a protest rally, waving anti-Gotion signs and drawing honks from drivers on this city's main road in front of Ferris State University.
Their message, drawn over and over on the signs: No to Gotion.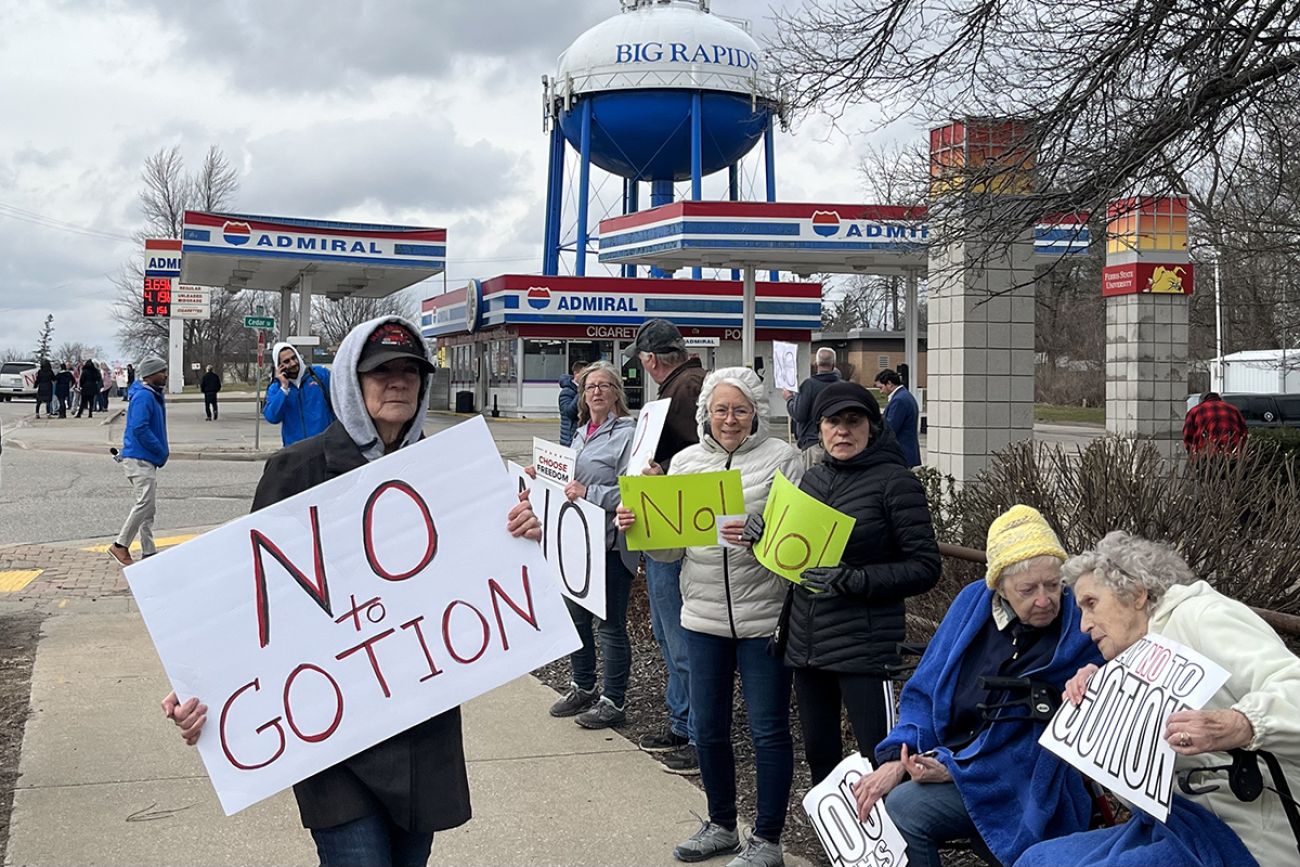 Marianne Pitts, center in white jacket, joined several hundred people on Wednesday in Big Rapids, lining both sides of South State Street to protest a planned Gotion battery component factory. (Bridge photo by Paula Gardner)
At the same time, several hundred more dialed into a video presentation by Gotion and local groups supporting the proposed battery factory, including regional economic developers and local officials. Officials spent the event responding to people who say they need more answers on such issues like how 451 acres of land in Green Charter Township north of the city will be used and the factory's effects on the environment.
"The support is there," Township Supervisor Jim Chapman said after the meeting. "It's a strong example of the silent majority."
The factory is planned for Green Charter Township, north of the city and on the border of Big Rapids Township, home to an industrial park that offered the initial impetus for Gotion to consider the area.
Since the project was approved for both townships in October, Gotion has withdrawn plans for Big Rapids Township and focused solely on Green Charter, where the 451 acres is far enough away from the Big Rapids Airport to avoid building height restrictions.
Mecosta County initially welcomed the project in its county seat. The county is about an hour's drive north from Grand Rapids and has been eager to reverse the region's sagging population.
While Michigan's population has grown slightly since 2010, Mecosta County's dropped 5.5 percent to 40,720, while losing more than 1,000 jobs in recent years, according to economic developers.
The job loss is one reason many celebrated the Gotion deal, billed as the biggest ever economic development project in Northern Michigan when Governor Gretchen Whitmer announced it in October, adding that the factory will "shore up our status as the global hub of mobility and electrification."
Since then, supporters say they're frustrated by rumors about the plant and people who raise questions about it now, despite answers made available over several months.
Information on the project is posted on the Green Charter Township website, and still exists on the Big Rapids Township page. Mecosta County, meanwhile, contracts with The Right Place, a West Michigan economic development group, and lists several documents on the project.
Organizers of the Wednesday meeting said the event was switched from in-person to online to answer the public's top questions.
Even so, Lori Calka-Brock, a broker at Rivertown Real Estate and owner of a horse farm just north of the Gotion site, said she remains dissatisfied. She's among residents who say they still need more information, citing the township's location near the Muskegon River.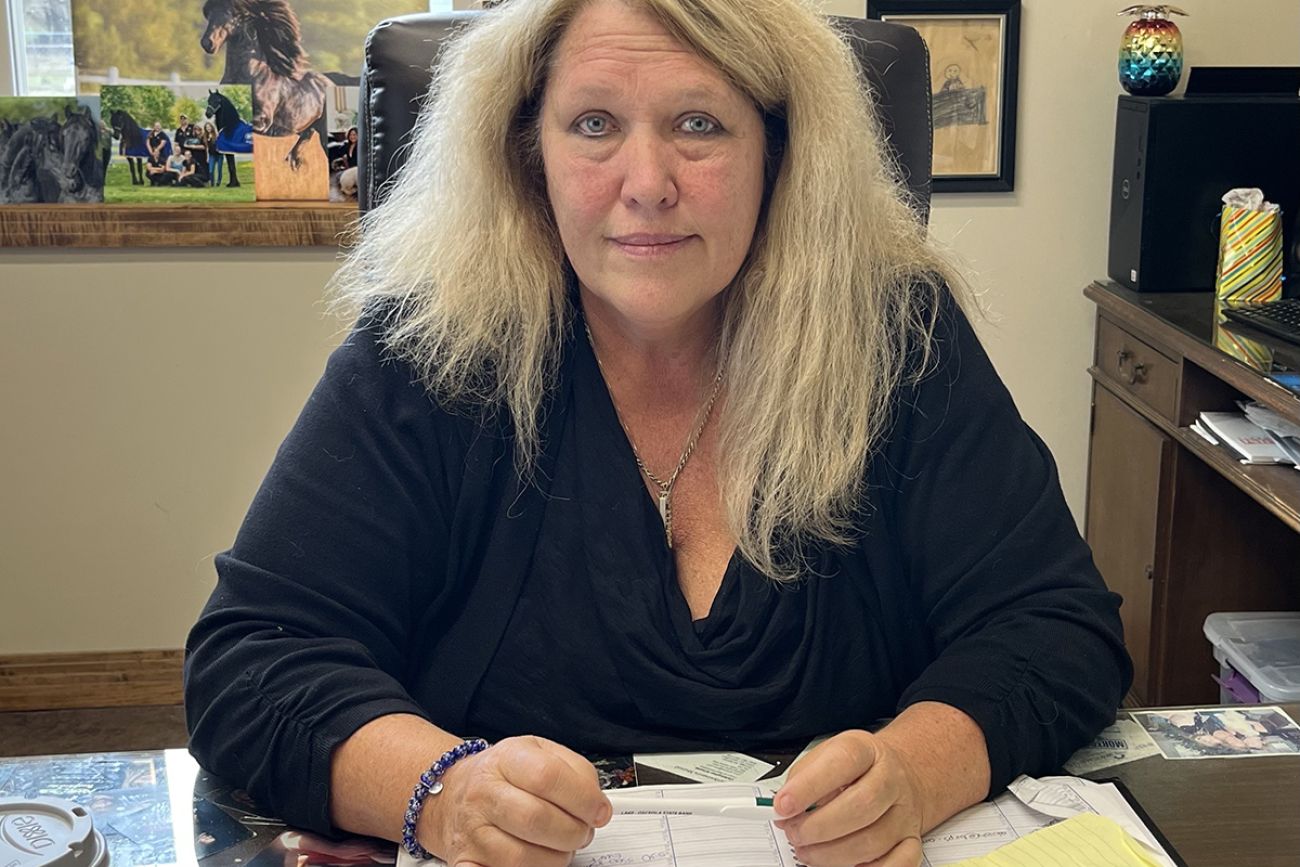 Lori Calka-Brock, owner of Rivertown Real Estate in Big Rapids, said she's against the Gotion project and frustrated by a lack of information. (Bridge photo by Paula Gardner)
"How do you bring this into our environment?" she asked about the battery plant.
Calka-Brock said she also is skeptical about the hiring goals and whether the Gotion jobs would benefit the community, since many jobs already are unfilled in the region.
"It's so frustrating," she said. "I believe in transparency, and I believe we should have an opinion and a voice."
Support for jobs, wages
Richard Moore, a Green Charter resident who drives up to 14 hours a day delivering products on semi-trucks, said he's getting text messages and fliers about the project, mostly from people "trying to stop it from happening."
"People are concerned because it's a battery factory," he said. Yet existing protocols should keep it safe, he said, and he hasn't heard about problems at other facilities, including the LG Energy Solution factory that has operated for several years in Holland and expects to expand.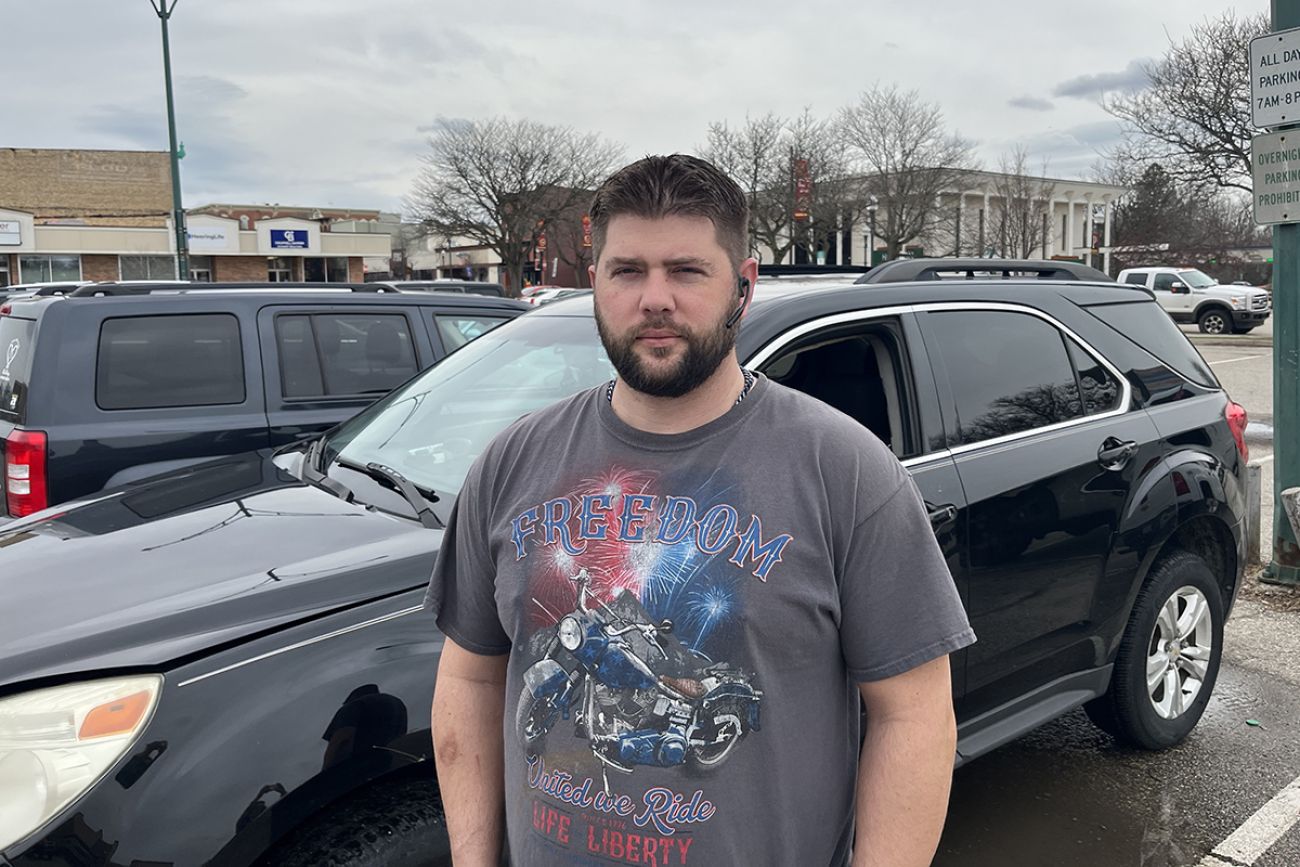 Richard Moore, a truck driver from Green Charter Township, said he would welcome the Gotion factory to the area. The jobs will pay more than many employers do in the area, he said, and it could create more opportunities across industries. (Bridge photo by Paula Gardner)
Eliminating those concerns, he said, leaves the new jobs as a big draw. He supports the project because of that.
"We have a few factories around here, but it's limited on choice as far as what's paying good."
A couple of factories will start at around $18 per hour, he estimated, while others may pay $15 per hour. Gotion, he said, "is going to pay really decent."
Gotion's average pay should be about $29 per hour after opening in 2025, with starting production wages of $24 per hour — or about $50,000 per year — plus benefits, said Chuck Thelen, Gotion's vice president of North American operations and an area resident.
That pay would be slightly more than Mecosta's median household income of $48,440.
Jack Olthuis, who retired after selling his transport company, said he's ambivalent about the project, and most of the people he talks to express the same sentiment.
He said he wonders if the Gotion project will be like the failed Foxconn project in Wisconsin — where Foxconn received a state incentive with great fanfare, but original employment promises fizzled out. And he said he wonders whether the town would lose its character with a great influx of new workers.
But he agreed with Moore in noting that the workers who receive these jobs would benefit.
"People here could certainly use better wages than they get," Olthuis said.
The debate taking place six months after the Gotion announcement offers the state a chance to reflect on the megasite strategy, said Bill Pink, the president of Ferris State University and a member of the executive committee of the Michigan Economic Development Corp.
But in the meantime, Pink said he supports this project based on what he's heard from Gotion, including at Wednesday's meeting.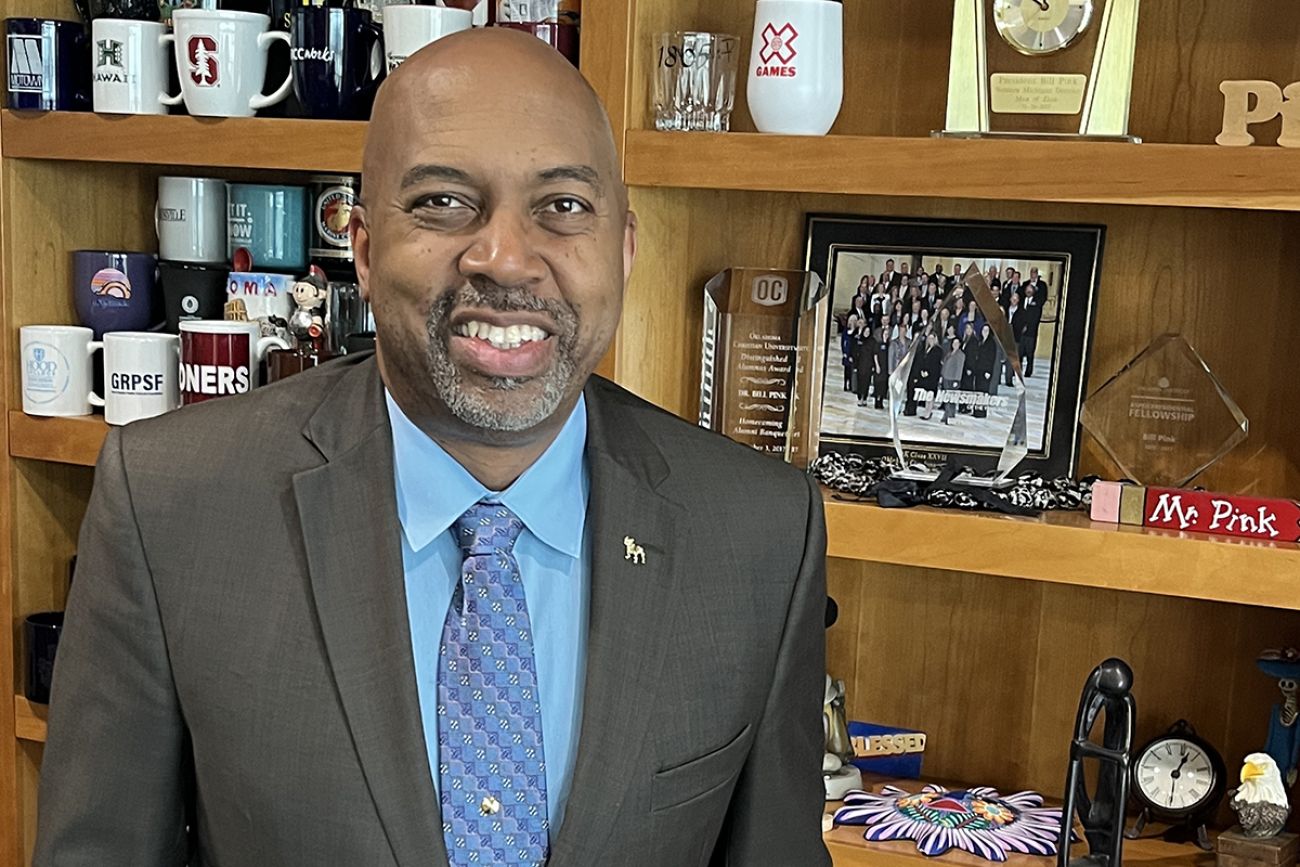 Bill Pink, president of Ferris State University in Big Rapids, has voiced support for the Gotion project. The state needs to capture more of the high-tech automotive jobs tied to electric vehicles so that it retains its place in manufacturing, he said. (Bridge photo by Paula Gardner)
Developers are looking for land for related businesses and houses, Pink said. And the new factory could fit with his mission to keep Ferris State's curriculum relevant for high-tech jobs to meet "industry demand that is coming."
Pink said the battery component factory will bring a chance to boost innovation in the region, too, fueling perhaps more business development or educational partnerships for students at Ferris.
"I don't want to necessarily prepare them for jobs,' he said. "I want to prepare (them) for a career path."
Ties to China raise concerns
The Gotion deal received bipartisan support in the state Legislature when it was announced, with lawmakers agreeing to add $846 million to the Strategic Outreach and Attraction Reserve (SOAR) business incentive fund late last year, in part to support the Big Rapids area factory.
But concerns about the company's ties to China have built slowly, first flaring as a campaign issue for gubernatorial candidate Tudor Dixon, a Republican who questioned incentives for the factory, criticism she has renewed this year.
Her attack focused on Gotion Inc.'s parent company, Gotion High-Tech, and its allegiance to the Chinese Communist Party-led government, which over the past several years has increased its influence among businesses in China.
Thelen, the local Gotion representative, said the company is voluntarily submitting to a financial review through the Committee on Foreign Investment in the United States (CFIUS), an interagency committee led by the U.S. Department of Treasury that reviews foreign investments.
Wednesday night's protest was supported by Dixon, and far-right Republican legislators, including state Rep. Steve Carra, R-Three Rivers, in southwest Michigan. Michigan Republican Party chief Kristina Karamo attended, later calling local officials who supported the deal traitors in a Tweet. Presidential hopeful Perry Johnson also attended.
Carra told Bridge he opposes state economic development incentive projects like the Gotion factory, which is awaiting final approval of $175 million in funding from the SOAR fund, which last year received bipartisan support.
"All of a sudden, there's this megasite industrial operation going on in their community," Carra said. "If that was a decision off of free markets, then it would be a different story. But when they move in because of taxpayers being forced to fund this project, it's not right."
A survey by Big Rapids Township, which mailed questions to all 2,800 registered voters early this year, showed a near split between support and opposition to the factory, with a breakdown by age showing that retiree-aged residents are more likely to oppose the project than working-age adults.
Marianne Pitts of Colfax Township, east of Big Rapids, worked for years in the engineering department at Ferris State before retiring from the college. She said she is proud of her community's warmth and recreation opportunities. But she attended the protest rally Wednesday with a group of friends, holding a neon green "NO!" sign.
Pitts said she's worried that friendships will break over the Gotion factory, as people choose sides. Her feelings have been "back and forth," she said, until her concerns grew recently over the Chinese ownership of the parent company.
China's volatile relationship with the U.S. government and its history of industrial espionage worry her.
Pitts did not hesitate when asked whether anything now could change her mind. "Not at this point," she told Bridge.
Gotion would join 52 other Chinese-owned companies in Michigan, The Right Place CEO Randy Thelen told viewers at the Wednesday informational meeting. The largest, he said, is Nexteer Automotive, based in Saginaw. Among international business ownership in the state, China is not the largest, he added. It follows Germany, Japan and France.
While the Gotion parent company's Chinese ownership is documented, Gotion's Chuck Thelen said at the presentation that the Chinese Communist Party will not be operating in Big Rapids.
Further, he said, the company's operations in the U.S., including in California and Ohio, have shown no signs of Communist party ties or functions.
"I've never witnessed anything," he said.
As questions continue about the project, Pink, the Ferris State president, said the community still needs to be on the forefront of jobs growth, something already difficult in mid-West Michigan.
"If the answer isn't Gotion, what is the answer?" he said.
That is a debate that may continue around Big Rapids as Green Charter Township moves to rezone a portion of the property Gotion plans to buy.
Calka-Brock, meanwhile, said she's not losing her passion for fighting the project. It's hard to envision the scale of the development and what rural roads will be like once they're widened to accommodate truck traffic and worker commutes.
"If we don't make a stand now, we will lose this beautiful environment that we have," she said. "... Who wants to live next to that?"
But Randy Thelen of The Right Place (a distant cousin to Chuck Thelen, though both men said they didn't know the other until the Gotion deal) notes that Michigan has waited a long time to see projects of Gotion's scale.
"We used to build these things and celebrate them," he said. "Something's happened. We want growth, and we want greater prosperity. But we don't want to make some choices."
Business Watch
Covering the intersection of business and policy, and informing Michigan employers and workers on the long road back from coronavirus.
Thanks to our Business Watch sponsors.
Support Bridge's nonprofit civic journalism. Donate today.
Only donate if we've informed you about important Michigan issues
See what new members are saying about why they donated to Bridge Michigan:
"In order for this information to be accurate and unbiased it must be underwritten by its readers, not by special interests." - Larry S.
"Not many other media sources report on the topics Bridge does." - Susan B.
"Your journalism is outstanding and rare these days." - Mark S.
If you want to ensure the future of nonpartisan, nonprofit Michigan journalism, please become a member today. You, too, will be asked why you donated and maybe we'll feature your quote next time!