Ypsilanti's Haab's Restaurant ends 87-year run, another institution gone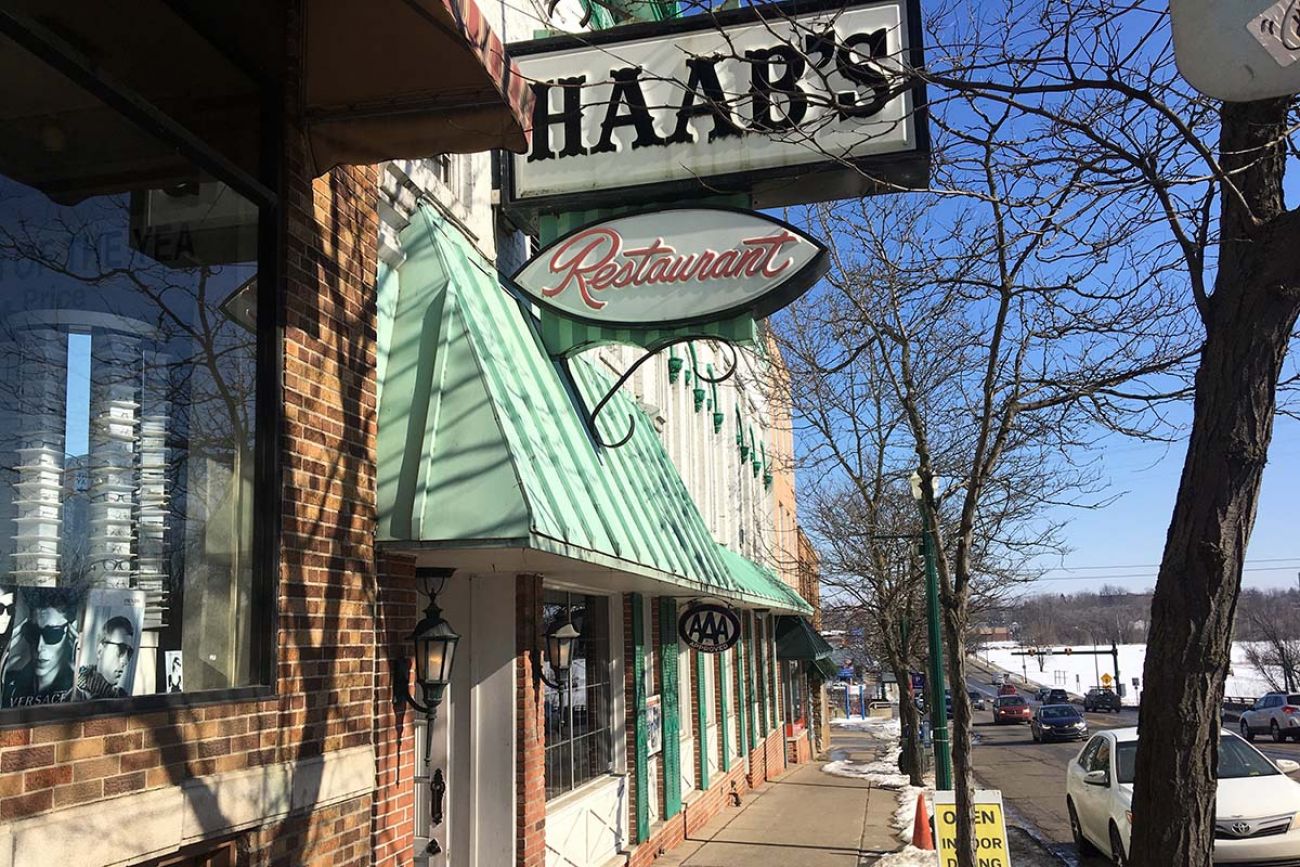 Haab's Restaurant had been a downtown Ypsilanti landmark for 87 years until it closed Thursday. (Bridge photo by Paula Gardner)
YPSILANTI—The songs of Frank Sinatra still came through the speaker in the lobby of Haab's Restaurant on Friday afternoon, but this time his crooning about good-byes hit closer to home.
Unlike a regular weekday, the inner door was locked. Behind the glass, the counter was empty. And the phone lines kept ringing, as co-owner Mike Kabat struggled to keep up with calls of condolences.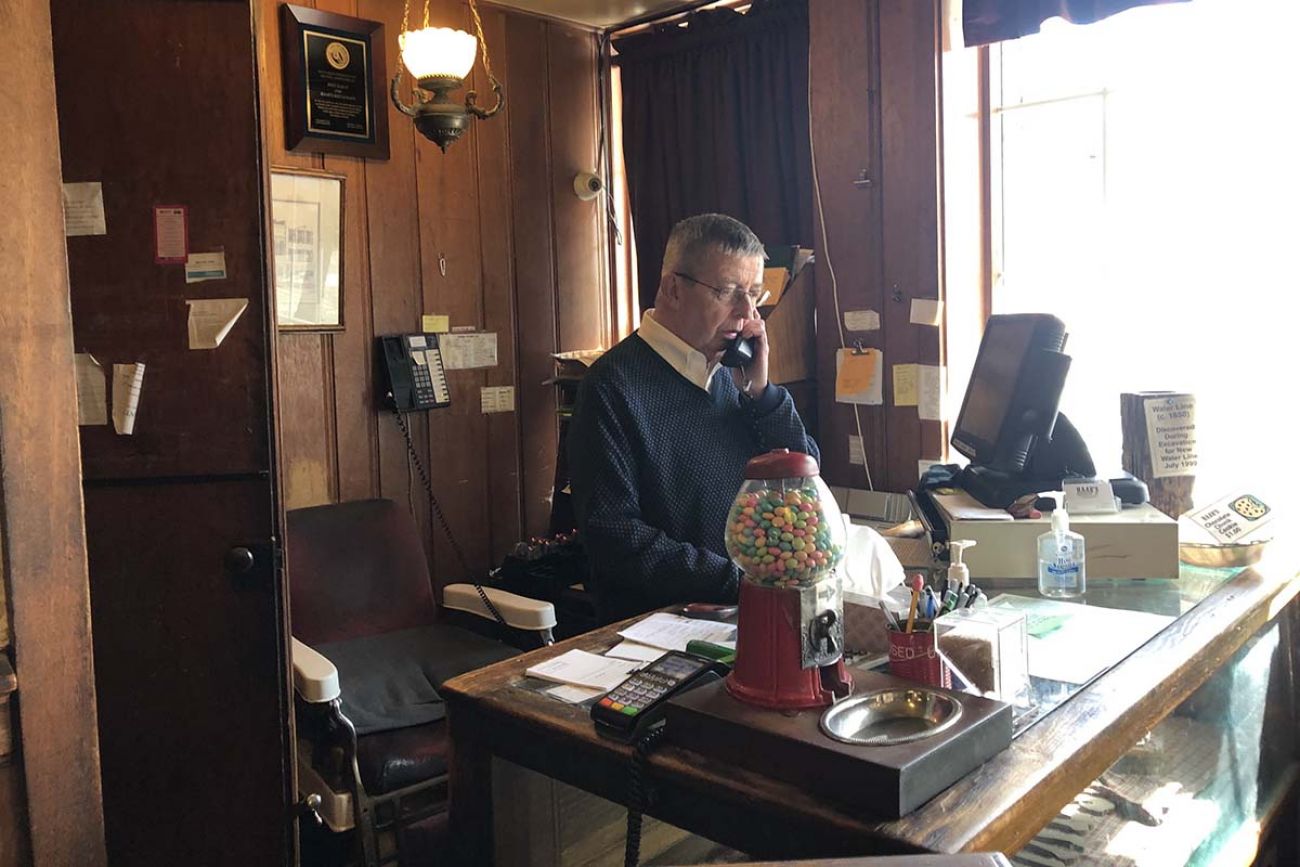 Mike Kabat, co-owner of Haab's for 47 years, took calls all morning and afternoon Friday after customers learned the beloved Ypsilanti restaurant would not reopen. (Bridge photo by Paula Gardner)
After 87 years in operation, the landmark restaurant that defined the city's downtown had closed for good the night before.
Related:
Kabat, who'd spent 47 years behind that counter and answering that phone, said he's had trouble envisioning a day when he'd show up at the restaurant but have no customers, no reason to open the kitchen and no idea of what will come next.
"It's been terrible," Kabat, 80, told Bridge Michigan.
Kabat and David Kabat, his son and business partner, announced the closing to staff at 8:30 p.m. Thursday, then sent an email on Friday morning to the 7,000 people who received regular email updates from them.
The Haab's closing was sudden, planned just days ago as David Kabat's doctors told him he needed an immediate lifestyle change due to a health crisis, his father said.
But looming over that was COVID-19 and all of the changes the restaurant had to absorb during the pandemic. By the time the family health crisis struck, there was no cushion left to keep the doors open.
Thousands of restaurants are estimated to have shuttered in Michigan since the pandemic began and — even as the latest wave of COVID fades — more closings still may hit the state's industry, said Justin Winslow, president and CEO of the Michigan Restaurant & Lodging Association.
"Some narrowly survived," he said, "but that leaves their health so complicated that it won't take much (to make them vulnerable)."
That includes beloved institutions like Haab's, the kind of places that helped define downtowns and lead restaurant movements in cities.
Common Grill, which anchored downtown Chelsea, will close this month as founder and chef Greg Common announced in mid-February. Roast, a Michael Symon restaurant, closed suddenly in January, years after it trailblazed a new wave of restaurants in downtown Detroit. Osteria Rossa closed at the end of 2021 in Grand Rapids.
"The connection people have with some restaurants gets very personal and very deep," Winslow said. "You become close with the owner … it's hard when it goes away."
That was clear on Friday at Haab's as Mike Kabat talked about how he was well into his career in hotel and restaurant management in the 1970s when Oscar Haab approached him, asking the Ann Arbor native to buy the restaurant Haab had founded with his brother Otto in 1934 amid the Great Depression.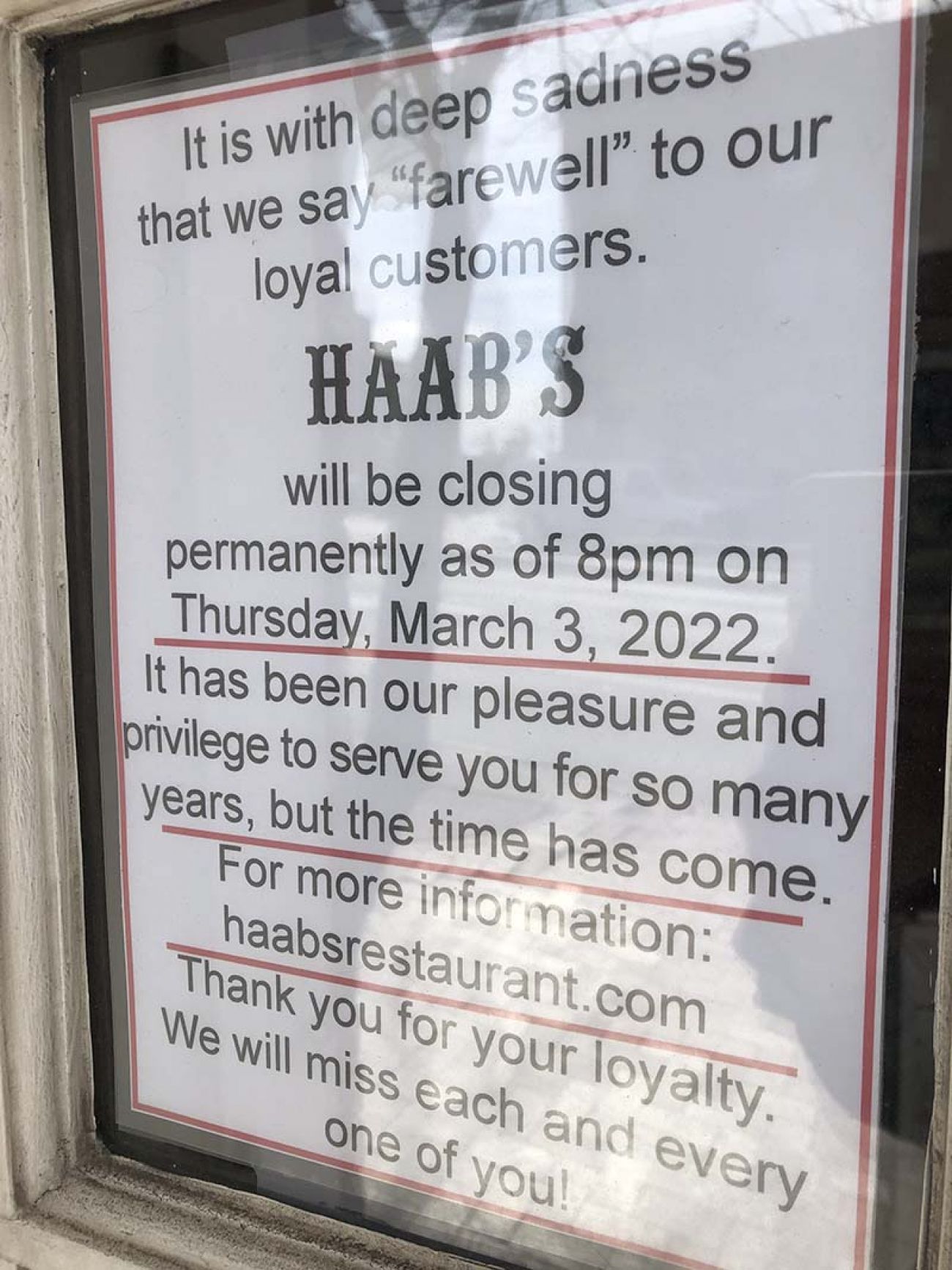 Haab's Restaurant opened in Ypsilanti during the Great Depression. (Bridge photo by Paula Gardner)
During an interview, the phone kept ringing with people who wanted to tell him that they couldn't believe that Haab's would not reopen and that they would miss it.
And people knocked on the door: Men telling Kabat that they'd come to his restaurant since they were children. A woman who handed over a card with her name and phone number, hopeful that he would give her a cherished photo of her late mother, a former Haab's employee of the year.
Kabat tried to answer all of the calls, even as it became, he said through tears, "overwhelming." That's how he'd built his business and the loyalty that spilled out over the news that it was closed.
"I'm a people person," Kabat said. "This is a people restaurant."
Haab's was known for many things. It could host a crowd, like a post-football party for University of Michigan fans and television broadcasters. Holiday events and business meetings, including for General Motors executives who once worked a few miles east in Ypsilanti Township, fueled business. Many customers came from across Washtenaw County to celebrate family milestones.
"It's one of those businesses that gives character to a community," said Andy French, second-generation owner of Aubree's Pizzeria and Grill, a chain that was founded in Ypsilanti.
"You identify a community with it," French said. "We've lost a lot."
Over the years, newer cuisine styles gained favor over the typical steak and seafood served at Haab's, which kept its original "Chicken in the Rough" on the menu for its lifetime. But the stiff drinks and relaxed atmosphere, including photos and drawings of Ypsilanti and the restaurant's history on its walls, were constants.
"We made very few changes," Kabat said of the original interior that included a pressed-tin ceiling and lots of stained oak. "I wanted customers to feel like they were at home."
During the pandemic, the restaurant couldn't help but change. Mike and David Kabat ran the restaurant's carryout operation when the state ordered restaurants to close dining rooms. As reopening was allowed, many staff did not return, forcing the partners to shoulder all of the management, David, 51, in the kitchen and Mike in the "front of the house."
With only some of the 30-person staff returning to work, that kept pressure on as customers returned, some slowly.
Business group meals tapered off, as people hesitated to gather and many businesses worked remotely. The customer base — which Kabat described as "mature" — didn't feel as comfortable going out amid the unpredictability of COVID.
The Kabats own the building and the apartments above it, something that helped their bottom line. And $172,000 in federal Paycheck Protection Program forgivable loans helped them to bridge the financial gap.
But David's health became a crisis, Kabat said. "His prognosis was not good."
And the father and son, supported by the rest of the family, made the hard decision. They had no fallback.
And, said Mike Kabat, no sense of relief yet.
He'll figure out what will happen to the building over the next few months. It's filled with 90 years of keepsakes: from the original menus to more recently designed swizzle sticks for the annual plumber and pipefitter conventions.
Employees were given information on how to apply for unemployment on Thursday. They will return next week for severance checks and leftover food. Perishables will be sent to Food Gatherers, an Ann Arbor food bank.
Kabat said he doesn't regret a minute of the years he's devoted to the restaurant, nor the decision to close because of what it means for his son. What he will miss is the community.
"There wasn't a choice," he said.
Business Watch
Covering the intersection of business and policy, and informing Michigan employers and workers on the long road back from coronavirus.
Thanks to Business Watch sponsor:

Support Bridge's nonprofit civic journalism. Donate today.
We're not just a news organization, we're also your neighbors
We've been there for you with daily Michigan COVID-19 news; reporting on the emergence of the virus, daily numbers with our tracker and dashboard, exploding unemployment, and we finally were able to report on mass vaccine distribution. We report because the news impacts all of us. Will you please support our nonprofit newsroom?