The votes said one thing. Wayne County said another.
Last November, amid the controversy over the failed Michigan presidential recount, a quieter ballot battle was unfolding in Taylor, a suburb of Detroit.
On election night, Ronald Lee Miller seemed to prevail in his write-in campaign for school board, besting five other candidates. Two weeks later, though, the county declared another candidate the winner.
It was a mistake. And the county admitted it. Documents submitted in court show that within days officials realized they'd neglected to count dozens of votes in their rush to certify the election.
Come January, though, Miller watched another man, David Meyers, take the oath of office. Wayne County refused to alter the results. Its reasoning: Miller had failed to request a recount within six days, as is required by state law. The county interpreted the law to include four days its offices were closed due to the Thanksgiving holiday.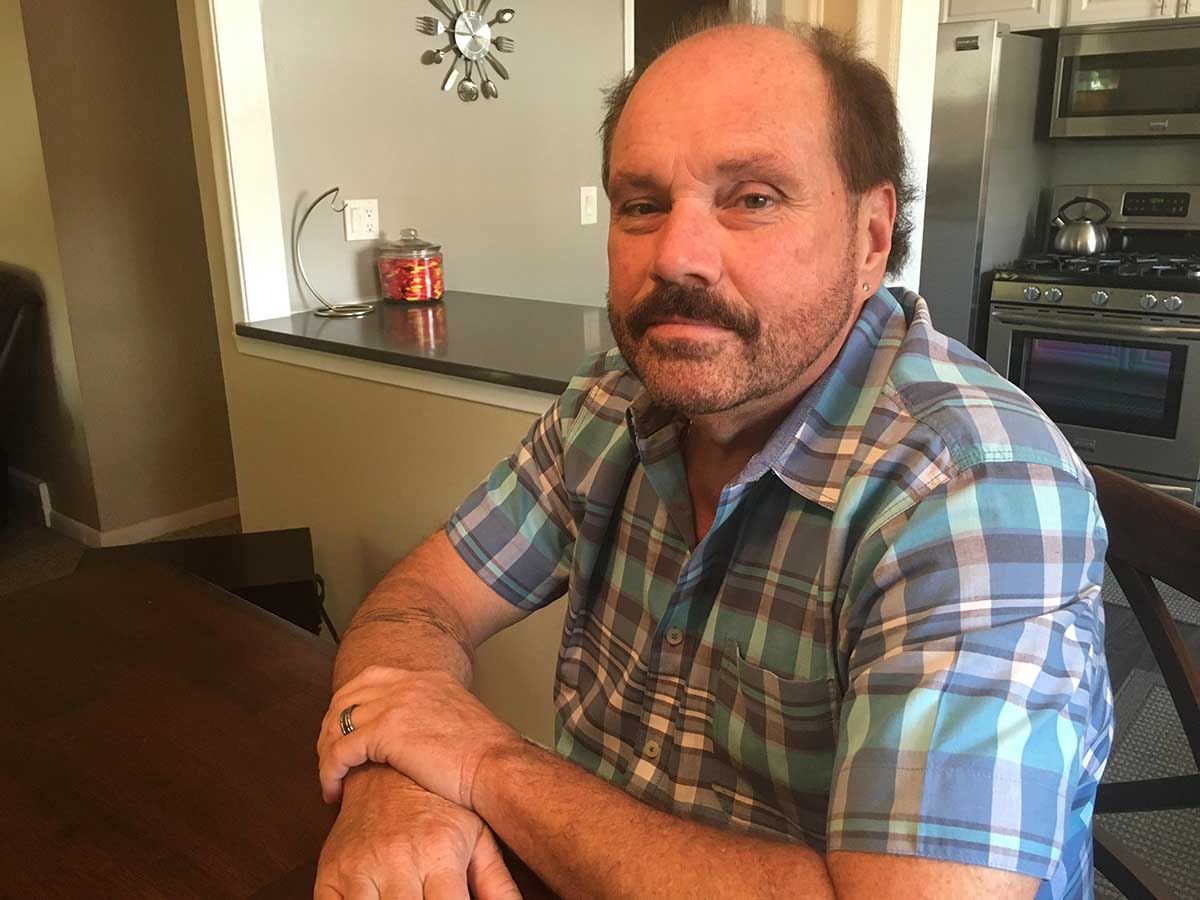 Ronald Lee Miller received the most votes to win a seat on the Taylor School Board last year. Wayne County officials mistakenly declared another candidate the winner and spent months in court arguing that Miller waited too long to challenge the results. (Bridge photo by Joel Kurth)
"This is the perfect storm of incompetence and timing," said Mark Brewer, Miller's attorney and a former Michigan Democratic Party chairman.
Wayne County Clerk Cathy Garrett declined comment, but longtime observers say the episode is the latest in a series of sloppy elections across Michigan that test voters' faith, particularly in Wayne County.
In the county's largest city, Detroit, ballot irregularities have prevented full recounts in three consecutive mayoral elections. City Clerk Janice Winfrey faces a tough re-election campaign in the Aug. 8 nonpartisan primary next week because of a host of snafus from broken machines and missing ballots to last November's national embarrassment, when more than half of Detroit's 662 precincts were ineligible to be recounted because the number of ballots in voting machines didn't match those in poll books.
Canvassers use sheets to compare how many voters signed into precincts and how many votes machines counted. At left is a sample from Allen Park precincts in November that shows few discrepancies. At right is a sample from a Detroit that same election, where almost every precinct had a significant issue. CLICK TO ENLARGE (Bridge photo by Joel Kurth)
Ballot security problems aren't confined to Wayne County. They also have prevented full recounts of a Flint City Council campaign in 2013 and a state House race in 2010 in Michigan's Thumb. In that election, a Republican candidate won by 18 votes after a recount that was forced to exclude 10,000 other votes, raising profound concerns about the election's legitimacy.
Ballot irregularities are so endemic that when Miller sued in January over the botched Taylor school board election, Wayne County attorneys had a revealing defense.
They argued in court that local clerks in the five communities included in the Taylor School District did such a woeful job preserving ballots that a recount was impossible.
Detroit, Lansing and 61 other municipalities are rolling out new voting machines in next week's primary that could remedy some issues, such as paper jams that cause erroneous counts when voters try repeatedly to insert ballots.
By August 2018, all jurisdictions in Michigan will have the new machines, which are partially funded by $40 million from the state.
But some say the frequency of problems underscores the need for wholesale reform in Michigan, which grants local communities far more oversight of elections than almost any other state. Nationwide, larger jurisdictions such as counties typically conduct elections.
"Whoever the next governor is should put together a panel to take a look at our election process because there's just too many issues," said John Gleason, Genesee County's clerk.
The problems coincide with President Trump's assertions that millions of people across the U.S. illegally voted in last year's election. Brewer and other elections experts dispute that claim, saying that most of the issues they are complaining of originate from honest mistakes and lack of worker training.
'I wouldn't wish this on anyone'
Miller eventually was declared the winner in Taylor.
It took eight months, a recount and a lawsuit that revealed deep dysfunction between the Wayne County Board of Canvassers and Garrett, the county clerk, who are supposed to work together to certify elections.
Miller was speaking to Bridge Magazine from his kitchen table last week when Wayne County Chief Circuit Judge Robert Colombo Jr. ruled that Meyers was "unlawfully holding (an) office" that belonged to Miller.
Miller looked at the order. He didn't so much as smile.
"When I'm sitting in that seat and can do what's best for the kids of Taylor, I'll be content," said Miller, 59, who retired from the school district as a transportation supervisor.
"I would never wish this on anyone. It's affected me at home. I've lost friends. Doesn't it matter any more about what's right and wrong?"
Miller likely will be sworn in next week, Brewer said. The order from Colombo followed a three-day recount in June that showed Miller received 444 votes to 398 for Meyers.
The recount proceeded over objections from county attorneys, who argued that Miller waited until January to formally protest the election.
They also tried to prevent the recount over claims that ballots from multiple precincts were dumped into one bag, stored in insecure locations and stuffed in boxes with broken seals.
Westland City Clerk Richard LeBlanc said "clerks got thrown under the bus" by the county.
"(Miller) was the winner. But rather than fix their mistake, (the county) dug in," LeBlanc said. "You can't get any more bizarre."
The judge ruled the school board recount could proceed in Taylor and parts of Dearborn Heights, Inkster and Brownstown Township that are part of the Taylor school district. But the judge disqualified Westland from the recount, ruling that clerks illegally stored ballots by placing them in a box with tape over them, rather than a seal.
LeBlanc, who became clerk in 2016, said he'll fix the problems, but argued he was following established policies and the ballots were stored behind multiple locked doors.
The lawsuit revealed that canvassers failed to count name variations for both candidates. By the county's initial reckoning, Miller didn't even vote for himself. He was credited with zero votes in his home precinct because he and others wrote in "Ron Miller" rather than "Ronald Lee Miller."
"Everyone knew it was wrong, but just excused it," Miller said.
"I won the election. I had a stack of papers showing the results of every precinct showing I won the election. But I'm still not in that seat. No one ever wanted to look at the facts."
The delay impacted more than Miller. As both sides wrestled in court, the Taylor School Board voted to close Kennedy High School next year and merge it with the district's other high school.
The vote was 4-3. Meyers cast the deciding vote. Had he been in office, Miller said he would have voted to save the school.
Not enough workers?
How could such a thing happen?
Canvassers claimed in correspondence that Garrett, the county's clerk, didn't provide enough staffers and part-time workers to certify the election last fall.
Wayne County Clerk Cathy Garrett contends the county's Board of Canvassers is among the least involved in all of Michigan.
Garrett isn't talking publicly but her staff released a letter she wrote to Canvassers Vice Chairman Jonathan Kinloch that blasted that suggestion.
"While I applaud your sudden desire to be engaged in the canvass, I also encourage you to refrain from stopping there by simply showing up for the beginning and/or ending of each canvass," Garrett wrote to Kinloch on June 20.
"Although Wayne County is the largest county in the State of Michigan, our Board of Canvassers is among the least engaged boards throughout the state."
In most counties, bipartisan boards of canvassers hire part-time staffers to double-check local clerks' tallies and certify elections. In Wayne County, Garrett has wrested hiring power away from four canvass board members who are paid $25 per day, Kinloch said.
Typically, multiple part-time workers examine election results for each race. Last fall, one staffer was assigned to Taylor, Kinloch said.
"We wouldn't have had as many problems if we had enough people," he said.
Garrett's office didn't respond to Bridge Magazine's requests seeking the number of canvass workers. In February, the county denied a Freedom of Information Act request seeking a list of them.
The reason: The records don't exist, the county wrote.
"Do these things feed into conspiracies? Yes," Brewer said.
"I don't think there's any way (elections could be rigged) on a systematic basis, but the sloppiness is concerning and needs to be fixed."
If I'm so crooked, why run against me?
Accusations of voter fraud are so common in Detroit, meanwhile, that Winfrey doesn't hide from them. In fact, she's incorporated them into her campaign.
"If we cheat, as my challengers say, then why would you spend your money and waste your time running against me?" she asked her opponents last week during a forum sponsored by the League of Women Voters.
Detroit City Clerk Janice Winfrey says a state audit showed there was no fraud, but rampant human error, in last year's presidential election in Detroit.
Voting problems are legendary in Detroit. Winfrey took office in 2005, succeeding Jackie Currie, who was voted out amid allegations of dead people voting, frequent power outages at precincts and incapacitated seniors being pressured by clerk workers to cast absentee ballots.
During last week's forum, candidates swapped horror stories about last November's election.
More than 100 voting machines broke on election day. In one precinct,  nine voters shared a table to cast ballots because there weren't enough booths. Candidate Ron Creswell said his aunt is still a registered voter even though she died nine years ago. Another, D. Etta Wilcoxon, said she has evidence of absentee ballots being mailed to addresses where homes were razed years ago. And candidate Garlin Gilchrist II said "everything went wrong" when he voted, as his precinct ran out of equipment from pens to privacy screens.
On it went for two hours. In all, only one question from the audience didn't involve the security of elections.
"That fact that these questions get asked at every voter education forum we've participated in is a reflection of the lack of integrity in the process," said Heaster Wheeler, a former NAACP Detroit Branch president, who is campaigning for clerk.
Winfrey said she's provided the "highest level of integrity" to Detroit and has dramatically increased staff training.
She said she is vindicated by a state audit of last year's recounts, which found "no evidence of pervasive voter fraud" or "widespread voting equipment failure."
The audit concluded that a "multitude of human errors" would have prevented the presidential recount from proceeding in Detroit. The prospect was avoided when a federal judge in December halted the statewide recount that was requested by Green Party candidate Jill Stein.
Winfrey blames many of the issues on what she called the state's "antiquated laws."
In Michigan, clerks are supposed to reconcile the number of voters who signed in to vote with numbers listed on ballot machine printouts.
If there's a discrepancy –  such as when voters try repeatedly to insert ballots into machines –  they must be reconciled on election night or by canvassing boards.
If they are not reconciled, mismatched numbers make precincts ineligible for recount. The law also bars recounts if seals on ballot containers and ballot labels are broken or have different numbers than those listed on poll books.
Critics say the law presents a problem: Ballots with obvious signs of tampering –  those in races most in need of recounts –  are ineligible for them.
State Rep. Stephanie Chang, D-Detroit, has introduced a bill to remove those recount restrictions. It hasn't received a hearing.
"We think it's worth discussing whether Michigan should have such strict laws governing when a precinct cannot be recounted," said Fred Woodhams, spokesman for Michigan Secretary of State Ruth Johnson.
Michigan's law about the eligibility of recounts is among the strictest in the nation. Johnson has significantly improved the process, Woodhams said. In years past, roughly a third of all precincts couldn't be recounted. Now, it's often less than 10 percent during elections, Woodhams said.
More training
It's a wonder Michigan doesn't have more problems, argued Judd Choate, the state elections director of Colorado and president of the National Association of State Elections Directors.
Besides Wisconsin, Michigan is the only large state that allows local municipalities to supervise all elections, Choate said.
Most states give that power to counties, meaning there's typically only 60 or 70 elections for state officials to oversee, Choate said. In Michigan, there are 1,520 cities and townships that conduct their own elections.
"It's a very different way of doing it and it presents extraordinary administrative challenges," Choate said.
He called longtime, recently retired State Elections Director Chris Thomas a "magician" who "did an extraordinary job," considering Michigan's elections structure. Choate also praised Thomas' successor, Sally Williams, adding "I have no idea how they do it."
Michigan and Wisconsin ranked among the worst states last year for the integrity of elections, according to a report from the Election Integrity Project, a joint venture by Harvard University and the University of Sydney.
The ranking extended beyond balloting problems and included such issues as campaign finance and access to voting. The United States didn't fare well, according to the report, and had as much election integrity as Argentina, Mongolia and Rwanda.
Others contend that legal reforms aren't necessary in Michigan.
Instead, clerks should focus on training temporary workers –  often seniors –  who make an average of $10 an hour and have to work up to 16 hours on election day, said Sarah Bydalek, city clerk of Walker near Grand Rapids and immediate past president of the Michigan Association of Municipal Clerks.
She said most municipalities don't have the problems of Detroit or Wayne County.
"It's not about having a law changed," she said. "All this really does fall down to elections workers."