Kushawn Moore, Jr., 17, was never in trouble with the law until he was arrested last week and charged with armed robbery.
A lawsuit filed on his behalf alleges the high school junior from Detroit was taken to jail, handcuffed to a bench and not told what would happen next. The following day, he was arraigned from jail by a video conference with 36th District Court without a lawyer.
The magistrate asked him one question - his name - before setting bail at $50,000 with no option of paying 10 percent of the costs, as is common, a lawsuit alleges.
Moore's detention came two weeks after a suspected drug dealer didn't show up for his court hearings after being set free on a $200 bail for allegedly being caught with enough cocaine and heroin to face life in prison.
Bail horror stories like that are common in Michigan's busiest court, 36th District, and demonstrate the need to overhaul its bail process, Dan Korobkin, deputy director for the ACLU of Michigan, said during a press conference Monday.
"Bail was originally intended to ensure a person returns to court to face charges," Korobkin said. "Instead, the money bail system has morphed into a mass incarceration of the poor."
The federal class action lawsuit filed on behalf of Moore and six others in U.S. District Court on Sunday claims the cash bail system discriminates against poor people and violates the constitutional rights of people who have not been convicted by not allowing them timely access to attorneys.
The case was filed against Nancy Blount, chief judge of Michigan's 36th District Court, five magistrates and Wayne County Sheriff Benny Napoleon.
Blount issued a statement on Monday saying, "the Court does not comment on pending litigation when the Court is a named party."
Napoleon said sheriffs have nothing to do with setting bail, so he doesn't understand why he was named in the lawsuit.
He said he supports examining alternatives to incarceration. On any given day, the county has about 700 defendants who are at home on electronic monitoring pending trial as an alternative to jail, he said.
"I think we over-incarcerate people," Napoleon said. "We need to look at when we put people in jail, for how long and what for. We should look at (pretrial) incarceration for those we are afraid of not those we're just mad at."
Bail supporters traditionally have argued that the system prevents the accused from skipping town before court, but also gives them a shot at freedom. Some experts have argued that eliminating cash bail actually may exacerbate inequities in the criminal justice system and fill up jails before trial, rather than empty them.
Maryland, for instance, reduced its reliance on bail in 2017, but a report last year found that judges there have since opted to put more defendants in jail while they await trial. That's may be because other factors, such as employment, criminal history and drug use, are given more weight in deciding to incarcerate defendants than the ability to make bail.
The ACLU has filed similar cases pending in Texas, Georgia and South Carolina, said Twyla Carter, senior staff attorney for the ACLU's criminal law reform project. The case against 36th District Court is the first in Michigan, but more could be filed across the state, she said.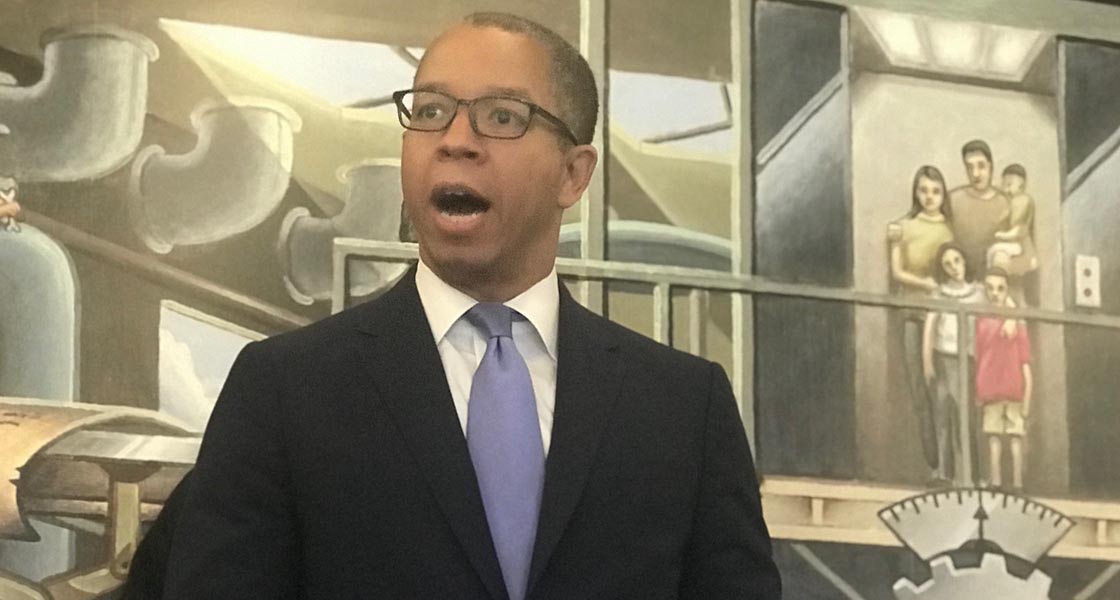 Aaron Lewis, an attorney with Covington and Burling law firm and co-lead counsel on an ACLU lawsuit, said Detroit's 36th District Court leads to high numbers of poor, African Americans being jailed because they cannot pay bails as low as $200. (Bridge photo by Chastity Pratt)
Carter said she and other ACLU staff watched arraignments at 36th District court last week and were aghast at the speed at which defendants - mostly poor African Americans - were jailed on what she described as arbitrary bail amounts for low level charges such as traffic violations.
All of the defendants in the ACLU case are African American.
"It's devastating the African American community," Carter said of the cash bail system. "Granted, the city (of Detroit) is majority African American, but nationwide you see this racist disproportionality."
Reforms elsewhere
The lawsuit comes amid a national effort to reform the bail system, which has been controversial since the United States was a British colony.
Last month, Rep. David LaGrand, D-Grand Rapids, sponsored a bill to allow anyone arrested in Michigan to be released without bail unless a pretrial risk assessment determines a bail should be set.
The ACLU does not support the bill, saying it doesn't go far enough.
In recent years, California, Colorado, Kentucky, New Jersey and Georgia curtailed or eliminated cash bail. Washington, D.C. got rid of bail in 1992 for all defendants except those deemed most dangerous and 2015 data showed 90 percent returned to court and were not arrested while awaiting trial.  
Five other courts in Michigan are working to set more affordable bail amounts as part of an effort that Michigan Chief Justice Bridget McCormack announced in February. The 36th District Court, which handles 500,000 cases per year, is not among them.
Experts caution that eliminating bail is not a panacea for criminal justice inequities. In Maryland, "the burden still disproportionately affects the black community, and more and more people are being held without bond — without a fair hearing," Scott Roberts, an author of a report about Maryland's reform, last year told the Washington Post. 
The case against 36th District Court is part of the ACLU's Smart Justice Campaign to cut Michigan's jail and prison population in half.
One of the defendants in the ACLU case, Davontae Ross, 24, was arrested April 11 on a five-year-old ticket for trespassing in a park after dark. He expects to remain in jail until his next court date because he can't pay the $200 bond, according to the lawsuit.
Taxpayers are paying far more than that.
One day of jail alone costs about $75 per day across the United States or more than $10 billion a year,a  2017 Bridge analysis found. In Wayne County, average daily costs can climb closer to $150 per day.
As much as 60 percent of the jail population in Wayne County is comprised of defendants who can't make bail and are awaiting trial, according to the Michigan Sheriffs' Association.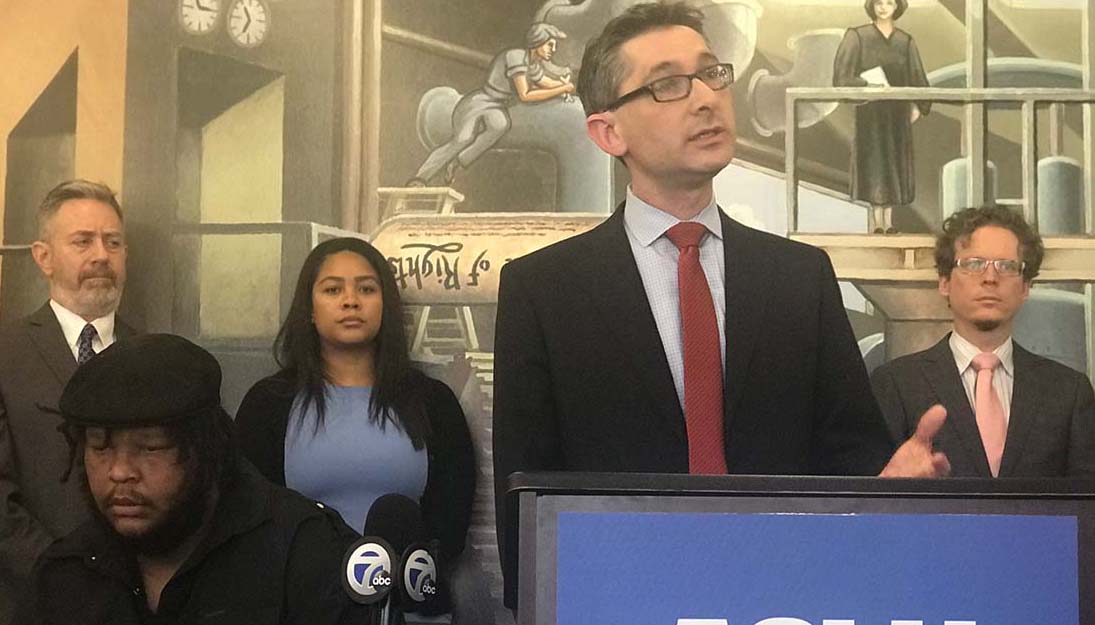 Dan Korobkin, deputy legal director for the ACLU of Michigan explains how Washington D.C. eliminated bail in the 1990s. Most people who get a bail set in 36th District court are not high flight risks, "they're high needs," he said. (Bridge photo by Chastity Pratt)
The ACLU notes that Michigan's courts already require an attorney to be appointed before arraignment, an inquiry to find out if a person has the ability to pay bond and allows pretrial release without bail except when a person is considered a danger to the community or flight risk.
But the ACLU claims 36th District Court often flouts those mandates with shabby arraignments that last two to four minutes.
"We can get rid of cash bail, but that's not the whole answer to the problem," Korobkin said.
Korobkin said 36th District Court needs to make some specific changes:
Ensure all defendants will be arraigned within 48 hours

Assign a lawyer who can advise defendants before the hearing

Hold hearings to determine if defendants are a flight risk and their ability to pay bail
Kushawn Moore, Sr., the father of the teen who is in jail charged with armed robbery,  wept at the press conference on Monday. He was consoled by James Telman, pastor and mentor to Djibril Niyomugabo who committed suicide in Kent County jail in 2016 while he was detained on $200 bail for stealing a bottle of wine from a car.
Moore's wife, Deleda Moore, said their son is sitting in jail, scared. He's missing school, missing work at his McDonald's job and missing prenatal doctor's appointments with his pregnant girlfriend who is due in August.
"He's never been in trouble a day in his life," she said. "He's crying, he's depressed. I explained (to him) that he can't come home because we can't afford to pay."