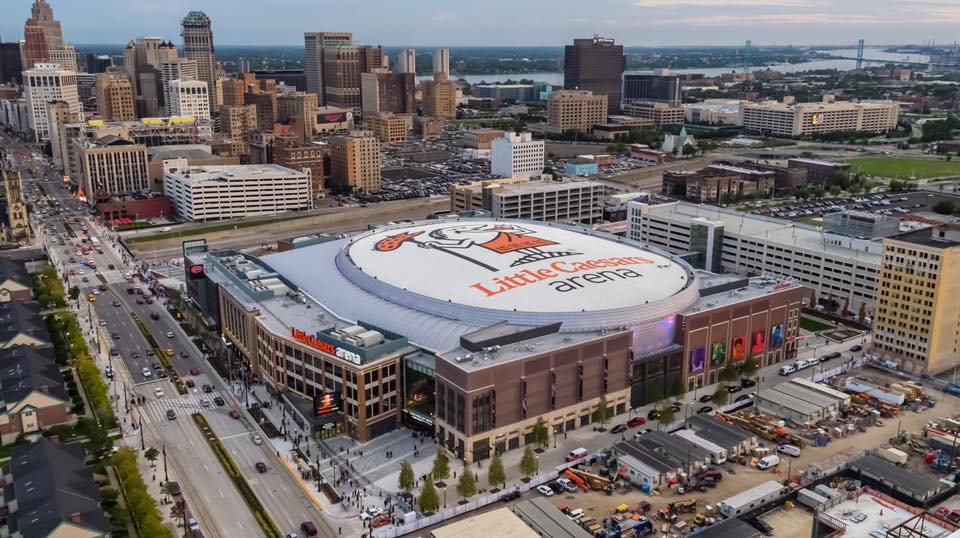 Detroit is heavily subsidizing big-ticket items such as Little Caesars Arena in the hope that downtown and Midtown revivals will boost commercial tax values and create momentum to help surrounding neighborhoods. (Courtesy photo)
The word came up, as it almost always does in Detroit these days, less than two minutes into the conversation.
"Detroit is at the forefront of this thing called gentrification," Simone Lightfoot, national director of urban initiatives for the National Wildlife Federation, said at a housing summit on Detroit's east side in late April.
"Some people aren't even willing to say it's happening. In black circles, it's talked about all day. But in white areas, it's called development."
Five days later, at a very different gathering – the Urban Land Institute's spring conference at Cobo Center – two billionaires redeveloping downtown and Midtown, Dan Gilbert and Chris Ilitch, offered a radically different vision of Detroit, one they say benefits all.
Related:
"Detroit is at a special moment in time, ripe with opportunity and promise," said Ilitch, whose firm, Olympia Development, is remaking large swaths of Midtown with its $1 billion mixed-use development, The District Detroit, which includes the sports and entertainment venue Little Caesars Arena.
Three and a half years after emerging from bankruptcy, Detroit's changes are undeniable: Tax values are up, access to loans has increased, and a 60-year population skid has slowed to a trickle. But the comeback is accompanied by lingering questions about whether all residents benefit from the revival of downtown and Midtown.
Much of Detroit's progress has come through heavily subsidized developments and tax breaks that represent a bet that development in a few areas will create enough momentum to revive long-suffering neighborhoods in the 139-square-mile city.
It's a debate that no doubt will intensify with last week's announcement that Ford Motor Co. bought Detroit's most visible symbol of decay, Michigan Central Depot, which has been closed for three decades. Ford plans to redevelop the building and bring 2,500 employees to the Corktown neighborhood, a deal that will require significant tax credits.
The discussion about seismic changes in Detroit is often accompanied with a loaded buzzword – gentrification – that doesn't adequately describe what's happening, argues Alan Mallach, an urban scholar and author of the new book "The Divided City: Poverty and Prosperity in Urban America."
Classic gentrification involves an influx of newcomers that raises rents and home values and prices out longtime residents, Mallach said. By and large, that isn't happening in Detroit, he said.
Despite the sale of $1 million lofts and six-month waiting lists for Midtown apartments, "the broad data indicates there's no displacement (of residents) and we have to make sure displacement does not take place," said David Egner, CEO of the Ralph C. Wilson Jr. Foundation that helps finance Midtown development.
"The recovery of Detroit has got to stretch to the neighborhoods," said Aaron Seybert, social investment officer of the Kresge Foundation, which has a leading role in funding and planning Detroit's revival.
"If all we ever did was invest in downtown and Midtown, it would be one thing. But we have a strong belief we need a strong nucleus (in these areas) we need to grow out of."
Kresge is one of the funders of the city's recently expanded Strategic Neighborhood Fund, a $130 million venture that funds neighborhood streetscapes, park improvements, vacant home rehabs and financing for mixed-use developments. (Disclosure: The Ralph C. Wilson Jr. Foundation and Kresge Foundation donate to The Center for Michigan, the nonprofit that operates Bridge Magazine.)
Booming values. Static bottom line
How divided are opinions about what's happening in Detroit? Even opinion surveys disagree.
In April, the University of Michigan released a survey of residents that was overwhelmingly pessimistic.
Asked about who benefits most from downtown and Midtown investments, more believed it was non-residents (38 percent) than city residents (20 percent); white people (47 percent) as opposed to black people (2 percent); and wealthier people (70 percent) over poorer people (2 percent).
"The negativism is a little starker than we thought," said Jeffrey Morenoff, director of the University of Michigan's Population Studies Center, which conducted the study.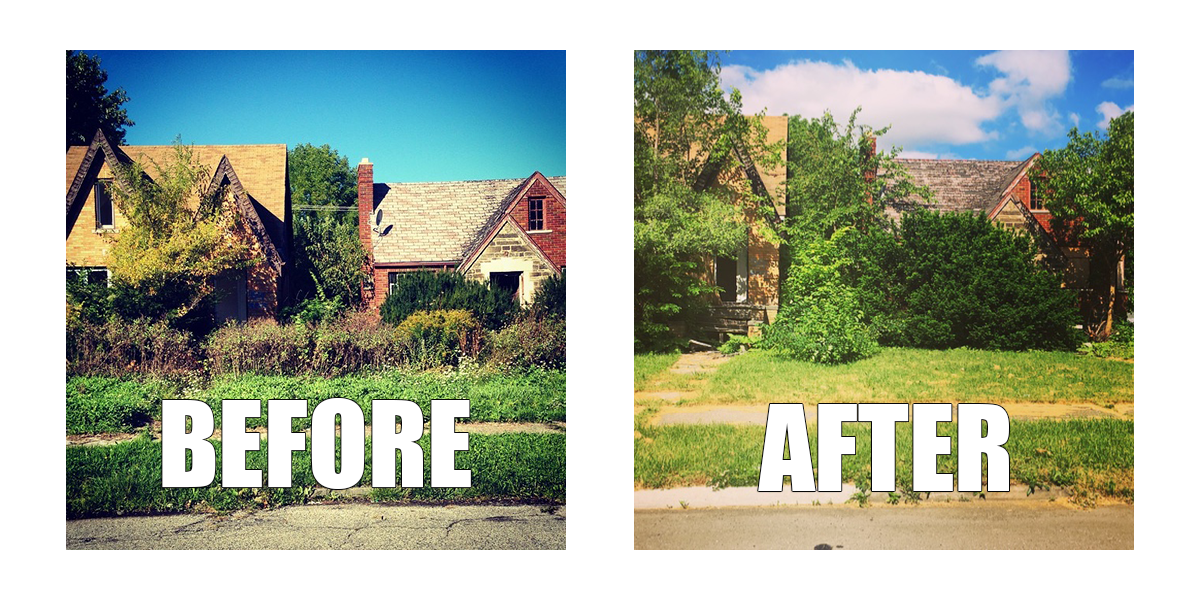 Before and after: These two homes are on Greensboro Street on Detroit's east side, a block where all but five of 38 homes went into foreclosure since 2006. At left are the homes in 2014. At right are the homes this month. Some neighbors say they are still awaiting the revival in Detroit's downtown and Midtown to spread. (Bridge photos by Joel Kurth)
Three weeks later, the Kresge Foundation –  which partially funded the U-M survey – released its own study that found residents in the overwhelmingly black and poor city are optimistic: 94 percent of believed Detroit could be great again, while 76 percent felt retail offerings improved in the past 10 years.
"People are seeing progress in their neighborhoods and they're getting excited," said Chantel Rush, a program officer for Kresge's American Cities program.
Some of the difference of opinion perhaps could stem from Mayor Mike Duggan's strategy of investing heavily at first in a handful of promising neighborhoods rather than distributing funding equally across the city.
By one measure, the strategy is working: The city's commercial tax base is booming, spurred largely by downtown and Midtown investment.
Related Detroit revival stories:
Assessed values of commercial properties grew 15 percent to $2.7 billion from 2014 to 2017 (which doesn't include the construction of Little Caesars Arena.) Income tax collections jumped 11 percent to $285 million over that time.
But the growth hasn't much helped the city's bottom line: Property taxes revenues have flatlined since 2014 at $129.5 million.
That's partly because home values plunged 43 percent to $2.4 billion since 2014, caused in part by Duggan's dramatic re-appraisal of city property after the real-estate meltdown.
But city revenues are also flat because so much of the growth in Detroit is in areas where taxes never make it to the city's general fund that pays for police, parks, street sweeping and other services.
A Bridge Magazine analysis of city and state records shows that one-third of the $1 billion in increased commercial value is located in tax-increment financing zones whose taxes are used to repay development bonds.
Knows as TIFs, the zones allow developers to divert property tax increases to pay off projects. The zone around Little Caesars Arena, for instance, will divert $726 million in taxes by 2051.
Last year, $30.6 million in taxes was collected by the downtown TIF.
That means nearly a fifth of city property tax revenues never made it into the community.
Downtown becoming self-sustaining
The downtown and Midtown boom is prompting banks to lend more freely in a city that once was a risky bet for lenders, said Elizabeth Luther, Detroit program manager for Capital Impact Partners, a mission-driven investment firm.
And the loans are beginning to flow into neighborhoods, Luther said.
This year, she said she was preparing to write a press release for the $8.3 million 7.Liv project to create 10 apartments and 21,000 feet of commercial space for the long-closed B. Siegel store in Northwest Detroit.
"We kept wanting to say it was the first project in the neighborhood in X-number of years, but we gave up because we couldn't find anyone who remembered when the last one was done," said Luther, Detroit program manager for Capital Impact Partners.
Loan officer Nick Pohl came to Capital Impact Partners in 2016 from a commercial lender that he said "would never lend in Detroit."
"Now, I would argue that downtown is becoming self-sustaining," Pohl said. "The real opportunities are to move more out to the neighborhoods now."
Changes in Midtown, downtown
New lofts, apartments and a revitalized retail sector have drawn thousands of new residents to Detroit's core along Woodward, even as the city as a whole continues to lose population. The growth is largely fueled by white newcomers, but both areas remain majority African-American.
Midtown
| Group | 2016 | Change from 2011 | Percent |
| --- | --- | --- | --- |
| White | 5,490 | 2,476 | 82.1% |
| Black | 13,412 | -237 | -1.7 |
| Hispanic | 455 | 215 | 89.6 |
| Total | 21,660 | 2,861 | 15.2 |
Downtown
| Group | 2016 | Change from 2011 | Percent |
| --- | --- | --- | --- |
| White | 2,062 | 817 | 65.6% |
| Black | 3,327 | -165 | -4.7 |
| Hispanic | 323 | 205 | 173.7 |
| Total | 6,259 | 1,158 | 22.7 |
Population increase brings demographic shift
With an increase in population, the racial breakdown of Midtown and downtown has changed. Though the areas are still majority African-American, white residents now make up a larger share of the population.
Midtown
| Demographic | 2011 | 2016 | Change |
| --- | --- | --- | --- |
| White | 16 | 25.3% | 9.3% |
| Black | 72.6 | 61.9 | -10.7 |
| Hispanic | 1.3 | 2.1 | 0.8 |
Downtown
| Demographic | 2011 | 2016 | Change |
| --- | --- | --- | --- |
| White | 24.4 | 32.9% | 8.5% |
| Black | 68.5 | 53.2 | -15.3 |
| Hispanic | 2.3 | 5.2 | 2.9 |
Source: U.S. Census American Community Survey
Seybert of the Kresge Foundation said improvements in neighborhoods don't get as much attention as dramatic changes in downtown and Midtown.
"It's a very tired cliche to say nothing is happening in neighborhoods. It's terribly insulting," Seybert said.
But even as lenders become more comfortable in Detroit, they're often less so in neighborhoods, where projects require "multiple layers of financing" and "every project is complicated," Luther said.
It remains that way in Midtown as well, said Egner of the Wilson Foundation.
Even with surging interest and demand in Midtown, rents in the neighborhood are typically about $2 a square foot, or roughly $1,500 a month for a 750 square-foot-apartment, about double the citywide average of $820 a month, city records show.
Even so, rents aren't high enough to offset rising construction costs, and developers need to charge $3 per square foot to develop housing without subsidies, Luther said.
Add in Detroit's high tax rate (32 mills compared to 9 in Grand Rapids) and experts say tax breaks and other financing assistance are still required in Midtown to make projects viable.
"This neighborhood is far from being done," said Susan Mosey, executive director of Midtown Detroit Inc., a redevelopment group. "It's still very fragile."
What is affordable?
City officials and private investors say they're confident Detroit can pull off a unique coup: Reviving the city and neighborhoods without forcing out long-time residents.
Detroit last year passed an ordinance requiring housing developments subsidized with $500,000 or more federal funds to set aside 20 percent of building units for "affordable housing."
"Keeping people in affordable housing is very important to us," said Arthur Jemison, Mayor Duggan's executive in charge of housing and infrastructure, told a public forum in late April.
Arthur Jemison, a top aide to Detroit Mayor Mike Duggan, says the city is committed to ensuring all residents benefit from Detroit's revival.
But the ordinance caused controversy because of how it defined "affordable housing." Recipients of discounted rent can't make more than 80 percent of the average income of the metro region, or $38,450 for a single resident.
Backers had sought a lower limit, arguing that Detroiters –  whose median household income is about $26,000 –  couldn't afford rents of supposedly "affordable" complexes.
And plenty of skeptics remain.
Jemison spoke in April at the Eastside Community Network's affordable housing forum at Southeastern High School, a gorgeous school in an east-side neighborhood full of empty lots and vacant homes that is still awaiting the Detroit comeback.
The response from the crowd in the auditorium was overwhelmingly negative. Jemison listened as speakers accused the city administration of ignoring poor people, driving out residents and likening Mayor Duggan to President Trump.
"Some of the things I'm hearing are untrue," Jemison sighed to the crowd. "We are serious about helping everyone."