Sept. 2019: Detroit Police opt for safety over privacy, as facial recognition approved
August 2019: Detroit police chief defends new facial recognition policy; protests continue
How incendiary is the debate over police video surveillance in Detroit? Last week, fierce discussion about the issue led to the arrest of Police Commissioner Willie Burton, whose job is to oversee the police.
During a community meeting Thursday, Burton loudly protested the Detroit Police Department's request to adopt a policy to govern how it uses facial recognition technology with video surveillance cameras on public streets.
As he was taken out of the meeting in handcuffs and led to jail, the crowd –  some of whom wore masks to protest facial recognition software – chanted, "democracy, democracy, democracy!"
Such are emotions in Detroit over the technology, with protesters claiming it is inaccurate when used on people of color and violates privacy rights, while supporters say police need all the tools they can in a city with one of the nation's highest crime rates.
Across the nation, several cities have banned or are considering banning the use of the facial recognition software, including San Francisco and Oakland, California and Somerville, Massachusetts.
Most of the hundreds of people who have shown up at Detroit's police commission's weekly meetings in the past month oppose the use of traffic light-mounted cameras for general police work and the proposal of facial recognition software. 
The technology is mired in controversial privacy concerns and studies that have found it to be least accurate when used to identify people of color. Detroit's population is 80 percent African American, the largest percentage of any large city in the country.
But studies have concluded that facial recognition technology identifies anonymous white men correctly 99 percent of the time, but misidentifies darker skinned women most often - more than 30 percent of the time.
That's what Burton was saying - loudly and after he was asked to pipe down - when he was arrested at Thursday's meeting.
"What happens when this supposedly sophisticated technology fails? What is it going to cost people in the end?  San Francisco won't put their faith in it and they're located right there where the technology is developed. Why should we?" Burton said in an interview with Bridge. 
"I called for a legal opinion and for this to be ballot initiative. I don't think it should be forced on people when it has not been properly tested in black and brown communities."
Burton was charged with disorderly conduct and released on bail. Board chairwoman Lisa Carter said he was asked three times to quiet down before she ordered him out of order and officers removed him.
"We've been dealing with Commissioner Burton for the past year with his outbursts," she said.
'Committed to constitutional policing'
The Detroit Police Department has had access to facial recognition software for a few years, but no guidelines for its usage. 
Police Chief James Craig told reporters last month he requested the Board of Police Commissioners approve a proposed facial recognition policy to assure Detroiters that their rights are being protected and to provide the police with resources.
Detroit Police Chief James Craig pulled a request for the Detroit Board of Police Commissioners to approve a policy to govern the use of facial recognition technology. The police have had access to the technology for a couple years, but no policy for its use. The issue has been tabled with no timeline for reconsideration.
In response to the backlash about facial recognition, Craig said DPD would use the software only in a "significant emergency to this city," that would require approval from him or his designee.
"I take this very seriously, we are committed to constitutional policing," Craig said. 
Craig two weeks ago pulled his request that the police commission adopt a facial recognition technology policy. The issue has been tabled with no timeline for reconsideration, Carter said.
The Detroit Board of Police Commissioners, however, voted last month at a public meeting packed with protesters to approve a policy to allow the Detroit Police Department to use cameras mounted on streetlights and traffic lights as a general-crime monitoring tool. 
In the meantime, the City Council, which has to approve funding for the police department, may intervene.
Mary Sheffield, the council president pro-tem, told Bridge she is drafting an ordinance to ban the use of facial recognition software. In the event that measure fails, a second ordinance under consideration would ensure the council gets information on how the technology is used before funding is approved, she said.
"The commissioners make policy for DPD, but council has the power of the purse," Sheffield said.
This Monday, police are asking a council subcommittee to approve $4 million to expand its surveillance operations including a request to build video monitoring rooms in two precincts.
Sheffield said she wants council to get involved in part because she said the police department hasn't been transparent about how officers have used facial recognition with existing cameras over the past two years. She also worries about reports that the software often misidentifies African Americans.
"I support equipping the Detroit Police Department and any law enforcement agency with the tools they need to solve crime and bring families justice," Sheffield said. "However … why are we investing in technology, using city resources on a technology that has been proven to not work? In a city that's 80 percent black?"
Three Detroit-area Democrats –  Reps. Isaac Robinson and Sherry Gay-Dagnogo, both of Detroit, and Rep. Jewell Jones of Inkster –  introduced a bill July 10 to ban the use of facial recognition technology by any law enforcement agency in Michigan. 
Perhaps ironically, Detroit police are trying to solidify and expand its use of video surveillance and facial recognition technology at a time when the department is reporting that crime is declining. 
Violent crime is down 2 percent compared to a year ago and property crime has fallen 5 percent, Assistant Police Chief David LeValley reported at Thursday's meeting. 
How it works
The most commonly used facial recognition software maps a person's face. It compares that information to faces in all kinds of photo databases from driver's licenses to mugshots to social media photos.
In Detroit, the city's Project Green Light video surveillance program has facial recognition capabilities as well as the traffic light-mounted cameras that the police can now use for general crime-fighting. The faces captured on the cameras are hooked up to the Michigan driver's license database and mugshots in police databases.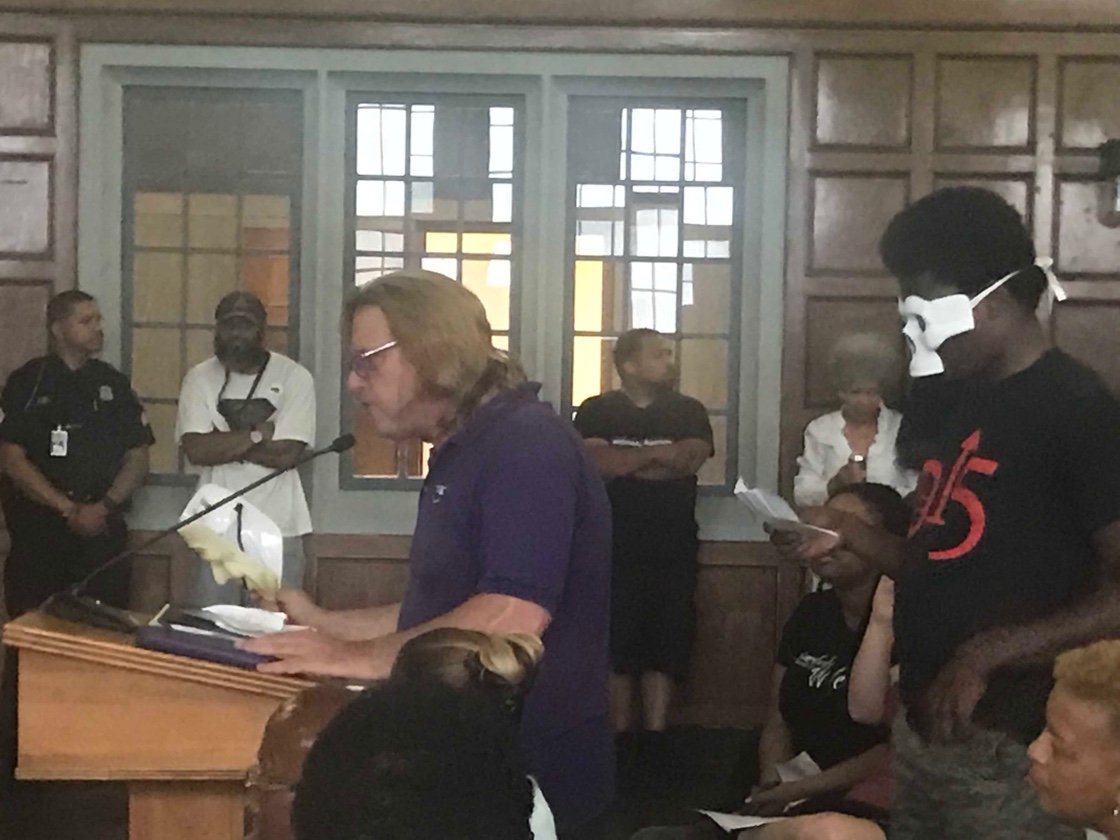 Several people at Thursday's police commissioners meeting wore masks or covered their faces to protest the city's use of facial recognition technology. (Bridge photo by Chastity Pratt)
Project Green Light, started in 2016, allows businesses --  from gas stations to churches –   to install outdoor bright-green lights and high-definition cameras that are monitored in real time by police. In its first year, the city reported that crime within 350 feet of those businesses fell 11 percent.
The green lights are credited with capturing footage of crimes that police have shared publicly leading to arrests.
Questions about racial bias have led to a growing list of detractors that  includes the Congressional Black Caucus. Six members of the CBC were among 28 members of U.S. Congress who were misidentified when the American Civil Liberties Union (which opposes the technology) tested Amazon's face recognition technology, the ACLU reported.
Add to the list Axon, the largest manufacturer of police body cameras used by large city departments. The company said last month it won't use facial recognition technology because its ethics board concluded in a report that "face recognition technology is not currently reliable enough to ethically justify its use."
Opponents say they also worry that nothing would prevent the police from sharing information with U.S. Immigration and Customs Enforcement which recently sought to use facial recognition to sift through driver's licenses in three states. 
"There's nothing that would criminalize police abuse of the technology," said Eric Williams, an attorney working with the ACLU-Michigan which opposes face recognition technology. "It's well known our government law enforcement will always push the envelope as far as it can. That's just how law enforcement works."
Any Detroit Police Department facial recognition policy would prohibit using the technology to identify undocumented immigrants, Craig said at a news conference last month.
The supporters
Those who support using the technology argue that safe, ethical use of facial recognition, when used properly, is an effective crime-fighting tool.
Craig's office did not respond to requests for comment on the ongoing protests. 
In a news conference last month Craig echoed some of the sentiments of New York's police commissioner who lauds the software as a 21st-century tool that helps identify criminals caught on tape.
James O'Neill, the police commissioner for New York City, wrote a letter in the New York Times last month that in 2018, detectives made 7,024 requests to use the software to identify a suspect. In 1,851 cases possible matches were found, leading to 998 arrests, he wrote.
He said that the software is a tool, but must be backed up with other evidence before an arrest.
"No one can be arrested on the basis of the computer match alone," he wrote. "When cases using this technology have been prosecuted, our methods and findings are subject to examination in court. It would be an injustice to the people we serve if we policed our 21st-century city without using 21st-century technology."
Tom Wilson, a retired teacher who lives in Detroit, was one of the few residents who voiced support for using the technology at a recent commissioner's meeting. He said he understands the concerns about the software and privacy, but he's tired of the high crime rate and wants police to have the best tools.  
"My life, liberty and pursuit of happiness ends when [someone] decides to shoot me," Wilson told the commission during public comment last month.
That's the opinion of most residents, said Police Commissioner Willie Bell, who described protesters as a vocal minority.
"We are out in the community … we've been dealing with the issue for three months or more," Bell said. "The community applauds us. We are here for the community of the city of Detroit. It appears that a majority of the people are for it, it's a small number that's against it but they can express their views."