DETROIT –  Safety concerns won out over privacy fears Thursday when a board overseeing Detroit Police approved a policy allowing the use of controversial facial recognition software.
After the Detroit Board of Police Commissioners approved the measure 8-3, sighs from residents and activists filled a conference room at downtown's Public Safety Headquarters.
Opponents worried about increased surveillance and studies showing the  software is less reliable in identifying people of color, a particular concern since African-Americans comprise 79 percent of Detroit's population. But Detroit is the nation's second most-violent big city, and police said the software can help cut crime.
"We support facial recognition as we work to keep people safe," Chief James Craig said. "I'm not entirely happy with the statistics of our crime rates, but we are moving in the right direction with this technology."
The vote followed months of protests and often fiery meetings, including one this summer in which police arrested a commissioner who wouldn't stop talking during a raucous debate. That commissioner, Willie Burton, voted against the policy Thursday, along with Darryl Brown and William Davis. Commissioners Willie Bell, Shirley Burch, Eva Garza Dewaelsche, Lisa Carter, Annie Holt, Elizabeth Brooks, the Rev. Jim Holley and Evette Griffie approved the policy.
The vote came as cities nationwide debate the use of the technology, which police use to track missing persons, criminals and suspected terrorists. Cities including San Francisco and Oakland, California; and Somerville, Massachusetts, have already banned facial recognition software, while Portland, Oregon, officials also are debating a ban.
The Michigan Association of Chiefs of Police didn't respond Thursday to a message seeking comment. But a national activist group, Ban Facial Recognition, on its website says police departments use the technology in Van Buren, Kalamazoo, Kentwood, Livonia, Clinton Township and St. Clair.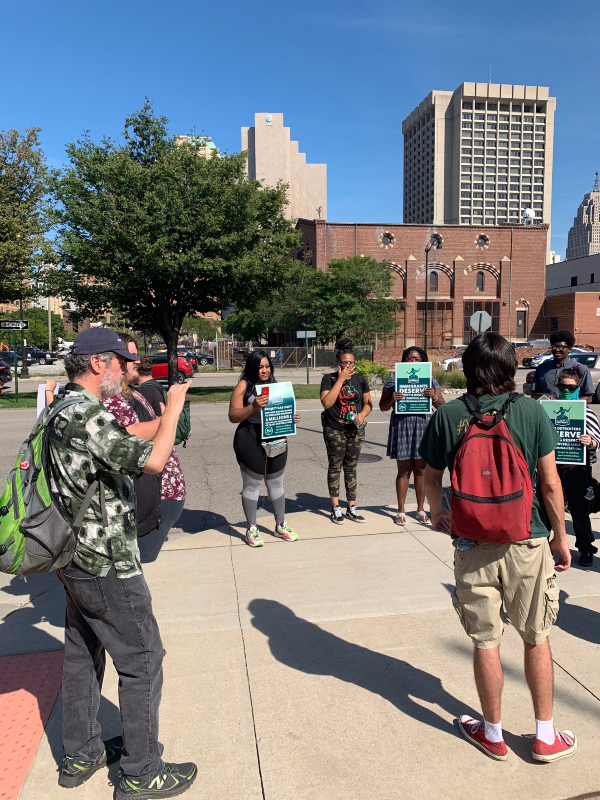 Protesters gather outside the Detroit Public Safety Headquarters near downtown on Thursday, upset over facial recognition software they say will victimize people of color. (Bridge photo by Kyla Smith)
The Detroit City Council approved the $1 million purchase of the software in July 2017, and has since used it under standard operating procedures.
Prior access of facial recognition technology has been used through Project Green Light, the city's video surveillance program at gas stations and other businesses, and traffic light-mounted cameras that can be used to identify criminals.
Board members insist the software will not be used during live streaming, recorded video footage or on the use of drones. Officers that abuse the technology will be disciplined. 
"This is not out to get people of color," said Elizabeth Brooks, Police Commission board member. "We are here to protect all human beings. I visited the crime lab and watched the process. It works to keep all of us from harm."
Facial recognition systems use biometric technology to identify facial features from photos or videos and then compares the information with a database of known faces. 
Police say there are numerous safeguards to prevent abuse of the system, which uses video feeds to take photos and compare with them social media and other databases for a match. Three employees from the city's Real Time Crime Center must agree there is a match before the photo is forwarded to police.
The arguments don't sway critics. More than 10 members from the civil rights group, Metro Detroit Political Action Network gathered outside the police department with signs and bullhorns to protest the use of the new technology. 
"It's an invasion of public privacy with no consent," said DeMeeko Williams, an organizer for the group. "This technology is ineffective and hurts black and brown communities. Why would Detroit put something in place that other cities have already banned?"
While the software could help with solving crimes, studies have shown that people of color are misidentified by up to 30 percent. 
Police departments in the United Kingdom that use facial recognition software have reported a 98 percent inaccuracy rate since implementing the system in 2017. 
Beside racial concerns from citizens that attended the meeting, some feel the community should have had more involvement. 
"The chief jumped the gun by not discussing the software with the appointed commissioners before he invested in this initiative," said Marilyn Jordan, president of Detroit's People Task Force, an activist group. 
"Anything that spends taxpayer dollars should be spoken to the community at large before an investment is made."
"I think by not having the majority of the community back this software, it will not be good for the city."
Opponents vow to continue to fight the measure.
Democrats have proposed bills in Lansing that would ban or limit police use of the technology, but they haven't received a hearing in the Repubican-led Legislature. Opponents also are threatening a lawsuit, while the City Council also could intervene.
Councilman Roy McCalister told The Detroit News on Thursday he's planning a forum on facial recognition software at 6 p.m. Oct. 17 at the International Brotherhood of Electrical Workers hall at 1359 Abbott in Detroit.