To proponents of Detroit's "aerotropolis," the airplane could be as important to Michigan's economy in this century as the automobile was in the 20th century.
The "aerotropolis" sounds like something out of "The Jetsons" -- an airport surrounded by a bustling city fueled with a constant stream of people and cargo coming and going from around the globe.
In the real 21st century, Amsterdam, Dubai and Beijing and other major cities already have booming aerotropolis developments, which, in essence, are cities themselves filled with businesses and residents whose work is dependent on easy air access.
"In a highly specialized, differentiated economy, being close to an airport is critical," said John Taylor, a transportation and supplier chain expert at Wayne State University. "There's an opportunity to bring a fair number of jobs and an improved quality of life to Southeast Michigan."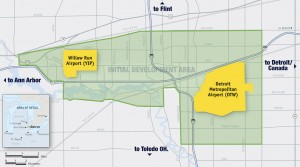 The aerotropolis is one of several initiatives to transform SE Michigan into a global freight nexus "by land, by sea, by air."
Economic developers here hope to attract hundreds of businesses and 64,000 jobs to some 60,000 undeveloped acres of property surrounding the Detroit Metro and Willow Run airports over the next 25 years.
The annual economic impact to the state of a fully utilized aerotropolis is estimated at $10 billion a year.
"All the elements are there for it to take off," said Doug Rothwell, president of Business Leaders for Michigan and a member of the Detroit Region Aerotropolis executive committee.
'By land, by sea, by air'
A second Detroit-Windsor bridge may be the most famous, or infamous, transportation proposal in Michigan at the moment, but it is most certainly not the only one. A constellation of business interests, academics and state and local entities are trying to reshape SE Michigan's connections to the globe and, in the process, make the area a global nexus for trade.
What's the business case for second Detroit bridge?
Delray neighborhood has hopes, worries for a new bridge
For $400 million, you get a double-decker rail tunnel
Greg Lindsay, co-author of the new book, "Aerotropolis: The Way We'll Live Next," said Michigan's manufacturing and talent base, modern terminals at Detroit Metro, nearby rail lines and nonstop flights from Metro to Asia give it an advantage over competing projects in other states.
"Of all the groups in the Midwest that are trying to do this, Detroit is the only with the assets needed to make it work," he said.
Lindsay said passenger air service is even more important than rail or trucking in a growing knowledge economy:
"If you want to catalyze development, you need air service," he said. "It's about the ability to move people who are flying around with skills rather than moving boxes."
But Rothwell and others acknowledge that Detroit's aerotropolis is navigating through some nasty political turbulence and financial difficulties that are delaying its economic take-off.
Meanwhile other Midwest cities, including Indianapolis and Columbus, are moving aggressively on projects of their own that threaten to divert development from Detroit.
"They'll get there before us, if we're not careful," Rothwell said.
Spearheaded by Wayne County Executive Robert Ficano and Detroit business leaders, the aerotropolis was formally launched after passage of state enabling legislation last year.
The Next Michigan Development Corporation law allows as many as five regional geographic entities to offer a variety of economic incentives to businesses that locate near major transportation facilities, such as airports
It's the centerpiece of a plan to boost "multimodal" commerce in Michigan, tying together air, rail and truck-based shipping into a seamless transportation system.
"Logistics and transportation have huge implications for growing the economy here," said Doug Smith, senior vice president of strategic partnerships at the Michigan Economic Development Corp.
Flint, Grand Rapids, Lansing and Traverse City also are interested in gaining Next Michigan status for aerotropolis developments surrounding airports in those cities, Smith added.
Detroit's aerotropolis effort grew out of a 2006 study prepared for Detroit Renaissance -- now Business Leaders for Michigan -- that recommended Southeast Michigan utilize its considerable air, rail and truck assets to become a global logistics hub.
The study noted that 40 percent of the value of world trade was transported by air and that world air cargo traffic was expected to double by 2020.
Detroit Metro, which serves 30 million passengers a year, is the second-largest hub and primary Asian gateway for Delta Air Lines.
And Willow Run, which serves cargo, corporate and general aviation clients, handles 200 million pounds of cargo a year. It's Michigan's fourth-largest airport.
Nine local government entities in Wayne and Washtenaw counties have formed the Detroit Region Aerotropolis Corp., which allows the aerotropolis to offer businesses a variety of incentives to locate near the airports.
Those incentives include 10 tax-free Renaissance Zones and property tax abatements for companies locating outside of the Renaissance Zones.
"This is about jobs, jobs, jobs and getting people back to work," Ficano said when former Gov. Jennifer Granholm signed the Next Michigan legislation on Dec. 15, 2010. "Next Michigan is pivotal in continuing regional collaboration and elevating Michigan as a great place to do business."
The aerotropolis corporation began operation in February.
But a huge shake-up in Ficano's administration and a wide-ranging FBI investigation of Wayne County finances, including the airport authority that governs Detroit Metro and Willow Run, have nearly stalled progress.
Metro Airport CEO Turkia Awada Mullin was fired in October after it was revealed that she'd received a $200,000 severance payment when she voluntarily left her job as the county's top economic development official to become the airport chief. Mullin filed a lawsuit against the airport authority board on Dec. 8 seeking her job back. She claimed she'd been illegally fired by the board in a private meeting.
Last month, airport authority Chairwoman Renee Axt resigned three days after Ficano asked authority members to step down if they had conflicts of interest with the county.
And Azzam Elder, Ficano's right-hand-man on the aerotropolis project, was suspended from his job as deputy county executive in October for his role in the Mullin severance payment scandal. Elder resigned his job last month.
At the moment, the aerotropolis corporation is being run by interim executive director Bryce Kelley, a longtime Wayne County economic development official.
In addition to the political upheaval, Rothwell said efforts to develop the aerotropolis are being hampered by a lack of operating funds.
"The problem is the (Next Michigan) legislation doesn't provide a revenue stream to fund the executive director's position. There is no revenue stream to pay for overhead. It's very under-resourced."
Around $1 million was raised from corporations and foundations to pay for a business plan and start-up costs. And Wayne County has kicked in money for operations, Rothwell said.
The aerotropolis has hired San Francisco-based Applied Storytelling to brand and market it, but needs additional funds for a marketing campaign. The aerotropolis is seeking about $200,000 in marketing funds from the MEDC "and they have not said 'no,'" Kelley said.
Lindsay said the biggest possible negative of the aerotropolis is that it could attract companies that might otherwise locate in a revitalizing downtown Detroit.
"The larger question is whether building a whole new business district around those airports is the best thing to do," he said.
Dozens of companies have located in the aerotropolis region over the past several years, including a General Electrics wind turbine and research center in Van Buren Township that employs 1,200 workers.
So far, though, the only companies that have taken advantage of Next Michigan financial incentives are Kalitta Air and Kalitta Charters out of Willow Run Airport. The two companies have received tax incentives valued at $8 million for investments that have created 140 jobs, Kelley said.
No companies have located in the aerotropolis Renaissance Zones so far.
Gov. Rick Snyder has been working to wind down various Renaissance Zones, saying they have been ineffective in creating jobs and investment. But spokesman Ken Silfven said there are no plans to try to remove Renaissance Zones authorization from the Next Michigan development law.
Smith said the MEDC is "certainly not encouraging" other regions of the state seeking to build aerotropolis-type developments using the tax-free zones.
With or without Renaissance Zones, Rothwell said the approximate $500 million in business investment that has occurred since plans for Detroit's aerotropolis were drawn up points to its future success.
"It's been a very quiet process," he said. "The limited marketing effort shows it's got a lot of potential."