No industry contracted more during Michigan's "lost decade" than construction.
The value of new construction, including homes, offices, factories, hospitals and schools, fell by more than half, from $21 billion in 2001 to $9.2 billion last year, as measured by state gross domestic product.
During the same period, Michigan lost 82,000 construction jobs, a 40 percent drop from the 205,000 construction jobs in the state at the end of 2000.
Bridge: Factory work drives slow Mich. recovery
But builders and contractors say they're finally starting to see what looks like an end to their decade-long economic nightmare.
"I sense an overall positive feeling from the people I talk to," said Rich Kogelschatz, a home builder in Rockford, near Grand Rapids. "People are tired of being down. They want to start something."
Construction GDP rose in Michigan from $8.8 billion in 2010 to $9.2 billion last year, a 4.8 percent increase.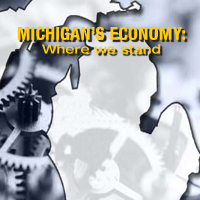 Kogelschatz, president of Heartland Builders, said his company will complete 11 new homes by this year, up from the four a year Heartland built during the past several years. His company builds homes in the $250,000-to-$300,000 price range.
Statewide, there were 1,168 single-family home construction starts in October, up from 767 in October 2011, according to Federal Reserve data.
"There's been more good information coming out of the housing industry than I've seen in a long time," said George Erickcek, a senior regional analyst at the Upjohn Institute for Employment Research in Kalamazoo.
"We have finally hit the bottom," he said. "I think there is more (future) upside in the housing industry than in any other."
Nationally, housing starts are expected to rise from the current annualized rate of 900,000 homes, to 2 million by 2014, according to forecast data compiled by USA Today.
Commercial construction boost seen
Nonresidential construction also is picking up in Michigan.
"Construction is still spotty, but there are a lot more spots than there were a few years ago," said Chris Fisher, president of Associated Builders and Contractors in Michigan, a trade association representing mostly nonunion contractors.
Fisher said enrollment is rising in ABC's apprenticeship programs and that some contractors are hiring again after a decade of slashing jobs.
"That's very good news," he said. "I think we're turning the corner."
While the construction of new schools, hospitals and college facilities have helped keep the industry afloat for the past few years, Fisher said contractors are finally starting to see an uptick in demand for new retail outlets, office space and factories.
Fisher said pent-up demand for new commercial and industrial building is starting to be seen in the state after a decade of businesses sitting on the sidelines.
"After a while, companies need to break ground and move forward," he said.
But the construction industry is recovering from a very low base, and employment remains sluggish.
"The industry remains stuck in neutral," said Ken Simonson, chief economist at the Associated General Contractors of America, which represents mostly union contractors.
"Despite a strong pickup in homebuilding and multi-family construction, uncertainty about the fiscal cliff appears to be holding back private investment, while public agencies keep trimming construction budgets," Simonson said.
The "fiscal cliff" refers to a series of tax increases and spending cuts that will take effect Jan. 1 unless Congress acts to make changes.
Construction jobs in Michigan have been hovering at around 122,000 for the last 12 months. A University of Michigan forecast in November predicted the state will add 19,000 construction jobs over the next two years.
Bridge: Health sector surges, but Michigan economy still faces educational drags
Bob Filka, chief executive officer of the Home Builders Association of Michigan, said more than 10,000 homes will be built in Michigan this year, up from 7,937 in 2011.
Still, that number is about a third of the 30,000 home a year that were built, on average, in the state over the past 60 years, Filka said.
One problem builders are facing is a lack of available financing for "spec" homes that contractors build in hopes of selling them later.
"The only builders who are building spec homes are the ones who can self-finance them," Filka said.
Builders also must pay higher property tax rates on spec homes that are not eligible for the lower homestead tax rate until they are sold to buyers. A bill addressing that concern was passed in the House earlier this year, but is languishing in the Senate.
Industry officials say stronger economic growth is needed to boost the construction industry.
"We've had slow, sputtering economic growth," Filka said. "We just need more jobs."
Rick Haglund has had a distinguished career covering Michigan business, economics and government at newspapers throughout the state. Most recently, at Booth Newspapers he wrote a statewide business column and was one of only three such columnists in Michigan. He also covered the auto industry and Michigan's economy extensively.