If you have taken a tour through downtown Detroit, there is a good chance you have walked through Claire Nelson's shop, Bureau of Urban Living.
Bureau, as it's commonly known, is an Urban Outfitters-style boutique with high-end housewares carrying an urban, Detroit theme. It's in a small space on the ground floor of the Canfield Lofts. Nelson, who lives nearby in Midtown, started the business in 2007 with aspirations of being a small part of a larger tide of change in Detroit.
"I was inspired by small things happening," Nelson said. "Liz Blondy was opening up her business (Canine to Five dog care) and Lee Padgett had opened Cafe de Troit. I thought I could open something small, focus on that and make it really good. That way I wouldn't be as frustrated with the big things around me."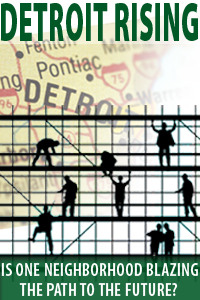 Previous coverage
Nelson, 35, grew up in the suburbs of Chicago and received her higher education in architecture and design from Smith College in Massachusetts and Columbia University in New York. She met her husband, a Detroit native and Cass Tech High School alum, at Columbia. Francis Grunow convinced her to move from New York City to Detroit in 2002. They married and created a life together in a community both love.
Bureau is one of the fruits of their passion. At the same time, Nelson and Blondy started Open City Detroit, a monthly gathering of local entrepreneurs to help encourage more businesses to open in the city. Nelson and her husband also played key roles in the Council by Districts petition drive that is changing the city's political landscape more and more every day.
"I didn't expect to be here this long, but I have been here 10 years now," Nelson said. "There are cool things happening in my neighborhood so I want to stay here."
From Nelson's point of view, having more people focus on smaller things does more than anything else to create positive change.
Nelson also subscribes to the Jane Jacobs ideology of urbanism of eyes on the street, density of people and the delicate dynamic of neighbors watching out for their neighborhood. To Nelson, that means choosing where you live based on the few blocks around you, instead of the larger city overall, because that's where you spend most of your time.
For her, that necessitates strong urban ideals, such as density, mixed-use buildings, historic preservation, plentiful green space, comprehensive transit options, a variety of strong local businesses and public spaces for people to gather and interact. In fact, Nelson says Bureau has become the latter two because it's not just a place for people to do business, but a place for neighbors to catch up on what's going on and brainstorm new ways to improve the standard of living.
"That's really an important part of building any neighborhood, whether it's Midtown or Brightmoor (a neighborhood well-known in Detroit for its struggles)" Nelson said. "Both need it."