Michiganians looking to increase their odds of landing a full-time job with above-average pay should head directly to a hospital.
Can't stand the sight of blood? Maybe you would prefer being a financial analyst.
Not good with numbers? Think about oil and gas.
The job outlook in Michigan is projected to remain tight through 2018, according to a Bridge Magazine analysis of federal data. But among the dark economic clouds are occupations expected to add thousands of jobs, many of which pay salaries above the state average.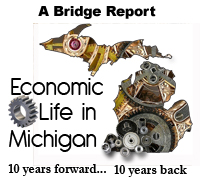 There are overall trends, such as the most new jobs are in health care and financial services, and the fastest growth is in the oil industry. The biggest trend, though is how much education those new jobs will require.
The top 11 highest-paying jobs projected to add at least 100 slots annually through 2018 all require a college degree, according to Bridge's analysis. By contrast, among  occupations projected to shrink, only one (police officers) requires post-high school education.
Hot jobs include:
Financial analysts and advisers: Projected to add 3,563 jobs per year through 2018, a 49 percent increase. These jobs pay an average of $44,928. Securities, commodities and financial service agents will add more than 2,500 jobs per year, with average pay of $46,000 a year.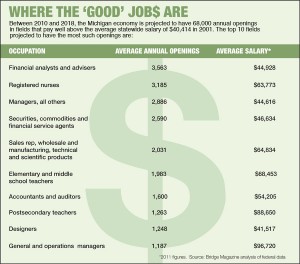 Health-care practitioners and technicians: Go into health care and you'll find a job. The workers who perform x-rays and ultrasounds, for example, are expected to grow by almost 9,000 a year, with an average hourly pay of $32.83. Registered nurses are another of numerous health occupations expected to grow rapidly as baby boomers' bodies begin to give out. Registered nurses take home an average of $63,773 per year. The number of personal and home health care aides is expected to grow by 29 percent (average pay = $19,781), and physician assistants ($86,528) will increase 26 percent.
Engineers and architects: This field is expected to grow only 2 percent overall, but because of retirements and people leaving the occupation, there will be a projected 4,000 job openings per year, with an average pay of $70,762.
Petroleum industry jobs: Petroleum is a relatively small industry, but oil and gas extraction occupations are projected to be the fastest-growing in Michigan. And with job earnings above the state average, it's good work -- if you can get it. (Job prospects take on oily sheen)
Paralegals and legal assistants: Spend $100,000 going to law school and you may not find a job, Spend less than a third of that, and you can make almost $50,000 a year as a paralegal. Jobs for legal assistants and paralegals are projected to grow by 28 percent over the period.