Manufacturing is still the engine driving Michigan's economy, but several other industry segments are fighting to grab the steering wheel.
Health care; finance and insurance; professional, scientific and technical services; management of companies; wholesale trade; and lodging and food service all have shown near or above double-digit growth of the past two years as measured by state gross domestic product.
A study last year by the Michigan Health & Hospital Association found that health care has surpassed manufacturing as the state's largest industry, employing about 550,000 workers.
But health care still trails manufacturing in economic output. Health care produced $30 billion in state GDP last year, compared to manufacturing's $55.9 billion.
Bridge: Factory work drives slow Mich. recovery
The growth of the state's service economy mirrors what has occurred in most other states, said Charles Ballard, a Michigan State University economist.
"We are now much more like the rest of the country than we used to be," he said.
In 1965, manufacturing was 49 percent of the Michigan's GDP, compared to 28 percent for the nation, Ballard said. Now those figures are 16.5 percent for Michigan and 12.2 percent for the United States as a whole, Ballard said.
That isn't entirely good news for Michigan. In the 1950s and 1960s, manufacturing made Michigan one of the wealthiest states in the country. Today Michigan ranks 36th in per capita income.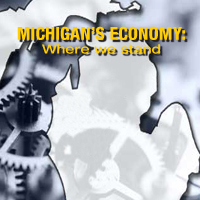 Michigan ranks 40th among the states in real per capita GDP, according to the federal Bureau of Economic Analysis.
Michigan's rankings explained
Economists say Michigan's low rankings in per capita income and per capita GDP are due to a number of factors, including a low labor participation rate, less educational attainment and lower gross operating profits of employers than in high-performing states.
Michigan Future Inc. President Lou Glazer predicted nearly a decade ago that the wealthiest states, as measured by per capita income and per capita GDP, would be those that created the most high-income "knowledge jobs" in areas such as health care, finance, and business and professional services.
Michigan is creating thousands of jobs in those industries, but not enough to offset the massive loss of low-skilled, high-wage manufacturing jobs.
The state shed 450,000 factory jobs — half of its total manufacturing employment —between 2000 and 2009.
"We sort of lost our 20th century legacy," Glazer said. "As that has collapsed we have not added a knowledge-economy engine as fast as the rest of the country. We're lagging in the growing part of the economy."
Bridge: Construction industry sees more work, more jobs on Michigan's horizon
Michigan Future's latest study found that in 2010 Michigan ranked 29th in the percentage of wages that came from industries where at least 30 percent of workers have a bachelor's degree or above.
Nationally, employment in knowledge-based sectors rose 34 percent between January 1990 and July 2012 compared to 14 percent in the rest of the economy.
Massachusetts vs. Michigan
Ballard points to Massachusetts as a state that successfully transformed itself from a reliance on textiles and other manufactured goods to a wealthy economy based on education, health care and other knowledge-based industries.
In 1980, Michigan and Massachusetts looked much alike economically, with each state producing per capita income at about 105 percent of the national average, according to Ballard's research.
Today, Massachusetts' per capita income is almost 130 percent of the U.S. average, while Michigan has fallen to about 90 percent of the national average.
And Massachusetts, a state with about two-thirds the population of Michigan, produces more than Michigan. Massachusetts generated $348.6 billion in GDP last year, compared to $337.4 billion for Michigan.
Massachusetts' workers produced $52,915 per capita in 2011, compared to$34,166 by Michigan workers.
Ballard said Massachusetts' advantage is that it has more highly educated workers than Michigan. Massachusetts ranks first among the states in the number of residents with bachelor's degrees, while Michigan ranks 34th.
"We would have more cutting-edge stuff in Michigan if we had a higher education level," Ballard said.
Rick Haglund has had a distinguished career covering Michigan business, economics and government at newspapers throughout the state. Most recently, at Booth Newspapers he wrote a statewide business column and was one of only three such columnists in Michigan. He also covered the auto industry and Michigan's economy extensively.