David Ollila, a serial entrepreneur who has started seven companies, took on a tough personal challenge in launching one new business in 2009.
Ollila, 42 and of Marquette, came up with an idea for a ski-snowboard hybrid that he hoped could be built profitably in Michigan -- not in China, which he'd relied on for manufacturing in the past.
His plan, hatched in November 2009, was to spend less than $100,000 in start-up costs, develop and build his ski in Michigan and be in operation within a year.
Eleven months and $90,000 later, Marquette Backcountry Ski was in business. A month after that, the company was generating positive cash flow, he said.
"We were confident that we could make it work," Ollila said. "It turned out it was entirely possible to do everything in Michigan."
His accomplishment also won him an invitation to the White House in early January, where Ollila participated with about 30 other business executives in President Barack Obama's "Insourcing American Jobs" summit.
Ollila said he thinks there is a big opportunity for companies, especially smaller ones, to manufacture their products locally, as costs rise in China and other developing nations.
His company contracted with Twisthink, a Holland design firm, for initial design work. Camoplast Inc., an auto supplier in Coldwater that had some underutilized production capacity, manufactures the skis.
To see a video on Ollila's hybrid, click here.
Ollila acknowledged it can make sense to manufacture in China, particularly for such high-volume goods as televisions and clothing. China remains a manufacturing dynamo and isn't likely to give up that title easily as it seeks to expand its economic power.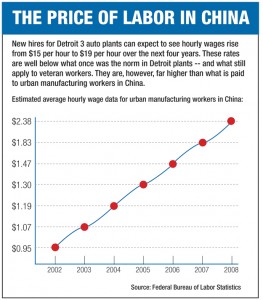 The United States imported $366.4 billion worth of goods from China in the first 11 months of 2011, up from $296.3 billion for all of 2009, according to the Census Bureau.
And China enjoyed a trade surplus of $272.3 billion with the United States at the end of November.
But Ollila and others say manufacturing products in China and exporting them to the United States isn't always the best strategy.
Low labor costs in China can be nearly offset by other costs and problems with manufacturing there, Ollila said.
"You pay more for quality control," he said. "There's a longer length of time to bring products to market. You're dealing with cultural and communication issues. Those challenges end up nickel-and-diming you. It's almost a wash."
Data on labor costs in China are sketchy, experts say, because the country does not adhere to international standards in reporting those figures.
Labor rates also vary widely in the country. Workers in urban areas of China, where most of the largest manufacturers are located, earn far more than what workers in rural parts of the country make.
In a special study for the federal Bureau of Labor Statistics last month, researchers estimated that urban manufacturing workers in China earned $2.38 an hour, including benefits, in 2008, the latest year for which data was available.
Workers in China's rural towns and villages earned just 82 cents an hour in 2008. That compared to total compensation of $32.78 an hour for U.S. manufacturing workers in the same year.
But the Bureau of Labor Statistics study also found that compensation costs are rising rapidly in China, having jumped 139 percent for rural and urban workers between 2002 and 2008.
Growing labor shortages are pushing labor rates up at a rate of nearly 20 percent a year, according to a study released last March by the Boston Consulting Group.
The study predicted a "manufacturing renaissance" in the United States within the next five years.
In addition to escalating labor costs, the value of China's yuan currency also is rising against the dollar, making Chinese-manufactured goods more expensive here.
Shipping costs also are a concern, although they've fallen recently as a result of slackening global demand for goods and more new ships plying the oceans.
"We expect net labor costs for manufacturing in China and the U.S. to converge by around 2015," said Harold Sirkin, a Boston Consulting Group senior partner. "As a result of the changing economics, you're going to see a lot more products (with the label) 'Made in the USA' in the next five years."
Rick Haglund has had a distinguished career covering Michigan business, economics and government at newspapers throughout the state. Most recently, at Booth Newspapers he wrote a statewide business column and was one of only three such columnists in Michigan. He writes his own blog, www.micheconomy.com, and is a freelance writer