Five years of Pure Michigan national advertising is just beginning to buff up the state's rust-belt image.
After the state had spent $67 million for the slick campaign featuring the voice of Michigan native Tim Allen, a survey done for the state found that Michigan still ranked in the middle of the pack in tourism interest among seven Great Lakes states.
This survey -- conducted by Longwoods International, a firm that provides tourism analysis, including to the state of Michigan -- found Michigan still suffering from a perception problem. Only 36 percent of the approximately 6,000 respondents said they "strongly agreed" they would "really enjoy visiting" the state. That placed Michigan in a tie for fourth in interest among seven Great Lakes states.
"Michigan is starting with an image from a much lower baseline than its competitors," said Bill Siegel, a University of Michigan alum who heads Longwoods.
Still, Siegel argues that his firm's research shows "the advertising works."
In 2009, Michigan captured 2 percent of all the tourism spending in the United States, placing Michigan 14th nationwide for such spending.
Tourism dollars dipped in 2009, but rebounded in 2010, reaching $17 billion, according to state officials.
Such results, even amid a sputtering national economy and an industry-wide dip, are credited by observers inside and outside Michigan to the state's Pure Michigan advertising campaign.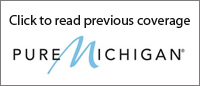 "I think the Pure Michigan campaign has to rank among the most well-crafted and appropriate destination campaigns in the United States," said Peter Yesawich, chairman and CEO of Ypartnership, a Florida advertising, marketing and promotions company.
The ad campaign constitutes the vast majority of spending done by Travel Michigan, the state's tourism office. For the 2010-11 fiscal year, that spending placed Michigan No. 7 overall among state tourism offices and No. 3 on marketing/advertising spending.
How does that compare to what other states are doing?
Tricky question, replies University of Michigan alum Bill Siegel.
Siegel explains that it is difficult to do an apples-to-apples comparison of Pure Michigan to other campaigns: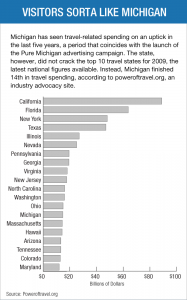 "The reason why the (return on investment) numbers are lower (in Michigan) than a lot of other states is a more conservative measure was applied at the direction of (Travel Michigan head) George Zimmermann," Siegel said. "It allows him to say 100 percent of the leisure travel dollars cited were spent by non-residents of Michigan. From that point of view, there is nothing wrong with this approach, but when other states include in-state tourism, it makes a comparison difficult."
Funding decisions among the states have varied widely, with some following Michigan in notably increasing public spending this year, while others retrenched.
In a move that draw national attention, the state of Washington earlier this year zeroed out its public tourism budget. Other states that made significant cuts between 2009-10 and 2010-11 include: Arizona (41 percent); Illinois (31 percent); Missouri (26 percent); and New York (31 percent).
Beyond Michigan (47 percent), states that invested heavily include: Louisiana (101 percent); Alaska (53 percent); Hawaii (16 percent); Kansas (48 percent); and California (17 percent).
Michigan increased its public tourism budget from $18.675 million in 2009-10 to $27.44 million in 2010-11, according to the Survey of U.S. State Tourism Office Budgets. All but $2 million of that figure goes into marketing and promotion.
A survey by Ypartnership found that Michigan held its own in 2011 in the minds of potential visitors, with 8 percent of those surveyed interested in visiting, the same as in 2010. New York and California led the survey with nearly half of the respondents expressing interest in visits there.
Among other Great Lakes states, only Pennsylvania (13 percent interested) and Illinois (10 percent interested) drew more interest than Michigan.
"George Zimmermann is doing a terrific job, in a challenging economic environment, to make Michigan a summer seasonal destination," said Yesawich. "The (Pure Michigan) campaign has done a wonderful job," he added, "Zimmermann and (advertising firm) McCann Erickson crafted an emotionally provocative campaign. Rather than the traditional recitation of things to see and do, they have personalized the message in the Michigan experience."