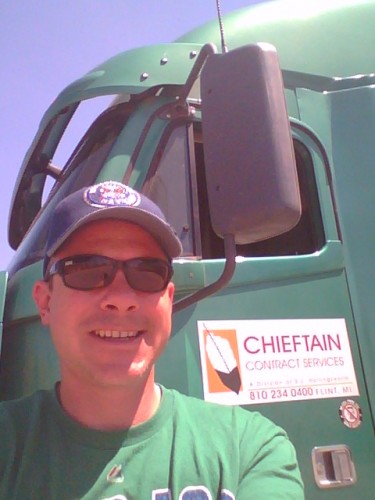 After 12 years in the Navy, John Kutrich was ready to try something else.
Following his discharge in 2007, he worked for a military contractor in South Carolina for about 18 months until the work dried up. He moved to Michigan, got his commercial driving license and found work with Flint-based E.L. Hollingsworth & & Co. in 2009.
"There wasn't that much work. They let me go," he recalled. "I couldn't find a job anywhere."
He was at jobs fair in Detroit in 2012 when his girlfriend spotted a booth for E.L. Hollingsworth. After some hesitation, he walked over.
"They gave me a second chance," he said.
Kutrich, 41, enrolled in the firm's free program for veterans, a three-week training course followed by two weeks behind the wheel with a mentor driver. He was hired in August 2012.
And now?
"I love it. I think I will do it the rest of my life," he said, speaking on a Bluetooth headset as he rolled down I-35 in Iowa on his way to Holland.
It is by no means a solution for the shortage of truck drivers. But Hollingsworth human relations manager Kathy House said it is proving a good investment.
"They seem to be doing very well in the truck-driving world. They just seem to pick it up and retain it a lot easier," House said.
In 2012, Michigan in joined dozens of other states when legislators passed a bill making it easier for military veterans to earn their commercial driving license. Under the measure, veterans with two years experience driving military the military equivalent of a commercial vehicle need only pass the written test for a commercial driving license. They are not required to pass the driving skills test.
National trucking firms like Wisconsin-based Schneider National are doubling down on putting more veterans in its trucks.
In 2012, it pledged to hired 650 military veterans that year for trucking jobs and other positions within the firm. It offers guaranteed home time for weekend drill and annual training for Guard and Reserve drivers as well as extended benefits during deployment.
Michael Hinz, vice president of recruiting for Schneider, said the firm ended up hiring more than 1,100.
"We think it is the right thing to do. But there is a payoff for the business as well. You are getting people who are physically fit, disciplined, good decision-makers, people that are not afraid to be self-managed. We really believe in finding good military men and women and bringing them into our business.
Truck driver Kutrich figures he makes about $850 a week when his route goes well. He is typically gone about five days, then home in Davidson for two days before he heads out again. He delivers automotive parts to places like Kansas City, Tennessee and Maryland.
"It's not a bad gig. If my miles are good, I make good money.
"The radio, my MP3 player keep me occupied. I've always liked to travel. I can see things," he said.