It looked like the end of the millennium would also be the end of Michigan manufacturing.
The state lost 47 percent of its manufacturing employment, nearly 423,000 jobs, between 2000 and 2010 as the U.S. auto industry went into a frightening decline.
But like a patient who surprisingly wakes up from a years-long coma, manufacturing is staging an impressive comeback here. Michigan added 26,400 manufacturing jobs in 2011, nearly 12 percent of all new manufacturing jobs nationwide, according to final annual figures released last week. And the 2011 numbers build on gains from 2010.
"Michigan really has made a turnaround," said University of Michigan economist Don Grimes. "A real chunk of that is manufacturing."
Experts are debating, though, whether the growth in factory jobs can be sustained. They're also questioning whether Michigan's continued reliance on autos and manufacturing is healthy for the state's future.
U-M economists George Fulton, Joan Crary and Grimes predicted in November 2011 that growth in the manufacturing sector will continue, but slow to about 10,000 jobs a year through the end of 2013 as company inventories are replenished from the Great Recession.
About a third of those jobs will be in the auto industry, according to U-M's forecast.
A separate forecast on automotive jobs by the Center for Automotive Research in Ann Arbor is even more bullish. It predicts Michigan will add 15,000 auto assembly and parts jobs this year.
That's likely to make Michigan even more dependent on autos and manufacturing, said George Erickcek, senior economist at the Upjohn Institute for Employment Research in Kalamazoo.
Despite staggering manufacturing job losses, Michigan's shares of U.S. manufacturing and auto jobs have barely budged since the start of the Great Recession at the end of 2007.
Michigan is 42 percent more concentrated in manufacturing jobs than the rest of the nation and eight times more concentrated in auto employment than the country, according to data Erickcek compiled in December.
"If you look at us relative to the nation, we're just as dependent on autos as we were before the recession," he said. "But on the other hand, we have an industry others are dying to get."
Some say Michigan should focus on creating more "knowledge jobs" that require higher education levels and pay higher wages than hourly manufacturing jobs.
"If the Michigan economy of the future is built on a base of factories, farms and tourism, we will be a low-prosperity state, said Lou Glazer, president of Michigan Future Inc.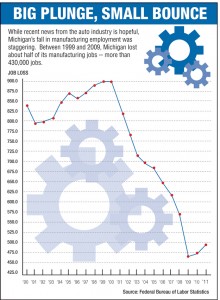 Still, the return of manufacturing jobs is a welcome development for a state that has long believed its prosperity depends on building things.
"Because the sector is so extensively networked in the local economy, the effects of its direct contributions to job growth also spill over into other parts of the private sector," Fulton said.
Lower manufacturing costs here, combined with rising labor and shipping costs overseas, are allowing automakers to build small cars at a profit for the first time in Michigan.
General Motors Co., for example, is building the tiny Chevrolet Sonic at its Orion Township plant near Pontiac, saving 1,500 jobs at a plant that had been slated to close. Previously, GM had been planning to build the Sonic in Korea.
Ford has announced that it will add additional production of its redesigned 2013 Fusion, built in Hermosillo, Mexico, at its Flat Rock plant and add 1,200 jobs to a second-shift at the plant.
The shift's been noticed outside Michigan, too. In his State of the Union address last week, President Obama said, " Today, General Motors is back on top as the world's No. 1 automaker. Chrysler has grown faster in the U.S. than any major car company. Ford is investing billions in U.S. plants and factories. And together, the entire industry added nearly 160,000 jobs."
"There is a resurgence," said Jay Baron, president of the Center for Automotive Research in Ann Arbor. "We're more competitive now."
Tool-and-die back from the dead
That's especially true in Michigan's bedrock tool-and-die industry, which was devastated over the past decade by auto industry demands that it match prices from Chinese builders of dies used to stamp out doors, fenders and other parts for vehicles.
Unable to compete by building their own dies, many tooling companies bought them from Chinese suppliers. But the practice backfired due to poor quality and missed delivery schedules.
"The automakers convinced die shops to buy tools from China," said Mark Schmidt, president of Atlas Tool Inc. in Roseville. "Some of the largest shops in our industry went out of business doing just that."
Now the focus has shifted from low cost to fast delivery as automakers step up development of dozens of new models for an expanding market.
"The automakers don't have time to look around the world for the cheapest price," Baron said. "It takes three weeks to get tooling delivered from China. Three weeks is a big deal right now."
More work being done in Michigan is actually creating shortages of skilled labor in areas such as engineering, design and other technical areas.
"The availability of technically competent people and suppliers is in short supply," Baron said.
Grimes said the resurgence of manufacturing jobs follows Michigan's usual pattern of recovery from a recession. Manufacturers need more workers to refill depleted inventories as demand for everything from cars to office furniture increases.
But the sector also is benefiting from a variety of other factors, including rising labor and shipping costs in developing countries, as well as favorable currency exchange rates that make Michigan and other states more attractive for factory investment.
And while there is no precise data on the subject, anecdotal evidence suggests manufacturers are bringing back some jobs that were lost to China, Mexico and other low-cost countries.
"The U.S. is becoming a better deal," said William Strauss, an economist at the Federal Reserve Bank of Chicago.
Manufacturers aren't just selling domestically. Michigan companies exported $44.7 million worth of goods, mostly auto-related, in 2010, up 37 percent from 2009.
President Barack Obama and others are pushing efforts to boost exporting and the "insourcing" of jobs that were outsourced to China, India, Mexico and other developing countries over the past several decades.
"That's exactly the kind of commitment to country we need – especially now, at this make-or-break moment for the middle class," Obama said.
In his State of the Union speech, Obama outlined incentives for companies to bring back jobs to the United States. He said his administration also wants to end tax advantages for companies that move jobs offshore.
Job prospects aren't so bright
There's a cloud attached to Michigan's silver lining, however.
Strauss said manufacturing likely won't be a significant source of new jobs in coming years.
"People are getting all excited about the renaissance in manufacturing. But the view or the hope that it will lead to a tremendous amount of job growth is a false hope," he said.
Today, 174 manufacturers workers can produce the same amount of goods that it took 1,000 workers to produce in 1950, Strauss said.
Michigan manufacturing job growth is being fueled, in part, by lower wages and fewer benefits for new workers. The auto industry's two-tier wage system has been widely adopted throughout the manufacturing sector.
The average weekly wage for an auto production worker in Michigan fell slightly over the past 12 months from $1,309.68 in December 2010 to $1,284.15 last December. The average work week in that period shrank 12 minutes.
Under contracts reached last fall between the Detroit Three automakers and the United Auto Workers union, wages of new hires will rise from about $15 an hour to about $19 an hour over the next four years. Still, that's a long way from the $28 an hour that top-tier hourly workers make.
And there's speculation that the auto industry will try to drive down top-tier wages when labor contracts expire in 2015.
Chrysler CEO Sergio Marchionne surprised the industry in October 2011 when he told reporters and analysts in a conference call that he wanted to end the company's two-tier wage structure.
"Trying to get this whole organization to work in unison when you've got this kind of economic disparity between people on the line is not something that can go on for a long period of time," he said.
Although he didn't offer any solutions, no one thinks Marchionne wants to raise wages of the bottom tier of workers to the level of the top tier.
Still, even though some manufacturing wages are falling, the increasing number of jobs in the sector is something to cheer, said Fulton, the U-M economist.
"Michigan's curse, its concentration in manufacturing, has become a blessing," he said.
Rick Haglund has had a distinguished career coveringMichiganbusiness, economics and government at newspapers throughout the state. Most recently, at Booth Newspapers he wrote a statewide business column and was one of only three such columnists in Michigan. He also covered the auto industry and Michigan's economy extensively. He writes his own blog, www.micheconomy.com, and is a freelance writer.