Torya Blanchard's entrepreneurial story is becoming the stuff of legend in Detroit. The Detroit native quit a good job teaching French, cashed out her 401k and took the chance of her life by opening Good Girls Go To Paris Crepes in a former hole-in-the-wall hotdog stand behind the Boll YMCA in downtown Detroit.
That was three years and a mound of media exposure ago. Blanchard, 33, now owns multiple creperies and is in the process of opening a bar and a breakfast/lunch space. They're located everywhere from Midtown to Hamtramck to Grosse Pointe. They're cities that seem dramatically different on the surface but all share one common, overlying characteristic that Blanchard believes is key for a successful business -- diversity.
Blanchard, an African American with a strong libertarian streak, doesn't believe a lot of the successful programs that have been deployed in Midtown would translate to most other sections of the city. Predominately residential areas far from major businesses or institutions aren't going to have the same level of support that Midtown enjoys from the likes of Wayne State University and Detroit Medical Center. That also leaves them without the gravitational pull to bring in more and different people to create a dense, dynamic area where an eclectic variety of strengths from an equally diverse population combine to create vibrant neighborhood that inspires new ideas and actions.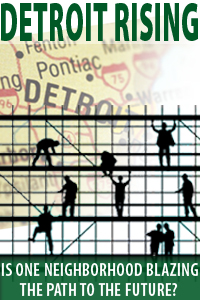 Previous coverage
"Midtown is the most diverse section in a huge city like Detroit," Blanchard said. "With that diversity you have a lot of different economic levels and cultural influences."
That's what Blanchard looks for when she wants to start a business. She moved Good Girls Go To Paris Crepes' main location from downtown to Midtown, in large part, because Midtown has not only that diversity in people but building stock. Midtown has its share of tall buildings, but it also has strong, walkable residential sections mixed in with its business and cultural institutions.
That foot traffic and diversity helps ensure a business built for urbanites is successful. It's why Blanchard is opening Rodin, a high-end bar where young professionals can dance the night away, a few doors down from the Good Girls Go To Paris Crepes in the Park Shelton across the street from the Detroit Institute of Arts. Blanchard is also opening a new creperie in an increasingly diverse section of Grosse Pointe near the Detroit border that features dense housing and a vibrant commercial strip.
Ooties, a breakfast and lunch place, will open in Hamtramck soon, taking over a traditional, downtown storefront. Hamtramck is arguably the densest and most diverse city in Michigan with a strong population of immigrants from Bangladesh, Albania, Urkraine, various countries in the Middle East and, of course, Poland. The place is meant to cater to the diverse people strolling by window shopping or on their way to or from home, not those who want to drive up, park, eat and go.
"It's very diverse and it's very walkable," Blanchard said. "It's a very working class city but it's attracts wealthy people, too. It's a very popular town."
She contends similarly equipped places in Detroit that emphasize walkability, mixed-use buildings and density can replicate Midtown's successes because they have a strong, urban foundation. Places that fall into that category include Mexicantown and Corktown, she said. Blanchard adds that another key ingredient is strong immigrant populations. She believes that immigrants, or people who are new to the community, are more likely to start a business and stake a positive claim in their community.
"The immigrant population makes the difference," Blanchard said.