Wayne State University's TechTown was intended to incubate high-tech when it was christened a decade ago. However, a survey of the 63 tenants now operating out of the 84-year-old, 120,000-square-foot former Chevy Creative Services building in central Detroit shows nearly two-thirds are doing things other than high-tech.
The survey by Bridge Magazine shows life sciences, medical and alternative energy tenants make up just 27 percent of the tenants in the TechOne Building. Even if you throw in advanced manufacturing, high-tech companies account for just 35 percent of tenants.
TechTown was designed as a research and technology park to stimulate job growth and small-business creation by supporting entrepreneurs and developing companies in emerging industries including advanced engineering, life sciences and alternative energy. An overall plan for the 12-block area around Wayne State envisioned a mixed-use community including schools, renovated and new housing, shops, lofts, an entertainment complex and dozens of small technology-based startup and early-stage enterprises.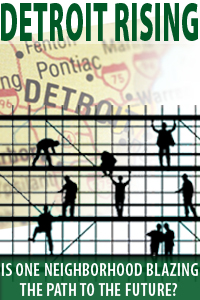 TechTown was incorporated in 2000, and Gov. Jennifer Granholm and former Wayne State University President Irvin D. Reid opened the partially renovated TechOne business incubator facility on April 20, 2004.
Just last month, TechTown requested bids on completing the build-out of the second floor. TechTown announced in December 2009 that the former Dalgleish Cadillac building at 6160 Cass Avenue would become TechTwo, its next business incubator facility.
Wayne State University also has designated two other buildings as future business incubator facilities: the former Criminal Justice building and the American Beauty Electric Iron building, both on Cass Avenue.
But since TechTown opened, the tenants moving in have been more lifestyle companies than high-tech firms that draw investment dollars from angel investors and venture capitalists. When looking at the statistics provided by TechTown, the biggest single group of tenants fall under the micro/lifestyle category, at 25.5 percent. Community services, arts & entertainment, logistics and incubator/education each make up about 10 percent of the current tenants, thereby providing the remaining 39 percent of tenants.
"We've had a shift from high tech to low tech," said Leslie Smith, TechTown's general manager. "It's a response to reality. We have this building that was donated by GM. We have $250 million a year in research going on at Wayne State. We created the tech park to connect the research and commercialize it. The reality is to fill a 120,000-square-foot building, you need great deal flow."
Smith took over day-to-day operations from Executive Director Randal Charlton in July 2010 after serving as the director of business acceleration for the Michigan Economic Development Corp. At the MEDC, Smith managed relationships with SmartZones.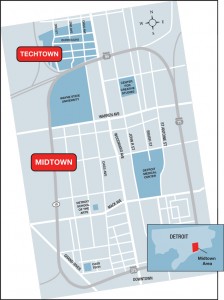 She said as the Michigan economy shifted a few years ago away from such an intense focus on automobiles, people with long-standing industrial positions, including auto suppliers, found themselves without work. They started to think about next steps and TechTown responded by providing ways to serve those needs, which didn't always involve the incubation of high-tech companies. TechTown has provided entrepreneurial training to thousands of people and also has hundreds of "mailbox" tenants who use its Detroit mailing address, for a fee.
One in the latter group is John Carlos, publisher of GreeningDetroit.Com.
"I was going to create a showcase with them," Carlos said. "That was the agreement I had worked out with the gentleman I worked with at TechTown. He got fired. Now we just have a mailbox presence. We're a virtual company, so we're hardly ever down there. And the mailbox costs $600 a year. That's a very expensive mailbox."
Smith acknowledges mistakes were made before she arrived. But her job is to smooth out all the transitional issues, since TechTown also is a start-up transitioning through scale.
"Perhaps we shifted too much from ideation and launch," she said. "And we weren't terribly focused on post launch. Randal is doing his business plan. He's dealing with how to cover the note. Most incubators don't have real estate debt associated with them. So TechTown can't be a straight incubation play. We see a blend of tenant distribution.
"But we've created hundreds of companies and more than a thousand jobs," she said. "It's a good beginning. We're an island of prosperity in Detroit. We hope to move ourselves out into the neighborhood to make sure the work force at TechTown impacts the Detroit area even more."
But what kinds of jobs are being created at TechTown?
Jim Eliason, founder of Mitostem, a life sciences company in the Great Lakes Stem Cell Innovation Center, said most of the jobs he sees at TechTown are "administrative and sales." Eliason was co-founder of Asterand, the human tissue bank company that became one of two anchor tenants at TechTown.
Bob Mazur, founder of B.A. Maze, a consumer products company in Ann Arbor that uses TechTown training programs, agreed with Eliason:
"I know the work being done will create jobs down the road, but I don't think in the beginning there is a lot of money to allow for the hiring of high-tech jobs."