Tenants at Wayne State University's TechTown gave an average score of 8 out of 10 when asked by Bridge Magazine to rate the level of incubation and acceleration assistance provided by the business incubator.
Said Keith Young, founder and executive adviser to Ecotek: "A lot of the acceleration is left up to the entrepreneur." Ecotek is focused on providing academically gifted students in middle school and high school with opportunities to participate in international science research projects and rents space at TechTown. Young gave TechTown a score of 7.
Saundra Little, principal and co-founder of Centric Design Studio, said TechTown is "not perfect. They have things they are working out. But they've been very beneficial for our business." Little gave TechTown a score of 9.
The survey, done in July and August, drew responses from 14 TechTown tenants, including some that only maintain a "mailbox" address at 440 Burroughs on the Wayne State campus in central Detroit. TechTown has 63 tenants in residence, including two anchor tenants, Asterand, the human tissue bank company started by TechTown Executive Director Randal Charlton and The Henry Ford Health System.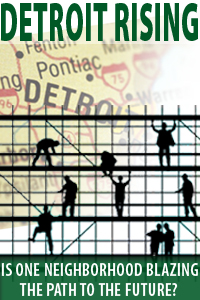 Breakdown on TechTown
TechTown was established as a state-designated SmartZone in the late 1990s. It was intended to be a tax capture zone, but shortly after its establishment, General Motors moved out of the neighborhood downtown, taking with it the vast majority of TechTown's tax base. TechTown funders since its creation include:
*Henry Ford Health System -- $2.2 million
* Wayne State University -- $400,000 in cash, $9 million in loan guarantees
* Private foundations -- $18.1 million
* Federal government -- $4.1 million
* State of Michigan -- $3.2 million
* City of Detroit -- $3.5 million
* Wayne County -- $750,000
* Tax credits -- $3 million
TechTown currently supports more than 250 companies. Since January 2011, TechTown has received 312 inquiries about receiving support.
Source: TechTown
Most of the tenants surveyed said they thought the "tech element" of TechTown was between 25 percent and 50 percent. Under tenant breakdowns provided by TechTown, however, life sciences, medical and alternative energy tenants make up just 27 percent of the tenants in theTechOneBuilding. Even if you throw in advanced manufacturing, high-tech companies account for just 35 percent.
Survey responders also spoke favorably of TechTown's work to aid them in finding financing.
Yvonne Murray, founder of Comprehensive Sleep and Diagnostic Center, said TechTown helped her land grants as well as helped her apply for direct funding.
Oliver Baer, founder of Clean Emission Fluids, said if he were to rate TechTown's financing efforts on his company's behalf on a one to 10 scale, he'd give TechTown a 6. "They could do more," he said.
Said Paul Angott, founder of Angott Medical Devices: "Financing has not been their strong suit. I'd give them a score of 5 (on a 10-point scale). Raising money you have to do on your own."
Jim Eliason, founder of Mitostem, a life sciences company at the Great Lakes Stem Cell Innovation Center, said the state needs to create pre-seed loans for start-up tech companies like his. Companies in life sciences in particular burn a lot of cash in development before they commercialize products.
"The current so-called pre-seed funds in Michigan are actually for revenue generating companies, so they are not really pre-seed at all," he said.
It's a common complaint heard by TechTown General Manager Leslie Smith: "What is true is when we first started this, we were focused on curriculum based support. We didn't expand beyond that. The two things we should and could do better were talent and money. But the money conversation may not be what many of these companies need right now. Bootstrapping is the conversation they need."
Smith added, "Economic development, especially technology development, is a long-term game. Jobs don't come as fast as the economy and politicians like. Four years of strategic growth and we're now beginning to see the results of that work. Worker replacement is an important differentiator. I'm proud we do it. If we're causing jobs not to be lost while slowly creating them in a tech-based strategy, I'm satisfied with those results."
Tenants surveyed by Bridge also were full of ideas on how TechTown could improve.
"TechTown needs to have generically equipped lab space that can be rented to start-ups on an incremental space basis perhaps in an open lab format," said Eliason. "It also needs some basic support equipment – glass washing, autoclave, microscopes, perhaps flow cytometry, chromatography facilities – for use on a fee-for-service basis."
Little said TechTown needs a way for all its tenants to work together, like an online directory for tenants:
"We don't have money to hire people, but would like to work with other companies to get what we need done. A barter system. Or several tenants could work together to go after a project."
Smith said TechTown is developing a three-tier approach for attracting tech verticals: alternative energy, life sciences and engineering.
"But we can't have a singular industry focus in high tech," she said. "I think the feedback from tenants is fair, relevant and consistent. We want to make sure TechTown provides the first-class service. We're always focused on adjusting to the changing needs or our entrepreneurs and the economic culture we find ourselves in."