In 2007, when Michigan was in the throes of the recession, a young entrepreneur named Chris Treter opened a coffee shop and cafe in Traverse City.
The Ohio native could have launched his Higher Grounds Coffee Trading Co. in any number of places. But Treter, who spent many summer vacations at a family cabin on Lake Leelanau, decided to open his fair-trade, organic coffee shop and roastery near downtown Traverse City.
Today, the organic coffee beans that Treter buys from artisanal growers in Mexico and nine other countries are packaged in Traverse City and sold in more than 500 markets, restaurants and cafes across the U.S. Higher Grounds Coffee employs 14 workers and is closing on $2 million in sales this year, Treter said.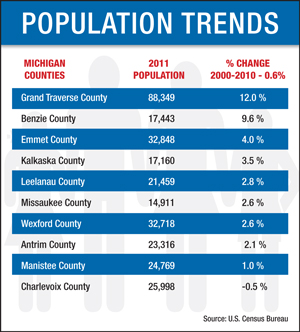 "To start a business and make it thrive is pretty amazing; we're growing at a rate of 20 percent annually," Treter said. "I knew I wanted to have a place up here someday, but I never imagined having a job that would allow me to live here," he said. "I pinch myself regularly at how lucky I am."
Small businesses and young entrepreneurs like Treter are a big part of the economic formula that helped the Traverse City region weather the recession better than many other Michigan cities, said Doug Luciani, president and CEO of the Traverse City Area Chamber of Commerce and the Traverse Bay Economic Development Corp.
"There are a few places that actually grew during the worst of the recession, from 2003-2010. The Traverse region was one of those areas," Luciani said.
Population in the five county region of northwest Lower Michigan — which includes the counties of Grand Traverse, Antrim, Benzie, Kalkaska and Leelanau — increased by 5.8 percent between 2000 and 2010, according to U.S. Census data. In the same span, Michigan was the only state to lose population.
Grand Traverse County's population increased 12 percent between 2000 and 2010, and increased another 1.5 percent from 2010 to 2011, according to Census data. In 2011, the county was home to 88,349.
That followed a decade of major growth at the end of the 20th century, when the population in the Correction: 10-county five-county region jumped 21 percent, from 230,962 residents in 1990 to 281,468 in 2000, according to census data.
Although the region fared better than other areas of Michigan during the recession, the local economy did not escape unscathed.
Home sales in the nine-county area that includes Traverse City hit a 15-year low in 2008, housing prices decreased substantially and the unemployment rate rose. But the unemployment rate in Grand Traverse County remained below the state average, according to government data.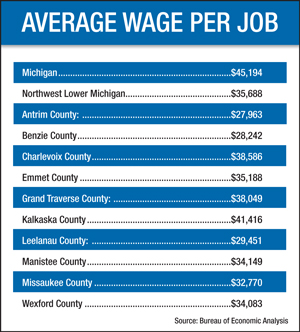 Traverse City's rank among the nation's 576 micropolitan statistical areas also dropped from 10th in 2004 to 75th in 2011 and 129th this year, according to the website Policom, which tracks the economic strength of America's small cities.
Luciani said the housing slump and higher unemployment rate likely caused Traverse City to slip in the Policom ratings. He said the region is now making a strong recovery.
The numbers say the same.
Grand Traverse County's unemployment rate in October dropped to 7.5 percent, the lowest level in five years, according to state data.
October 2012 home sales in the nine-county Traverse region jumped 58 percent over the previous October. The average sale price of homes sold in October was $177,745, an 18.5 percent increase over the previous October, according to data compiled by the Michigan Association of Realtors.
The Traverse region's steady growth amid a national recession raises the question: What is the secret to its success?
Good looks, but something more
Economic development experts interviewed by Bridge said the stunning beauty of Grand Traverse Bay is a magnet for people and the foundation of Traverse City's economy. But they said the region's growth goes beyond its location in one of Michigan's most scenic areas.
"What's led to the region's success over the past 20 years was a willingness to create common goals, collaborate and then leverage the resources to get there," said Mark Wyckoff, senior associate director of the Land Policy Institute at Michigan State University.
Because of Traverse City's distance from Detroit, Wyckoff said the region couldn't build its economy around the auto industry. That led to innovation and collaboration among communities that is now reaping dividends for the region.
Luciani said young professionals and entrepreneurs such as Treter — who are highly educated, can work almost anywhere and are a growing force in a post-industrial economy that favors brains over brawn — want to live in places like Traverse City.
The Traverse City Film Festival draws thousands of film buffs to the community each summer. The ninth annual event is slated for July 30-Aug. 4. (Bridge photo/John Russell)
Communities that have vibrant downtown shopping districts, are pedestrian-friendly, offer numerous recreational activities and easy access to natural resources, and have a thriving arts community are magnets for young professionals and entrepreneurs, said Summer Minnick, the Michigan Municipal League's director of policy initiatives and federal affairs.
"Traverse City has done so much to become a community that is unique and offers reasons for people to want to be there," Minnick said. "Regardless of the size of the community, urban areas that focus on the amenities that are attractive to the working class and retirees are the places attracting talent and creating jobs."
Minnick said other Michigan cities could learn from Traverse City's success.
The Traverse region has garnered tremendous national publicity over the past five years. In August, celebrity chef Mario Battali penned a love letter about Traverse City on the Huffington Post blog.
"With Caribbean-blue waters and Sahara Desert dunes, you're a gem hidden in the Midwest, far from the gaze of East Coasters," Battali wrote. " For long I've thought New York City was my one true love but you've proven to be the perfect antidote to the bustle of the city … I will spend all of my holidays with you."
Traverse City's New Deal
The seeds of change that made Traverse City a mecca for tourists and outdoor enthusiasts were planted in the 1930s, said Hans Voss, executive director of the Michigan Land Use Institute. That's when the city began the long process of removing factories and industrial facilities from the city's waterfront and turning the shores of Grand Traverse Bay into a series of public beaches, parks, recreational trails and adding a municipal marina.
Since the 1980s, Traverse City has worked to diversify its economy by building industrial parks and adding manufacturing jobs. Luciani said the city and surrounding communities also worked cooperatively to develop a year-round tourism economy, build an extensive network of recreational trails and foster the expansion of vineyards and other businesses that added value to local agriculture.
The strategy seems to be working.
Traverse City in 2011 had the highest average household income of any city in northern Lower Michigan, at $43,759, and the second highest per capita income in the region, $28,872. Petoskey had the region's highest per capita income in 2011, at $31,632.
Per capita and household income in the Traverse region, however, is still about 20 percent below the state average, according to state data. But that income gap has shrunk over the past two decades, said Elaine Wood, president and CEO of the Northwest Michigan Council of Governments.
"We've made a tremendous amount of progress in the past decade in diversifying our economy," Wood said. "We are coming out of the predominance of tourism and agriculture — those are still important to our economy but now we also have manufacturing sector, a finance sector and a larger retail sector."
Luciani said a major underlying factor in the region's growth has been a commitment to protecting the natural assets that drew people to Traverse City in the first place.
"If we didn't have the bay and the access to the bay it wouldn't be the same Traverse City," Luciani said. "It all starts with our natural resources."
Jeff Alexander is owner of J. Alexander Communications LLC and the author of "Pandora's Locks: The Opening of the Great Lakes - St. Lawrence Seaway." A former staff writer for the Muskegon Chronicle, Alexander writes a blog on the Great Lakes at http://allthingsgreatlakes.wordpress.com/.