Opinion | Dear Gov. Whitmer, our Michigan restaurants must open now to survive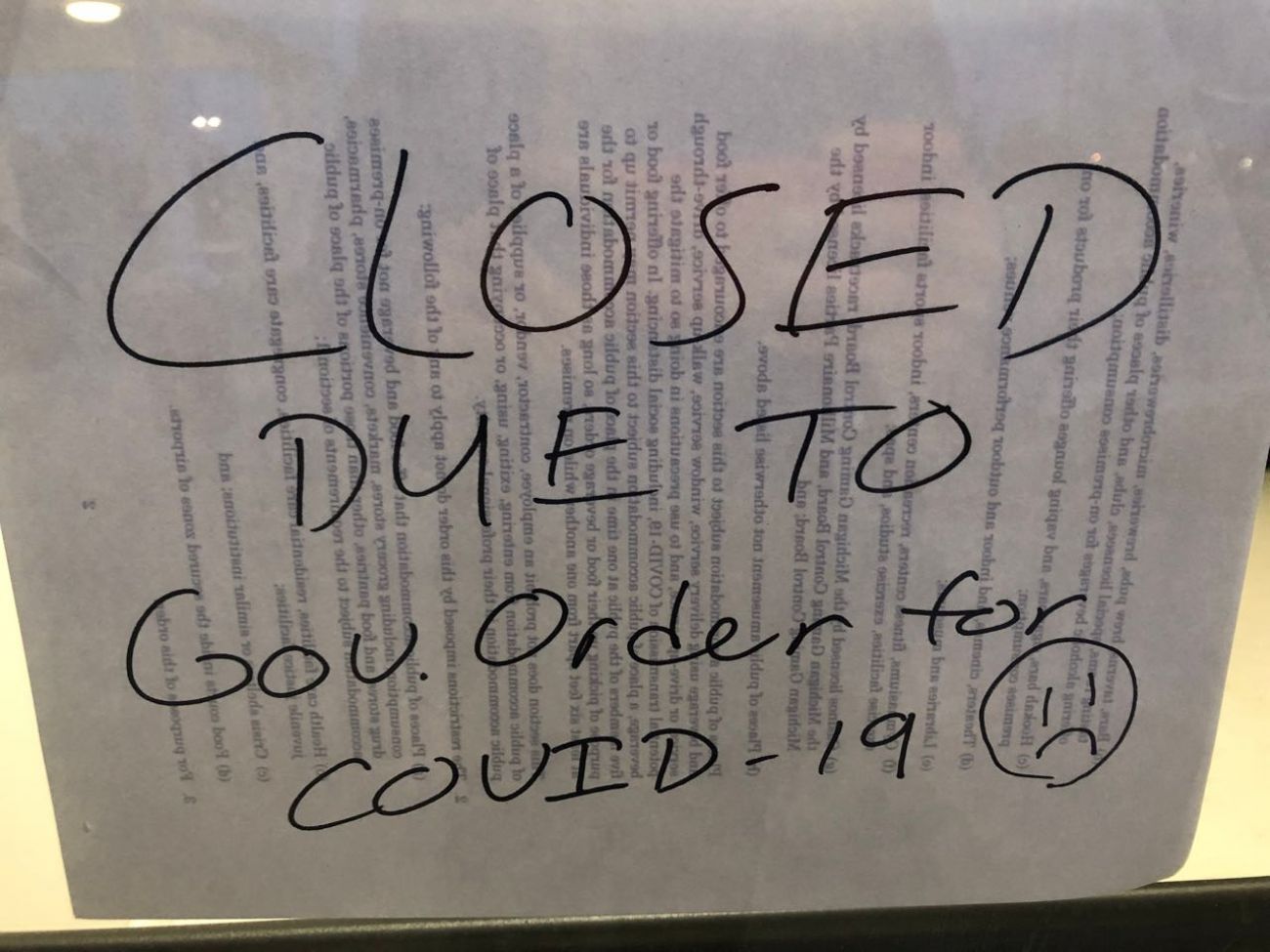 Guest Commentary
Opinion | Dear Gov. Whitmer, our Michigan restaurants must open now to survive
Dear Governor Whitmer,
Thank you for your service to our state and for helping us during this terribly difficult time. We've stayed quiet on all things political, and don't intend this to be political. This is not about right or left, this is about the livelihoods of everyone in the restaurant industry and the decision to extend the ban on dine-in service until Feb. 1.
As you are well aware, there are more than 100,000 unemployed hospitality workers and many restaurant owners on the brink of bankruptcy. At your recent news conference, when referring to the bans on indoor dining you said, "They've never been closed, they have take-out opportunities and they have outdoor dining," While this is correct, many of us in the industry felt that this didn't show enough empathy or understanding for our businesses. Most of our businesses simply cannot survive on take-out alone. The loss of sales has put thousands of small restaurant operators in Michigan on the verge of bankruptcy.
We completely understand your concern for safety. But we have met all three of the "Key Metrics for Safe Restart" established by the Michigan Department of Health and Human Services. The seven-day average of new cases, hospitalizations and percent positivity are all within the metrics for a safe restart established by MDHHS.
Let's address the elephant in the room. We know that there were some restaurants that didn't follow the rules when we were allowed to be opened. Let us be clear: They were irresponsible and wrong. On the other hand, I can assure you that we took the safety restrictions extremely seriously and we were diligent about enforcing them. We made sure social distancing was enforced, we demanded all customers wear masks, we have kept health screening data on every single employee every day for the entire pandemic, we added barriers, we increased sanitization protocols, and much more. We can assure you that we were keeping our employees and customers safe. Please don't punish us all because of the ignorant actions of the few bad operators.
During this pandemic, our staff has been on the front lines serving the community while putting themselves at risk. We feed the hospital workers, the children with no lunch programs, the churchgoers, and the less fortunate. We innovate to promote safe practices to get our product to our customers with online ordering, curbside, takeout, and delivery. We do this to survive, but also because we take our responsibility in the community very seriously.
Although we have grit, we are running out. We need to open. Restaurants are the backbone of a community, employing over 15 million people nationally, and feeding our communities. Thirty-three percent of restaurants in Michigan say that they will not be able to stay in business, according to the MRLA.
Please, let us open safely as soon as possible. Thank you very much for your consideration and for all you have done for our state!
Signed,
Travis Stoliker, co-owner of Saddleback BBQ, Lansing and Okemos
Matthew Gillett, co-owner of Saddleback BBQ, Lansing and Okemos
Stefan Nava, co-owner, Danzon Cubano, Grand Rapids
Nick Gavrilides, owner, Soup Spoon, The Bistro and The Urban Cup, Lansing and Williamston
Jim MacQueen, Coach's Pub & Grill, Lansing
Mike Luther, owner, Bridge Street Social, DeWitt
Maricela Villalvazo, owner, The People's Kitchen, Lansing
Matt Rhodes, owner, Dustys Cellar & Wine Bar, Okemos
Nicholas Sinicropi, owner, Art's Pub, Good Truckin' Diner, D Coy Ducks and Reo Town Tattoo Co., Lansing
Ryan Soule, owner, Oakwood Bistro, Kalamazoo
Sam Rashed, owner, Zaytoon, Lansing and Holt
Greg Sinicropi, owner, Crossroads Grill and Bar (Leslie), Art's Pub and D Coy Ducks, Lansing
Eric Allchin, owner, The Tribune: Ice Cream & Eatery, Northport
Matthew Cottone, general manager, Twin Lakes Golf & Swim Club, Oakland Charter Township
Chris Chamberlain, owner, Michigan Princess, Detroit Princess, Grand Princess Riverboat.
Joseph Ghinelli, owner, Courthouse Pub & Grill, Mason
Tamara Black, owner, Buddies Pub and Grill, Lansing
Additional restaurant owners have requested to be added to the letter. These establishments have not been verified but we are glad to add their names to the list. Each owner agreed to the following terms:
To sign this letter,
1. You MUST be respectful toward the governor, even if you have disagreements.
2. You MUST have been an operator of a restaurant, food or entertainment establishment that was impacted by the extension from Jan. 15 to Feb 1, 2021.
3. You MUST have operated your dine-In business, while you were allowed to be open in 2020, within the rules that were established by the state. If you didn't operate by the rules, you cannot sign on to this letter.
David Hunt, owner, Big Boy (St. John's, Mason, Essexville)
James Cheskaty, co-owner, EnVie, Lansing
Ted Darbor, Darb's Crystal Bar, Lansing
Gianni Licari, owner, Licari's Sicilian Pizza Kitchen
Nihal and Andraya Fernando, owners, Fernando's Café, Haslett
Joseph Ghinelli, owner, Courthouse Pub & Grill, Mason
Tamara Black, owner, Buddies Pub and Grill, East Lansing
Natalie Norton, owner, Darb's Patio Bar & Grille and Darb's Country Tavern, Albion
Robyn Cole-Mrozinski, owner, Jalapeño's Mexican Restaurante
Gump Garmyn, co-partner, Gumps BBQ, Lansing
Jim Farhat, owner, Piazzano's, Lansing
Jeth Ott, owner, Little Brown Jug, Maybee
Kristin R. Conger, Black Sheep Pub, Alpena
Rodrigo Abarca, owner, Oaks Eatery, Three Oaks
Michael Carrigan, owner, JunkYard Dog, Jackson
Joshua, owner, Portland Party Store
Sarah Cox, president, The Garden Griddle and Creative Catering Services, Paw Paw
Cathryn Neracher, owner, My Trivia Live, Garden City
Teresa Hull, owner, Linda's Corner Landing, Ionia
Mark Miller, owner, Little Camille's by the Bay, New Baltimore
Mike Kelly, owner, Kelly Equipment Service, Bath
Rob VanPatten, owner, The B&I Bar, Lansing
Kelly Stapp, operator/general manager, Clifford Lake Inn, Stanton
Taylor and Matthew Prestidge, owners, Soulard's, Coloma
Michael D. Skory, piano player/singer/entertainer, Piano Bar Mike, Lansing
Tony Dacoba, owner, La Cantina Ristorante Italiano, Paw Paw
Richard Dallett, owner, The Vestal Inn, Belmont
Derek Allen Sandmire, general manager, Charlie's Bar and Grill, Westphalia
Thomas Saint Amour, owner, The Chocolate Moose
Christopher Potter, owner, Onondaga Tavern, Onondaga
Dawn E. Slater, owner, City Limits Restaurant, Newaygo
Arby Schleman, co-owner, Eaton Rapids Craft Co., Eaton Rapids
Jennifer Trout, owner, Red Arrow Roadhouse, Union Pier
Martin & Amy Ramos, owners, Amy's Catering and The Thirsty Bird Bar & Kitchen, Charlotte
Canyon Platt, owner, Alma's Main Cafe, Alma
Daniel C. Riedy, owner, Riedy's Pizza Tavern, Charlotte
Jeff Neely, owner, Old Chicago (Okemos, Midland, Southgate and Kentwood)
John Baier, proprietor, El Nibble Nook, Livonia
John A. Mamouzellos, owner, Galley Grill, Stevensville
Natasha Lynn Bissell, owner, Kramer's Bar and Grill, Pewamo
Angie Green, owner, Evergreens Coffee and Bakeshop, Oxford
Christanne Hamilton, manager, Stober's Bar, Lansing
John Foster, co-owner, The Wheel Inn, St. Johns
Pamela Foster, co-owner, The Wheel Inn, St. Johns
Michele Mathews, owner/manager, Wooden Shoe Restaurant, Holland
Denny and Michelle Emmer, owners, Cheezy D's, Hazlett
Bill and Tom Corey, owners, Corey's Lounge, Lansing
Teresa Vander Zwaag, owner, The Farmhouse, Zeeland
Jeanette Ellsworth, owner, Sunnyside Cafe, Williamston
Marc Harger, owner, Office Lounge & Grill, Oscoda and Glennie Tavern, Glennie
Kimberly Ball, owner, Country Creek Reception Hall, Dimondale
Jeremy Sprague, president and head brewer, Sleepwalker, Lansing
Michael Zajac, owner, Two Yolks' Cafe, Grand Haven
Mark Fink, owner, The Watershed Tavern and Grill, Haslett
Emily & Colin Quiney, owners, Back Door Saloon, Houghton Lake
Kathy Grover, owner/operator, Frog Tiki Bar and East Bay Grille, Prudenville
Debra Cheneyo, owner, JD's Old Town Tavern and The Houghton Lake Shrimp Shack, Houghton Lake
Bob Taylor, owner, Country Pub, Gregory
Annette Nelson, manager, Stanz Cafe, Grand Haven
Cora Hallauer, owner, The Limberlost (Houghton Lake), The Firehouse and Budd Lake Bar (Harrison)
Matt and JoAnn Stevens, co-owner/brewer, Barn Brewers Brewery, Lawton
Joe Wolf, operations manager, Louie's Trophy House and Louie's Corner Bar, Kalamazoo
Erin Lyon, owner, Jumpin' Java, Grand Haven
Christopher Potter, owner, Onondaga Tavern
Chris Housler, owner, University Roadhouse /Main Street Pub, Kalamazoo
Bridge welcomes guest columns from a diverse range of people on issues relating to Michigan and its future. The views and assertions of these writers do not necessarily reflect those of Bridge or The Center for Michigan. Bridge does not endorse any individual guest commentary submission. If you are interested in submitting a guest commentary, please contact
Ron French
. Click here for details and submission guidelines.
Only donate if we've informed you about important Michigan issues
See what new members are saying about why they donated to Bridge Michigan:
"In order for this information to be accurate and unbiased it must be underwritten by its readers, not by special interests." - Larry S.
"Not many other media sources report on the topics Bridge does." - Susan B.
"Your journalism is outstanding and rare these days." - Mark S.
If you want to ensure the future of nonpartisan, nonprofit Michigan journalism, please become a member today. You, too, will be asked why you donated and maybe we'll feature your quote next time!