MIDLAND — Nine days after federal regulators revoked a license of the Edenville Dam over years of failing to fix "structural instability," Michigan inspectors ruled it was in "fair" condition and allowed it to continue operating, records show.
And in the 19 months since that 2018 inspection, Michigan regulators didn't  demand any repairs to the dam that failed Tuesday, sending billions of gallons of water across Midland and Saginaw counties and displacing thousands of people.
Gov. Gretchen Whitmer toured the devastation Wednesday and said the state "is reviewing every potential legal recourse that we have, because this incredible damage requires that we hold people responsible."
"The initial readout is that this was a known problem for a while," Whitmer told reporters Wednesday.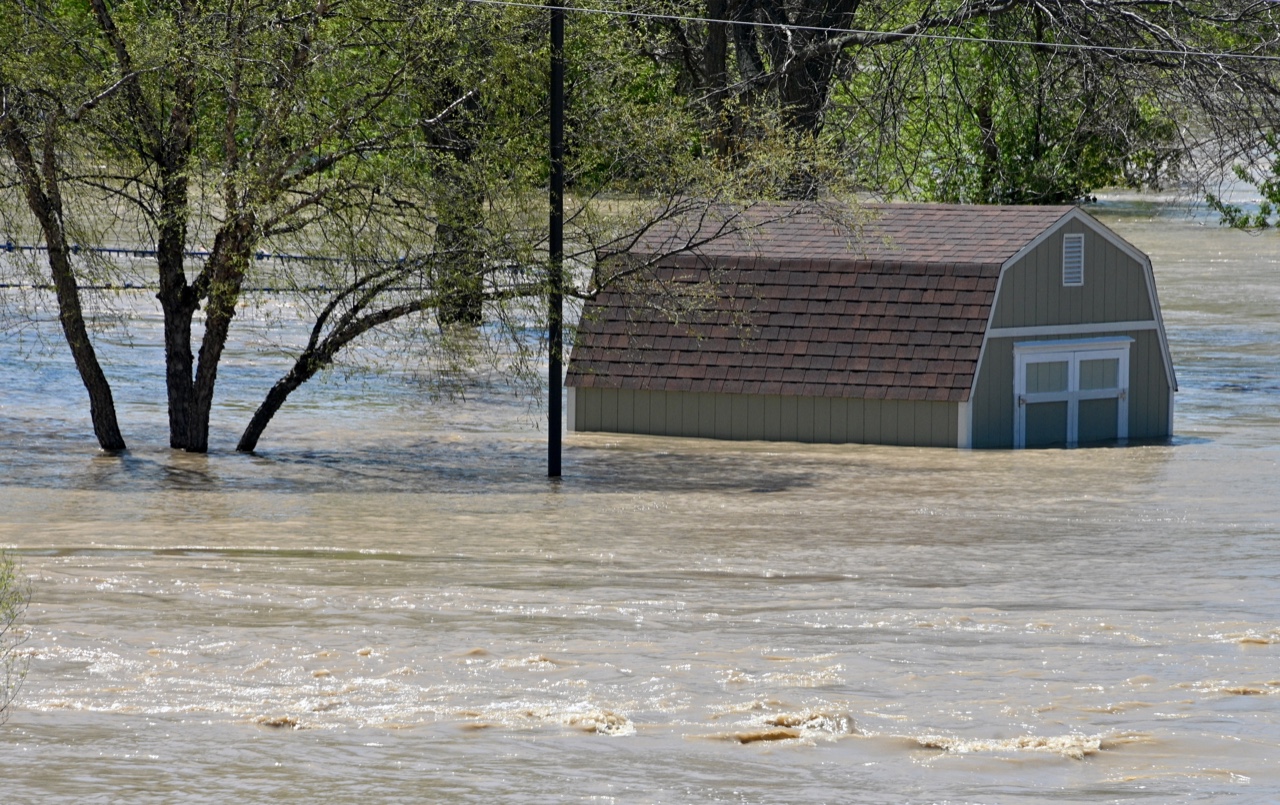 A flooded storage shed near downtown Midland stays upright against the waters of the river as it continues to rise.(Bridge photo by Dale G. Young)
The tragedy was hardly without warning. 
Since at least 2004, federal regulators have demanded repairs to the dam, writing its owners "failed for many years to comply with significant license and safety requirements." 
Its potential dangers were well-known to homeowners along four lakes tied to the Edenville Dam and three others. Years of dissatisfaction with dam owner Boyce Hydro Power prompted neighbors to band together to plan to agree to buy the dams for $9.4 million in January and plan over $5 million in repairs, a deal that had not been finalized before the flood. 
Michigan regulators "had strong concerns the dam did not have enough spillway capacity" in the event of heavy rains and "expressed those concerns," said Nick Assendelft, a state energy spokesperson. 
But regulators did not move beyond "continued conversations" about repairs, he said.  Instead, the state was focused on what it called illegal efforts by Boyce to lower water levels the past two years.
After it rained some 8 inches earlier this week — in what Whitmer termed a "500-year event" — the Edenville Dam failed.
"This was clearly a catastrophic failure both of the dam and of our government at all levels," said Mike Shriberg, Great Lakes regional executive director for the National Wildlife Federation.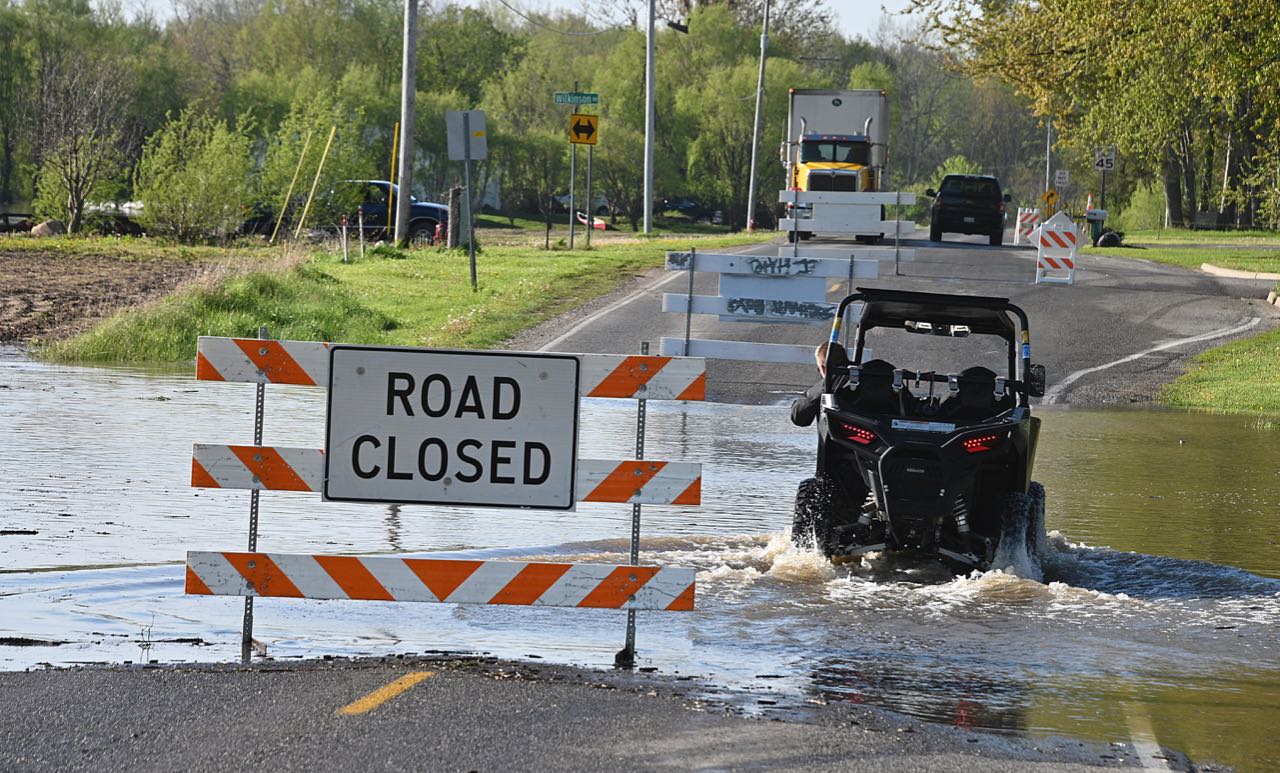 A man in a quad vehicle splashes through flood waters as the Tittabawasee river continues to rise Wednesday, near Freeland. (Bridge photo by Dale G Young)
In nearby Sanford, which is now under water, Hazel Lutze admitted she's "pissed" as she stood at a roadblock Wednesday and watched the silty brown floodwaters flow under a bridge over the Tittabawassee River. 
She's heard her porch is missing, and her fence.
But she's more upset about the owners of the dam that failed.
"If he knew it was broken, why didn't he get it fixed?"
Numerous messages with Boyce Hydro and its owner, Lee Mueller, who lives in Las Vegas, were not returned Tuesday or Wednesday.
A history of noncompliance
U.S. Sen. Debbie Stabenow told Bridge via email that the incident "is another example of the serious consequences when there is a lack of accountability in our enforcement system and a failure to invest in our critical infrastructure."
Indeed, federal and legal records show Boyce Hydro clashed with federal safety regulators beginning in 2004, when it took over the 95-year-old dam from Wolverine Power Corp.
Boyce generates power to sell to Consumers Energy, so regulation of its dam initially fell to the Federal Energy Regulatory Commission rather than state inspectors. 
In court documents, federal regulators wrote Boyce repeatedly failed to improve its capacity to handle big floods, revealing "a pattern of delay and indifference to the potential consequences." Fixing the dam was necessary "in order to protect life, limb, and property," lawyers for the FERC wrote in January 2018. 
The dam has two spillways, which are used to help dams safely drain extra water in the case of heavy rainfall. 
For years, the FERC had told Boyce the dam didn't meet design standards and could only drain about half of the expected "probable maximum flood" — the amount of water expected in the most severe storm that's reasonably possible in the region.
Federal regulators told Boyce Hydro it needed to build two spillways to accommodate potential flooding,` and the company agreed. 
But over the next 13 years, Boyce missed numerous deadlines to add the spillways, arguing it didn't have enough money to finish the projects and couldn't borrow more.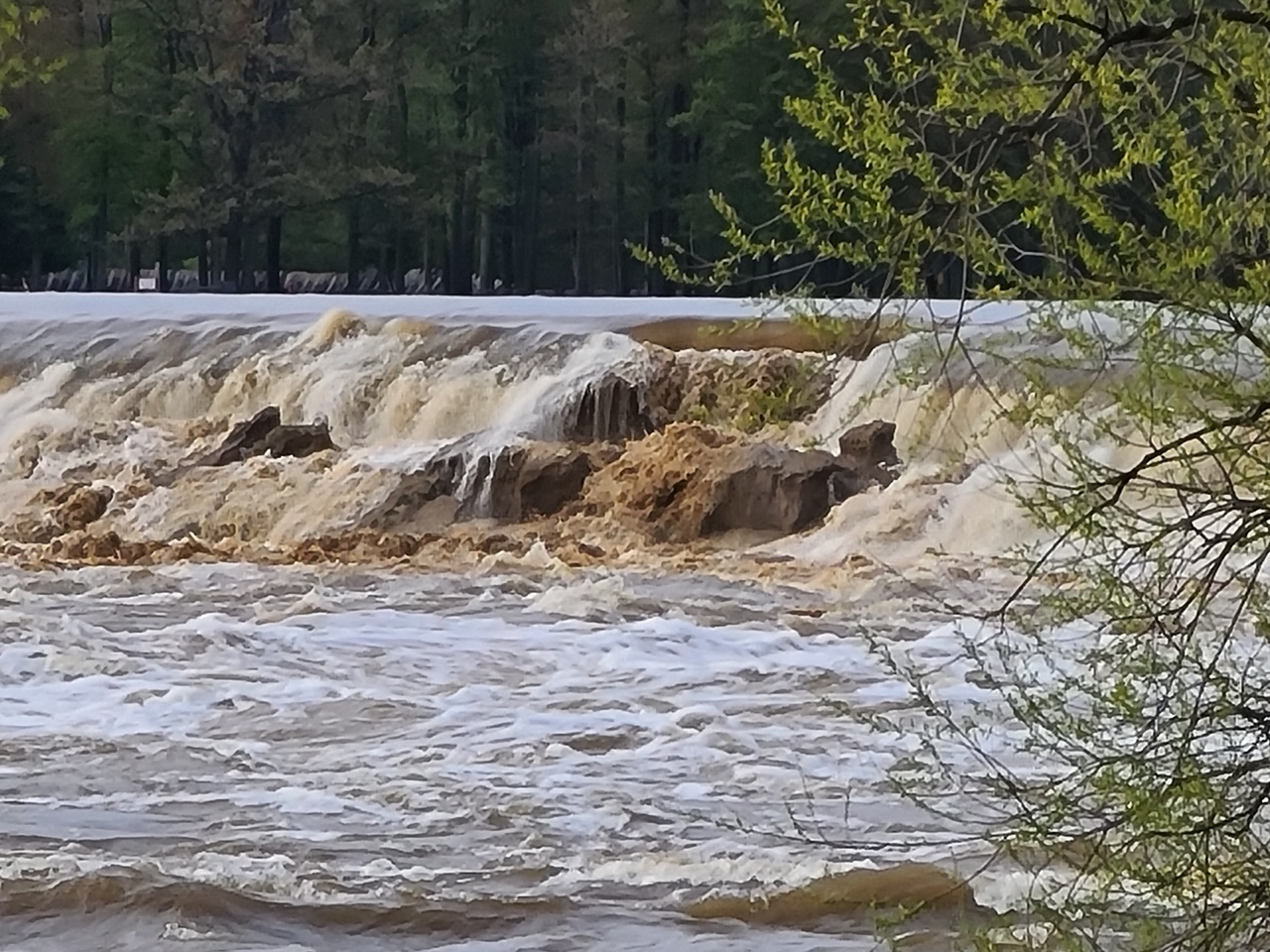 The Sanford dam failing at about 7:40 p.m. Tuesday. (Photo courtesy of Tiffany Thibodeaux)
When federal regulators moved to shut down the dam, the company argued that stopping energy production would cut its revenue in half, "starving it of the very funds it needs to maintain, let alone increase, the spillway capacity."
After a months-long legal battle, Boyce Hydro lost its license to generate power with the Edenville dam in 2018, though it retained its license for three other dams in the area. The state took over regulation of the Edenville dam. 
Hugh McDiarmid Jr., a spokesperson for the Michigan Department of Environment, Great Lakes and Energy (EGLE) said the state had intended to review the dam's design in March after getting a report from Boyce Hydro's consultant.
But it did not get the consultant's report and it has not fully evaluated the design, McDiarmid said.
The design "should always be looked at," said Mark Ogden, a technical specialist with the Association of Dam Safety Officials, adding that poor design was cited in two of the most recent high-damage dam failures in Nebraska and California.
Ogden said dam inspectors from both the FERC and individual states typically look at both the physical structure of dams and their design.
But with the Edenville Dam, Michigan's inspectors looked at the physical structure and identified some problems and deemed it in "fair structural condition."
In a three-paragraph report, attached to 45 photos, inspector Jim Pawloski wrote the earthen embankments were "well maintained, with only a few bare spots, minor erosion, and no visible signs of significant distress."
Embankment drains appeared to be functional and the two concrete spillways "showed signs of moderate deterioration … but appeared to be stable and functioning normally," Pawloski wrote in the Oct. 8, 2018 report.
U.S. Sen. Gary Peters, who along with Stabenow said he will push for federal relief for Midland, told Bridge the incident shows "there needs to be tougher rules if you're not in compliance."
That's not to say Michigan regulators ignored the dam.
But because state regulations are different than federal ones, Michigan inspectors instead focused on what they called illegal drawdowns of Wixom Lake.
State officials alleged Boyce's dams lowered the lake by more than 8 feet without permission in 2018 and 2019, and sued the company in April alleging the actions killed "thousands if not millions" of endangered freshwater mussels.
In a counter-suit, Boyce contended it lowered the lake to protect residents downstream from the possibility of a flood, 
Act of God or man?
Some neighbors and elected officials say the dam breach is an unfortunate but unavoidable result of what is likely the worst flood in more than 30 years in which anywhere from 4 to 8 inches fell in the region. 
Stacey Trapani, spokesperson for the Four Lakes Task Force that agreed to buy the dams from Boyce Hydro earlier this year, said the "dams were operational and everything was working fine with them."
"I really believe that it was the water, this historic amount of water that was coming through that was the major catalyst for this," she said. 
"The dams are regulated" and the repairs needed weren't the kind that would put people in danger, she said. "Nobody expected this kind of water level coming through so fast."
She said she believes the group will still purchase the dams despite the disaster, but she's not sure. "We're in the assessment phase and we're waiting for the emergency to subside."
Dam failure isn't unheard of in Michigan: In 1986, after it rained 8 to 14 inches, 11 dams failed in the southern part of the state. 
State Sen. Jim Stamas, R-Midland, said Boyce had "been working for many years to meet" federal regulations, which the senator said became more stringent over the years and was not met with financial support.
"No one would have ever expected this to happen," said Stamas, who secured a $5 million grant from the state to help neighbors buy the dam.
Shriberg of the National Wildlife Federation said underinvestment in infrastructure, stronger and more regular storms due to climate change, and weak regulation are all to blame.
"This was a 500-year storm, but we're seeing 100- and 500-year storms occur annually at this point," Shriberg said, which means infrastructure needs to be prepared for catastrophic events like that which struck the Midland dams. "The problem is, the extraordinary is becoming the norm."
FERC, the agency that revoked Boyce Hydro's license in 2018, told Bridge via email it directed the company Wednesday morning to "undertake a forensic analysis of the root cause" of the overflow of the nearby Sanford dam (the Edenville dam is no longer in their jurisdiction). 
"We do not want to speculate on the cause or details of the incident," an agency spokesperson said.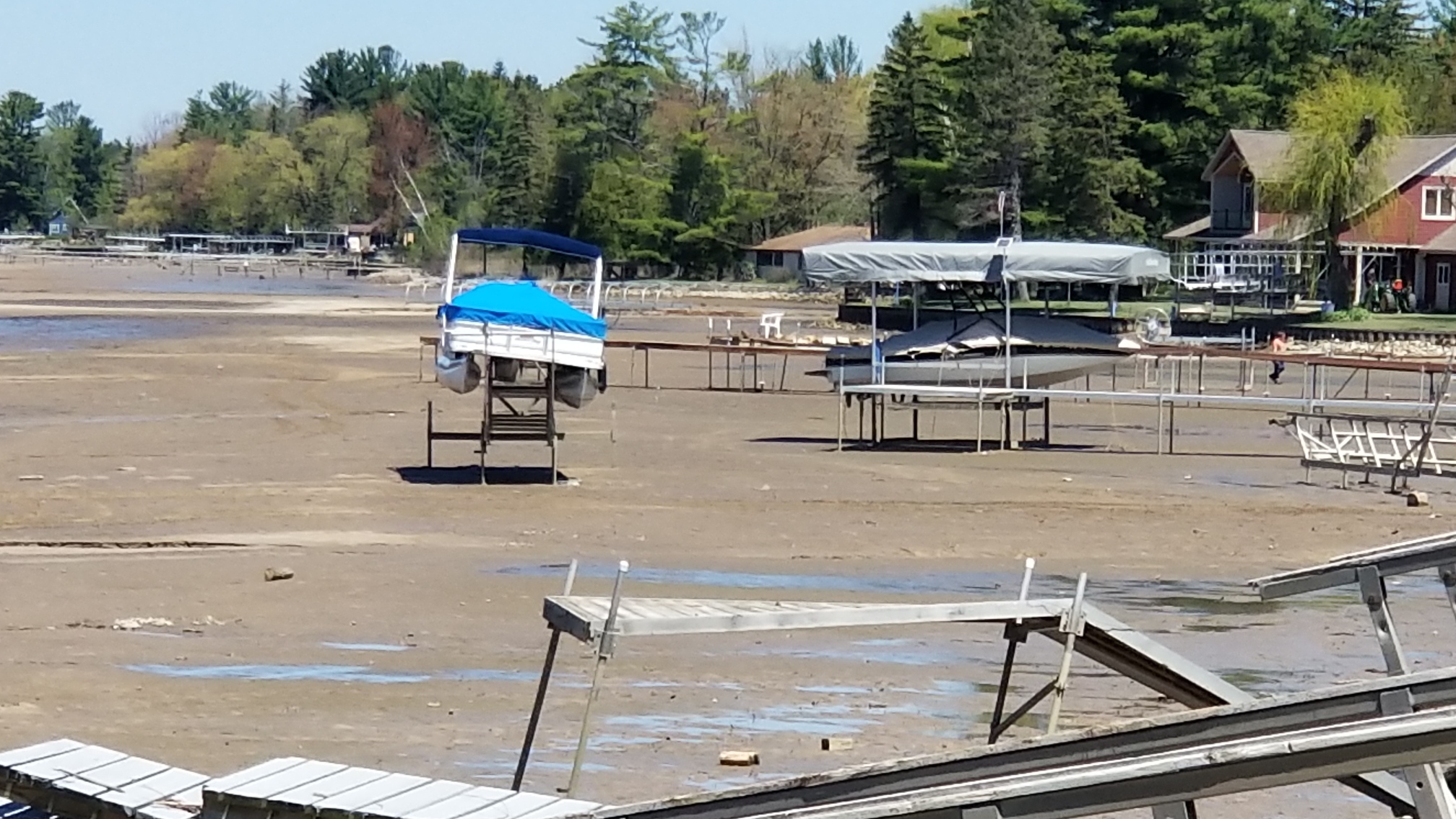 State Rep. Rodney Wakeman, R-Saginaw Township, took photos behind his parents' cottage of the mud and the stranded boats. "It's unfortunate that a lot of people are getting the brunt of the rain that fell and the lakes," he said. "I just want it fixed as anyone out there." (Photo courtesy of Rodney Wakeman)
A drained lake and downriver disaster
What remained, as waters continued to rise Wednesday, is blame, frustration and helplessness.
"I've been watching [the Edenville Dam] the last couple of years," said Noah Robinson, 39, who lives on the western edge of Midland across the street from the Chippewa River.
"There's a lot of people who are gonna lose their homes," he said.
Up on Wixom Lake, which had been several square miles of water surrounded by homes, there's not much water and a lot of mud after the dam failed.
While downriver victims are living in shelters and worried about lost possessions, the Wixom Lake residents see a lost lake. State Rep. Rodney Wakeman, R-Saginaw Township, took pictures behind his parents' cottage of the mud and the stranded boats.
"It's unfortunate that a lot of people are getting the brunt of the rain that fell and the lakes," he said. "I just want it fixed as anyone out there."
---
Bridge reporter Robin Erb contributed to this article