Green ooze on Michigan freeway prompts calls for tougher polluter pay laws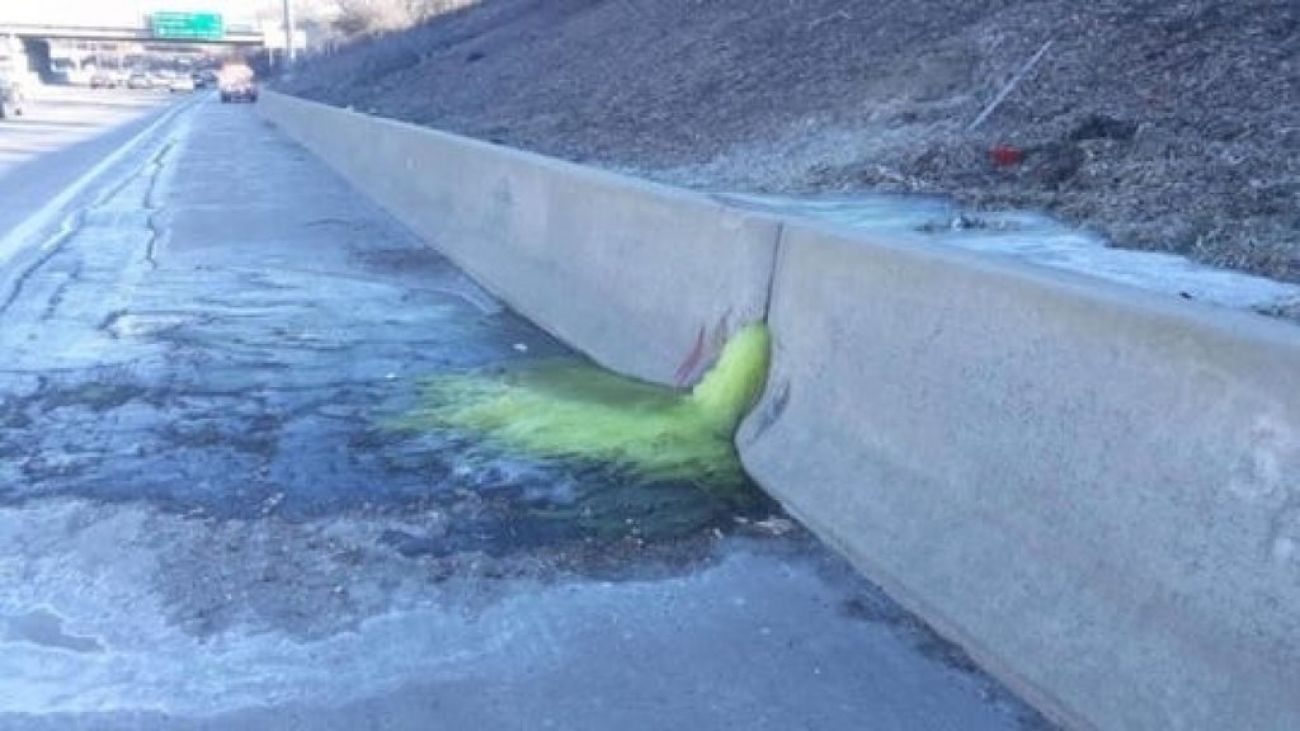 LANSING — Michigan Gov. Gretchen Whitmer is citing an environmental disaster in Oakland County to renew a call for "polluter pays" legislation to require owners to clean up, rather than just contain, environmental contaminants on their property.
Bills introduced last year by state Sen. Jeff Irwin and state Rep. Yousef Rabhi, Democrats from Ann Arbor, would partially restore environmental cleanup regulations repealed by Republican former Gov. John Engler in 1995 amid concerns over impediments to urban redevelopment efforts.
"Thank goodness the ooze was green," Irwin said of the slime-colored substance found seeping from the shuttered Electro-Plating Services business and onto the shoulder of Interstate 696 in Madison Heights that has triggered questions about the state's handling of polluters.
"There are horrible chemicals seeping underground and getting into our groundwater and into our soil all over Michigan … and if that ooze had not been green, it probably wouldn't have gotten the attention it did."
Whitmer last week urged lawmakers to pass the bills, which have not seen any action in the GOP-led House and Senate. She also announced the state is considering new criminal charges against Electro-Plating Services owner Gary Sayers, and she ordered an internal review of pollution inspection and enforcement procedures by the Michigan Department of Environment, Great Lakes, and Energy. The department has faced criticism for concluding in March there was little risk the contamination would spread off the property.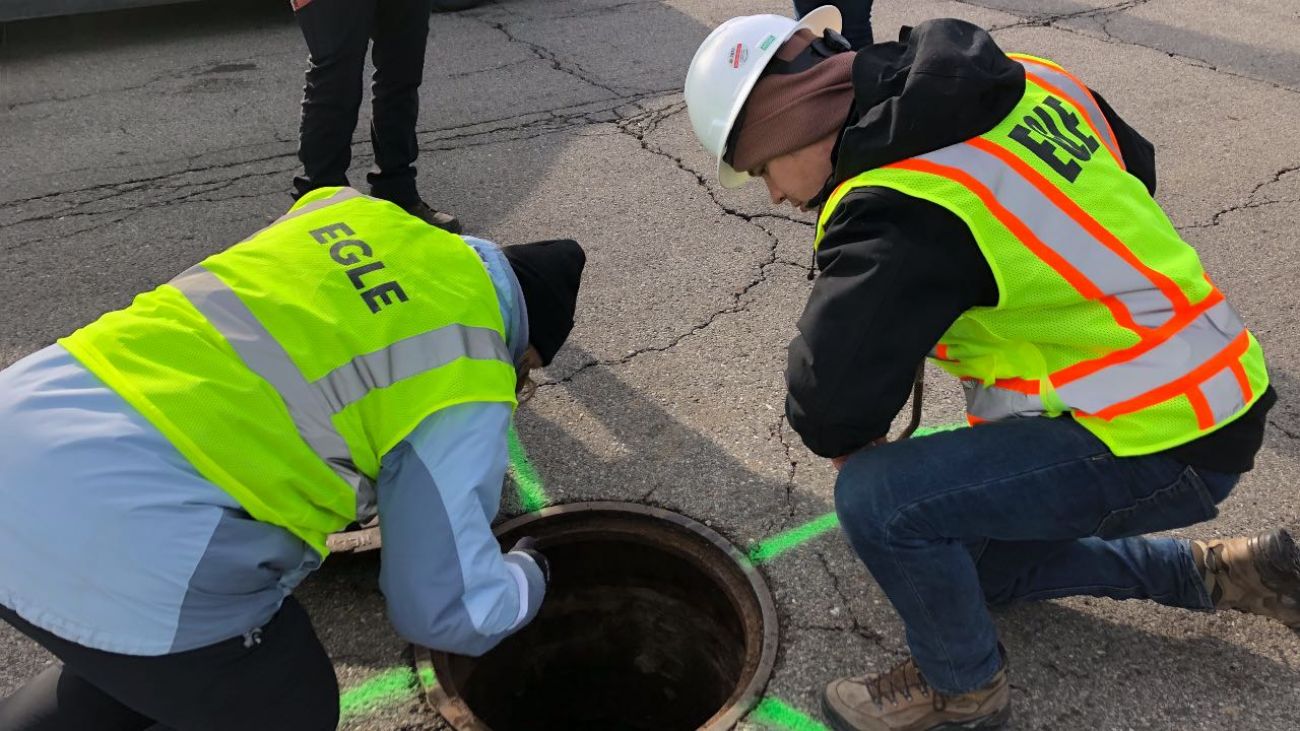 Critics say polluter pay laws are anti-business and ineffective, and new state laws likely wouldn't impact Sayers for failing to contain the highly toxic cancer-causing ooze.
He reported to prison Friday after being sentenced in November to one year in prison for illegally storing hazardous waste at the Madison Heights facility. He was also ordered to pay the Environmental Protection Agency $1.4 million in restitution for an initial cleanup that was completed in January 2018.
"He is the liable and responsible party for any cleanup that continues there," said Hugh McDiarmid Jr., a spokesman for the Michigan Department of Environment, Great Lakes, and Energy.
"But his ability to pay is a whole other story."
The EPA can go after Sayers' assets, but if he's unable to pay, the bill could fall to state and federal agencies.
Michigan has "thousands" of polluted sites that lack a clear owner or responsible party to collect from, McDiarmid said. The state had relied on bonding to manage "orphaned site" rendition until last year, when GOP former Gov. Rick Snyder persuaded legislators to put $69 million into a permanent "Renew Michigan Fund" for toxic site cleanup, waste management and recycling.
Polluter liability is "certainly a discussion we need to have," said Sen. Rick Outman, R-Six Lakes, who is chairman of the Senate Environmental Quality Committee and has not yet scheduled any hearings on the bill Irwin introduced in early 2018.
Outman said he's unfamiliar with details of the legislation but is concerned that changing drinking water standards could result in business owners being held liable for discharges that were not illegal at the time they occurred.
"I see both sides of the equation," he said. "Certainly taxpayers didn't do the polluting."
Green ooze
Preliminary testing shows the green liquid that originated from the shuttered EPS building was groundwater contaminated by industrial waste, including contaminants like hexavalent chromium, cyanide, trichloroethylene and other metals.
Known as chromium-6, hexavalent chromium was used in anti-corrosion products and industrial coating. The chemical gained notoriety for contaminating groundwater in California and leading to a lawsuit by activist Erin Brockovich that was memorialized in a movie. Exposure is linked to lung cancer, asthma and other ailments.
While EGLE downplayed the potential for spreading contamination in a March letter to the EPA, "this current incident indicates that there may be a preferential flow path offsite that was previously unknown," the department acknowledged last week.
State officials say there is no immediate risk to drinking water in Madison Heights because all nearby residents and businesses are connected to Detroit's municipal water supply.
But lawmakers have questioned the environmental department's oversight. House Appropriations Chairman Shane Hernandez, R-Port Huron, on Friday announced legislative hearings after WXYZ-TV (Channel 7) in Detroit reported finding a metal drum with a chemical label outside another Sayers property in Sanilac County. Regulators inspected the site Monday but did not find any hazardous materials.
Court records show Sayers took over EPS from his father in 1995 and has been battling state and federal regulators since at least 1996, when Michigan first issued a letter of warning for failure to close hazardous waste containers and other issues.
Regulators took more than a dozen enforcement actions against EPS over the next decade, culminating with a Superfund removal completed by the EPA in January 2018.
"Thousands of pounds of hazardous wastes were removed offsite for treatment and disposal," according to a subsequent plea agreement. Among their findings: At least 12 drums containing corrosive chemicals, toxic levels of chromium in a building pit and four containers held cyanide that "exhibited the… waste characteristic of reactivity," meaning it could generate toxic gases, waste or fumes "in a quantity that presents a danger to human health or the environment."
Prosecutors last year charged Sayers under the federal Resource Conservation and Recovery Act for knowingly storing hazardous wastes without a permit. He was ordered to make a lump sum restitution payment of $1.4 million to the federal government.
As of October, Sayers' attorneys said he had a "glimmer of hope" to fully reimburse the government by selling a separate property in Detroit for $2.5 million.
It was at least his second conviction for mishandling toxic waste. In 2005, he pleaded guilty to illegally transporting hazardous waste from his Detroit to Madison Heights properties.
Even if Sayers and his company can't pay, supporters of the Michigan bill say polluter liability laws act as a deterrent. The law requiring property owners to pay full cleanup efforts was passed with bipartisan support, but lasted only five years before Engler's repeal.
"Now under Michigan law, what it allows for is that the polluter can just limit human exposure and control the spread of the contamination, but they're not required to actually clean it," Rabhi said. "This bill would actually require that cleaning to occur."
He described his proposal as an "elementary-level concept" that even a child can understand.
"If you spilled milk on the counter, you could just leave it there, put some towels around it, and make sure that everybody in the house knows that there's milk spilled on the counter," he said, using an analogy to describe current state law. "That's not acceptable. Nobody would allow that. Your parents wouldn't just allow you to leave spilled milk on the counter."
'Turning back the clock'
Rabhi and Irwin say their legislation could benefit communities like their hometown of Ann Arbor, where a spreading dioxane plume of toxic chemical pollution from the former Gelman Sciences property is a continual threat to the city's water supply.
The push for tighter cleanup rules also comes amid growing awareness of contamination from PFAS "forever chemicals." As of last year, the state had identified at least some level of PFAS in 179 water systems serving a combined 1.4 million across Michigan. But only two systems serving a collective 3,500 residents had concentrations above the federal health advisory level.
Wolverine Worldwide shoe maker last month agreed to a tentative $69.5 million settlement for PFAS contamination in the Rockford area, and Michigan Attorney General Dana Nessel is considering legal action against PFAS producers like 3Mto help recoup statewide cleanup costs.
But the pollution cleanup legislation faces an uphill battle in Michigan's Republican-led Legislature, where it has sat dormant for 11 months since introduction in February.
The Michigan Chamber of Commerce, a powerful business advocacy organization that pushed to repeal similar regulations in 1995, contends the bills are "very problematic" and turn "back the clock too far," said Rich Studley, president and CEO of the group.
He raised questions over the language in the bills that would require business owners to clean up contaminated water aquifers "to the extent technically feasible," suggesting that language could allow the state to force businesses to comply with unreasonable demands.
"There's a giant difference between technically feasible, which often in the past was being interpreted as 'theoretically feasible' or 'scientifically possible' without any consideration of whether the technology would actually be available and work."
Studley agreed with other Whitmer comments that the state should work to vigorously enforce existing law and ensure the owner cleans up the site to the full extent required by state or federal regulations.
"No responsible person in the business community is coming to the defense of this company," he said.
'Heart-wrenching'
Former state Rep. Lana Pollack spent eight years developing legislation that would become Michigan's 1990 "polluter pays" law, which was adopted amid growing public concern over environmental contamination and was described as the toughest of its kind in the nation.
The legislation passed the Legislature when Engler served as Senate majority leader. But as governor, Engler signed a law that repealed requirements and made it harder for the state to hold new owners liable for old pollution. The law included a cleanup exemption allowing contaminated groundwater to remain untreated if the risk of public or environmental exposure could be limited.
The repeal still stings Pollack, who would go on to lead the Michigan Environmental Council and serve on the International Joint Commission that regulates Great Lakes and other boundary waters with Canada.
"It was heart-wrenching then, and it's heart-wrenching now to see every year the money that is spent, the sites that don't get cleaned up, the difficulty in holding responsible parties responsible under the law," she said.
The short-lived law was a success, Pollack said, allowing the state to collect roughly $100 million from polluters over five years to clean up contaminated sites.
Critics argued the law slowed redevelopment of blighted or vacant property in cities like Detroit because potential purchasers were concerned they could be held liable for undetected pollution if contaminants were discovered in the future.
In some cases, it was impossible to get a clean title for foreclosed properties because it was not possible to identify the company or individual that originally polluted the property, Studley said.
"It became a great barrier to not only cleaning up contaminated sites but getting those sites back into some kind of reasonable use," he said.
The 1995 legislation also spurred redevelopment by setting different cleanup standards for properties based on their intended use, according to Studley, who said land redeveloped into a school should be more stringently cleaned up than property that will become a parking garage.
The Rabbi and Irwin legislation would not change property ownership liability dynamic that businesses complained about under the state's original "polluter pays" law. But it attempts to set a uniform clean-up standard for any contaminated site in the state that impacts drinking water.
Pollack has not read the bill language but said the proposal sounds like an "incremental step" toward restoring the 1990 law.
"I was pleased to see the governor make a call for this," she said, noting increased public attention to the green ooze, PFAS and other contamination issues. "This is a time the public is aware, and the Legislature should be taking this up."
Michigan Environment Watch
Michigan Environment Watch examines how public policy, industry, and other factors interact with the state's trove of natural resources.
Michigan Health Watch is made possible by generous financial support from:
Our generous Environment Watch underwriters encourage Bridge Michigan readers to also support civic journalism by becoming Bridge members. Please consider joining today.
Only donate if we've informed you about important Michigan issues
See what new members are saying about why they donated to Bridge Michigan:
"In order for this information to be accurate and unbiased it must be underwritten by its readers, not by special interests." - Larry S.
"Not many other media sources report on the topics Bridge does." - Susan B.
"Your journalism is outstanding and rare these days." - Mark S.
If you want to ensure the future of nonpartisan, nonprofit Michigan journalism, please become a member today. You, too, will be asked why you donated and maybe we'll feature your quote next time!