$1.5B for Michigan child care in limbo as GOP plays hardball with Whitmer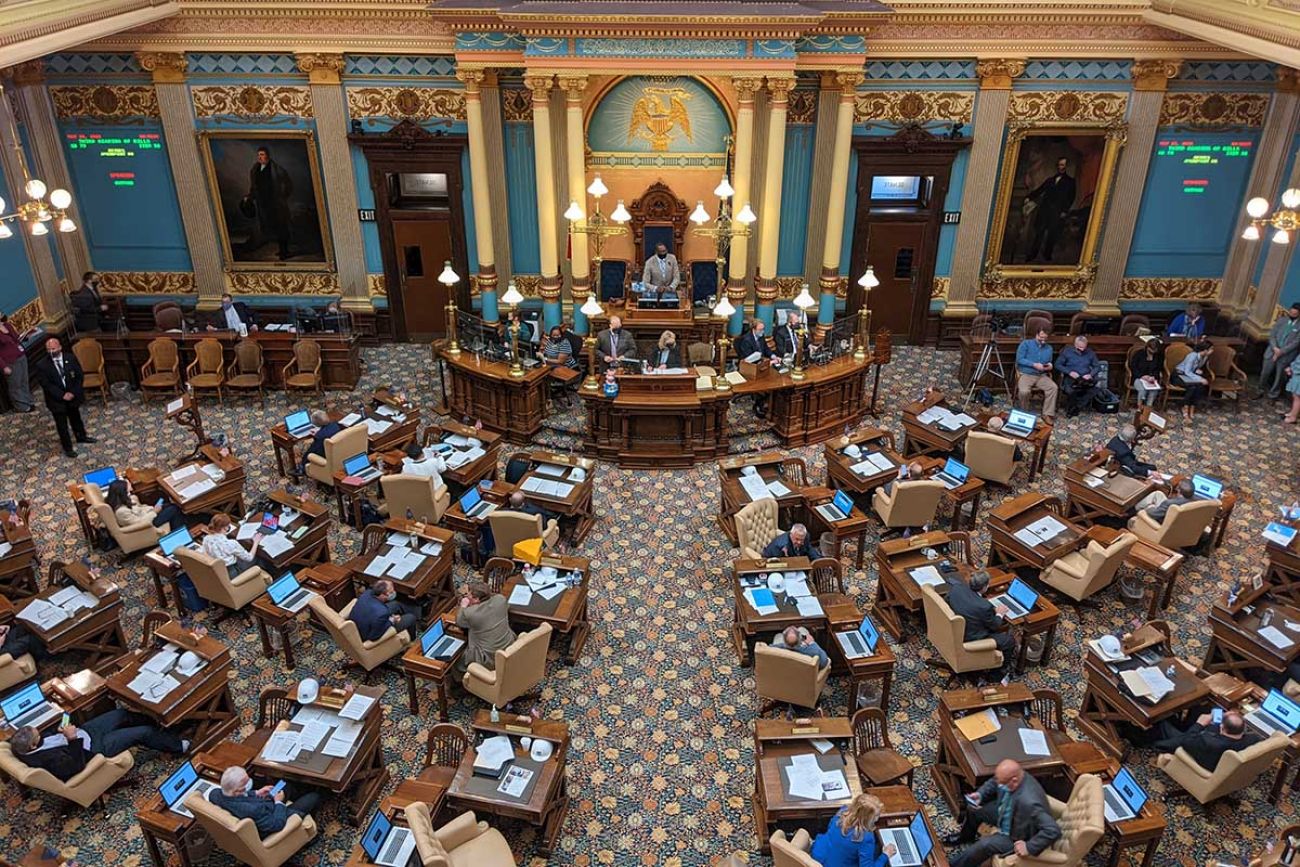 The Michigan Senate on Thursday amended a budget bill to prohibit the state health department from creating a vaccine passport system, which it is not planning to do. (Bridge photo by Jonathan Oosting)
May 20: Whitmer, Michigan GOP make peace, will negotiate billions in federal stimulus
LANSING — With billions of federal stimulus dollars coming to Michigan but negotiations non-existent, Republicans who control the Legislature this week continued efforts to chip away at Democratic Gov. Gretchen Whitmer's authority and public health orders.
House Republicans on Thursday advanced bills that would require Whitmer to give up her "administrative transfer" budget powers in order to spend nearly $1.5 billion in federal COVID-19 funding for child care services. A separate spending bill would prohibit departments from requiring proof of vaccination for employees or visitors to enter state office buildings.
The Michigan Senate, meanwhile, approved legislation to ban the state from requiring children under the age of 5 to wear masks, issued a subpoena for state health department pandemic policymaking records and advanced a budget bill that would bar the state from developing a vaccine passport system, which Whitmer has said she does not intend to do.
Related:
Beyond COVID policy, GOP lawmakers this week used budget bills to try and pressure Whitmer to drop her push to shut down Enbridge's Line 5 oil pipeline, and to prohibit Democratic Secretary of State Jocelyn Benson from sending absentee ballot applications to voters.
It's not unusual for legislators to try and use the budget process to advance their own policy agenda, but "the degree to which it is happening" now is unique, Mitch Bean, who led the non-partisan House Fiscal Agency, told Bridge Michigan.
"This is more aggressive than I've seen," said Bean, who served from 1993 to 2011.
While Whitmer would likely veto many of the measures if they reach her desk, Republicans contend their push is warranted given the governor's "unilateral" action on COVID-19 policies and other fronts.
New House legislation seeks to permanently prohibit Whitmer from shifting large amounts of money within state department budgets, as she did in 2019 during a standoff with the Legislature but agreed not to do last year.
"We have reached a point in recent years where this is no longer a question of theory, but egregious actions which have already occured," said sponsoring Rep. Ben Frederick, R-Owosso.
"We've had budgets pass by some very wide bipartisan margins, signed by the governor and then hundreds of millions of dollars for programming eliminated and re-appropriated wholesale."
But House Minority Leader Donna Lasinski, D-Scio Township, said it's irresponsible for Republicans to use child care funding as leverage in their power struggle with Whitmer, arguing that the $1.5 billion in federal COVID-19 relief funding could help parents looking to return to work.
"Our friends and neighbors right now are in their hour of need, and … we're using that desperation to leverage a political agenda," Lasinski said.
'Not at the table'
Hanging in the balance is the state's annual budget, which funds public health and other government operations and must be finalized by Oct. 1.
Michigan officials must also decide how to spend $6.5 billion in new federal stimulus funds, along with roughly $2 billion leftover from previous stimulus bills, and billions more that must be sent to local schools and communities.
House Speaker Jason Wentworth, R-Farwell, has made clear Republicans will not negotiate with Whitmer until she gives them a greater say in the state's ongoing response to the COVID-19 pandemic.
And that has not yet happened, he told reporters Thursday.
"At this point, the administration is not at the table," Wentworth said, accusing Whitmer of blowing up what had been constructive talks two weeks ago by "unilaterally" announcing a new policy to ease COVID-19 restrictions when the state meets certain vaccination thresholds.
"My background is military and law enforcement, where there's a lot of trust with the people I work with," said Wentworth, who worked as a military police officer and for both public and private law enforcement agencies.
"The governor's background is in politics, and I don't know where that leaves us at this point."
Whitmer, an attorney, has said the state's new "vacc to normal" plan incorporated input from legislative leaders, who had for months urged her to lay out clear metrics for when and how her administration will ease COVID-19 restrictions.
"Gov. Whitmer has said that she is ready to work with anyone who wants to work with her to get things done, which is exactly what we did by working with leaders on both sides of the aisle to build a path forward for our state under the MI Vacc to Normal plan," spokesman Bobby Leddy said Thursday.
Under the new COVID plan, office spaces will be able to reopen May 24 because 55 percent of eligible adults have received at least one dose of an approved vaccine. The state health department will ease additional restrictions when more people are vaccinated and lift all other regulations after 70 percent of eligible Michiganders have had their first dose.
House Republicans on Thursday finalized their own $13 billion stimulus spending plan, which includes $184.4 million for vaccine distribution. The GOP majority rejected a Democratic amendment that would have added another $5 million for the state to develop "innovative strategies" for vaccine distribution.
Forcing the debate
Wentworth acknowledged Whitmer would likely veto spending bills her office did not help negotiate, which he called "frustrating for the people of Michigan."
Still, legislative Republicans who are unable to pass laws without the governor's signature are using the budget process to force policy debates.
Among the provisions tucked into spending bills this week but not yet sent to Whitmer for consideration:
Enbridge legal bills: A Senate-approved spending plan would require the state to pay legal fees for the Canadian-based energy company if Whitmer loses litigation seeking to revoke the easement agreement that allowed Enbridge to run the pipeline through the Straits of Mackinac.
SOS appointments: A Senate-approved spending bill seeks to require Secretary of State branches to offer in-person services without an appointment for at least 25 hours each week, undermining Secretary of State Jocelyn Benson's plan to move to an appointment-only system.
Voter mail: A House-approved budget bill would prohibit Benson from mailing absentee ballot applications to voters, as she did prior to the 2020 election. It would also require Benson to notify legislative leaders and local clerks before mailing any election-related information to voters.
COVID violations: A House-approved budget bill seeks to prohibit the Michigan Occupational Safety and Health Administration from publishing the names of companies that violate COVID-19 orders, and it includes language directing the state to return any fines that were levied on employers last year between April 30 and Oct. 13.
Nursing home investigations: A House spending bill approved Thursday would use $5 million in federal stimulus funds for an idea already proposed by the Senate: Grants for county prosecutors to investigate "state nursing facility processes and policies in response to COVID-19."
Mandatory vaccines: Many House-approved budget bills include language that would prohibit state departments from requiring proof of a COVID-19 vaccination as a condition of accessing any state services or facilities. The spending plan would also prohibit universities from requiring vaccination as a prerequisite for enrollment or attending in-person classes.
Vaccine passports: House and Senate budget bills would bar the state health department or other agencies from developing or utilizing vaccine passports. Whitmer has made clear her administration is not planning to create a vaccine passport in Michigan.
The spending bills are effectively meaningless because they were not negotiated with Whitmer, said Sen. Curtis Hertel Jr., an East Lansing Democrat who ridiculed the GOP push to ban vaccine passports because the state is not currently planning to develop one.
"I'm hoping that now that we've won the crazy conspiracy theory Bingo, we can … work on things that actually are happening in Michigan, that matter to people in Michigan," Hertel said Thursday in a derisive floor speech.
Even if Whitmer signs some of the budget bills, she could use her authority to declare policy provisions proposed by Republicans unconstitutional or unenforceable, said Bean, the former House Fiscal Agency director.
Lawmakers know that, "so part of it is just making a statement, of course," he said.
Those statements have had real-world consequences.
Some $841 million in federal funding for Michigan schools is still in limbo after Whitmer vetoed a Republican bill that would have barred state health officials from closing schools or sporting events because of the pandemic.
Likewise, federal relief funding for businesses has been held up because Whitmer twice vetoed GOP spending plans, saying lawmakers didn't negotiate with her office.
"I'm sure there's plenty of blame to go around, but it's nonsense the way it's going," Bean said. "They need to get together and figure this stuff out."
We're not just a news organization, we're also your neighbors
We've been there for you with daily Michigan COVID-19 news; reporting on the emergence of the virus, daily numbers with our tracker and dashboard, exploding unemployment, and we finally were able to report on mass vaccine distribution. We report because the news impacts all of us. Will you please support our nonprofit newsroom?