It's (all but) over: Michigan's 16 electoral votes go to Joe Biden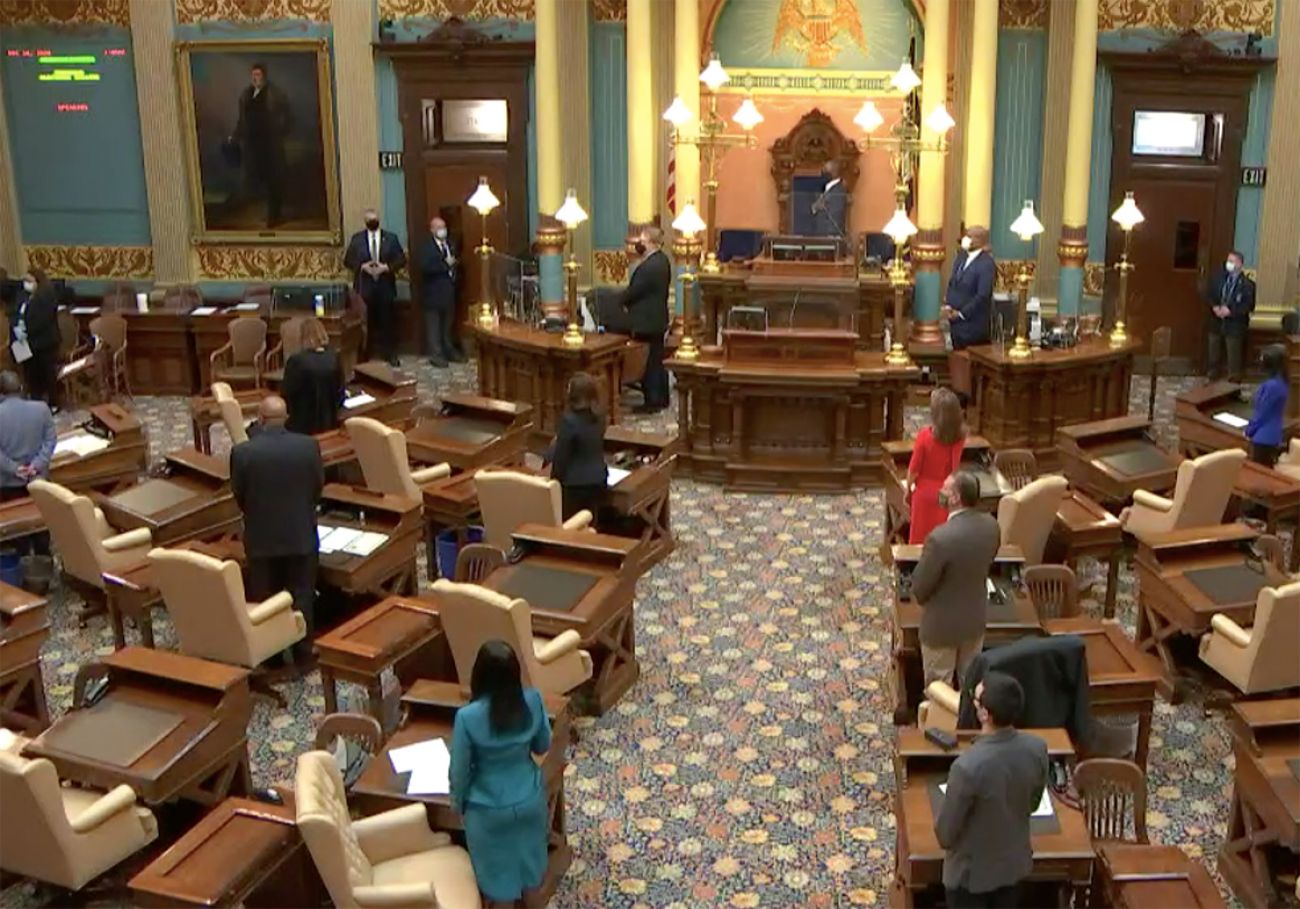 LANSING — In a ceremonial act made dramatic by a "credible threat of violence" that closed the Capitol, 16 Michiganders gathered in the state Senate on Monday to officially cast their Electoral College votes for Democrat President-elect Joe Biden.
The elector signatures on "certificates of ascertainment" ended Republican President Donald Trump's unprecedented and unsuccessful public pressure campaign to persuade Michigan's Republican-led Legislature to discard Biden's 154,188-vote win and swing the election to him.
The vote leaves Trump with just one clear move to fight what he continues to claim was a "rigged" election, and one that is even less likely to succeed than myriad lawsuits he and allies have lost: Imploring Congress to reject electors from contested states.
"Michigan has chosen a clear winner for the office of president of the United States," Gov. Gretchen Whitmer said moments before the Electoral College vote, which she presided over on the floor of the state Senate chambers.
Related stories:
"The people have spoken," added Whitmer, who was a national co-chair for Biden's campaign and is helping organize his Jan. 20 inauguration. "It was a safe, fair and secure election. It was the kind of election our Founding Fathers envisioned when they created this democracy and built this country."
Similar scenes unfolded simultaneously across the country as electors gathered at state Capitols for the Electoral College vote. Biden is expected to win 306 electoral votes, the same amount Trump won in 2016 and well more than the 270 required to secure the presidency.
The president and his attorneys have spent weeks trying to persuade Michigan Republicans to appoint their own pro-Trump electors because of unproven claims of fraud, a plan backed by at least one state lawmaker who was sanctioned earlier Monday after refusing to rule out the possibility of violence at the Capitol.
GOP leaders in the Michigan House and Senate on Monday closed all legislative offices because of an undisclosed public safety threat, and Democrats had already chosen to keep the Capitol closed to the public because of COVID-19.
With small protests expected outside, Michigan State Police offered electors security escorts into the building, where they were joined in a ceremonial signing by Gov. Gretchen Whitmer, Lt. Gov. Garlin Gilchrist, Secretary of State Jocelyn Benson, Attorney General Dana Nessel, Michigan Supreme Court Chief Justice Mary McCormack and others.
A small group of Republican legislators, including Reps. Matt Maddock of Milford and Daire Rendon of Lake City, reportedly attempted to usher their own "electors" into the Michigan Capitol but were rebuffed and refused entry by state police.
They said that they were the Republican electors there to cast their vote for president. State police declined to let them enter the building or leave votes offered in a manila envelope pic.twitter.com/rNVIwc5ZXC

— Riley Beggin (@rbeggin) December 14, 2020
The actual vote in the Michigan Capitol was routine. One elector could not attend, and colleagues spent 15 minutes going through a laborious process to appoint a replacement, Sharon Baseman of Huntington Woods, who joined them in the formal vote.
"The electors have unanimously cast 16 votes for Joseph R. Biden," Michigan Democratic Party Chair Lavora Barnes announced at around 2:49 p.m., shortly before a similarly unanimous vote for Kamala Harris as vice president.
Trump in late November beckoned Michigan Senate Majority Leader Mike Shirkey and House Speaker Lee Chatfield to the White House, where they discussed election results. But the GOP leaders consistently said they would follow state law and not interfere in the elector process.
"I can't fathom risking our norms, traditions and institutions to pass a resolution retroactively changing the electors for Trump, simply because some think there may have been enough widespread fraud to give him the win," Chatfield said Monday in a statement.
The Levering Republican, who spoke beside Trump at several campaign rallies this fall, said there was not majority support in the House GOP caucus for a potential resolution to change the way electors are awarded.
To change the rules after voting "would bring mutually assured destruction for every future election in regards to the Electoral College," Chatfield said. "And I can't stand for that. I won't.
"I know this isn't the outcome some want," he added. "It isn't what I want, either. But we have a republic if we can keep it. And I intend to."
Senate Majority Leader Mike Shirkey, R-Clarklake, joined Chatfield in pledging to continue an ongoing legislative inquiry into the Nov. 3 election. Officials from Dominion Voting Systems are expected to testify before the House and Senate oversight committees on Tuesday.
But Democratic electors should be able to perform their duty "free from any threats of violence or intimidation," Shirkey said in a statement ahead of Monday's vote.
"President-elect Biden and Vice President-elect Harris won Michigan's presidential election. It is our responsibility as leaders to follow the law and move forward in pursuit of policies that contribute to the betterment of Michigan."
A record 5.6 million Michiganders voted in the presidential election, including 3.3 million by absentee ballot. It was the first presidential election since voters in 2018 approved a ballot initiative for no-reason absentee voting.
Biden received 2,804,040 votes in Michigan, topping Trump's 2,649,852, according to results canvassed by the state's 83 counties and certified by the bipartisan Board of State Canvassers.
His margin of victory was roughly 14 times larger than Trump's narrow 2016 Michigan win.
The Electoral College vote, which typically receives little attention, was thrust into the spotlight this year as Trump and his supporters attempted to overturn the election results of battleground states at every step of the certification process, including certification.
Michigan was not the only state where a threat of violence prompted unusual security measures.
In Arizona, the Electoral College meeting location remained undisclosed to the public. In Wisconsin, electors used an unmarked entrance with a police escort to enter the building. In Pennsylvania, law enforcement ushered delegates from their hotels to the meeting location and back.
Electors' certificates of ascertainment from around the country will now be sealed and sent to the president of the Senate, Vice President Mike Pence the archivist of the United States, the secretary of state and a federal judge in the district where the electors met.
Their votes will be counted during a joint session of the Senate and the House of Representatives in the House Chamber at 1 p.m. Jan. 6.
Once all the votes are tallied, the president of the Senate, Pence, will announce the candidate who has secured at least 270 electoral votes as the next president: Biden.
We're not just a news organization, we're also your neighbors
We've been there for you with daily Michigan COVID-19 news; reporting on the emergence of the virus, daily numbers with our tracker and dashboard, exploding unemployment, and we finally were able to report on mass vaccine distribution. We report because the news impacts all of us. Will you please donate and help us reach our goal of 15,000 members in 2021?