Michigan wants drivers to learn to love roundabouts. It's been a slow go.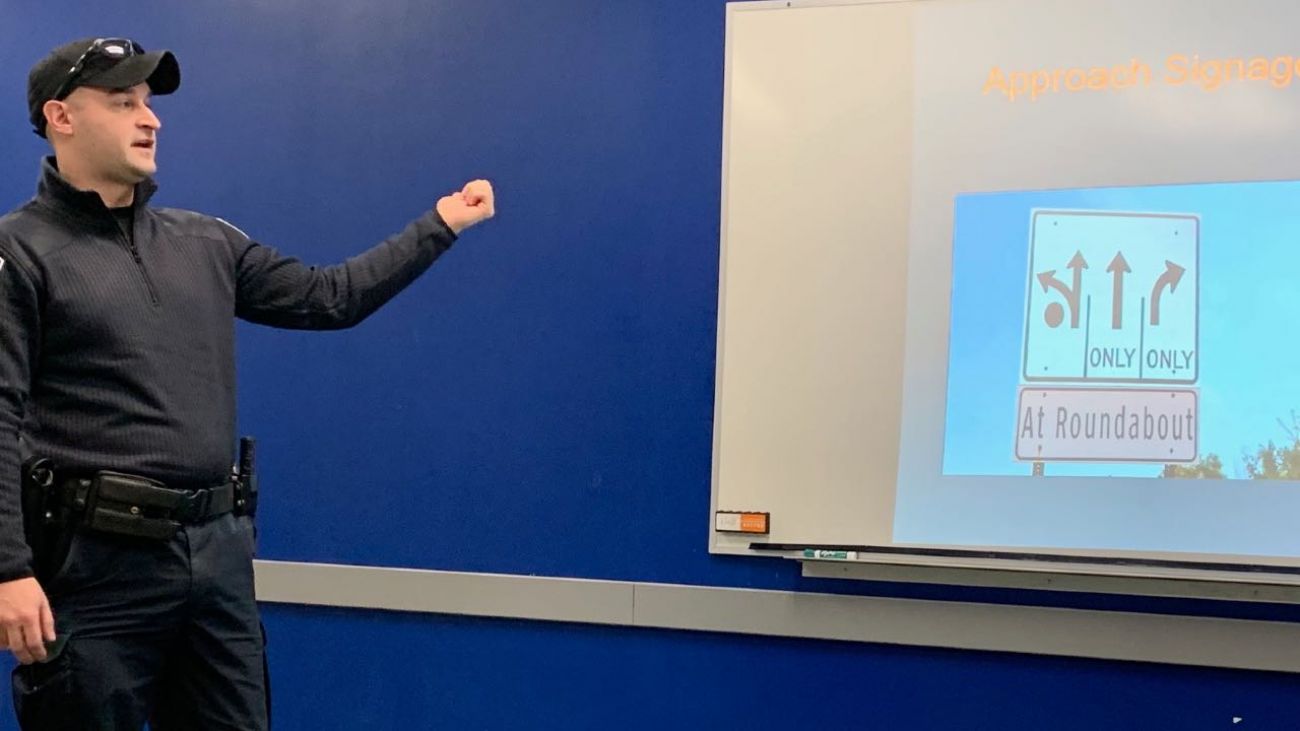 WEST BLOOMFIELD TOWNSHIP—For a good hour, West Bloomfield police officer Robert Houchins recited the stats: Roundabouts are safer. They improve traffic flow and reduce serious crashes.
They're not dangerous at all, Houchins stressed. You should love them. Really.
And for a good hour, his audience of senior citizens was dubious. What about fast drivers, they asked. What if my car is sideswiped? Should I stop? My GPS told me to turn, but I was driving in a circle!
"Trust the roundabout! You need to trust the roundabout," implored Scott Lustig, another police officer who was assisting with the class, Navigating Roundabouts.
"If everyone were to follow the signs and flow of the road, it will never lead you astray and there won't be accidents."
So it goes in West Bloomfield, where traffic is bumper to bumper and crashes have increased at intersections with roundabouts. They're so divisive police have launched classes in how to drive through them.
Common in Europe, roundabouts are slowly becoming more common in Michigan. For years a mostly Oakland County phenomenon, they now spread from Grand Rapids to Wexford County with another 25 planned to open by 2025.
West Bloomfield, a Detroit suburb, opened its fifth roundabout in December, in a state with about 160 total. Beloved by traffic planners, police and engineers, roundabouts are designed to keep cars moving and reduce the risk of serious crashes by slowing speeds and eliminating sharp turns that cause head-on collisions in traditional intersections.
But safety fears remain and change comes hard, especially in the suburbs of the Motor City, which lays claim to inventing the first three-color traffic signal in 1920.
Motorists complain roundabouts cause too many white-knuckle moments, requiring them to yield and merge into oncoming traffic that is rapidly entering and exiting the circle.
Gerri Morris' solution: Drive several miles out of the way to avoid them.
"They just make me uncomfortable," said Morris, who moved to West Bloomfield last year from Florida. "There's too many people like me who don't know what they're doing."
She attended the police's inaugural class this month – another is scheduled for March – and raised her hand when Houchins began the hour by asking how many have anxieties about roundabouts.
Houchins said he launched the class because of confusion and fear about the intersections. West Bloomfield is home to some of the state's oldest residents (nearly 1 in 3 are 60 or older) and roundabouts with the most crashes (three of the top 10 statewide, including the top spot on Orchard Lake Road and 14 Mile on the border with Farmington Hills.)
"Knock on wood, none of them have been fatal," Houchins told the class. "Don't believe the hype. There's a stigma that roundabouts are more dangerous. It's just not true."
'They have their critics'
Indeed, safety is the biggest benefit of roundabouts, argued Craig Bryson, spokesman of the Road Commission for Oakland County. The agency built the county's first in 1999 and now has constructed 28.
"We think they're great. We're absolutely evangelists on roundabouts. As a matter of practice, every time we work on an intersection, we ask, 'Would this be a good location for a roundabout?'" Bryson said.
"Of course, they have their critics, and my brother is one of the biggest."
Nationwide, studies from the Insurance Institute for Highway Safety and Federal Highway Administration show that crashes fell 37 percent at roundabout intersections where stop signs or signals were previously used to control traffic.
Crashes involving injuries fell 75 percent, the studies found. That's because circles require drivers to slow down to 15 mph or so and drastically reduce what traffic engineers call "conflict points," the sudden turns and angles involved in head-on or T-bone collisions.
Data from Michigan and Oakland County, though, indicate that crashes actually increase at some roundabouts.
At West Maple and Farmington roads in West Bloomfield, for instance, crashes jumped to an average of 67 per year from 40 after a roundabout was installed in 2008. The percentage of those crashes with injuries, though, fell to 8 percent from 22 percent.
A few miles away in Commerce Township, county roads officials had to install fencing to slow down drivers approaching a roundabout at M-5 and Pontiac Trail Road at 60 mph.
"Most [crashes] are fender benders. It's still not something we're happy about," Bryson said. "But if virtually eliminating fatalities comes at a cost of slightly increased fender benders, we'll take that tradeoff any day of the week."
Jeff Cranson, a spokesman for the Michigan Department of Transportation, said Michigan rolled out its first roundabout in 2005 and now has 47 on state roads. Most of those have been in the last 10 years and clustered near cities such as Lansing and southeast Michigan but they've been added as well in northern cities including Ishpeming and Marquette.
State research has concluded that while crashes increase "the reduction in injury crashes" is a "net benefit."
Cranson said "preventing injuries and saving lives should be the top priority" and noted that injury crashes have fallen 20 percent to 50 percent at roundabouts on state roads converted from traffic signals, and 35 to 45 percent at those that were stop signs.
Injuries may decline, but it's a "myth to say they're completely safe," said Brandon Hewitt, an attorney with the Michigan Auto Law firm in Farmington Hills. He noted that five roundabouts in southeast Michigan had 55 injuries in 2018.
"There are big-time tradeoffs: More fender-benders, minor-type, low-speed crashes, but if the idea is to save lives and serious injuries there's not a whole lot of argument against them," Hewitt said.
"But I don't think they can be sold as a cost-saving measure. It may be a fender-bender, but that fender can have four cameras inside it that will cost $5,000 to fix."
A 2018 report from AAA found that 1 in 3 Americans can't afford an unexpected repair bill of $500 while new safety features such as blind spot monitoring and automatic braking are ballooning bills to fix even slight collisions to $5,300 or more.
'Single most important' innovation?
Boosters such as Bryson also say replacing traffic lights with roundabouts reduces traffic jams and saves energy.
In one study in Kansas, traffic delays fell 65 percent, while Michigan transportation officials estimate savings of $2,000 to $5,000 in energy costs per intersection from not having to power lights. (Costs to build roundabouts vary widely because the biggest expense is land acquisition; the most recent one in West Bloomfield at Maple and Middlebelt cost $6.6 million).
A 2011 research paper from state engineers concluded that roundabouts, on average, decreased traffic jams and increased worker productivity so much they added $500,000 per year to the economy.
"The roundabout is the single most important device ever created to help control traffic safely and smoothly," according to a blog dedicated to roundabouts, attributing the quote to the now-defunct Discover Magazine.
Most roundabout crashes
Each year, the Michigan Auto Law firm in Farmington Hills uses Michigan State Police crash records to compile a list of the roundabouts with the most crashes. Here is the list for 2018. Data for 2019 aren't yet available.
Orchard Lake at 14 Mile, Farmington Hills/West Bloomfield: 144 crashes, 20 injuries
18 ½ Mile at Van Dyke, Sterling Heights: 141 crashes, 12 injures
Martin at Pontiac Trail, Commerce: 123 crashes, 6 injuries
State at Ellsworth, Ann Arbor: 123 crashes, 6 injuries
Farmington at Maple, West Bloomfield: 77 crashes, 11 injuries
Livernois at Hamlin, Rochester Hills: 63 crashes, 3 injuries
Interstate 94 at Sprinkle, Comstock: 54 crashes, 0 injuries
Oakley Park at Martin, Commerce: 51 crashes, 3 injuries
Farmington at 14 Mile, West Bloomfield: 49 crashes, 8 injuries
Lee at Whitmore Lake: Green Oak: 49 crashes, 0 injuries
As with many things associated with Europe, Americans can take them or leave them.
While estimates vary, the United States has about 5,000 roundabouts. That's half as many as the United Kingdom, a nation that has 262,000 miles of roads compared to 4 million miles in the United States.
France alone has 30,000 roundabouts, 1 per every 45 intersections compared to 1 per 1,118 in the United States, according to a 2016 study.
"Every single time we build a roundabout, people come out of the woodwork saying, 'If you build it, people will die,'" Bryson said. "As soon as you build it and open it, dead silence. It happens every time."
That's not to say motorists don't complain about them.
Last October, Bridge Magazine and its parent nonprofit, The Center for Michigan, hosted a reader event with Oakland County's top official, David Coulter.
Appointed county executive two months before the event, Coulter inherited a host of issues, from the county's budget to regional transportation. For much of the hourlong discussion, though, attendees asked about roundabouts, even though Coulter's office doesn't control them.
"Everywhere I go, I hear complaints about roundabouts pretty frequently," Coulter told Bridge last week. "For a lot of people, they're just still pretty confusing and potentially dangerous."
He acknowledged that safety studies contradict those fears, but admitted, "I consider myself in the category of someone who doesn't like to navigate roundabouts."
It's a learning process, said Steve Kaplan, supervisor of West Bloomfield, whose elected officials waged a multiyear fight in the 2000s to avoid a roundabout at a busy intersection.
"Once roundabouts are installed, after the inconvenience dissipates, most people say they like them," said Kaplan, who was elected after the dispute.
"But this is our last roundabout. We've run out of space."
Back in roundabout school, police concluded the class by asking participants to raise their hands if they were now more comfortable with roundabouts.
After a slight pause, Lustig asked "a little more comfortable?"
All seven participants raised their hands. That's a start, Houchins said.
Only donate if we've informed you about important Michigan issues
See what new members are saying about why they donated to Bridge Michigan:
"In order for this information to be accurate and unbiased it must be underwritten by its readers, not by special interests." - Larry S.
"Not many other media sources report on the topics Bridge does." - Susan B.
"Your journalism is outstanding and rare these days." - Mark S.
If you want to ensure the future of nonpartisan, nonprofit Michigan journalism, please become a member today. You, too, will be asked why you donated and maybe we'll feature your quote next time!