Partisan deadlock blocks Unlock Michigan initiative over emergency powers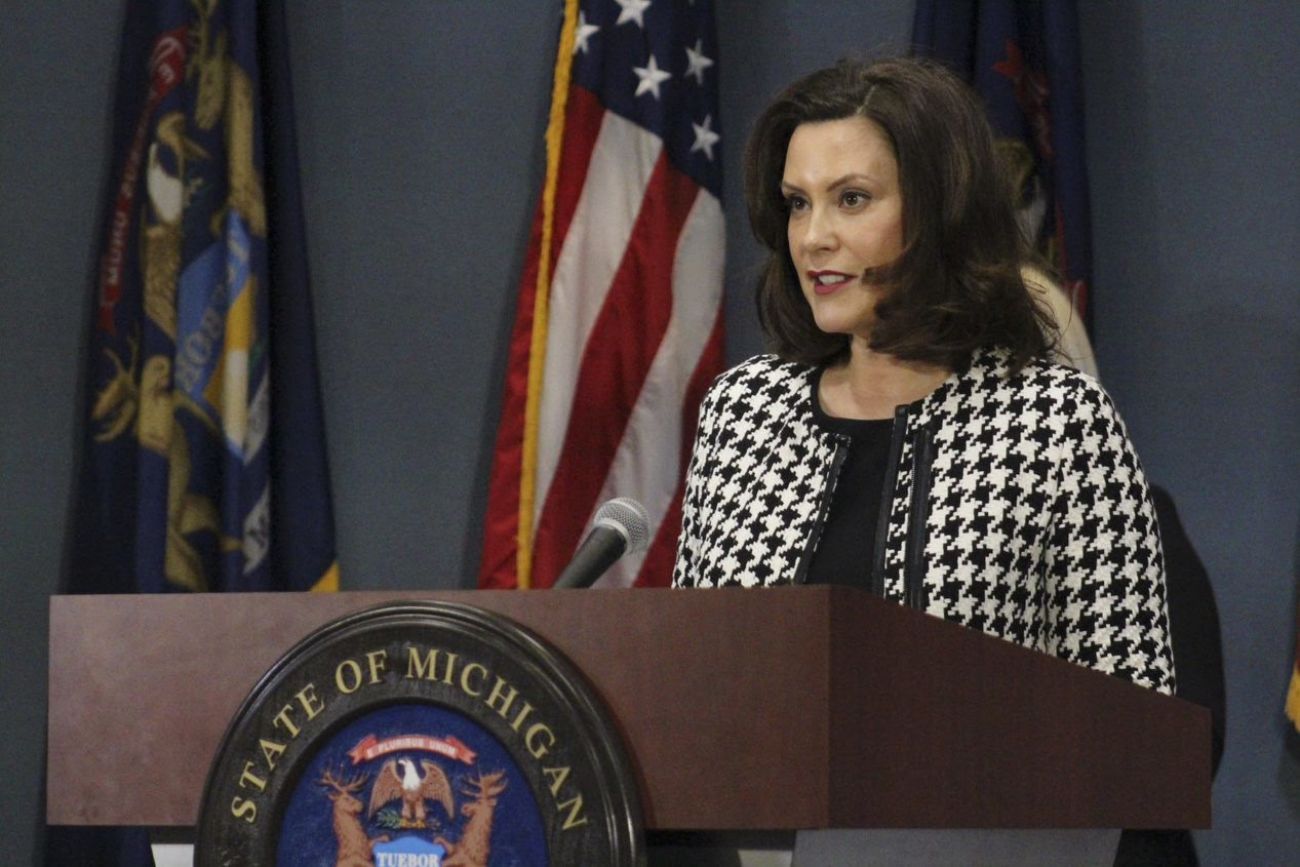 (Gov Gretchen Whitmer on Friday vetoed Republican legislation to toughen Michigan voter ID laws and limit absentee ballot application mailings. Courtesy)
July 26: After limiting Whitmer powers, Unlock Michigan now targets local health orders
July 21: Michigan lawmakers repeal Whitmer powers months after court overturned them
July 15: Michigan GOP is repealing Whitmer emergency powers. It won't change much.
July 13: Michigan Republicans poised to strip Gov. Whitmer of emergency powers
LANSING — A battle over an emergency powers law that Gov. Gretchen Whitmer used to issue orders early in the COVID-19 pandemic is heading to court.
The state canvassers on Thursday failed to certify petition signatures from Unlock Michigan, deadlocking along partisan lines and blocking initiated legislation to repeal the 1945 law Whitmer used to issue last year's stay-home order.
The law was already invalidated and deemed unconstitutional by the state Supreme Court.
Related:
Two Republicans on the four-member board voted to certify petitions deemed sufficient by the Bureau of Elections, which estimated more than 460,000 valid signatures were collected from Michigan voters. But Democrats voted against certification, citing questionable collection practices by paid circulation firms.
Spokesperson Fred Wszolek said Unlock Michigan will appeal the canvasser decision through the state courts, likely within days.
"There's an unending conga line of Supreme Court precedent that they have one job to do, which is to approve the staff report" from the Bureau of Elections that recommended certification, Wszolek said.
"I'm very tempted to seek sanctions and court costs from the two (Democratic) canvassers for this mess."
The deadlock and pending legal fight will at the very least delay any action by Michigan's Republican-led Legislature, which intends to approve and enact the initiated legislation. That would repeal the emergency powers law without Whitmer's signature.
"We're still planning to take the measure up as soon as we get it," Abby Walls, a spokesperson for Senate Majority Leader Mike Shirkey, R-Clarklake, confirmed Thursday.
After suing Whitmer last year, several Republican lawmakers helped collect signatures for the Unlock Michigan petition drive, which proposes to officially repeal the state's Emergency Powers of the Governor Act of 1945.
Doing so would not change any existing COVID-19 regulations, which have more recently been issued by the Michigan Department of Health and Human Services under a separate epidemic response law.
Buț Republican lawmakers and other supporters contend that officially repealing the 1945 law will ensure future courts cannot reinstate a statute that Whitmer had used to make policy unilaterally.
"It was ruled unconstitutional in a 4-3 decision of the court, and the member who wrote the opinion retired, so this new court could come to a different conclusion," Wszolek said, referring to former Justice Stephen Markman.
"We just need to take this off the books, all together so we don't end up back in this spot in another year."
The Legislature and Democratic governor remain locked in a power struggle over the state's COVID-19 response, despite the Whitmer administration's recent reluctance to tighten regulations in the midst of the nation's worst surge or cases.
Republicans have urged the Whitmer administration to lift all ongoing health orders, including mask mandates and restaurant capacity limits. And lawmakers have also used the budget process as leverage to try to force Whitmer to relinquish power or change policies.
A new Senate spending bill seeks to stop the Department of Licensing and Regulatory Affairs from acting against businesses that do not enforce mask mandates for children under the age of 5 years-old.
House Republicans are proposing to fund several state departments for only one quarter of the year at a time, a move that would require spending negotiations throughout the year.
The canvasser deadlock came one day after Michigan Attorney General Dana Nessel announced she would not file criminal charges against Unlock Michigan trainers and circulators accused of wrongdoing by an opposition group.
Paid circulators used "unsavory practices and sleazy tactics" to secure signatures for the Unlock Michigan initiative, but they did not warrant prosecution, Nessel said.
She noted that Michigan does not have any law prohibiting circulators from lying to obtain signatures, a loophole the Legislature has not closed.
Democratic operatives who secretly recorded circulators in an attempt to discredit the Unlock Michigan campaign "crossed the line between simply witnessing and recording events and inducing criminal contact," Nessel added, saying their actions would complicate any prosecution.
Keep Michigan Safe, a pro-Whitmer group formed to fight the Unlock Michigan campaign, nonetheless urged canvassers to reject the petition signatures to investigate the claims themselves.
Democratic canvassers ultimately blocked certification after Republicans rejected their proposal to launch a probe, which would have been an unprecedented step for the board.
"Our job is to look at these signatures in light of any frankly illegal gathering of signatures," said canvasser Julie Matuzak, a Democrat. "I'm concerned about some of the validity of these signatures."
Canvasser Tony Daunt, a Republican, said launching a panel investigation could open "what I would consider a Pandora's box for kind of eternal delay tactics" on petitions, "just because we may disagree with the content."
The dispute has already been playing out in the courts.
Keep Michigan Safe last week sued the state in an attempt to block certification of the Unlock Michigan petitions, arguing Democratic Secretary of State Jocelyn Benson had not established uniform standards for the signature review. Court of Claims Judge Michael Kelly had not yet ruled in that case by the time canvassers voted.
The Michigan Bureau of Elections had recommended canvassers certify the petitions. After reviewing a random sample, staff estimated that 460,358 of the 536,731 signatures submitted by Unlock Michigan were valid.
That was far more than the 340,047 signatures needed to advance the initiative to the Legislature, but attorneys for Keep Michigan Safe objected.
"We're not asking the board to investigate fraud," said Mark Brewer, a lawyer and former chair of the Michigan Democratic Party. "We're only asking the board to investigate illegal circulating'
If it reaches them, lawmakers could let the Unlock Michigan proposal go to the next statewide ballot, but they are instead expected to approve it themselves.
Michigan is one of just two states with a constitutional provision that expressly prohibits the governor from vetoing legislation initiated by petition drive.
We're not just a news organization, we're also your neighbors
We've been there for you with daily Michigan COVID-19 news; reporting on the emergence of the virus, daily numbers with our tracker and dashboard, exploding unemployment, and we finally were able to report on mass vaccine distribution. We report because the news impacts all of us. Will you please support our nonprofit newsroom?