How we make the call
Truth Squad assigns five ratings to the political statements we review, in descending levels of accuracy:
Accurate
No factual inaccuracies in the statement and no important information is missing
Mostly accurate
While the statement is largely accurate, it omits or exaggerates facts, or needs some clarification
Half accurate
Truths are interspersed with mistruths, or the speaker left out significant facts that render his/her remarks misleading in important respects
Mostly inaccurate
The major point or points made are untrue or misleading, even while some aspects of the claim may be accurate
False
The statement is false, or based on false underlying facts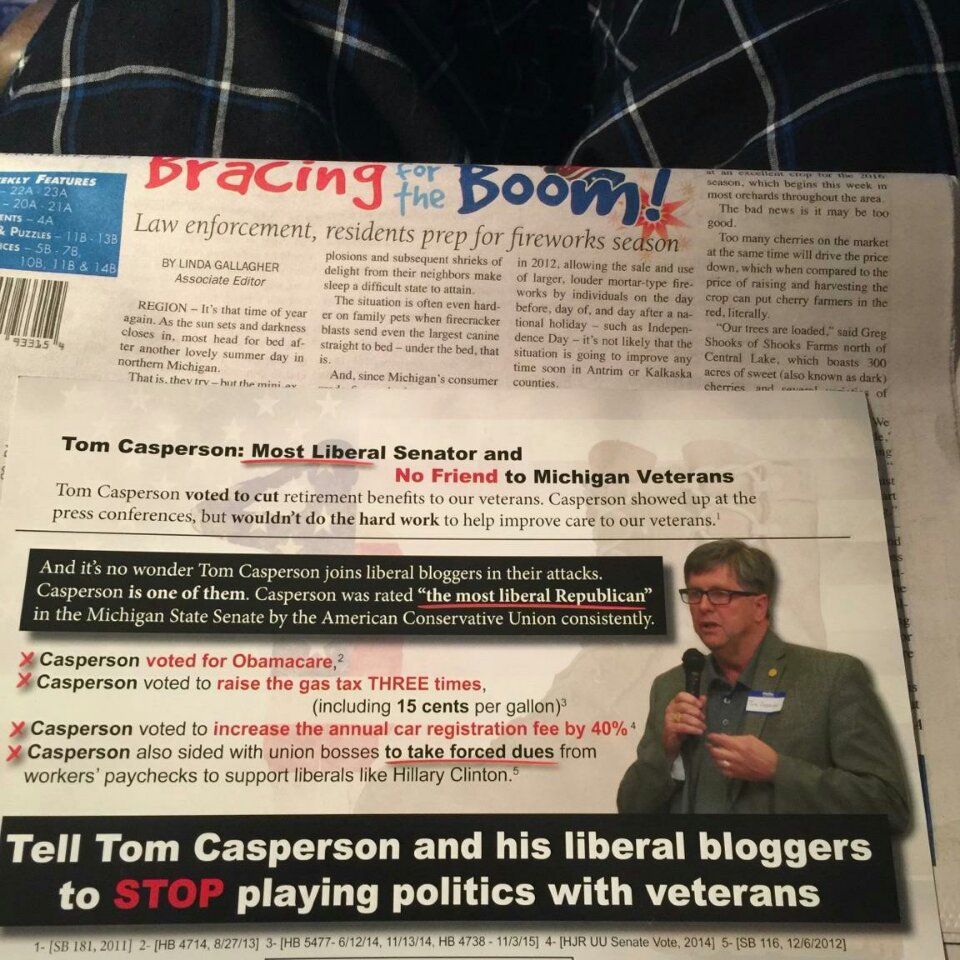 | | |
| --- | --- |
| Who | Jason Allen For Congress |
| What | Campaign brochure |
| The call | Foul |
The GOP primary race for an open congressional seat covering much of northern Michigan and the entire Upper Peninsula is turning contentious, as former state Sen. Jason Allen of Traverse City has launched a frontal assault on the conservative credentials of state Sen. Tom Casperson of Escanaba. The three-way Republican primary also includes Jack Bergman, a retired Lt. General from Watersmeet in the UP. In this campaign mailer material, Allen paints Casperson as anti-veteran and as a tax-and-spend friend of labor.
Relevant text of the ad:
"Tom Casperson Most Liberal Senator and No Friend to Michigan Veterans...Voted to cut retirement benefits to our veterans...Voted for Obamacare...Voted to raise the gas tax three times...Voted to increase annual car registration fee by 40 percent...Sided with union bosses to take forced dues from workers' paychecks to support liberals like Hillary Clinton"
Statements under review:
"Tom Casperson Most Liberal Senator"
In 2015, the American Conservative Union – a Washington D.C.-based conservative activist organization – assigned a "lifetime" rating of 69 percent conservative to Casperson, first elected to the state Senate in 2010. It was the lowest conservative rating the group awarded to a Republican in the state Senate. The group's ranking considered a variety of votes, from a gas tax hike to a measure prohibiting paid time for government employees to conduct union business. Casperson was faulted for supporting the former and voting against the latter.
"No friend to Michigan veterans...voted to cut retirement benefits to our veterans."
A footnote in the mailer notes Casperson's 2011 vote against a $152-million spending bill for the state Department of Military and Veterans Affairs. Among the spending additions enumerated in the bill is $200,000 in anticipated pension cost increases for retired veterans of the Michigan Army and Air National Guard, costs the state is obligated to pay under the Michigan Military Act of 1967. Casperson was the only Republican to vote against the spending bill. Casperson said he voted no because of his objection to another part of the legislation, not because he objected to the boost in pension benefits for veterans.
In a statement to Bridge Magazine, Casperson wrote: "It is categorically false to claim I voted against the 2011 Department budget for Military and Veteran's Affairs for any reason other than its proposal to change the type of care at the Grand Rapids Home for Veterans."
Casperson said he was concerned about the plan in this bill to contract out the jobs of 171 unionized resident care aides at the veterans home to a private contractor, at a projected savings of $4.2 million.
"My concern over changing how care was being provided to veterans outweighed the other provisions contained within this bill. And, I believe that the recent audit of the Grand Rapids Home for Veterans, which revealed deplorable treatment of our veterans, has proven my vote the right vote."
As reported in the Detroit Free Press, a February report by the auditor general itemized numerous gaps in the privatized service, including poor response to residents' falls and fall alarms, inadequate staffing levels, failure to respond properly to abuse claims and insufficient controls for prescribed medications. On one day, the home was 22 workers short of the number needed to properly staff the home, the report found.
"Voted for Obamacare"
In 2013, Casperson voted to expand Medicaid eligibility to families and childless adults earning up to 138 percent of the federal poverty level, an option given to states under Obamacare. Under the law, the federal government is to pick up the cost the first three years, with the state responsible for no more than 10 percent beginning in 2020. He was among eight GOP state senators to vote for the expansion, a measure that GOP Gov. Rick Snyder also backed. The plan has more than 600,000 beneficiaries in Michigan.
"Voted to raise the gas tax three times"
In June 2014, as the Legislature continued to try to find a way to pay for road repair, Casperson was among 17 of 26 Republican state senators to vote for a measure to peg the 19-cent per gallon fuel tax to inflation, allowing it to rise with the Consumer Price Index. It failed, 20-17. In November 2014, Casperson voted to replace the 19-cent per gas tax and 15-cent diesel tax with a 9.5 percent wholesale fuel tax, gradually increasing to 15.5 percent in 2018. When phased in, this would amount to a tax hike of around $1.2 billion, more than doubling fuel taxes to 41 cents per gallon. In November 2015, Casperson voted to increase the state gasoline tax from 19 cents per gallon to 26.3 cents per gallon in 2017 and index the amount to inflation. A week later, Gov. Snyder signed that measure into law along with other bills aimed at raising $1.2 billion for roads.
"Voted to increase annual car registration by 40 percent"
In December 2014, Casperson voted against a bill that would raise car registration fees by about 30 percent over three years by eliminating the discount new car and light-truck purchasers receive for the three years after purchase. Casperson then joined 14 other Republicans in supporting a joint resolution to put a complex tax-hike proposal known as Proposal 1,raising the sales tax from 6 percent to 7 percent, before voters. The car registration fee increase and a fuel tax increase would only take effect with approval of Proposal 1. But voters overwhelmingly rejected that proposal in May 2015.
"Sided with union bosses to take forced dues from workers' paychecks to support liberals like Hillary Clinton"
In December 2012, Casperson joined three other Senate Republicans in voting against the so-called "right to work" bill that bars unions from contracts that require employees to pay labor dues. A few days later, Snyder signed legislation making Michigan the 24th right-to-work state. There is no evidence that Casperson cast his vote with an eye toward helping Clinton or any other Democrat in their election efforts. That said, it's no secret that organized labor is a key Clinton supporter. According to OpenSecrets, a nonpartisan election database, five organized labor groups have been among the top 20 contributors to her presidential campaign in 2016, donating more than $11 million to her cause.
Many of the claims in this mailer align with Casperson's voting record. He was indeed rated as the least conservative (which could be construed as the most liberal) among state Senate Republicans. He did vote to expand Medicaid, raise taxes to fund roads, and was against the right-to-work legislation.
But Allen's mailer misstates Casperson's vote regarding a possible raise in vehicle registration fees. Voting to put a package of bills before voters (In this case, Proposal 1) is not the same as voting in support of these bills.
Allen's claim that Casperson voted to cut benefits to veterans may be technically true, but is misleading. Yes, Casperson voted against the Department of Military and Veterans Affairs budget, which included a provision to increase pensions for Michigan veterans. But as Casperson notes, the bill also contained a major shift in staffing policy at a veterans' home, with the replacement of 171 unionized care workers by privately contracted employees. Residents of the home and veterans advocates raised concerns about the plan at the time. It can legitimately be argued that a vote against the bill's privatization measures displayed equal or greater concern for veterans.
Correction: The original version of this article misspelled the name and military rank of GOP congressional candidate Jack Bergman. He is a retired Marine Corps Lt. General.