How we make the call
Truth Squad assigns five ratings to the political statements we review, in descending levels of accuracy:
Accurate
No factual inaccuracies in the statement and no important information is missing
Mostly accurate
While the statement is largely accurate, it omits or exaggerates facts, or needs some clarification
Half accurate
Truths are interspersed with mistruths, or the speaker left out significant facts that render his/her remarks misleading in important respects
Mostly inaccurate
The major point or points made are untrue or misleading, even while some aspects of the claim may be accurate
False
The statement is false, or based on false underlying facts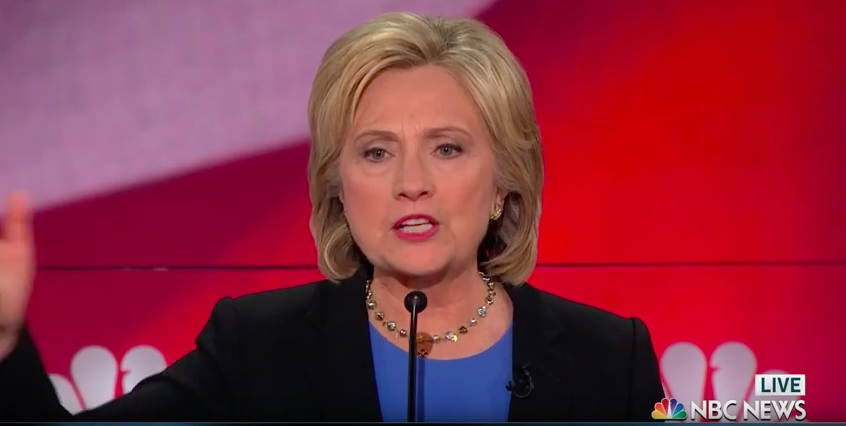 | | |
| --- | --- |
| Who: | Hillary Clinton |
| What: | Taking credit for Snyder's request for federal aid |
| The call: | Warning |
Near the end of Sunday's televised debate among candidates for Democratic nominee for president, former Secretary of State Hillary Clinton brought up the Flint water crisis. You can watch her comments here.
Here's her complete statement on Flint:
"I spent a lot of time last week being outraged by what's happening in Flint, Michigan, and I think every single American should be outraged.
"We've had a city in the United States of America, where the population, which is poor in many ways and majority African-American, has been drinking and bathing in lead-contaminated water. And the governor of that state acted as though he didn't really care. He had requests for help that he basically stonewalled. I'll tell you what, if the kids in a rich suburb of Detroit had been drinking contaminated water and being bathed in it, there would have been action.
"So I sent my top campaign aide down there to talk to the mayor of Flint to see what I can do to help, and I issued a statement about what we needed to do and then I went on a TV show and I said it was outrageous that the governor hadn't acted. And within two hours, he had."
Statements under review
"I sent my top campaign aide to Flint to talk to the mayor to see what I could do to help. I issued a statement about what we needed to do and then I went on a TV show and said it was outrageous that the governor hadn't acted. And within two hours, he had."
Clinton staffers visited Flint. The candidate appeared on The Rachel Maddow Show on MSNBC on Thursday Jan. 14. Maddow asked Clinton about Flint. You can see the interview here (Flint comes up at the 13:50 mark).
Clinton's response included this:
"Right now,... the Republican governor, Gov. Snyder, is refusing to ask for the triggering of the federal help that he needs in order to take care of the people who are his constituents. And I am just outraged by this. … Lead is one of the most pernicious, horrible toxins that kids are exposed to, and that has such serious, long-lasting effects on their behavior and their learning. I would be doing everything I could, and I would be expecting everybody in a position of authority to be doing the same. ... I would look for any provision in the law that would permit me to override the lack of request from the governor if he refuses to still ask for what I think his people deserve to have."
That exchange began at 9:13 p.m on Jan. 14, according to the time stamp at the bottom of the screen during the interview.
At 11:33 p.m., reporters in Michigan received a news release from the governor's office announcing that Snyder was seeking a presidential emergency and major disaster declaration for Flint.
Snyder's press secretary, Dave Murray, noted to Truth Squad that "the Governor made his first request to FEMA on Tuesday Jan. 12, with work toward the declarations – a very complex and detailed process – starting from the moment the Governor declared the state emergency." (Snyder declared a state-level state of emergency for Flint and Genesee County on Jan. 5.) This was two days before Clinton's appearance on Maddow's show; Clinton acknowledged in the interview that FEMA was involved in Flint.
While Truth Squad was not provided any work documents with time stamps to prove Snyder's office was working on a federal emergency request before Rachel Maddow came on the air, we'll make a guess that it takes more than two hours to complete the paperwork.
"Secretary Clinton's remarks on a political talk show were not a factor" in Snyder's decision to seek federal help, Murray said.
Taken phrase-by-phrase, Clinton's remarks at the nationally televised debate were roughly accurate. Yes, as the governor's office points out, Snyder did request federal help before Clinton's TV appearance by reaching out for FEMA assistance, as Clinton herself acknowledged in her interview with Maddow. It's clear though that what Clinton was criticizing was the governor's failure to formally request federal emergency status, a request that would make more federal aid available; and a request that wasn't made public until later that night.
Where Clinton strains credulity is her implication that her remarks on the Maddow show had some influence on Snyder's decision announced some two hours later. If Michigan's Republican governor was indeed taking advice from Hillary Clinton, that in itself would be one of the most surprising turns in this crisis.
Her chronology is basically accurate so Truth Squad cannot call foul. However, the correlation she wanted voters to make is almost laughable. We give Clinton a warning.