How we make the call
Truth Squad assigns five ratings to the political statements we review, in descending levels of accuracy:
Accurate
No factual inaccuracies in the statement and no important information is missing
Mostly accurate
While the statement is largely accurate, it omits or exaggerates facts, or needs some clarification
Half accurate
Truths are interspersed with mistruths, or the speaker left out significant facts that render his/her remarks misleading in important respects
Mostly inaccurate
The major point or points made are untrue or misleading, even while some aspects of the claim may be accurate
False
The statement is false, or based on false underlying facts
Bergman Residency One Pager by Bridge magazine on Scribd
| | |
| --- | --- |
| Who | Lon Johnson for U.S. Congress |
| What | Fact sheet on opponent's residency; fish photo |
| The call | Foul |
This rollicking 1st District congressional race has turned into a referendum on which candidate is the more authentic resident of northern Michigan. Republican Jack Bergman has been dogged by claims that his main residence is in Louisiana, while Democrat Lon Johnson stands accused of living primarily out of a Detroit penthouse, an allegation addressed in a separate Truth Squad.
Johnson's campaign recently released a statement to rebut Republican attacks on his residence. The statement ridicules Bergman's claim that northern Michigan is his main home. It's that statement that Truth Squad examines here.
In addition, Johnson has taken to social media to deliver the ultimate attack on Bergman's northern Michigan bonafides: Questioning Bergman's fishing integrity. More on that later.
Bergman, a retired Marine lieutenant general, defeated state Sen. Tom Casperson and former state Sen. Jason Allen in the Republican primary in August. He claims residency in Watersmeet, in Gogebic County in the western U.P. near Wisconsin, where he's been registered to vote since 1997, his campaign says.
The 1st District is one of the largest in the country, geographically, encompassing all of the Upper Peninsula and all or part of 17 counties along the crown of the Lower Peninsula.
Relevant statements
"There is a paper trail proving Jack Bergman is lying to voters when he says he has lived 'full-time' in Watersmeet, Mich., since 2010. Here are the facts about Jack Bergman," followed by a list of contentions, some with links to sources.
Statements under review
"(Bergman) lives at least part-time at the home he owns in St. Francisville, Louisiana and has done so since he retired in 2009. Upon retiring in 2009 in Louisiana, stated he and his wife planned to live out their retirement days at their home in Louisiana. 'We quite honestly fell in love with New Orleans and Louisiana. And it doesn't hurt that we don't get 10 feet of snow here in the winter.'"
In 2009, Bergman gave the above quote to the (New Orleans) Times-Picayune newspaper indicating he and his wife intended to stay in Louisiana in retirement. Johnson accurately reproduced the quote from the newspaper account.
In an interview with Truth Squad, Bergman did not dispute the quote. He owns a house in Louisiana but characterized the St. Francisville property as strictly a cold-weather retreat for him and his wife, adding they travel often in retirement, visiting children and grandchildren across the country, particularly during the winter.
"(Bergman) accepted a four-year Louisiana state government appointment in 2013 from the Louisiana governor."
Again, via the Times-Picayune, Bergman was one of 25 individuals appointed by then-Gov. Bobby Jindal to the Louisiana Military Advisory Council "to promote military-related interests in the state."
Bergman said it's true he served on this panel, which met twice a year. He resigned when Jindal left office in January, and turned down a reappointment under current Gov. John Bel Edwards.
"At a government meeting in 2013 stated that he was a 'proud resident of St. Francisville.'"
At a meeting of that advisory council later in 2013, Bergman did indeed use those words in introducing himself to the group, according to the meeting's minutes.
Asked by Truth Squad if he said this, Bergman laughed and replied, "Who knows?"
"Has listed his St. Francisville, La., address on government and other documents at least seven times since 2010, including on his property in Watersmeet."
This contention includes links to two campaign finance reports which show contributions by Bergman, and list a Louisiana post-office box as his address.
Asked about this by Truth Squad, Bergman said, "Have you ever been in a business where there's a sign that says, 'No out-of-town checks?' The places we've chosen to be property owners are very much analog, as opposed to digital." Which means, he said, that he keeps checking accounts with local banks in both Louisiana and Wisconsin (Gogebic County runs along the U.P.'s western border, and Watersmeet has no banks), and uses them when he's in the area. He offered no explanation as to why a Louisiana address is on his Gogebic County property record.
"On September 14, 2016, stated he is a 'snowbird.'"
This Johnson link goes to a Detroit Free Press story in which Bergman also said that he spends time at his Watersmeet house in the winter, but frequently on his own, because he "loves to snowmobile" but his wife doesn't.
Bergman confirmed this story, but repeated that he and his wife travel often, particularly in the winter months, to visit their extended family.
"Lied on his Personal Financial Disclosure Report to the US House of Representatives to
hide his Louisiana home."
House rules require members, staff and candidates for U.S. House seats to file financial disclosure statements, detailing "the source, type, amount, or value" of individuals' incomes. Bergman's report, filed in June, contains details of stocks, mutual funds and pension income he holds or receives. It lists neither his Michigan nor his St. Francisville property.
Bergman denies lying, and the House rules of financial disclosure appear to back him up, stating (top page 15) that real estate, including a personal residence and vacation home, does not have to be reported as an asset, unless the properties are rented for financial gain. Neither of Bergman's houses are rented, he said.
Finally, Truth Squad turns to an accusation found on Lon Johnson' campaign Facebook page, that may be of interest to U.P. anglers.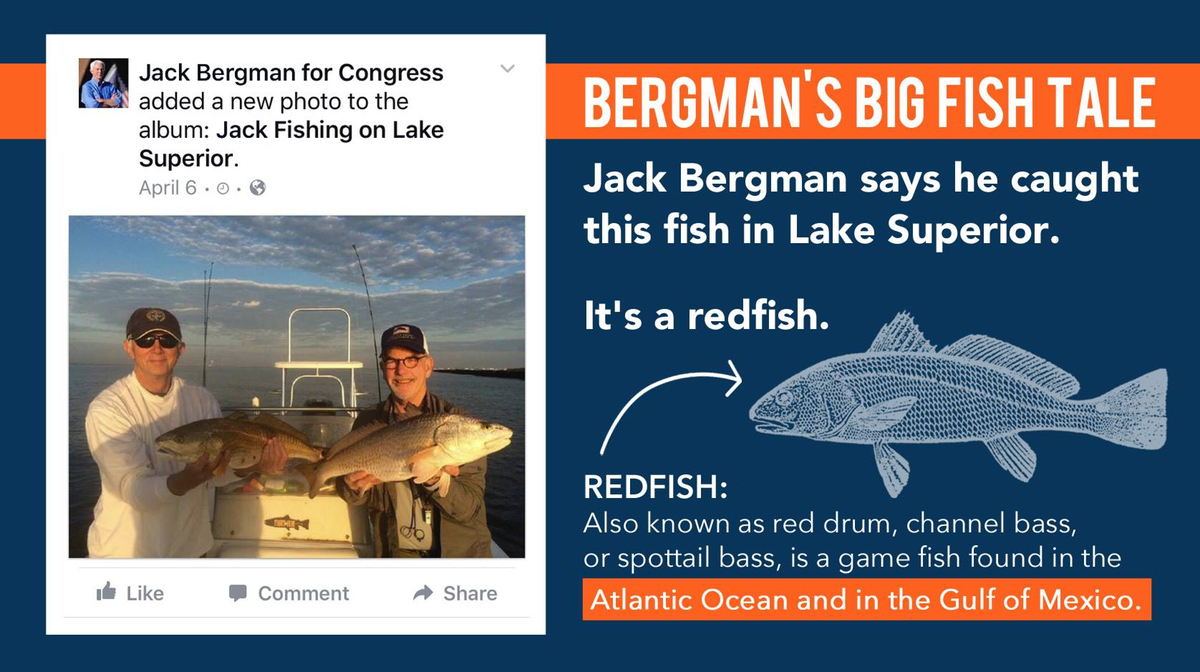 In an April posting on Bergman's Facebook page, a photo was uploaded of Bergman posing on a boat with another man and two fish, with the words, "Jack fishing on Lake Superior." Recently, Johnson's campaign pointed out that the fish in the photo are redfish, which do not live in the Great Lakes, but are found instead in the Gulf of Mexico – which borders Louisiana.
Bergman told Truth Squad the photo was posted by a campaign staffer who failed to ask where the photo was taken and added her own caption. "I don't Facebook," Bergman explained. He acknowledged the fish are redfish, and were indeed caught with a fly lure in the ocean, not Lake Superior. The photo has since been taken down from the Facebook page and the staffer has left the campaign, Bergman said.
At the same time, Bergman also called the picture "Yooper humor" and said he included it on a card he passed out when he was meeting voters in the spring. He never represented it as a Lake Superior catch, he said. "If people said, 'That's not a fish from around here,' then I knew we could talk about fishing," Bergman said.
Second homes aren't unusual, especially in the resort areas of northern Michigan, where they abound. Legally, whether a candidate actually lives in a congressional district doesn't matter, as the U.S. Constitution doesn't require it. It only requires that representatives to Congress be at least 25 years old, a U.S. citizen for seven years and live in the state – not the district – they represent.
Bergman has owned his home on Sylvan Isle Drive in Watersmeet since the 1990s, and claims it as his principal residence and the address for his voter registration. He also admittedly has ties to southern Louisiana, and owns a house in St. Francisville that he uses during at least part of the winter. At minimum, he's a well-off retiree with more than one address, like many others in Congress. Whether that's important to voters this November remains to be seen.
That said, Johnson's attacks on Bergman's residency claim are not without evidence. Bergman is recorded on video saying that he has been a "full-time" resident of Watersmeet since 2010. It is that specific claim (i.e., full-time residency) Johnson seizes on. By Bergman's own admission, he lives part of the year in Louisiana, and government documents signed by Bergman would seem to support that conclusion as well. No foul.
As for the fish picture, we are reluctant to rule on the finer points of Yooper humor as Truth Squad staffers are all trolls. So we will stick with the text of the attack, which rightfully notes that Bergman's "Lake Superior" catch is a fish tale. Blaming errors on an unnamed staffer has a long pedigree in Washington. It does not absolve the candidate who hopes to get there one day.
Where Johnson goes too far is in alleging Bergman "lied" by not listing his Louisiana home on a congressional financial disclosure report in an effort to "hide" it from voters. Congressional disclosure rules clearly state that housing does not have to be included on such reports, unless it's an income property. For that, Johnson earns a foul.
Correction: The original version of this article misspelled the name of one of Jack Bergman's Republican primary opponents, Jason Allen.