How we make the call
Truth Squad assigns five ratings to the political statements we review, in descending levels of accuracy:
Accurate
No factual inaccuracies in the statement and no important information is missing
Mostly accurate
While the statement is largely accurate, it omits or exaggerates facts, or needs some clarification
Half accurate
Truths are interspersed with mistruths, or the speaker left out significant facts that render his/her remarks misleading in important respects
Mostly inaccurate
The major point or points made are untrue or misleading, even while some aspects of the claim may be accurate
False
The statement is false, or based on false underlying facts

| | |
| --- | --- |
| Who | Candice Miller |
| What | AnthonyMarrocco.com website |
| The call | Flagrant foul |
A new tactic in the increasingly contentious race for Macomb County public works commissioner is a website established by the Republican, Congresswoman Candice Miller, solely for the purpose of attacking the Democratic incumbent, Anthony Marrocco.
In an election campaign that seems to have few boundaries, the website recently surfaced in a manner that could be seen as deceptive, under a web address that appears to be friendly to Marrocco, AnthonyMarrocco.com. It is not. A voter who clicks on that site receives a barrage of criticism aimed at the incumbent public works commissioner. As the tagline says, the site is paid for by the Miller campaign committee.
The most eye-opening slam is this ominous headline:
Relevant statements
What did Anthony Marrocco Know about Marti Parker? "He hired her, he dated her, he fired her, he paid her off and now she is dead. What did Anthony Marrocco know?"
Statement under review
He hired her, he dated her, he fired her …
This is a reference to a former Marrocco girlfriend, a married woman, with whom he started a relationship in 2002, according to court records in a lawsuit the woman later filed against Marrocco. Marti Parker was approximately 21 years old at the time and Marrocco was 54.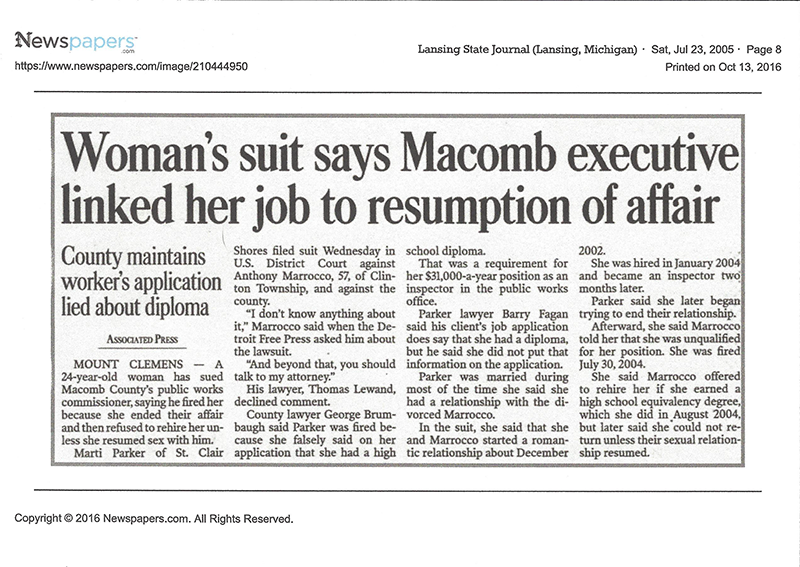 Marrocco gave Parker a job at the public works office in January 2004, arranged a promotion for her ahead of about 10 other candidates, then fired her after seven months. That's according to Parker's federal lawsuit against the county and Marrocco in 2005. The suit claimed the divorced public works boss began sexually harassing her in the workplace after she broke off the relationship.
Parker claimed Marrocco made "unwelcome sexual advances, requests for sexual favors and other verbal or physical conduct or communication of a sexual nature." Marrocco, a Ray Township Democrat, told her she was not qualified for the job because she lacked a high school diploma or GED. When she later obtained a GED, the suit claimed, Marrocco told her she was out of job unless she resumed the relationship. He has denied their relationship played a role.
He paid her off …
In 2006, after Parker's marriage apparently ended, Marrocco reached a cash settlement with her that remains confidential. The court has sealed the records. County Executive Mark Hackel, one of Miller's biggest supporters -- and, like Marrocco, a Democrat -- is using the state's Freedom of Information Act in an attempt to find out how much taxpayers had to shell out to cover the legal settlement. The terms of the deal remain under seal, for now.
The anti-Marrocco website quotes Miller asserting that the legal fees were $100,000. In a separate press release, the Harrison Township Republican suggests that the settlement may have reached $1 million. Miller has given no indication how she arrived at those figures when no dollar amounts have been made public.
And now she is dead. What did Anthony Marrocco know?
Two years after the legal settlement, Parker was killed in a 2:30 a.m. shooting on a Detroit street, a case that remains unsolved. There is no evidence made public that Marrocco has been linked to her death in any way.
In the 2005 lawsuit, Marrocco alleged that Parker "has a pattern of … exploiting dating relationships … for financial gain in order to support a drug habit and other questionable activities."
The website, dubbed "The Truth About Anthony Marrocco," does not explicitly accuse Marrocco of having a role in Parker's killing, but it certainly suggests Marrocco has some questions to answer about this woman's death, with no evidence put forth to support such an inquiry.
Marrocco's campaign team, which calls the attack "disgusting," told Truth Squad the public works commissioner has never been questioned by Detroit police or tied to the Parker death in any way.
Marrocco admitted he had a romantic relationship with Parker at one time so, yes, he "dated her." The facts also indicate that Parker was hired and later fired by Marrocco. She said it was a case of sexual harassment after she cut of their relationship. He said it was because she lacked a high school diploma or GED.
At the least, the allegations in Parker's harassment lawsuit raise serious concerns about Marrocco's integrity, leadership and judgment while in public office. That's all fair game for the Miller campaign's political ad. Indeed, Parker's suit also raises questions about why county government, including the courts, have allowed a settlement that appears to involve taxpayer funds to remain cloaked in secrecy.
But suggesting Marrocco may have been involved in Parker's fatal shooting is another matter entirely. The fact that this ad is framed as a rhetorical question, rather than a direct accusation, does not lessen its stench. This attack plays to voters' worst instincts without offering any hint of proof that the public works commissioner knew anything about the woman's death.
Flagrant foul.