How we make the call
Truth Squad assigns five ratings to the political statements we review, in descending levels of accuracy:
Accurate
No factual inaccuracies in the statement and no important information is missing
Mostly accurate
While the statement is largely accurate, it omits or exaggerates facts, or needs some clarification
Half accurate
Truths are interspersed with mistruths, or the speaker left out significant facts that render his/her remarks misleading in important respects
Mostly inaccurate
The major point or points made are untrue or misleading, even while some aspects of the claim may be accurate
False
The statement is false, or based on false underlying facts
| | |
| --- | --- |
| Who: | Progress Michigan |
| What: | Billboards criticizing Gov. Rick Snyder |
| The call: | No Foul |
Statements under review:
"Hey Michigan Paying More in Taxes? You're Welcome"
Billboards attacking Republican Gov. Rick Snyder for his tax policies appeared in April in Ann Arbor and suburban Detroit. They featured a sinister-looking portrait of Snyder above the sarcastic remark about paying more in taxes. The billboards were paid for by Progress Michigan, a liberal advocacy group with ties  to organized labor.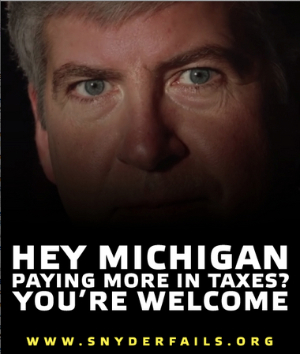 A contract for a third billboard in Lansing was not fulfilled. Progress Michigan claimed that decision was due to politics, citing an an email  from a sales manager for Adams Outdoor Advertising that explained the contract would not be "in the best interest of Adams, as we are really trying to continue to maintain good relationships with the governor's office." A general manager for Adams said the contract was not fulfilled for logistical reasons.
Democratic gubernatorial candidate Mark Schauer, a former congressman, has made attacks on Snyder's tax record a centerpiece of his campaign. In 2011, Snyder pushed through sweeping changes to Michigan's business tax system, scrapping the Michigan Business Tax and replacing it with a 6 percent corporate income tax. It was calculated to be a $1.7 billion business tax cut in 2012-2013 in analysis by the nonpartisan Michigan House Fiscal Agency. To replace much of that revenue, Snyder backed legislation that raised taxes on individuals by about $1.4 billion. Its chief components and their calculated impact in 2012-2013:
Freeze the state income tax at 4.25 percent. It had been scheduled to fall to 3.9 percent by 2015. That was calculated by the House Fiscal Agency to raise $223 million in taxes in 2012-2013.
Lower deductions for pensions for those born 1946 or after, adding an estimated $343 million in taxes.
Reduce low-income tax credits from 20 percent to 6 percent, adding $261 million in taxes.
Lower homestead property tax credits, raising taxes by $270 million.
Eliminate a variety of tax credits, including those for donations to colleges, community foundations, public libraries, museums and homeless shelters. That adds $104 million in taxes.
The net impact in 2013 on a couple with two children earning $55,000 a year would be a state income tax increase of $739, the Fiscal Agency calculated. A married couple with two children earning $32,000 would see an increase of $396.
Snyder touts the business tax cut as a jobs creator that makes Michigan more competitive. That is difficult to prove, since a multitude of factors – including consumer confidence, interest rates, fuel prices and national and global trends – influence economic growth. State unemployment stood at 9.2 percent in January 2012 when the tax shift took effect. The rate in March was 7.5 percent. National unemployment fell even more sharply during that period, from 8.3 percent in January 2012 to 6.3 percent in April. The state posted  the 18th fastest growth in gross domestic product in 2012, at 2.2 percent, down from fourth fastest in 2011 at 3.5 percent, according to the U.S. Bureau of Economic Analysis.
Emily Benavides, Snyder campaign spokesperson, said Snyder inherited a $1.5 billion deficit and "made tough decisions for the right reasons." She noted the drop in unemployment and said that private sector employment has gone up by a quarter million jobs since Snyder took office.
While Snyder cut taxes for business, residents saw a $1.4 billion increase in taxes. That includes taxes on everything from personal income to pensions and homestead property as well as higher taxes for low-income residents. The ad appears to be directed to Michigan residents, rather than businesses, and thus its message is factually correct, regardless of whether these tax changes led to more jobs.