How we make the call
Truth Squad assigns five ratings to the political statements we review, in descending levels of accuracy:
Accurate
No factual inaccuracies in the statement and no important information is missing
Mostly accurate
While the statement is largely accurate, it omits or exaggerates facts, or needs some clarification
Half accurate
Truths are interspersed with mistruths, or the speaker left out significant facts that render his/her remarks misleading in important respects
Mostly inaccurate
The major point or points made are untrue or misleading, even while some aspects of the claim may be accurate
False
The statement is false, or based on false underlying facts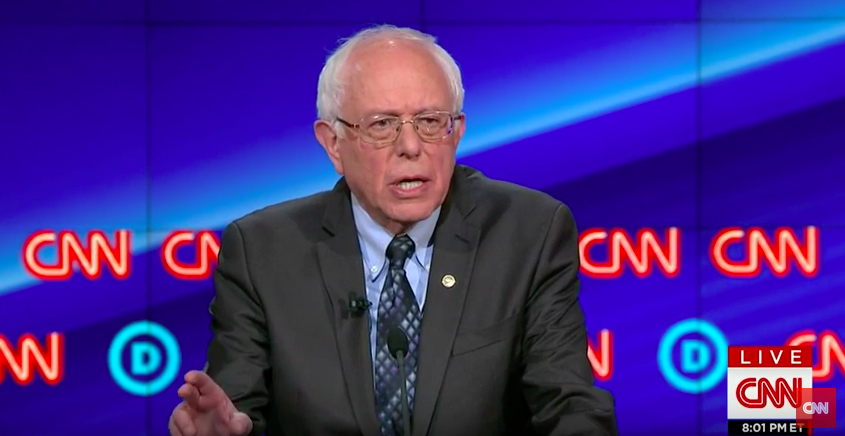 Facing off on Sunday in yet another debate, this one in Flint, Michigan, Democratic candidates Bernie Sanders and Hillary Clinton went after one another hard. The fiery senator from Vermont spent much of his time portraying Clinton as a weaker protector of the nation's dwindling middle class. We checked the assertions he made that pertain to Michigan.
| | |
| --- | --- |
| Who: | Sen. Bernie Sanders (I-Vermont) |
| What: | Statements during March 6 Democratic candidates' debate in Flint |
| The Call: | Foul |
Statements under review
"Listen, I suppose (residents) can trust the corporations who have destroyed Flint by a disastrous trade policy which have allowed them to shut down plants in Flint and move to China or Mexico."
Who, or what, wrecked Flint's economic base? Was it simply trade policy? Or was it a transformation of the auto industry, which made it possible for factories to run with far fewer workers (which cost jobs), coupled with the rise of an international auto industry that brought fresh competition to the American market, resulting in lower sales (which cost jobs)?
Or was it, indeed, factors like the North American Free Trade Agreement, which did indeed send at least some industry jobs to other, lower-paying nations?
Whole books have been written on this subject, so don't ask Truth Squad to settle this in a paragraph. Of more interest to Truth Squad is Sanders's statement connecting trade policy to Flint's economic spiral in particular.
Union membership in the United Auto Workers peaked in 1979, and began declining almost immediately, when Bill Clinton was just starting his term as governor of Arkansas, far from U.S. trade policy. Clinton did sign the North American Free Trade Agreement, or NAFTA, cited most often by Sanders, but it didn't go into effect until 1994. By then, "Roger & Me," Michael Moore's debut feature, which highlighted Flint's decline, had been out for more than four years.
Certainly, the manufacturing decline in Flint during the 1980's continued through the 1990's to today. But economists do not agree on what role NAFTA or other trade agreements played in Flint's job loss, as opposed to other factors, such as factory automation. Flint, and the auto industry that gave it prosperity for so long, have been reckoning with an economic reality far more complicated than simple trade policy.
"You (in Flint) are paying three times more for poison water than I am paying in Burlington, Vermont for clean water."
Burlington charges $4 per 100 cubic feet of water, which is roughly 748 gallons. According to the EPA's WaterSense program, the average family of four uses about 400 gallons a day, or 146,000 gallons per year. Do the math, and that suggests a typical Burlington family pays about $780 a year for water, or $65 a month. Flint's water bills are among the highest in the country; the average resident pays a monthly water bill of $140. That's not three times $65, but it's more than twice that amount, so we'll give him a pass on this one.
"Detroit's public school system is collapsing."
Both candidates spent time talking about Detroit's failing schools, and none of what they said is an exaggeration. Detroit Public Schools are indeed in crisis, and the governor and legislature are well aware of it. That's why there's a package of bills in Lansing designed to address the district's debt burden and academic future. No foul.
"Did I vote against the Wall Street bailout? When billionaires on Wall Street destroyed this economy, they went to Congress and they said, 'Please, we'll be good boys, bail us out.' You know what I said? I said, 'Let the billionaires themselves bail out Wall Street.' It shouldn't be the middle class of this country."
One of the sharpest exchanges of the evening came after Clinton accused Sanders of voting against the auto bailout. We explain in a separate Truth Squad on her remarks why this is technically accurate, and yet entirely misleading and contrary to Sanders' stated support of the auto industry. He did indeed vote against the overall bailout bill of the financial industry, in keeping with his oft-stated opinions that American taxpayers had no obligation to help an industry that drove itself off a cliff. But at the time he did, he didn't know some of that money would be used to help the domestic auto industry recover from the devastating economic collapse. No foul.
Sanders fulfilled his reputation for fiery rhetoric Sunday night. But he made fewer factual assertions about public affairs in Michigan than his opponent did, sticking more to how he would address problems as president.
His narrative on the decline in Flint manufacturing relies too heavily on one element – trade policy – but that's the part a president has great control over. But Sanders's absolutist language that trade policy destroyed Flint's economy ignores a host of other factors, and that this struggling city was in free fall more than a decade before NAFTA (Which Hillary Clinton, it should be noted, never voted on, but initially supported).