How we make the call
Truth Squad assigns five ratings to the political statements we review, in descending levels of accuracy:
Accurate
No factual inaccuracies in the statement and no important information is missing
Mostly accurate
While the statement is largely accurate, it omits or exaggerates facts, or needs some clarification
Half accurate
Truths are interspersed with mistruths, or the speaker left out significant facts that render his/her remarks misleading in important respects
Mostly inaccurate
The major point or points made are untrue or misleading, even while some aspects of the claim may be accurate
False
The statement is false, or based on false underlying facts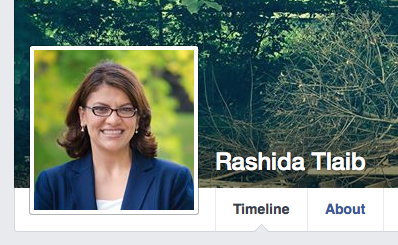 One-term incumbent Democratic state Sen. Virgil Smith and Democratic state Rep. Rashida Tlaib are locked in a fierce battle that has gotten personal in this Detroit-based district that includes part of Detroit and the Downriver communities of Southgate, Lincoln Park and Allen Park. In particular, they have traded blows over the planned bridge from Detroit to Canada and a proposed benefits agreement for residents of the Delray neighborhood in Detroit that would be affected by a new bridge. Each blames the other for collapse of that agreement. Bridge opponent, Manuel "Matty" Moroun, billionaire owner of Detroit's Ambassador Bridge, is a key figure in their dispute. A third candidate, Detroit resident Howard Worthy, has not mounted a serious campaign.
| | |
| --- | --- |
| Who: | State Rep. Rashida Tlaib |
| What: | Facebook page statement |
| The call: | Warning |
Relevant text:
"My opponent 'could really care less about a community benefits agreement' for the Detroit and Downriver communities that will be affected by the new international bridge because he's 'from northwest Detroit.' What about everyone else? When I'm in the State Senate, I'll continue working hard for every single person I represent..."
The fight is over the proposed $2.1 billion New International Trade Crossing, a project sanctioned by agreement between the state of Michigan and Canada in June 2012. Moroun has vigorously opposed the project and continues to do so in the federal court system. He spent more than $30 million on a failed 2012 ballot proposal that would have forced a referendum on it, in addition to millions of dollars on TV ads before that opposing the bridge.
A 2011 analysis by the Detroit Free Press found that Maron and family spent $565,000 on state candidates in 2009 and 2010. Tlaib's statement links to a Detroit News article that discusses their claimed respective roles in enabling legislation for the bridge that would have included benefits for those neighborhood residents.
Smith accuses Tlaib of killing chances for its passage by insisting a community benefits agreement be included in a version under consideration in the state Senate. Tlaib charges that Smith's association with Moroun – who donated $4,000 to his campaign in 2010 and 2011 – led to its collapse.
In 2011, Tlaib led the call among Democrats that no bridge agreement be approved without a community benefits agreement for Delray. In the News article, Smith lays blame for the legislation's collapse at the feet of Tlaib: "When you're maneuvering legislation, you need to learn how to take small steps. If that bill would have gotten out of the Senate and to the House, she could have had her community benefits agreement. And now she got nothing." In the same article, Smith is quoted as saying he "could really care less" about a community benefits agreement because he is from northwest Detroit.
The legislation stalled when the state Senate Economic Development Committee failed to forward the legislation on a 3-2 vote after last-minute insertion of a community benefits bill. Smith and Democratic Minority Floor Leader Tupac Hunter abstained. Snyder ultimately signed the bridge agreement without legislative approval. It did not include a specific benefits package for Delray. Smith spokesman Dennis Denno declined to comment on Tlaib's Facebook comment that he "could really care less" about the community benefits agreement. Responding to the claim that her insistence on a community benefits agreement killed chances for approval, Tlaib said: "It's clear that the bill did not pass because there was simply not enough support for the bridge. Moroun's big investment paid off."
For all their accusations, neither Tlaib nor Smith offers compelling evidence the other should be singled out for collapse of enabling legislation that included benefits for residents of the Delray neighborhood. Tlaib's insistence that it be included made passage problematic. To be fair, Smith lent his hand to that strategy by abstaining. But skepticism among legislators about the bridge was already considerable by then, particularly within the Republican caucus. That was due in part to the fact that the project originated under Democratic Gov. Jennifer Granholm.
But reluctance to approve the project was also nurtured by an aggressive campaign by Moroun against the bridge and his generous campaign contributions to numerous legislators. There was no assurance, as Smith asserts, that enabling legislation – absent a community benefits bill – would have been approved had it reached the full Senate and that she could have had it inserted in the House. But there is no evidence that Smith's acceptance of campaign contributions from Moroun had anything to do with the legislation's collapse. Smith's campaign did not dispute comments attributed to him that he "could really care less" about community benefits for Delray residents.