Green burials, ash jewelry are a thing now in Michigan. Can state law adjust?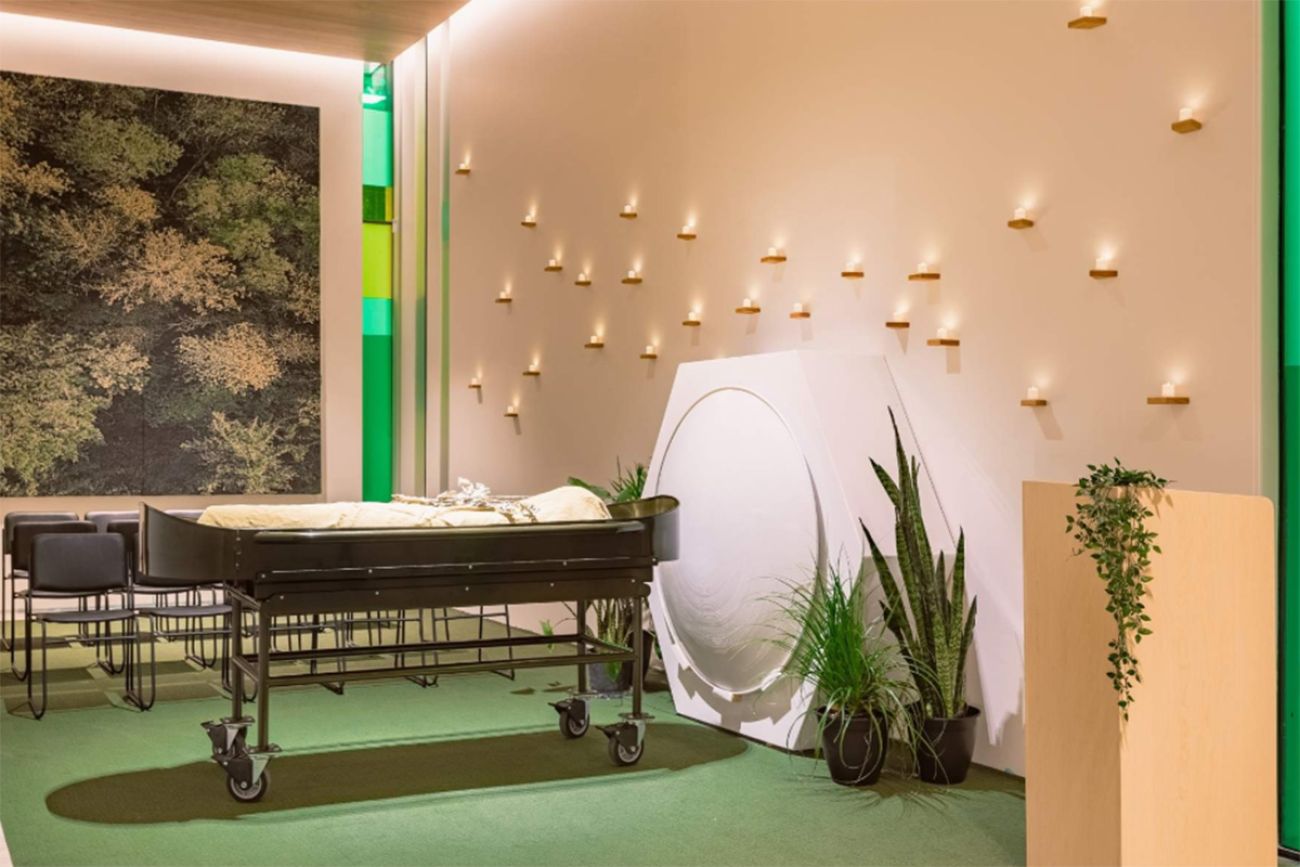 Human composting is … exactly what it sounds like. (Photo from Recompose website)
Non-conventional body disposition methods and businesses are popping up around the country.
Michiganders are turning to greener methods to part with their loved ones
Methods include liquid cremation, ashes used to nurture trees, and ashes made into jewelry
---
Desiree Garagiola's mother-in-law, Janet "JJ" Humble, always used to joke that when she died, she wanted her ashes dumped over the fence on their property into Don Epley Park in Hartland, the Livingston County community where they shared a home. Humble loved the community, Garagiola said, and wanted to stay there forever.
But, Garagiola went for something a little different.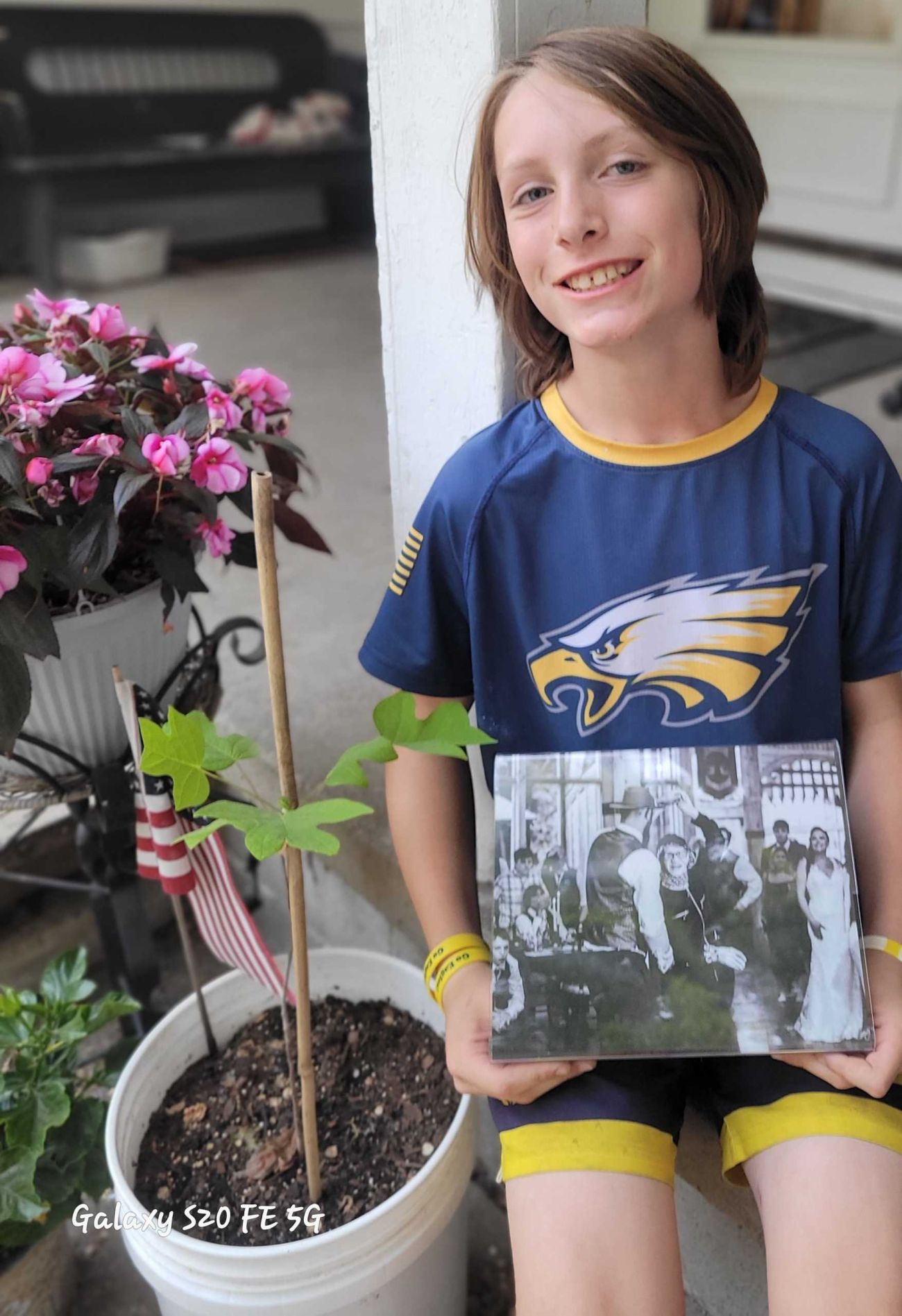 Jaxon Jovani "JJ" Garagiola sits with a photo of his grandmother at his parents' wedding. Beside a tulip tree that is nurtured by his grandmother's ashes. (Bridge courtesy photo)
"I decided that I was going to plant a tree in our yard instead of dumping her over the fence, because I thought it was more respectful," Garagiola said. "She could live on the property of the home that she loved for eternity."
Garagiola didn't just plant a tree in her mother-in-law's memory. She had her ashes used to nurture a tree through The Living Urn.
The Colorado-based company creates biodegradable urns for families wishing to bury their loved ones and plant a tree to memorialize them at the same time. The process starts by picking a tree from the company's nursery, based on the zipcode of your location, to ensure the tree will thrive. Garagiola chose a tree that she thought represented her mother-in-law: the tulip tree.
"The tree's colors remind me of her," Garagiola said. "And, the way she gave her heart and soul to all the kids in this community … because it holds onto its flower pods after the flowers die off, until the winter time. And then the animals can kind of forage off of the nuts and seeds from the tree. So it's a very giving, loving, kind tree."
Death doesn't always mean a casket or an urn of ashes anymore. A growing number of families are choosing alternative ways to dispose of the remains of loved ones. According to a survey done by the insurance firm Choice Mutual, natural burial (not your standard embalming or cremation) rose from 4 percent in 2020 to 10 percent in 2022. The share choosing "other" as their body disposition method doubled, from 1 percent in 2020, to 2 percent in 2022.
As demand for alternative death disposition services rises, businesses are launching to meet them. But Michiganders must navigate not only their wants for their body disposition, but also wildly varying costs, and sometimes vague legality of what can you do with a dead body.
Paul Duma, the executive director for the Michigan Funeral Directors Association, said he anticipates the state will need to clarify its laws on trending methods of body disposition as those practices increase in popularity.
Here are some of the choices the begrieved now have:
Liquid cremation
In 2015, fire-based cremation became the top choice for Americans after their death, with 59.3 percent of Americans choosing cremation in 2022.
A single cremation produces an average of 534.6 pounds of carbon dioxide, meaning that cremations in the U.S. contribute about 360,000 metric tons of carbon dioxide emissions each year. Liquid cremation leaves less of a carbon footprint.
Liquid cremation is water-based. During the process, remains are placed in a container, which is then placed in a stainless steel vessel, which will apply a combination of warm water and potassium hydroxide, commonly called potash, to speed up the decomposition process. The only solids remaining after the process are bones, which can be pulverized and returned to the family along with the sterile liquid.
Hughes Funeral Alternatives is a business based in St. Louis, Mo., that specializes in liquid cremation. John Hughes, the owner and funeral director of Hughes Funeral Alternatives, says that people choose liquid cremation for two reasons.
"One, obviously, is the water aspect," Hughes said. "People are often more comfortable with the fact that their loved ones are going back to nature with water as opposed to fire. And then also the environmental aspect … People really appreciate the fact that we're saving CO2."
Hughes said that liquid cremation is around the same cost as fire-based cremation. According to the National Funeral Directors Association, the median cost of a funeral with a viewing and burial was $7,848, compared to $6,970 for cremation.
It's unclear whether liquid cremation is legal in Michigan. There is no law in Michigan prohibiting the service, and funeral homes may be able to connect those interested with facilities that offer it. Liquid cremation is explicitly legal and available in Florida, Illinois, Minnesota, Nevada, North Carolina and Oregon.
A permit is required in the state of Michigan to move a body to its place of final disposition. The facility at which the deceased's body would undergo flameless cremation would qualify. The permit can be obtained through a funeral director.
Human composting
For those interested in "returning to the earth," Seattle-based Recompose specializes in human composting, or a process they call natural reduction. During the process, the body is placed into a "composting vessel" and is surrounded by wood chips, alfalfa, and straw. The vessel is then closed, and the body slowly begins to transform into soil over eight to 12 weeks.
What a family chooses to do with the soil of their loved one's body is up to them. They can bring it home with them, to use in their own gardens or plants. Recompose also will help the family of the deceased donate the soil to Bells Mountain, a land trust in Washington.
The price of the human composting service is $7,000 through Recompose, including the actual process, but also funeral directors' services associated with the death certificate, and for biodegradable containers for soil if a family chooses to have the soil returned to them.
Human composting, like liquid cremation, is not explicitly legal in Michigan. But, according to Duma, of the Michigan Funeral Directors Association, that might change. Duma said there hasn't been significant interest in Michigan in the practices yet, but "as interest grows … I think it's very likely to be something which will be on our public policy agenda in the near future."
A body inside an egg-shaped pod serves as nutrients for a tree, from a company based in Italy. (Photo from Capsula Mundi website)
Green burials and home funerals
Green burials are different from conventional burials in two key ways: a lack of embalming, and the body being buried in a biodegradable material, such as a shroud, a pine box, or in some cases a biodegradable pod that allows your body to serve as nutrients for a tree.
Part of the appeal of green burial is the lack of chemical embalming, which can cause health risks to mortuary workers.
Capsula Mundi is a start-up project based in Europe developing egg-shaped burial pods for human remains that help sustain a tree after burial. This project is still in its early stages, so those looking for tree burial pods cannot purchase them from Capsula Mundi at this time.
Caitlyn Hauke, a member of the board of directors for the Green Burial Council, said that people are drawn to green burials for a variety of reasons.
"Sometimes folks will choose a green burial because they like the idea of going back to the Earth," Hauke said. "People do it for different environmental reasons. It has the least environmental impact out of all of the deathcare options … And then also sometimes it's a financial choice, too, green burials tend to cost less than a traditional burial."
Green burials are often paired with home funerals. Merilynne Rush is the founder of The Dying Year, an organization that offers end-of-life doula training and resources to those navigating death care options. Rush describes home funerals and green burials as a more traditional method of death care, and says that they allow the family the time they need to spend with their loved one before saying goodbye.
"People really want to be involved in (the caring of the deceased)," Rush said. "They've been caring for this person that they love, and the thought of them going off and being stored in some room somewhere, naked on a table, is just not attractive."
Caskets involved in green burials range from $1,400 to $2,500, and shrouds can be purchased for around $300.
Green burial and home funeral practices, including hosting a funeral at home without embalming, and burial without a vault, are legal in Michigan, though currently only about a dozen cemeteries offer plots for green burials. In Michigan, a funeral director is required to sign the death certificate and to sign a permit for transporting the body to the place of final disposition, which means those with a home funeral in mind for their loved one will have to find a funeral director for their services.
If a family wants to bury their deceased on private property, they must establish a private burial ground. In order to do this, the land must be inspected and then recorded in the county's registrar's office, but will then be exempt from taxes.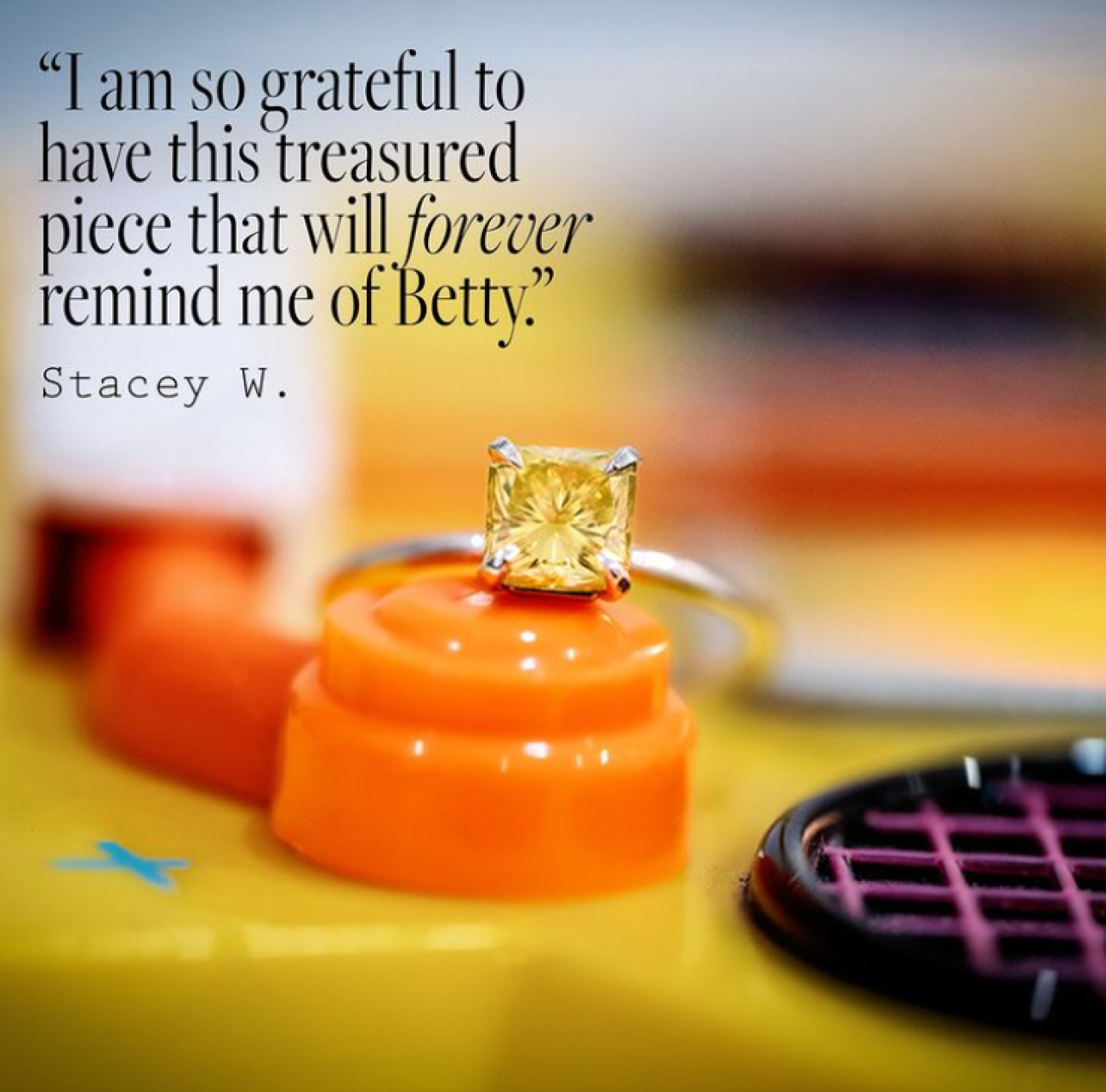 A Texas-based company will take cremated ashes and turn it into a diamond. (Photo from Eterneva website)
Ashes to jewelry
For those looking for ways to remember their loved ones, or to keep them with them, Eterneva and services like it turn ashes into diamonds.
The company takes a half cup of cremated ashes or hair and turns them into jewelry by extracting the carbon in the remains.
"What's happening is that the carbon atoms are bonding with each other one at a time and creating a rough diamond," Garrett Ozar, co-founder and CEO of Eterneva, said. "Once it's done, we extract it, and we have a master cutter polish the diamond … And then we engrave (the deceased's) name on the edge of the diamond, and work (with the customer) to create a really special custom setting…"
Ozar said that the process of turning your loved one into a diamond helps those grieving start to move on.
"When you're growing a diamond with us, because we include the customer in on the journey of growing the diamond, it's kind of helping them practice creating meaning through their loss," Ozar said.
Diamond prices start at $2,999. The process takes 10 to 15 months, with timelines varying on the size of the final diamond. Eterneva offers diamonds up to 3 carats in size.
Trees, not tombstones
The Living Urn might seem simple when compared to some of the other alternative body disposition methods that have rising interest across the country. But, to Garagiola, it's the method that suited her and her mother-in-law best.
The Living Urn ships the urn and tree separately, so families whose loved ones pass at times that aren't great for planting can wait for the right moment. When it does come time to plant, The Living Urn provides additives to help protect your tree and the remains beneath it. On their website, they also provide information about mulching and watering to ensure that the tree, and the loved one beneath it, are well taken care of.
Garagiola's method of body disposition for her mother-in-law isn't just special and meaningful for the family, but also cost-effective. While Garagiola's mother-in-law had a funeral, and they had to cover the costs of cremation, the urn for her mother-in-law's ashes have prices starting at $129, and the corresponding tree from The Living Urn's nursery costs $35.
Garagiola is waiting for the right time of year to plant her tree. When the time comes, she plans on having her immediate family and a few grandchildren help memorialize her mother-in-law. She said that the thought of the upcoming moment is emotional.
"I think that it's nice that I get to honor what she really wanted by putting her into the property here," Garagiola said.
When the moment comes, Humble will get what she always joked about, and will be buried right along the fence line of their property, overlooking Epley park.
Only donate if we've informed you about important Michigan issues
See what new members are saying about why they donated to Bridge Michigan:
"In order for this information to be accurate and unbiased it must be underwritten by its readers, not by special interests." - Larry S.
"Not many other media sources report on the topics Bridge does." - Susan B.
"Your journalism is outstanding and rare these days." - Mark S.
If you want to ensure the future of nonpartisan, nonprofit Michigan journalism, please become a member today. You, too, will be asked why you donated and maybe we'll feature your quote next time!