Articles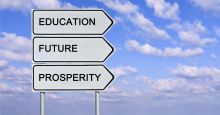 The evidence is clear: The jobs of the future will require post-secondary education, but our data is pretty dismal on that front. Higher ed of all types is the answer.
The state's institutions of higher education need to do better by their students and funders, including taxpayers.
If we want a wealthier state in the future, the best strategy is to prepare, retain and attract college graduates.
Why does the administration want to cut funding responsible for some of the country's most important research and design?
Not everyone needs an MBA, but higher ed is trying to give more learners essential business skills.
The University of Michigan president wants to make sure qualified students are not kept out of college because of cost concerns. The ball is now in their court.
Pages