Articles
A request from the Republican-majority Legislature would sidestep the traditional litigation process, and do an end-run around Democratic Attorney General Dana Nessel.
Dana Nessel, a Democrat, said she may review Michigan lame-duck laws that gutted citizen proposals to raise the minimum wage and require paid sick leave. Her stance could produce a high-impact legal showdown with Republicans.
The term-limited Republican governor said he agreed with the GOP Legislature that the original laws passed earlier this year would harm economic progress in Michigan. Advocates for workers vowed a lawsuit.
The Republican majority in the Michigan Legislature approved paid sick leave in September to keep it off the ballot. Three months later, they're hollowing it out.
The House may vote as soon as Tuesday afternoon on bills that would largely gut citizen-pushed laws to raise Michigan's minimum wage and require employers to offer paid sick leave. Gov. Rick Snyder hasn't said if he will sign.
The bills passed Tuesday in the House gut laws to raise Michigan's minimum wage and require employers to offer paid sick leave. One prominent lawmaker says governor has promised to sign the bills.
The group that spearheaded the state's new paid sick leave law says it believes the arrival of Democratic Gov.-elect Gretchen Whitmer — and her veto pen — in January will help its chances of making the ballot in 2020.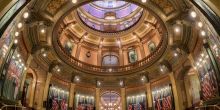 Michigan senators approved major changes to two citizen-backed laws that would increase worker pay and benefits, hours after presenting the changes to the public. Critics say the move leaves the public in the dark.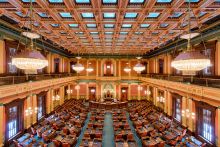 Changes are likely to the citizen-initiated laws the Republican Legislature passed in September. Proponents of the changes say they're critical to protect small business. Opponents say they violate the will of the people.
Paid sick leave helps workers AND the economy. Don't let the Legislature gut the new paid leave law, begs a restaurant owner.
A Traverse City nonprofit working with the disabled said it barely scrapes by. If it has to pay workers while they are out ill, the group's director says it may have to cut services to survive.
The Republican-led legislature could be in for a legal fight if they try to blunt or kill these measures after the November election. Democrats accuse GOP of foiling the will of voters by keeping measures off ballot.
State canvassers on Friday voted to certify a ballot proposal for November to require employers to offer paid sick leave, but deadlocked on another to raise the minimum wage.
Backers of the measures submitted statewide signatures gathered and now must wait to see if their signatures are approved to appear on the November ballot