Metro Detroit students start new year with old challenges, fresh solutions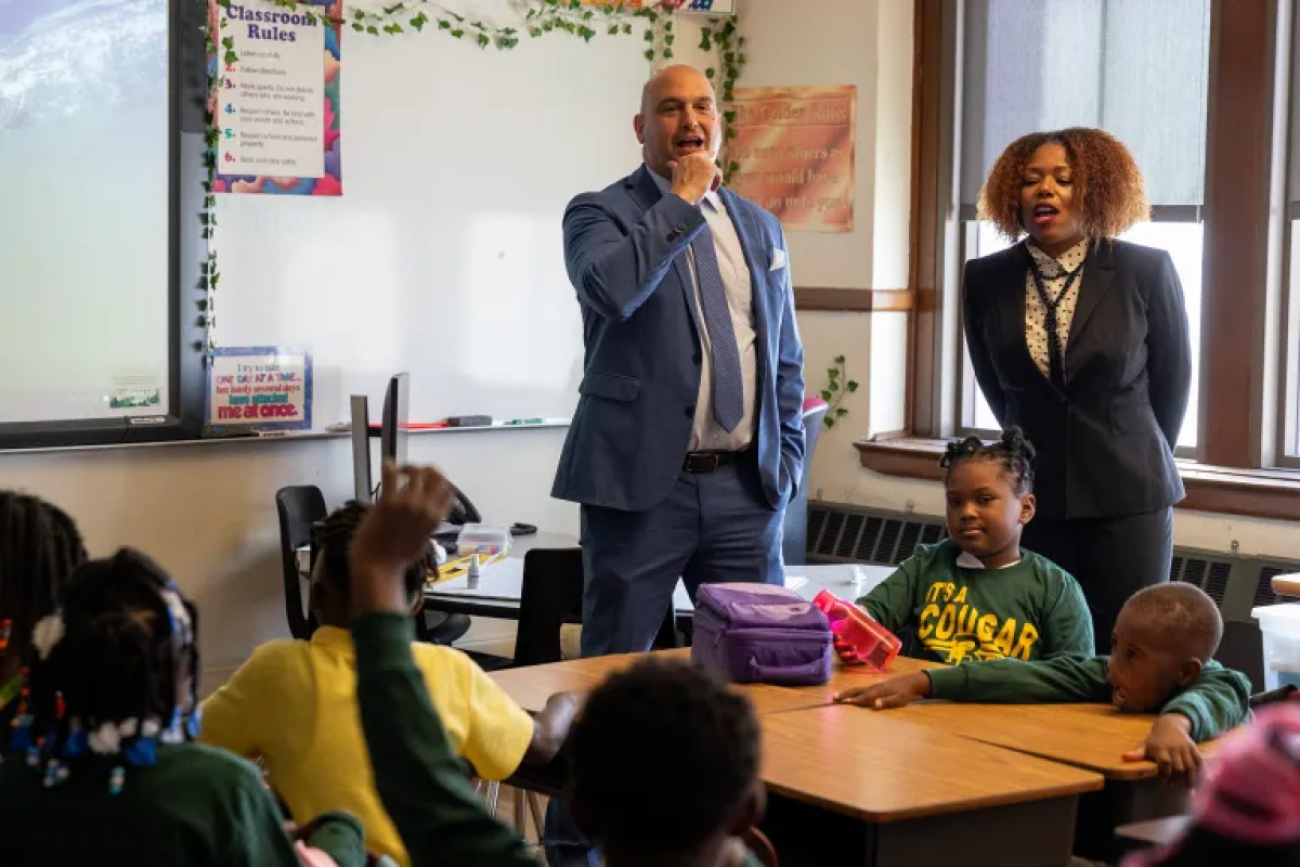 Detroit Public School Community District Superintendent Nicolai Vitti, left, and Detroit Public Schools Board President Angelique Peterson-Mayberry speak with a class at Mary McLeod Bethune Elementary-Middle School on the first day of school on Mon., Aug. 28, 2023 in Detroit, Mich. (Elaine Cromie/Chalkbeat)
Brooklyn Anderson's first day of third grade on Monday at Pleasantview Elementary School in Eastpointe began somberly, consumed by nerves over a new school. Then a classmate shared crayons with the 8-year-old. And giggled with her over a shared affection for late-night fruity cereal.
And near the end of the day, Brooklyn declared, "I love this school.
In Detroit, adults who lined up on opposite sides of a sidewalk clapped and a brass band played as students entered Fisher Magnet Upper Academy. And in Southfield, one elementary school started the year in a different building as their old digs get renovated.
As the new school year began in the Detroit Public Schools Community District and others across Michigan, students are facing familiar challenges — with the promise of fresh solutions.
The 2023-24 year marks the fourth full school year since the pandemic started, and offers the state's public schools an opportunity to recalibrate academic recovery programs, tackle mental health issues, and address longstanding problems, some of which began long before the pandemic.
Some of those problems include chronic absenteeism, food insecurity, and sustained learning loss following the pandemic. State leaders have attempted to address some of those issues through a budget designed to send more money to schools that serve the most vulnerable students. This is also the first year the state has sent enough funding for every student regardless of income to receive free breakfast and lunch.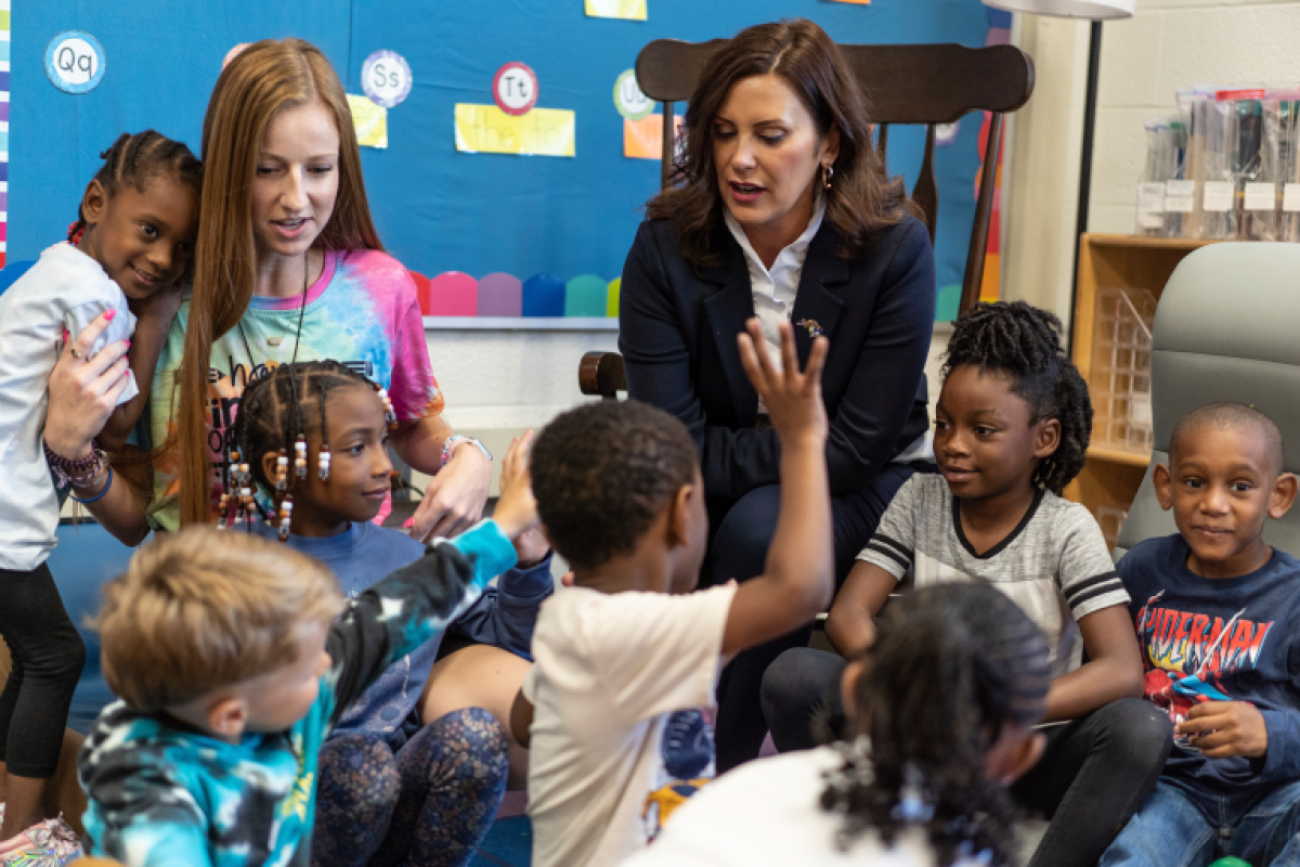 Michigan Governor Gretchen Whitmer gives fives after taking a photo with first-grade students after stopping in their classroom during a visit at Forest Park Elementary in Eastpointe on Monday, August 28, 2023. (Ryan Garza/Detroit Free Press)
"I hope you all had a great day," she said. "This is going to be a fun school year and I hope you make friends, learn new things and make some great memories."
Frederick Douglass Academy, Detroit
Anthony Buford made a dash for the doors of his new school building.
"I've been expecting this for like two years," Anthony said, heading into his senior year at Frederick Douglass Academy for Young Men.
After a decade and a half at their old school building, the 2023-24 school year marks a fresh start for Douglass students and staff. Their new school is the formerly vacant Northern High School building, about three miles north from their old location near Midtown Detroit.
To Anthony and his classmates, a new year in a new building marks a chance to leave another lasting impact.
"I have a good feeling," said James Coleman, a senior at Douglass, of the new space. "Hopefully the new building will be more vibrant."
Related:
The reactivation of the old Northern High School is part of the district's $700 million facility master plan, which used COVID relief dollars to rebuild, renovate and reactivate current and former school buildings across the city.
As part of the design process, Douglass students were able to contribute to their vision of the new building, which will include a renovated gymnasium, a new room dedicated to the school's program in geographic information systems, and a change to the school's classic orange and green color scheme.
With construction still underway, students make their way via the building's back entrance. By the double doors is school administrator Ayanna Morales-Henderson, who welcomes returning students with open arms and fist bumps.
"Welcome to Frederick Douglass," Morales-Henderson exclaimed to a group of underclassmen, dressed in pressed white shirts and black slacks.
Top of Anthony's mind is winning a state championship with either the school's basketball or track team. Douglass Academy won its first state championship in basketball in 2021, his freshman year.
For much of last school year, discussion at Douglass revolved around a potential name change, envisioned to attract more students and veer away from the building's past reputation as an alternative high school to a STEAM-focused school, a learning approach that incorporates science, technology, engineering, arts and mathematics.
"I feel like the name should have stayed Fred D in the first place," Anthony said. "Regardless of whether or not our name is built around being an alternative school or not, we're changing that reputation now."
Pleasantview Elementary School, Eastpointe
In Eastpointe, third grade teacher Elizabeth Bur directed her new crop of third graders throughout the first hour of the morning to hang up their coats and backpacks (tie-dye backpacks are popular this year), to start coloring name tags and unpack fresh supplies.
Setting a routine is foundational for Pleasantview students, both Bur and Principal Falicia Moreland-Trice said. The principal said she wants to work with parents and students to improve student attendance. About 71% of Pleasantview students missed 10% or more of the 2021-2022 school year, according to the most recent data available from the state.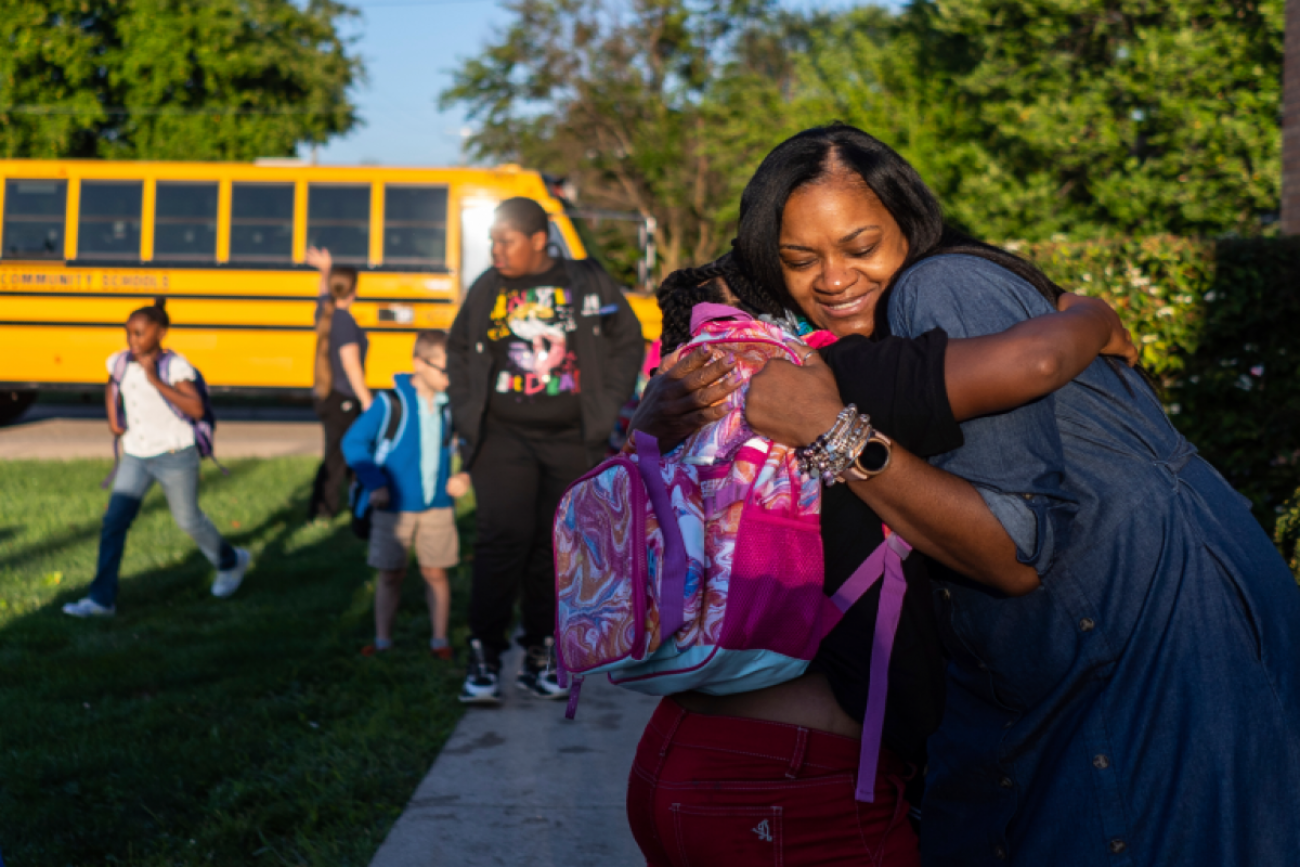 Pleasantview Elementary principal Falicia Moreland-Trice gets a hug from Nyla Overall while lining up with other students during the first day of school at Pleasantview Elementary School in Eastpointe on Monday, August 28, 2023. (Ryan Garza/Detroit Free Press)
Trice said she called more meetings with parents last year to help improve attendance, having them line up in front of the school, file into classrooms and put their things away, so they would know their children's routines.
"The kids that come every day, they're less likely to have behavior issues because … they know the expectations," Trice said.
The first day is all about "shaking the nerves and setting expectations" for new students, many of whom she greeted with a hug as they stepped off the school bus at 7:45 a.m.
Routine helps easily distracted third graders focus on learning rather than where to hang their coat or throw away trash from breakfast, Bur said. And this year they have a big task ahead of them: Bur wants her students to learn to be strong writers before they have to write an essay for the state M-STEP assessment. Researchers often cite third grade as a milestone grade in both writing and reading.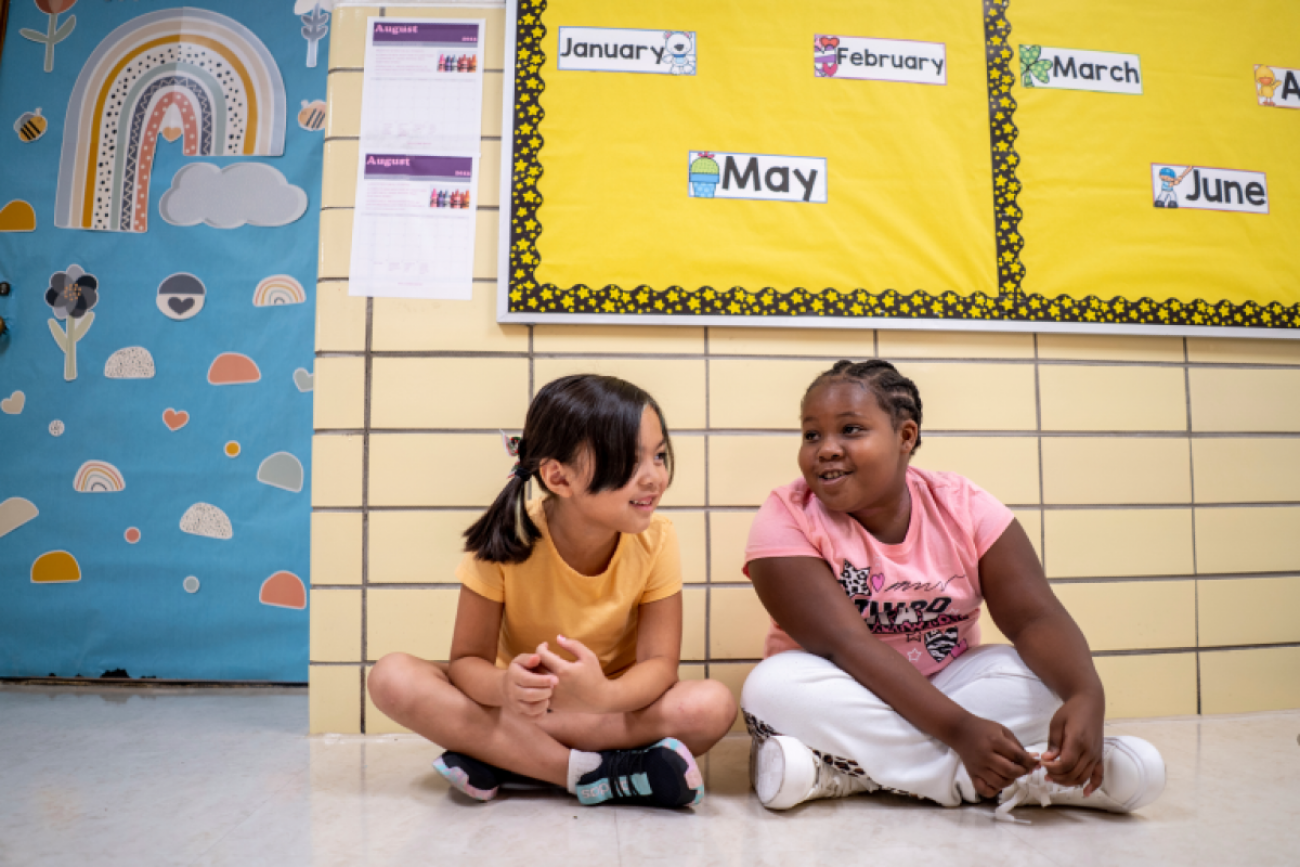 Pleasantview Elementary School third graders Iris Wisser, left, laughs with classmate Brooklyn Anderson as they sit in a hallway while waiting after a tour of their school during the first day of school at Pleasantview Elementary School in Eastpointe on Monday, August 28, 2023. "I love this school," said Anderson to her classmate. Anderson was initially in tears while being dropped off by her mother but soon turned to smiles while bonding with Wisser. (Ryan Garza/Detroit Free Press)
Some in Bur's classroom were already starting to read messages their teacher left for them stapled on brown paper bags filled with candy and a few school supplies, welcoming them to third grade and proclaiming, "I am so glad you are here!" Adrianna Ydrogo, eating apples and wearing both a T-shirt and pants with an apple design, was among those whisper-reading the message on the bags.
Her mother, Natalie Banfield, and father, Christopher Allen, were at school to see Adrianna off. The couple also has a Kindergartner and a sixth grader.
"I'm just excited about seeing them grow," Allen said, before he watched his daughter file into school.
Barton Elementary School, Detroit
Rosa Glover-Adams was all smiles Monday morning as she welcomed a stream of children coming through the blue double doors of Barton Elementary School in Detroit.
"Did you have a good summer?" she asked a group of students as she held the door open for them, yellow pom-pom in hand.
The school principal then made her way around the building, hopping in classrooms to check on teachers and stopping in the halls to hug a student or give them "Bear Bucks," a school-only currency kids can use to buy school merchandise.
Glover-Adams said she's excited to have her students back in the building again, especially as Barton continues to expand. This year, the school added preschool and sixth grade, turning Barton into an elementary and middle school.
"I'm excited about being able to keep my sixth graders here with me, because I want to continue to watch them grow as they prepare for high school," she said.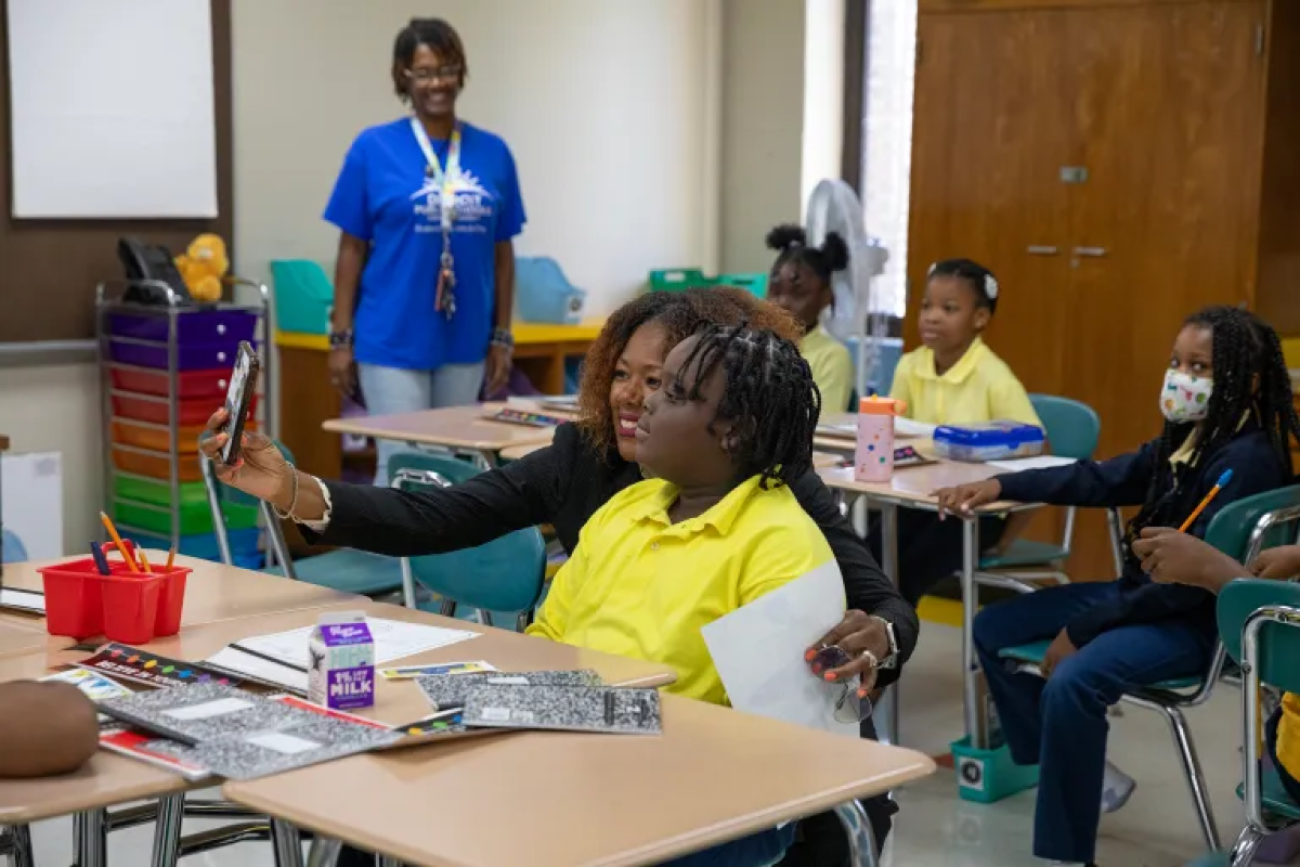 Detroit Public Schools Board President Angelique Peterson-Mayberry, left, takes a selfie with a student at Barton Elementary on the first day of school on Mon., Aug. 28, 2023 in Detroit, Mich. (Elaine Cromie/Chalkbeat)
In addition to the expansion, Glover-Adams is welcoming back a full school and staff. Barton, which has close to 160 students, had 60 additional students enroll this year. All of the core and elective positions have been filled, with the principal hiring four new teachers this year.
One of Glover-Adams' goals for the year is increasing student reading and math levels. She said students made progress last year and she wants to continue moving upward.
"That is the plan in process: to continue what we've been doing so that our kids can become better readers and mathematicians," Glover-Adams said.
One of the teachers the principal checked in on during her walk-through was Nicole Washington. The former third grade teacher is now one of the new sixth grade educators. Washington started the morning by having a "grand opening" for her classroom, complete with balloons, rose petals and a ribbon cutting.
She then had her 12 students get to know each other with an icebreaker scavenger hunt and bingo game. Washington, who taught middle school at Mackenzie Elementary-Middle School, said she's ready to get back in her "middle school groove." She wanted to make sure her students feel welcomed.
"I want them to know this is a safe and comfortable environment," she said. "And I want them to get used to sharing and knowing that they matter, that their feelings matter."
Ta'Lani Fritts, 12, said she's glad to be reunited with Washington since she was a coach for Academic Games, where students compete in games of math, English, social studies and logic.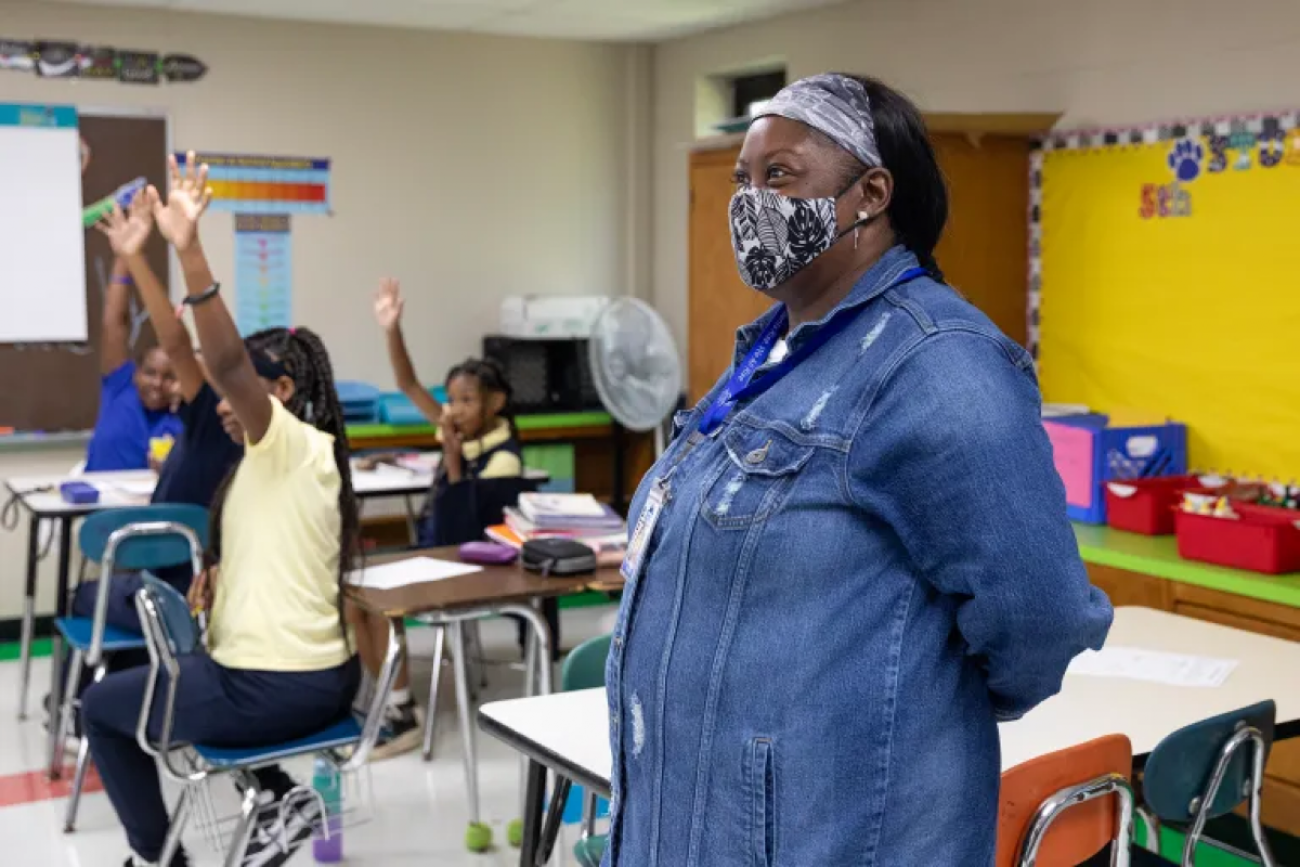 Sixth grade teacher, Nicole Washington, watches as students interact with Detroit Public School Community District Superintendent Nicolai Vitti and Detroit Public Schools board president Angelique Peterson-Mayberry on the first day of school at Barton Elementary on Mon., Aug. 28, 2023 in Detroit, Mich. (Elaine Cromie/Chalkbeat)
"She's nice and she teaches math," Fritts said of Washington.
Also there to welcome students on their first day was DPSCD Superintendent Nikolai Vitti. He said he made Barton his first stop due to the school becoming another option for west side parents to take their kids. Barton reopened in 2019 to relieve overcrowding at Mackenzie and Gompers Elementary.
"We've seen a lot of improvement and student achievement at Barton and we're including a preschool here, which is also part of our new initiatives for the district," he said. "And obviously, I think we're going to have a great year there and a lot of demand in the classroom."
Vitti said his goals for the new school year is to improve student achievement, particularly in math and literacy. He said the district is above pre-pandemic levels in literacy and saw growth in literacy and math at the high school levels for the SATs.
Another goal is continuing to work on reducing chronic absenteeism numbers. During the 2022-23 school year, the district's chronic absenteeism rate was 68% — down from 77% the previous year, but still above pre-pandemic levels.
"We've been talking a lot that if our students only miss nine days or less, they're three to five times more likely to be at and above their level for reading and math and to be college ready," Vitti said.
Adler Elementary School, Southfield
Adler Elementary School staff enthusiastically greeted students with "Welcome Back to School" signs and flags, pom-poms and cheers as they entered a building they weren't familiar with, the recently-updated Eisenhower Elementary School building.
Eisenhower will be a temporary home for Adler students as the school is updated this year, a part of a Southfield Public Schools bond approved by voters in November. Principal Alma Deane said Eisenhower will be a home for a different school each year – as renovation efforts are carried out across various buildingsbuilding.
When students return to the Adler building, they will return to a new heating and cooling system, enhanced security features, new windows and various other infrastructure upgrades.
"It's nice to be nestled in a neighborhood just as Adler," said Monique Jackson, a resource teacher at Adler Elementary School, about the temporary change. "We're just excited about being in a new building, and we're welcoming the transition back. We're most excited about having air conditioning; it can be a disruption to learning when kids are so hot."
Walking in with his parents, 8-year-old Brendan Yopp said he is excited to start fourth grade but was nervous about meeting his new teacher.
"Everybody is making the transition to a new building but it's still the same Adler family with all the same teachers and the principal. It's very similar to their previous school but we're just kind of getting adjusted," his father, Brian Yopp, said. "This year, we're going to keep working on the basics – reading and math – but also making friends and having positive experiences as he's becoming a young man."
Honey Pressley said her 6-year-old daughter, Harley, was at the top of her class last year. While the family had a lot of fun attending festivals, fairs, cookouts and picnics this summer, they also made time for reading at the library.
Harley, now in first grade, said her favorite book is "Junie B. Jones and the Stupid Smelly Bus."
Fisher Magnet Academy
A crowd of community leaders, neighborhood service organizations and educators lined up at the main entrance of Fisher Magnet Academy armed with free backpacks and applause to welcome students back to school with the Gabriel Hall Brass Band providing the soundtrack.
The "clap in" was organized by senior director of the Ford Resource and Engagement Center (FREC) Justin Kimpson and was sponsored by the Ford Motor Company Fund.
"This is our sixth annual clap in," Kimpson said.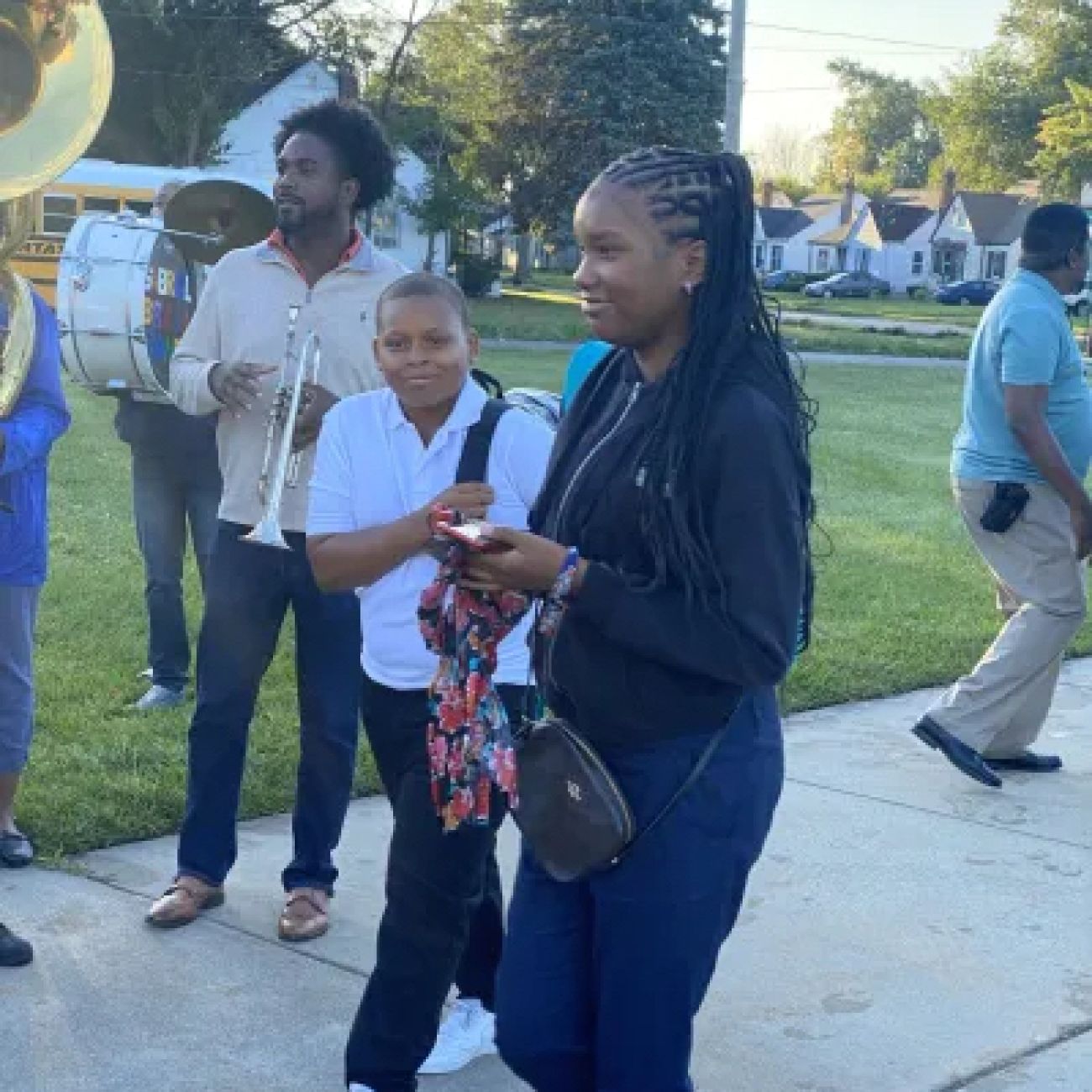 Students returning to school at Fisher Magnet Academy were greeted Monday with music, claps and backpacks. (BridgeDetroit Photo by Orlando Bailey)
"We're just happy to support the kids every year and provide them with school supplies, backpacks and words of encouragement."
Among the community leaders present was longtime activist Sandra Turner-Handy, president of the Denby Neighborhood Alliance. She said it's very important young people recognize their community is their support system.
"We are determined for them to get the educational learning that they need to be successful in life," Turner-Handy said.
The event came as a surprise to some students.
"It was just awesome to see them and their eyes light up while so many people came out just to welcome them back to school," Turner-Handy said.
The FREC opened adjacent to Fisher Magnet Academy inside of Detroit's Heilman Recreation Center in 2017.
Only donate if we've informed you about important Michigan issues
See what new members are saying about why they donated to Bridge Michigan:
"In order for this information to be accurate and unbiased it must be underwritten by its readers, not by special interests." - Larry S.
"Not many other media sources report on the topics Bridge does." - Susan B.
"Your journalism is outstanding and rare these days." - Mark S.
If you want to ensure the future of nonpartisan, nonprofit Michigan journalism, please become a member today. You, too, will be asked why you donated and maybe we'll feature your quote next time!