Detroit is a city with many needs. So why are bikes such a priority?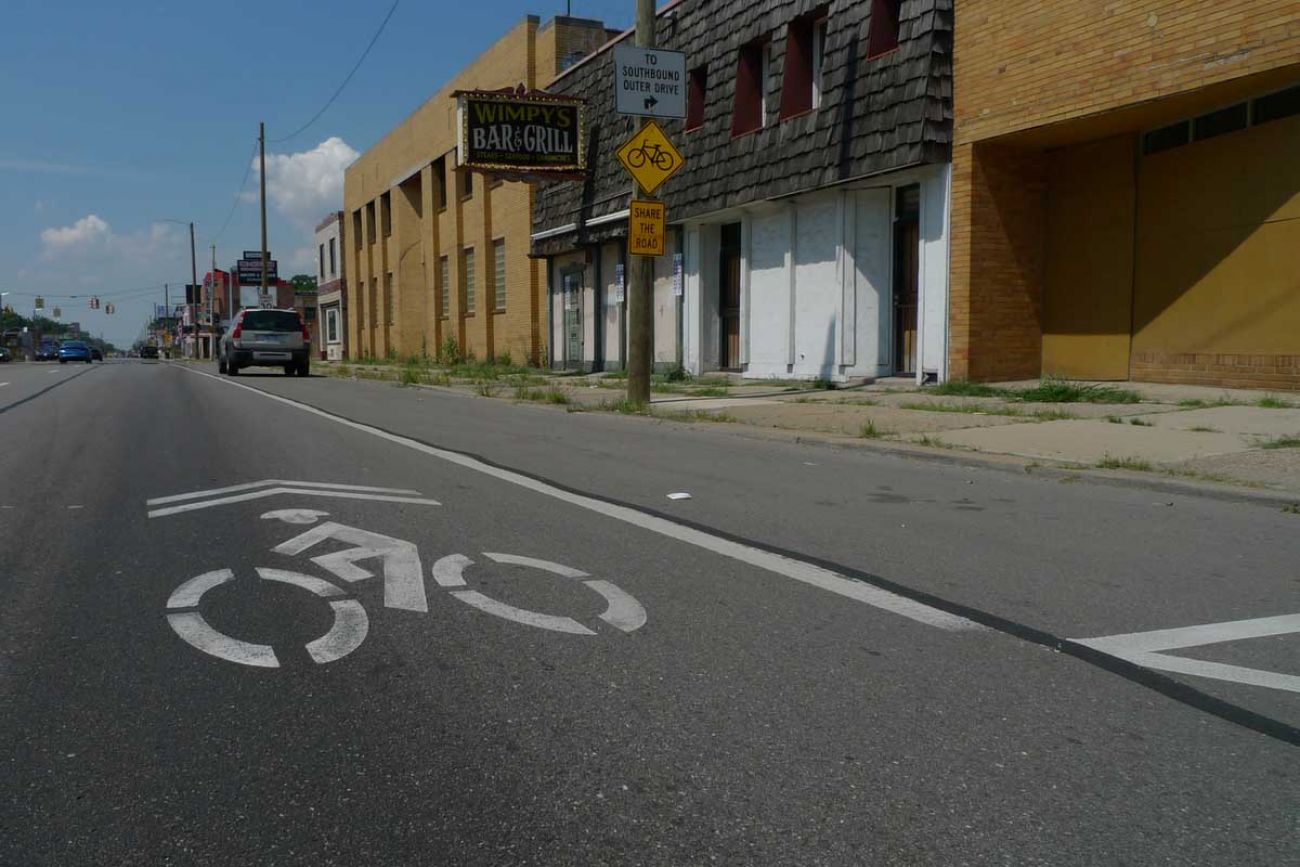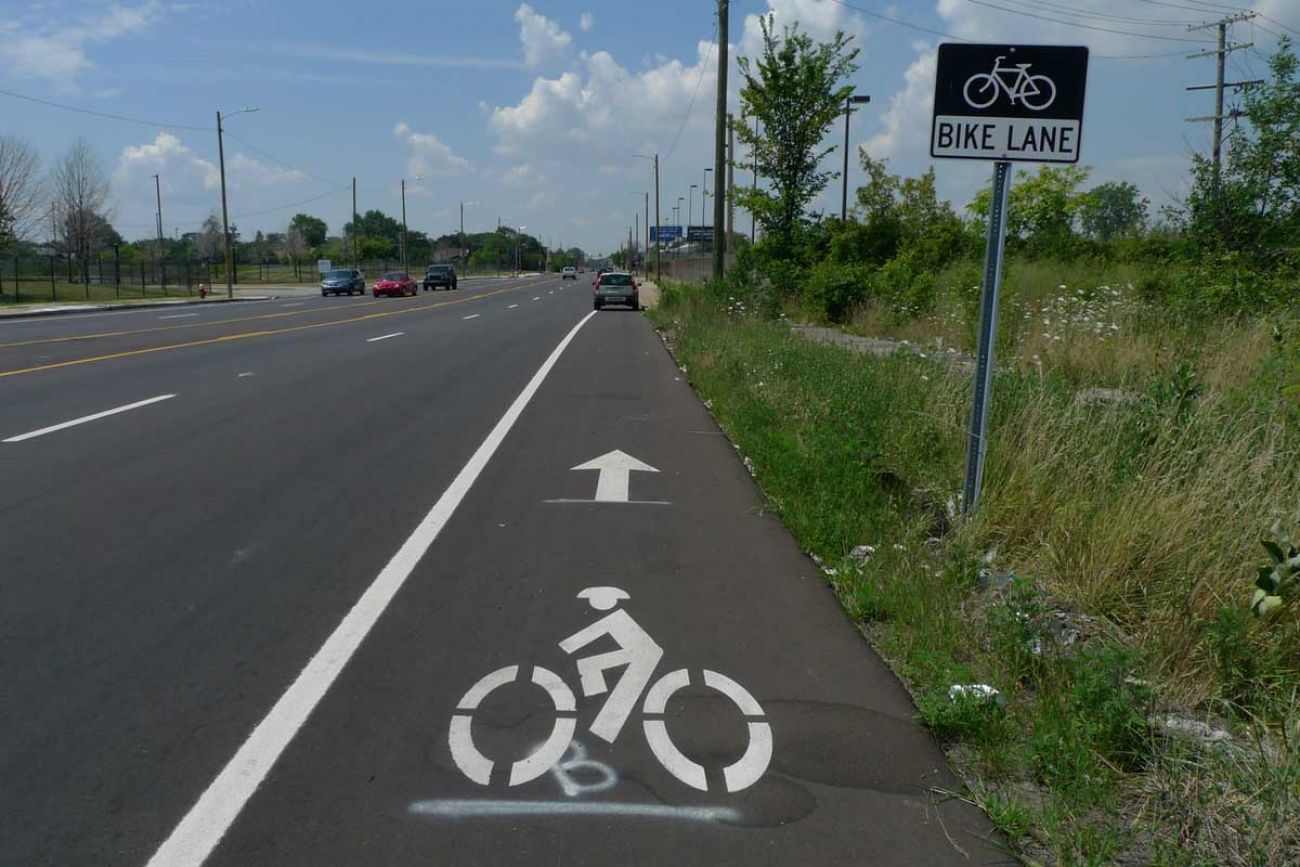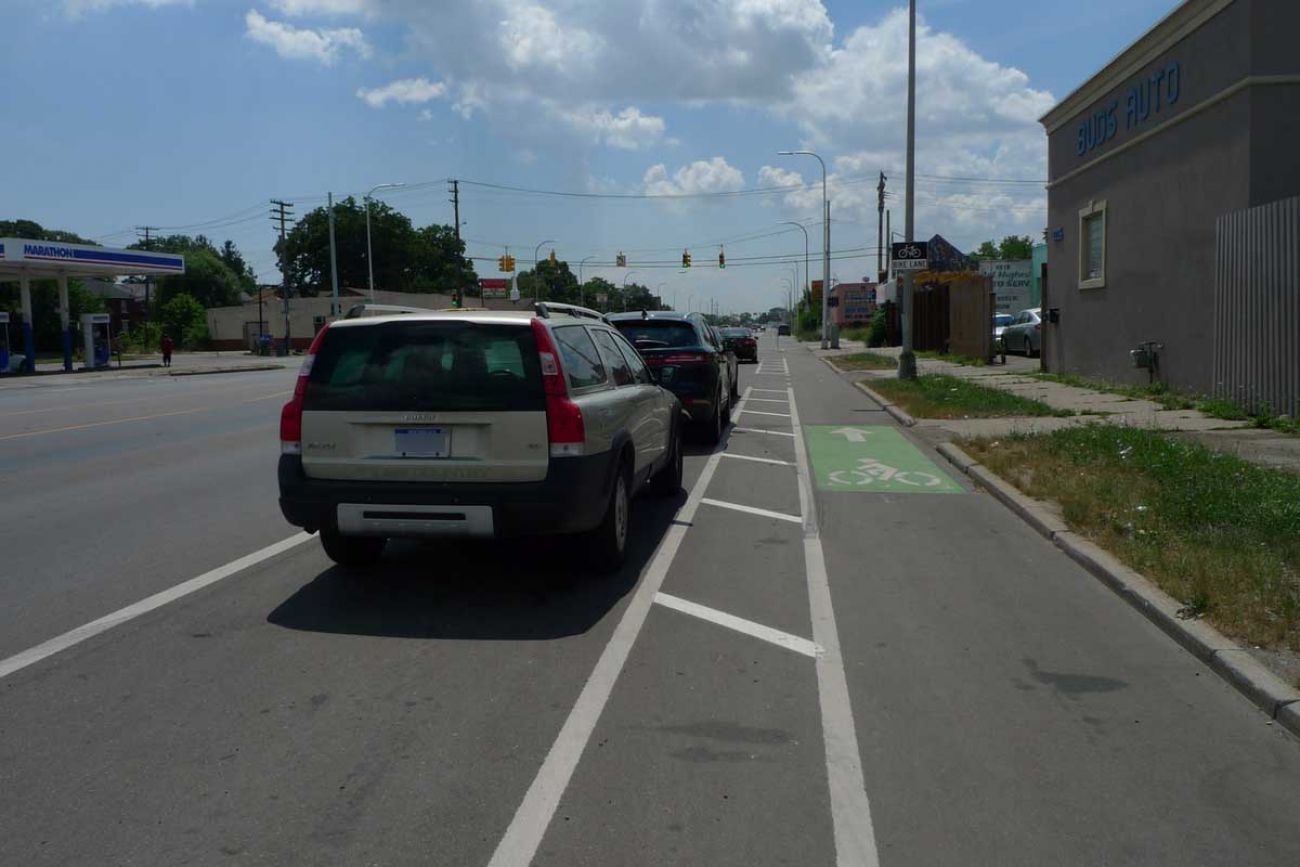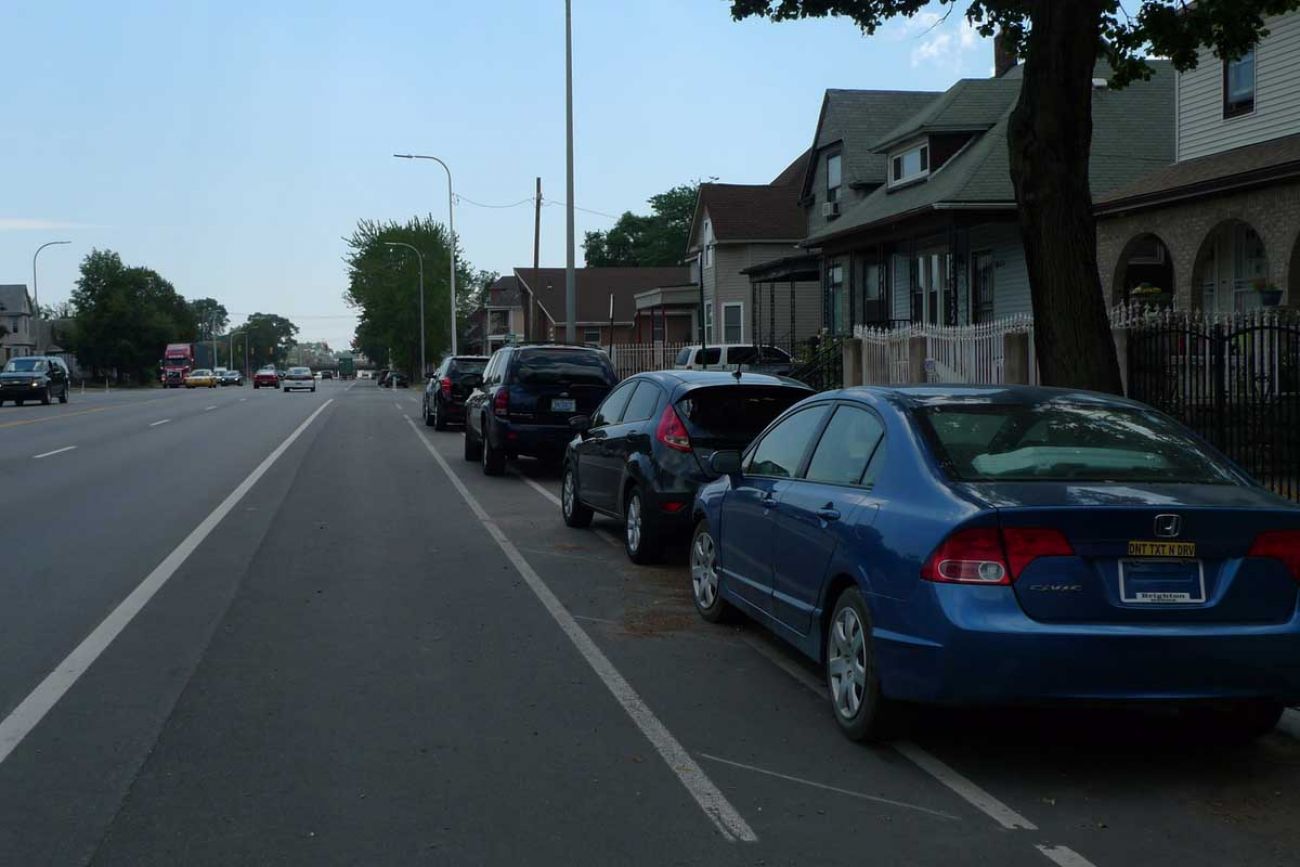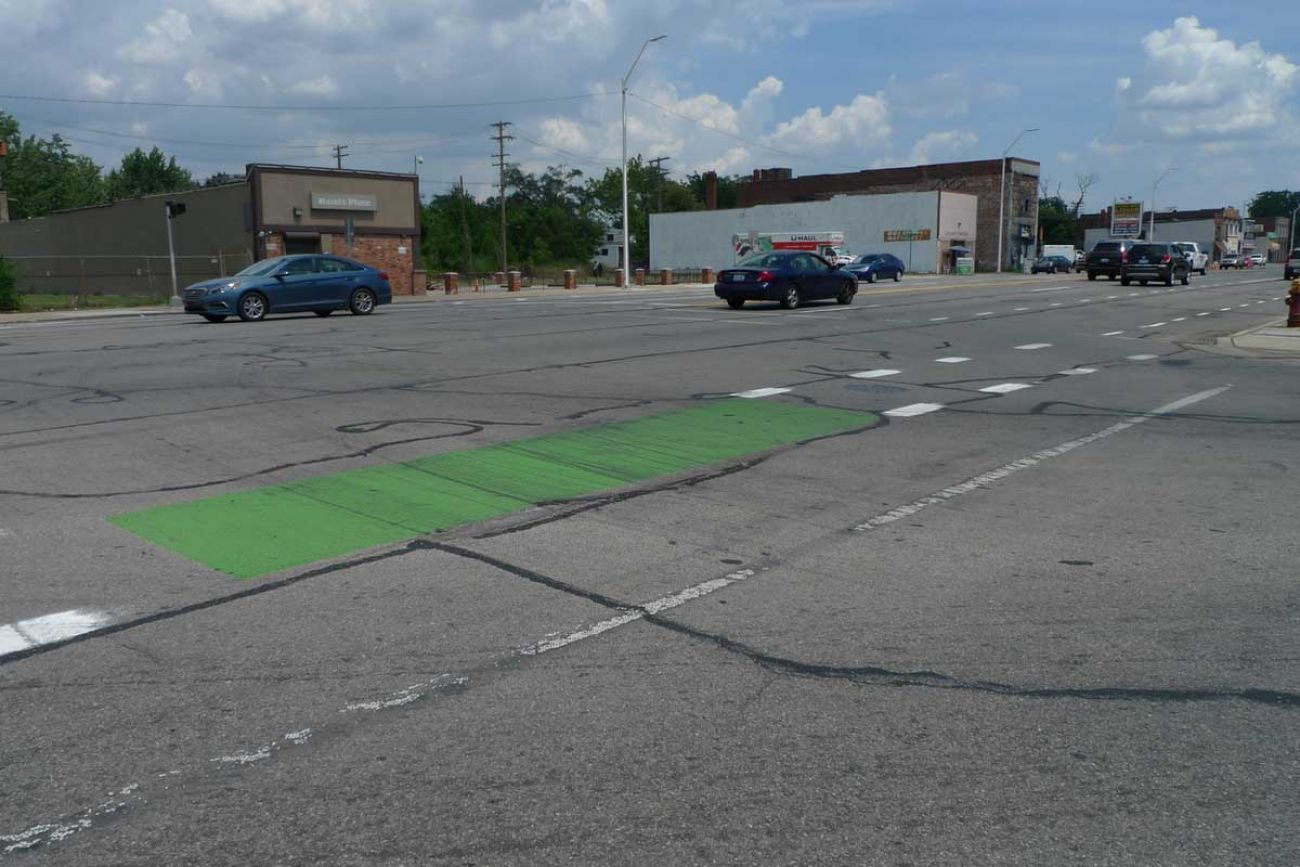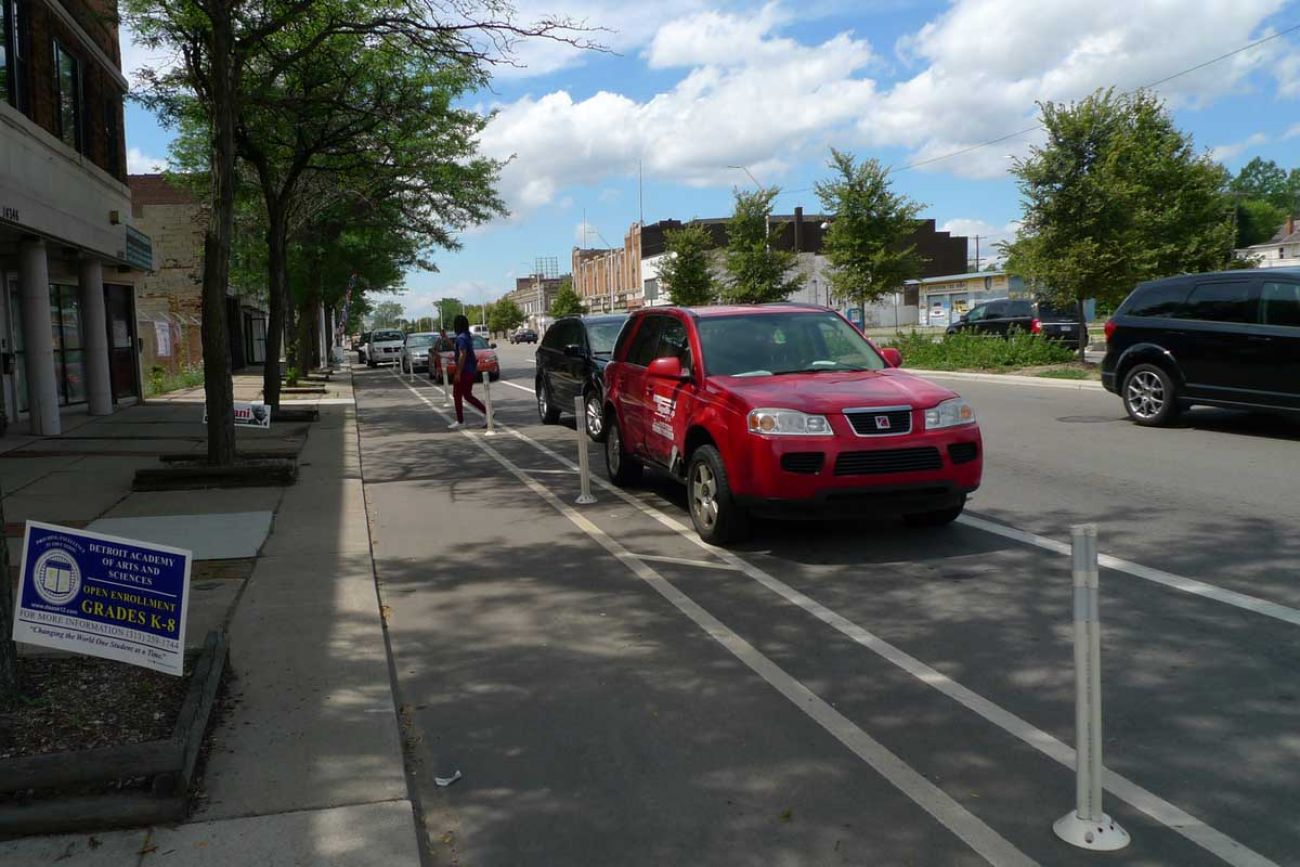 Two Detroits: Motor City and Bike City
Infrastructure for bicyclists is increasing rapidly in Detroit, but it's typically in more affluent areas of the city. Here's a look at the location of bike lanes – and MoGo bike sharing stations – overlaid with demographic information. Click to find out income of areas with the lanes and bike sharing stations.
Source: U.S. Census, Data Driven Detroit, MoGo
Toyia Watts is the fourth generation of her family to live in her east-side Detroit house on Baldwin Street. Retired from General Motors, she serves on her block club and does what she can to keep the neighborhood, Charlevoix VIllage, in shape. Not that it's an easy task.
Many neighbors are "burned out" on neighborhood service, she said. The area is generally lower income but "decent" and "could use a little help," Watts said. It would be nice to have better public transit and a place where children could use computers with wifi and maybe learn robotics, she said.
When she drives around the neighborhood, Watts sees one improvement coming on strong.
Bike lanes.
Kercheval Avenue, nearby, has been striped with lanes that are reserved for cyclists. East Jefferson is slated to get them in the coming months, as is Grand River on the west side. All over the city, infrastructure for cyclists is on a fast track, with signage, paint and welcoming accommodations in what is still called the Motor City.
Watts isn't resentful so much as she is bewildered. Why are cyclists getting more attention from the city than children who need computer time?
"We're out here with the block clubs and organizations, trying to keep things clean," Watts said. But "when we ask for what we need in our community, we can't get it."
Recent years have been very good to cyclists in Detroit. Besides the dedicated lanes on the city's wide main arteries, a new bike-share service opened Memorial Day weekend, mainly serving the central-city neighborhoods adjacent to downtown and Midtown. All over the city, main arteries are being put on "road diets," reducing lanes for motorists and adding lanes for cyclists.
But it's not exactly smooth pedaling in the chronically poor city, where the lanes have become a source of tension among some neighbors who question City Hall's priorities.
Detroit leaders say the lanes are designed to make streets safer in a city that federal report this year said had the highest rate of pedestrian fatalities in the nation. The report from the National Traffic Highway Safety Administration showed Detroit had 46 pedestrian fatalities in 2015.
"(Detroit is) a dangerous city to bike or walk in. We have an obligation to improve that," said Janet Attarian, deputy director of planning and development for the city of Detroit.
The city's multi-lane thoroughfares, built to handle traffic in a far more populous city, offer a perfect canvas to carry out a relatively new urban ideal of "complete streets," i.e., streets that are designed and built not just for cars and motorists, but cyclists, pedestrians and public transit riders. The costs of the lanes, which can run about $300,000 for 2.5 miles, are typically split between the city and Michigan Department of Transportation if they're on a state road.
Cycling advocates say a more progressive transportation policy will help neighborhoods by making its roads safer. It will "calm" traffic (which is, no getting around it, a synonym for slowing it down) and make residential areas more attractive to those who don't necessarily want to use a car to get around.
Feelings weren't exactly calm, however, at a recent community meeting about proposed bike lanes on Grand River between Interstate 94 and Cass Avenue.
Cyclists complained about allowances for street parking that pushed them into shared lanes with cars, which they said were unsafe. Business owners worried about losing parking. State officials warned of increasing traffic with four major-league sports teams all playing in the central city and pushing crowds out onto newly narrowed boulevards.
Arinett Ross, a year-round cyclist and Detroit resident, counseled patience with an incremental approach.
"This is not going to be an overnight thing," he said of motorist-cyclist relations. "But (bike lanes will) cut down on accidents."
Can we all get along?
Tensions about bike lanes aren't unique to Detroit. In New York, San Francisco and Washington D.C., they've prompted accusations of gentrification, along with dog parks and other new urban accommodations.
In Chicago and Portland, researchers at McGill University and the University of Quebec in Montreal concluded there was a "bias towards increased cycling infrastructure in areas of privilege."
A Bridge Magazine analysis of the city's current bike lanes (see map) shows they are more prevalent in neighborhoods like Woodbridge and Midtown, while they're less common in heavily populated residential areas such as the northwest and northeast sides.
Steve Hood, a longtime political consultant in Detroit, bluntly sums up the complaints of many residents about bike lanes: "Everyone I know hates them."
Hood and others said they fear for their safety parking near the lanes. Livernois Avenue in northwest Detroit was recently dieted down to two lanes in each direction, with curbside reserved for bikes and cars directed to park well off the curb. That can leave motorists feeling as though they left their vehicle in the middle of the street.
"I think there's going to be an accident here," said Trevell Randolph, 42, who manages the Lavish Car Wash & Detail Center on Livernois. "I've seen some near misses."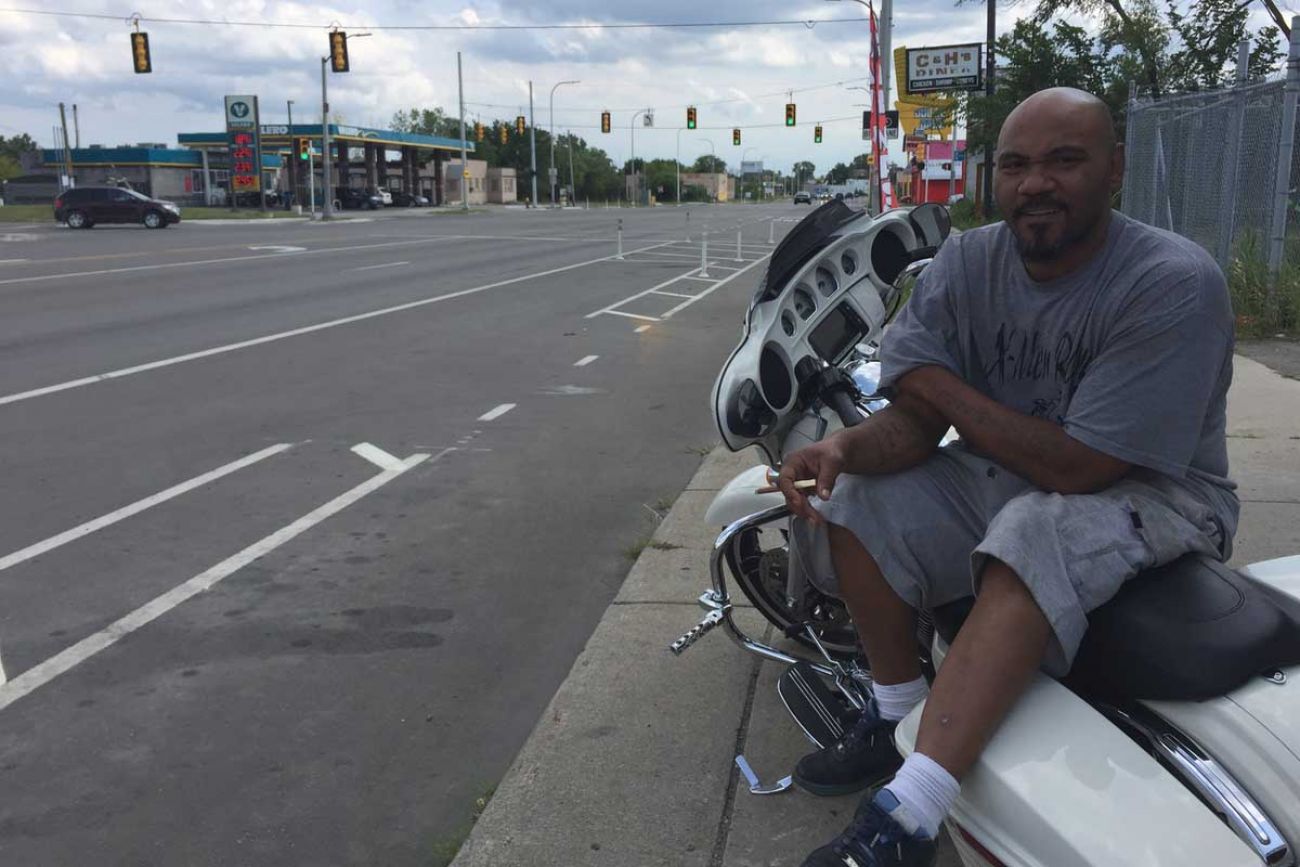 That opinion is shared by Lee Yancy, who works at his family's business on Livernois. He wouldn't mind bike lanes, but he wants them on the other side of the parking lane.
"Drivers are confused," Yancey said. "When you push them that far out, you always feel like the traffic is going to hit you as you're opening your door."
City planners consider the design the safest for roads with higher travel speeds, like Livernois, because it shields vulnerable cyclists from traffic.
But if anyone has told Detroit motorists that, Yancy and Randolph aren't among them. To them, years of driving experience is being upended to accommodate a mode of conveyance they don't even see all that often.
It may take time, but drivers will get used to the changes, predicted Todd Scott, executive director of Detroit Greenways, a nonprofit group that promotes cycling and pedestrian safety.
Once motorists notice how others are correctly parking around bike lanes, "most people will fall in line," he said.
Training wheels
Advocates say they want to encourage Detroiters in all neighborhoods to use the new bike lanes. A 2014 report by the Southeast Michigan Council of Governments on nonmotorized travel found over 4,000 miles of bike lanes, paths, shared lanes, paved shoulders and other cycling-usable pavement in the region. In Detroit alone, Janet Attarian of the city Planning and Development Department puts bike-lane mileage at over 250. The percentage of bicycle commuters is small relative to those who drive or use public transit – under 1 percent – but growing, especially among younger people.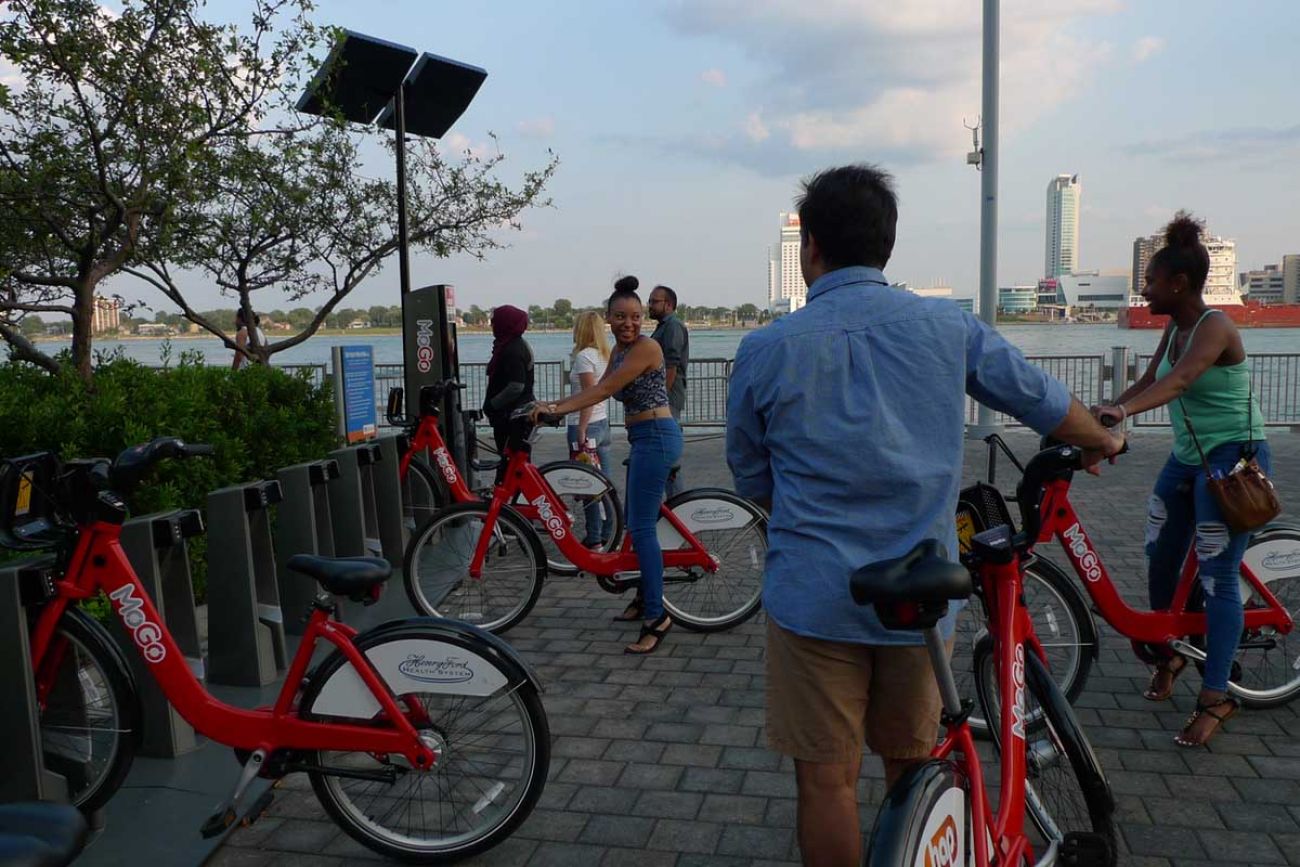 MoGo, the city's new bike-share network, has a $5 long-term membership level for any individual receiving state assistance, and 15 percent of monthly or seasonal passes sold have been to those on assistance, said Lisa Nuszkowski, executive director of the MoGo program, part of the Downtown Detroit Partnership.
However, the network's stations, where bikes are rented and returned, don't reach far into the city's neighborhoods and are mainly confined to the central business district. Nuszkowski attributed this to the newness of the program – it opened in May – and the intent of the service.
"(MoGo bikes) aren't really meant for commuting, but for shorter, quicker trips," she said, with riders including office workers heading out for lunch, sightseers or commuters grabbing a bike for the last few blocks between a bus stop and a final destination.
Nuszkowski stressed that the first year of the program will be to see how and when Detroiters use the service, to guide future expansion, and to encourage people just to try getting around in a different way.
While white riders are visible in the city's core, Detroit supports many clubs of mainly African-American cyclists who stage regular group rides as social events, and join the high-profile weekly Slow Roll as well, said Dywayne Neeley, a 48-year-old Detroit resident and roofer. Fifteen years ago, he weighed 260 pounds and was looking at a lifetime of insulin shots for diabetes. He and some friends and family started biking together, in a club that came to be called the East Side Riders.
Now at a stable 195 pounds, he and the Riders are still rolling, in a slow-ride style very different from the speeding pelotons of Spandex-clad cyclists often seen in the suburbs. Their bikes are works of art, built from the frame up to be distinctive and personal, decked out with elaborate lights and even music.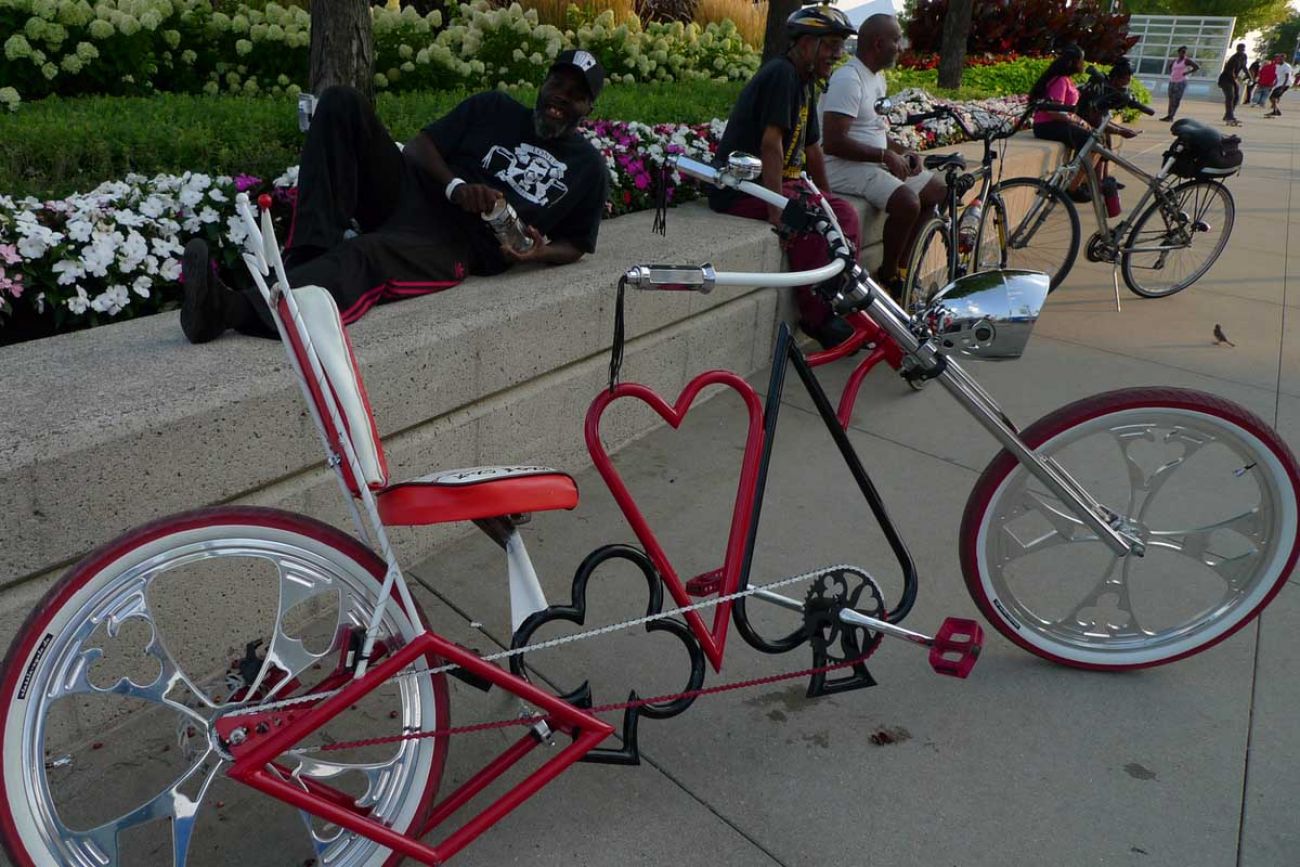 Neeley is all for the new lanes. He wants more people like him, African-American longtime residents of the city, out and about on two wheels.
"It helps us," he said. "We say, 'If you ain't got a bike, you ain't got a life.' You're missing out."
Access for all
Jeffrey Nolish recently completed an 18-month term as a Detroit Revitalization Fellow, part of a leadership program for the city administered by Wayne State University, and worked in the city's Planning and Development Department on bike infrastructure. He said the issue of bike lanes, wherever they are in the city, is a matter of "mobility justice" for a city that has a high rate of pedestrian and cyclist fatalities in crashes with motorists.
He concedes that new infrastructure for cyclists can look like a favor granted to newer, more affluent residents.
"A lot of the city's nightlife is in the central business district, and there you can see a lot of white people on bikes, and think it's only for white people," Nolish said.
But most people who ride in the city are African American, he said, pointing to crash data that shows two age ranges most often involved in bike-car collisions – younger teen boys and men in their 40s. In a city that's more than 80 percent black, "it's reasonable to conclude most of these are African American," he said.
Bike lanes will make riding less hazardous for those groups, he said, and most are far from the city's center. Narrower arteries mean fewer lanes for pedestrians to cross. With protected lanes, cyclists have less worry about colliding with cars. And with traffic generally moving through fewer lanes, reckless motorists who weave in and out of traffic are discouraged from doing so.
"We want (cycling) to be a normal form of transport, to be enjoyable and healthy, green transportation," Nolish said.
Only donate if we've informed you about important Michigan issues
See what new members are saying about why they donated to Bridge Michigan:
"In order for this information to be accurate and unbiased it must be underwritten by its readers, not by special interests." - Larry S.
"Not many other media sources report on the topics Bridge does." - Susan B.
"Your journalism is outstanding and rare these days." - Mark S.
If you want to ensure the future of nonpartisan, nonprofit Michigan journalism, please become a member today. You, too, will be asked why you donated and maybe we'll feature your quote next time!