On the Detroit River, a faded dream at a city-owned marina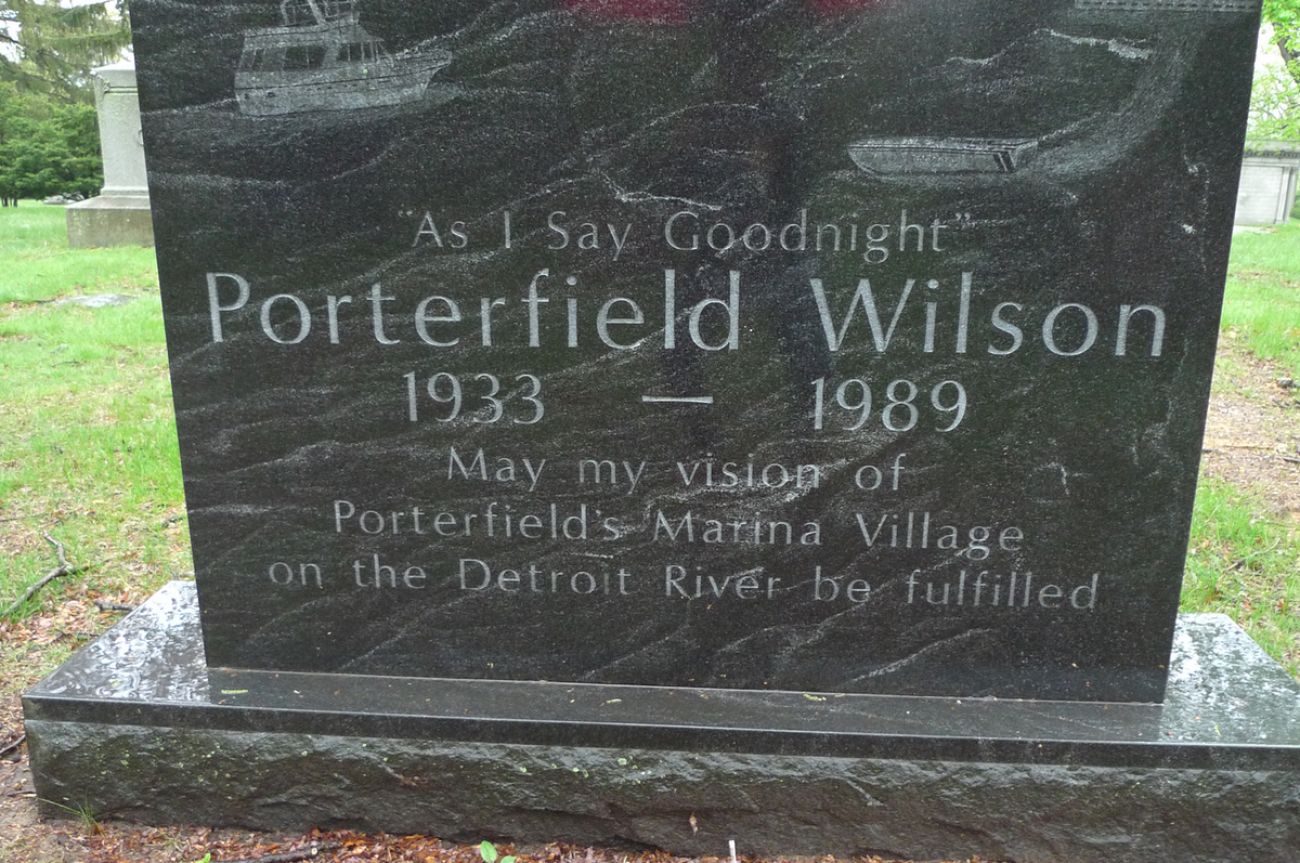 Death, even sudden death, is a time for settling accounts and closing books. Business left unfinished by fate may be carried on by descendants; for the dead, we ask only that they rest in peace.
Porterfield Wilson's death in 1989 came suddenly, at 55, but the epitaph on his black granite headstone in Detroit's Woodlawn Cemetery suggests a to-do list with one big item unfinished: May my vision of Porterfield's Marina Village on the Detroit River be fulfilled.
Wilson, well-known in Detroit as a leading African-American car dealer, sought to leave his mark on the east-side skyline with a residential tower overlooking a new marina, on city-owned land, all marketed to affluent African Americans, who could enjoy a yacht-club life in a newly majority-black city.
Residents' boats would be as close as their cars, and the sparkling river beyond the marina seawall beckoned them the way it did sailors in nearby suburban communities. It was a dream not only for Wilson, but of his friend, then-Detroit Mayor Coleman Young.
Today, the parcel Wilson once hoped would bear his name has a less dazzling one – Riverside Marina – and no apartment tower. There are two banquet facilities, a pool, store, gas dock and 372 boat slips. But some customers say docks have fallen into disrepair, making many unusable.
As Detroit seeks to recover from a decades-long decline, some of its assets, from Belle Isle to Eastern Market to selected parks, have benefited from more focused management dedicated to their improvement. But the city-owned marinas, which give city boaters access to the same water as other communities up and down the waterway, haven't done as well in private hands.
Under management since 2013 by a company with a contract up for renewal soon, patrons complain about a facility that City of Detroit officials acknowledge was once beleaguered, but now suggest is steadily improving.
Representatives of Riverside Marina didn't respond to calls for comment, and wouldn't allow Bridge onto the grounds, referring all inquiries to the city.
Mayoral spokesman John Roach forwarded a memo from the city's parks and recreation department that described how the marina's management company, ABC Professional Enterprises, LLC, brought a non-functioning marina back from the brink, although Beverly Alexander, a department staffer, acknowledged that much of the memo was written by representatives of ABC Professional Enterprises.
Alexander said ABC Enterprises pays the city $62,000 to run the marina operations as a private business, plus another $22,000 for the smaller Erma Henderson Marina about a half-mile downriver.
"The past operator had an abrasive relationship with the city and concealed all of the operating challenges and walked out on the contract," the memo reads. No investment was made to the facility and "the city was unaware of the depth of the deterioration of the property."
Further, since ABC Enterprise LLC took over the marina, it has made substantial investments beyond what the contract required to make it operable, the memo states, describing $4 million in investment by the company, "as a commitment to the partnership and the vision of what it could be in the future." The memo describes a facility that is growing in membership, slip rental, clubhouse use and storage sales.
Much of this would be news to Felicia Coates-Page.
Coates-Page was a first-year boater last fall when she said she brought her 28-foot Bayliner to Riverside for heated winter storage. After having been quoted a price of $3,000 at a marina next door, she said she was pleasantly surprised to be quoted a far lower one at Riverside – $1,749, which she could reduce further by paying cash, which she did.
For $1,574.10, she said she expected her boat to be brought indoors and stored in a warehouse through the cold months. She said she had an emergency the day the boat was scheduled to be hauled out, but was told by marina staff that she didn't have to be present.
Coates-Page didn't return until March of this year, and said she found her boat sitting outdoors, where it had apparently been all winter, with no covering and no winterization. The freeze/thaw cycle had destroyed the engines and bilge pump, leaving it a total loss, she said.
She said an employee at Riverside initially promised to "take care" of Coates-Page. But the final resolution, she said, was an email from manager Brian McGuire, stating the employee who made the agreement with Coates-Page was no longer employed there, that there was no contract on file and no payment was made. Coates-Page showed photographs of a contract and receipt, marked as paid, to Bridge.
Her insurance company eventually paid $15,000 for the loss of the engines, about half what she estimates the boat was worth. She signed the title over to the insurance company and spent the settlement on a new, larger boat, which, she said, she would be keeping at another marina.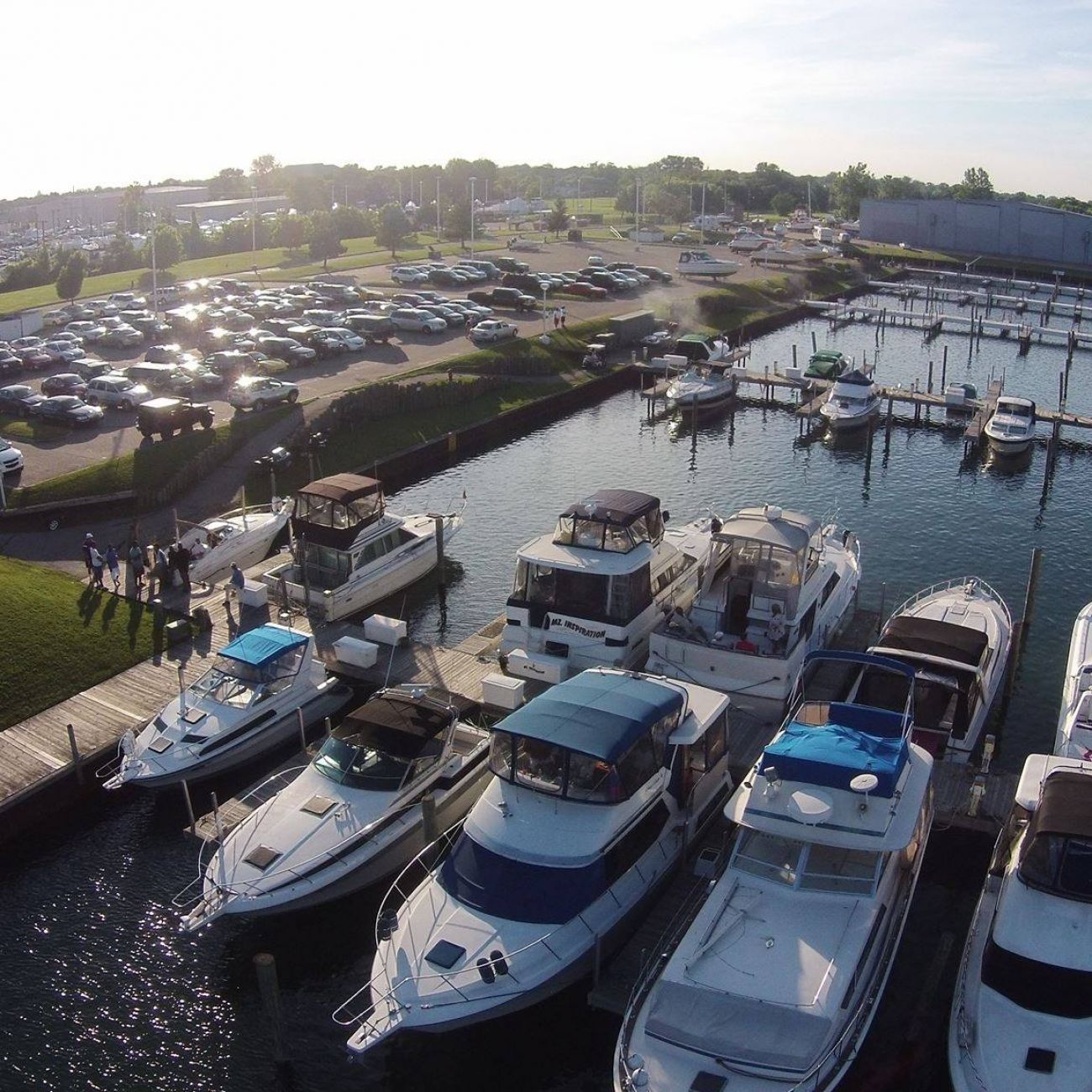 A market that can drown the unprepared
Even well-run businesses make mistakes. Other boaters described McGuire and his employees as friendly and sincere, but challenged by the demands of running the marina.
"There are docks you can't walk on safely," said one boater, who, like others, requested anonymity, because his boat remains at the marina.
Dr. William Jordan, an obstetrician who is African American, has been boating on the river for years, berthing his vessels at facilities ranging from city-owned Riverside to the private Grosse Pointe Yacht Club. He said running any marina is a difficult business, made more so by conditions in the greater economy. Luxury items like boats are among the first things to go when owners feel an economic pinch, making marinas highly susceptible to business cycles. Heavy equipment required to move and hoist boats is expensive, and maintenance is a constant chore.
"The margins are tight, and there's a lot of competition," said Jim Cummins, chief financial officer for Kean's Marina, Riverside's next-door neighbor. Short-term contracts like ABC Enterprises' are a poor model for good management, he said. "They're not incentivized to make improvements."
Jordan agreed.
"There's not a lot of money down there now," Jordan said. "There's nobody bad in this picture. It was bad timing. Older people are getting out of boating, and younger people are not getting into it."
Right place, wrong time
Bad timing seems to have been a theme with the Riverside site. Porterfield Wilson's dream was dealt a blow when he died at the peak of his career; his Pontiac, GMC, Mazda and Honda dealerships were the biggest of their brand in Michigan, and his overall business was the nation's 11th-largest black-owned enterprise.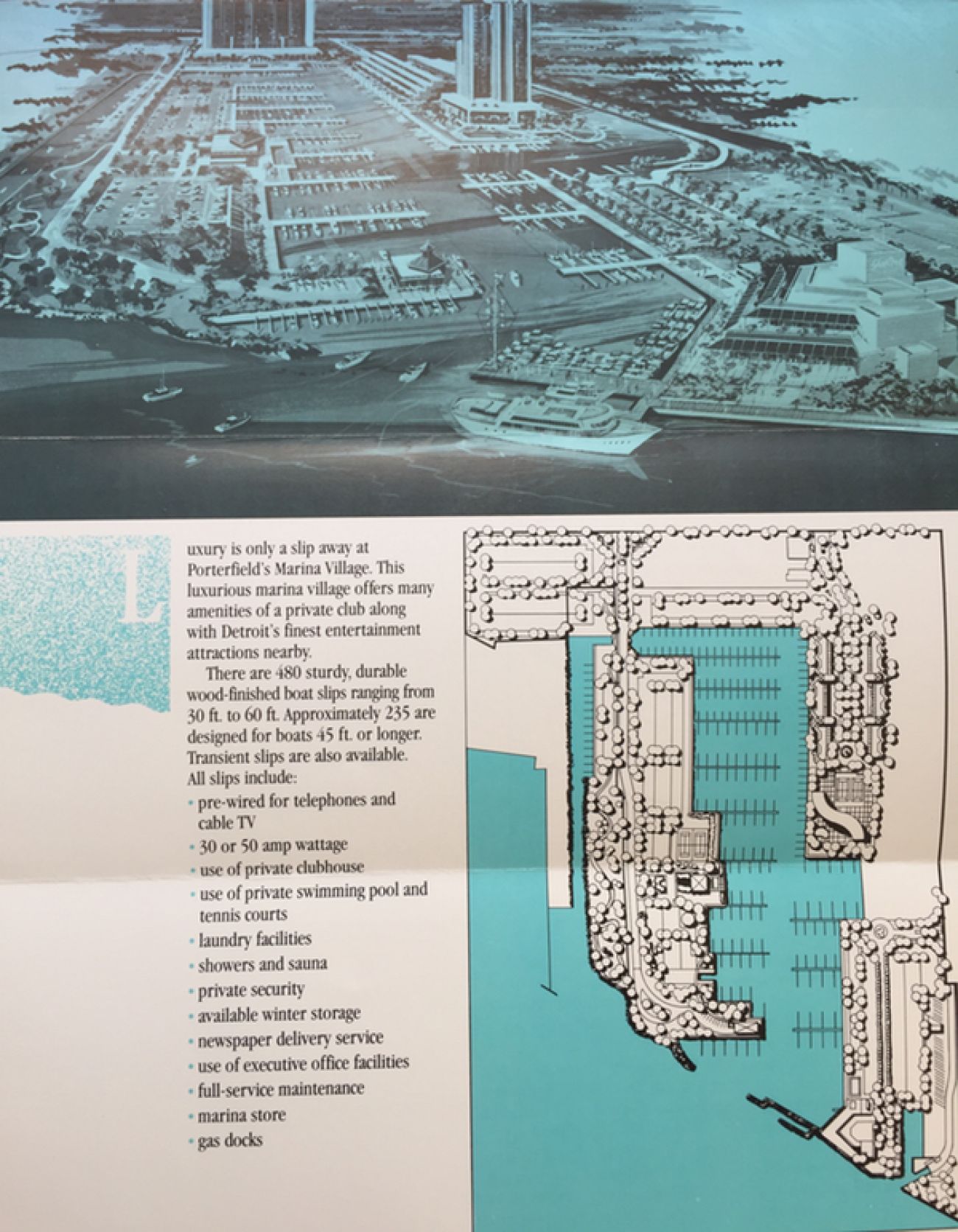 His vision was to develop the $60 million Porterfield's Marina Village, which would have been the largest black-owned real-estate venture in Detroit history. A sales brochure from the late '80s shows development plans that glitter even by the optimistic standards of architectural renderings. What looks like a substantial luxury yacht sits outside the seawall while lesser vessels motor into the marina, over which two multi-story towers loom.
(Today, the spot where the fantasy yacht sits is taken by the Ste. Claire, one of two boats that ferried revelers to Boblo Island, the defunct Detroit River amusement park. Under ongoing, lengthy restoration, it was towed there last winter but could not enter the marina because the 197-foot boat draws more water than the marina allows.)
Wilson's death was only one blow to the project. News clippings from the early 1990s reported concerns about contaminated soil, and nearby residents and anglers protested that the project would limit access to the public boat launch next door, at the foot of St. Jean Street. The soil was dug out by one of Wilson's partners in the project, the John Carlo Development Corp., and ultimately trucked to Rouge Park on the city's west side, where it was capped with clay and topsoil and seeded with grass to prevent erosion, but never developed into the winter-sports hill originally envisioned.
By 1993, the marina was built but the housing piece was bankrupt, and Wilson's widow withdrew from the project, passing control to the John Carlo group. With the move, the last dream of an African-American owned complex near St. Jean and Freud died.
The marina, minus the high-rises, operated as a decent business until the Great Recession, Jordan said, when Jerome Morgan took it over, in hopes of developing nearby parcels into high-end housing, similar to his Morgan Waterfront Estates development, around the corner on St. Jean.
"An idiot could have run this place before 2006," Jordan said. Afterward, though, it needed too much.
"The docks are run down," said another boater, who likewise asked to remain anonymous because he still has his boat there, although he said he's considering a move. "Planks are broken on slips. Some are barely hanging on to the pilings. I don't know when the last time it's been dredged through there."
Adding to the facility's woes was the arrest May 14 of a 44-year-old man at the marina, charged with multiple counts of first- and second-degree criminal sexual conduct, as well as strangulation and aggravated domestic violence. The victim was an acquaintance, according to Maria Miller, spokeswoman for the Wayne County Prosecutor's office. He is scheduled to be arraigned Tuesday.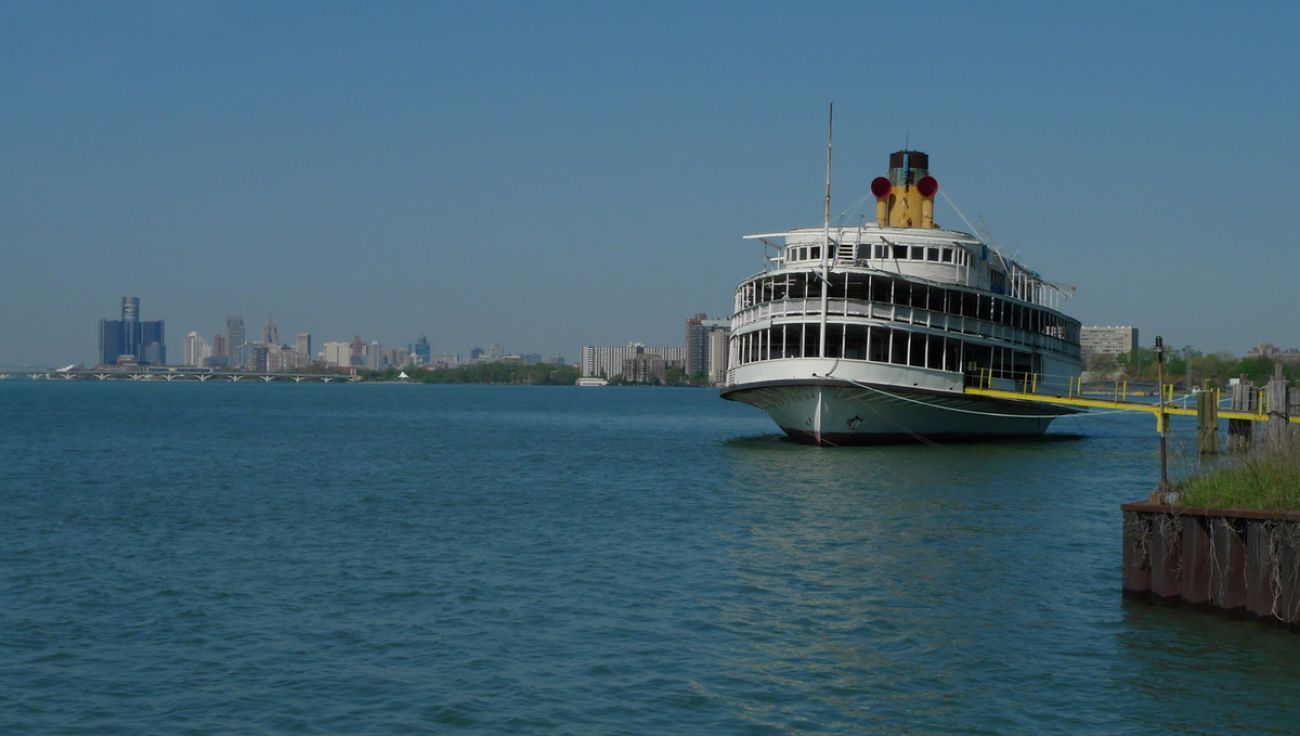 As the ABC Enterprises contract comes up for renewal at the end of this year's boating season, the city will have to decide whether to stick with the same team or bring in another. Roach said selling the facility isn't being considered; it's considered a park, if a specialized one, similar to a golf course.
While African-American boaters are no longer actively discriminated against in river accommodations – the nearby Detroit Yacht Club welcomes members of color, as do other clubs – it's important that a facility where they feel welcome remain intact, Jordan said. It just needs to improve management and maintenance.
It also needs a significant cash injection, by either the city or an independent operator with the capital to do it, he added, and "there are only about three people in this city who have the interest and the desire to do it."
We're not just a news organization, we're also your neighbors
We've been there for you with daily Michigan COVID-19 news; reporting on the emergence of the virus, daily numbers with our tracker and dashboard, exploding unemployment, and we finally were able to report on mass vaccine distribution. We report because the news impacts all of us. Will you please support our nonprofit newsroom?