Coming soon: Struggling Michigan movie theaters await end of COVID limits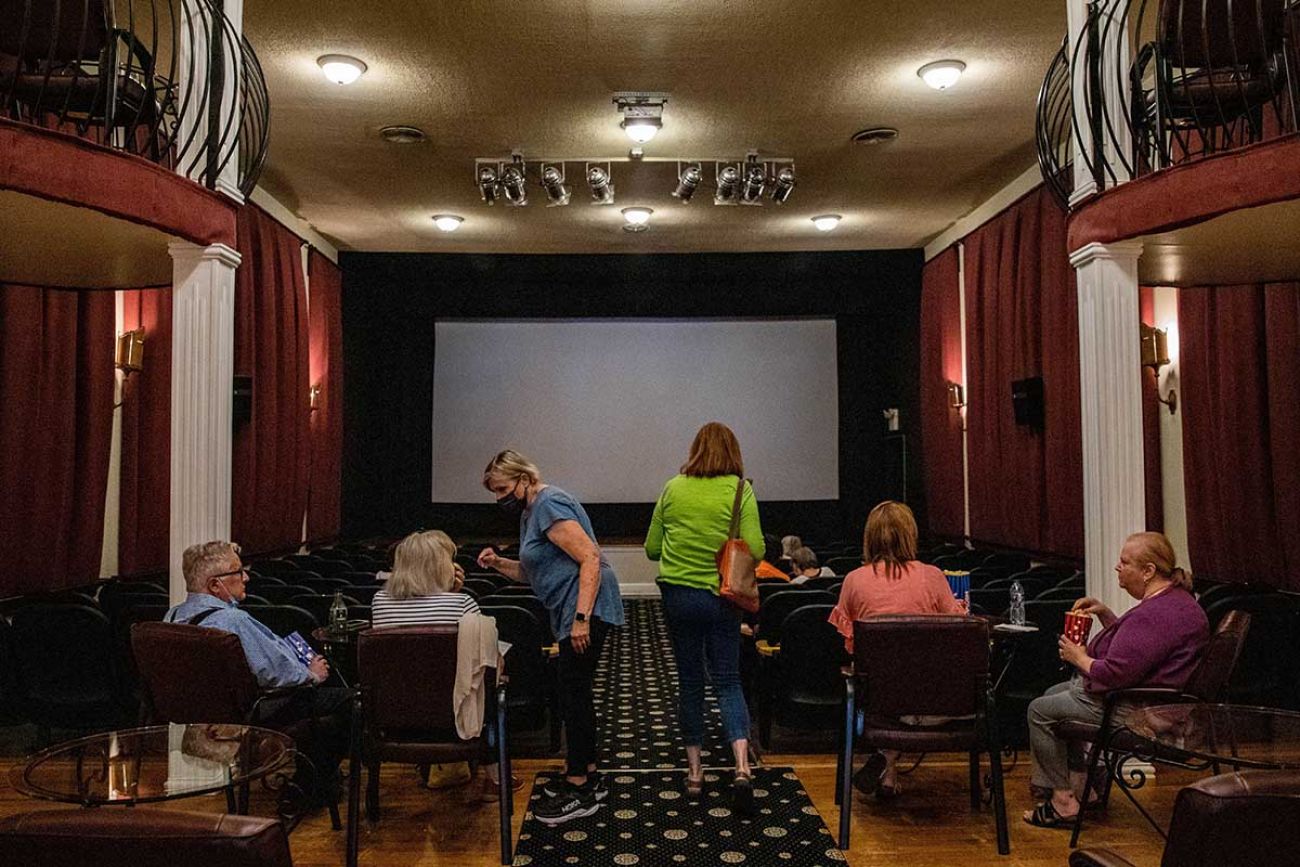 Judy Scully, center in blue, speaks with guests as they file into her reopened Vickers Theatre on Sunday June 13, in Three Oaks. (Bridge Photo by Daytona Niles)
Update: This is it: Michigan to end gathering, mask restrictions on Tuesday

The updated "Now Showing" poster display outside of the Vickers Theater this spring signaled to patrons — who'd waited 13 months to return to its box office — that they could once again go to the movies.
Owner Judy Scully in mid-April welcomed the community to screenings of films like Academy Award-nominated "Nomadland" and "The Father" at her theater in Three Oaks in southwest Michigan.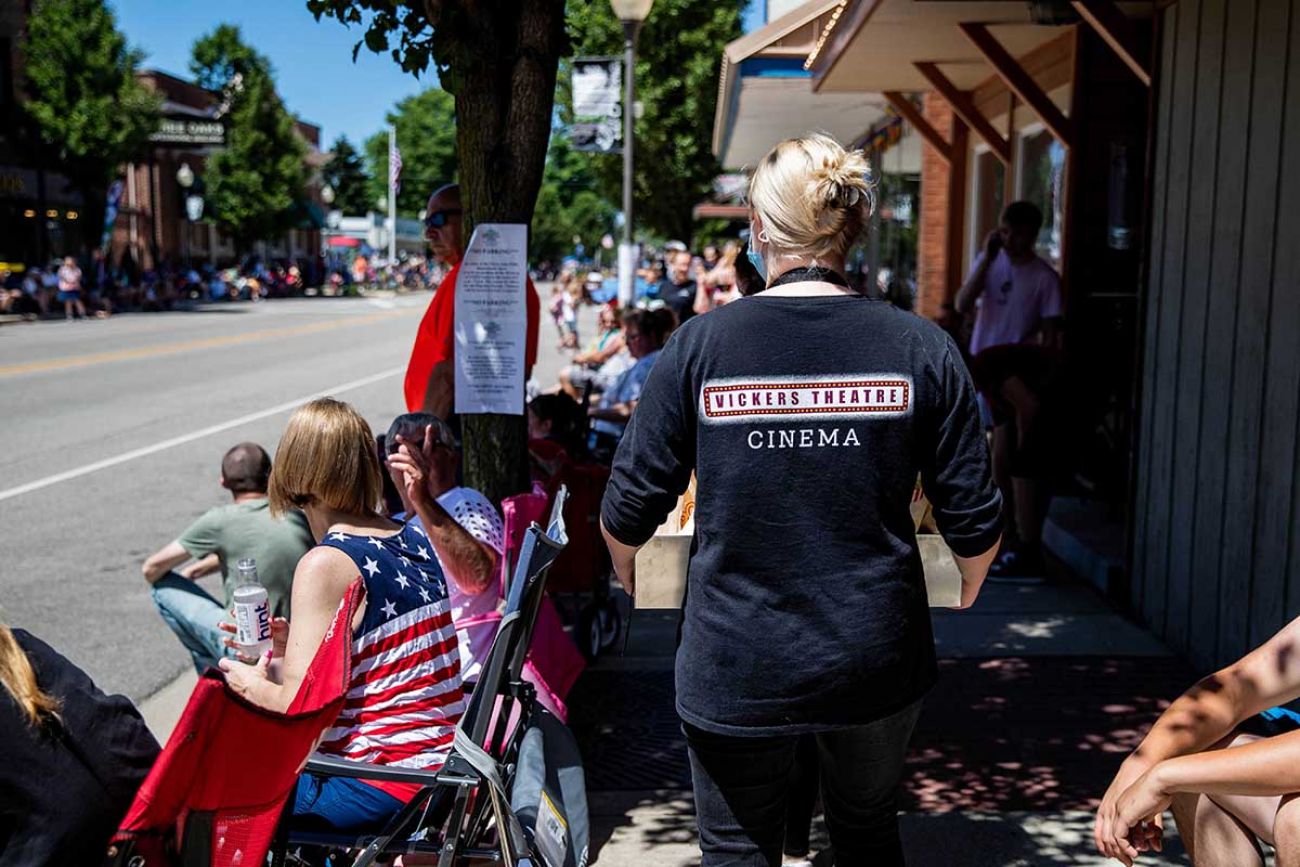 Olive Adnson passes out free popcorn outside Vickers Theater to people watching the Flag Day Parade on Sunday, June 13, in Three Oaks. (Bridge Photo by Daytona Niles)
"People are just happy," Scully said, saying that many considered the theater reopening a sign of returning to normality after the pandemic. "... I feel very optimistic, and it's exciting to be back to work again."
Related:
Michigan's small theaters struggled to survive long-term closures ordered by the state for public health during the pandemic. Their owners' goal since March 2020 has been to stay afloat, somehow, until they could fully reopen.
That day is close: On July 1, all restrictions will end in Michigan, unless Gov. Gretchen Whitmer lifts them sooner, which she hinted at on Monday. The theaters that have been relying on alternative revenue streams, government relief and community donations will once again be able to seat a full house, instead of the 50-percent capacity allowed since March.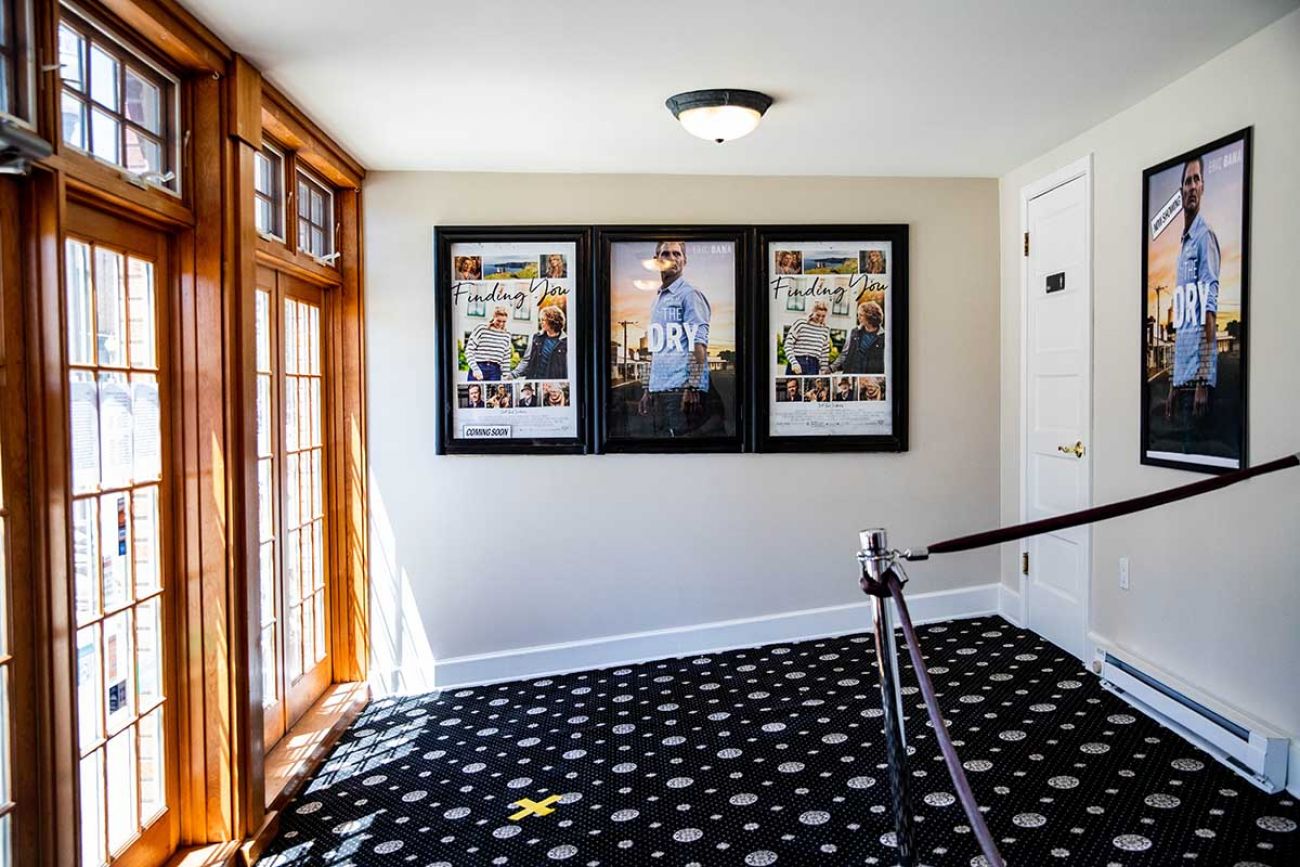 Small town theaters struggled when their box offices had to close during COVID-19. By July 1, all can reopen at full capacity. (Bridge Photo by Daytona Niles)
Movie theaters joined other non-essential businesses in Michigan as they shut their doors when the state issued stay-at-home orders to prevent the spread of COVID-19.
Pandemic restrictions had left most fully closed until October, outside of the Upper Peninsula and northwest Lower Peninsula. Then capacity restrictions — including the ability to operate at only 20 percent at times from fall until March 2021— made it difficult for a small cinema to open and generate revenue with severely limited seating.
In her 11 years as owner at the Vickers, Scully saw the local cinema have its best year in 2019, when 15,000 patrons attended screenings, enough to fill its 126-seat theater almost 120 times.
Yet in 2020, the theater lost 93 percent of its income as only 1,400 customers watched movies at the Vickers before the pandemic and state restrictions on businesses brought public film exhibitions to a halt.
To survive until this summer's full reopening, decades-old movie theaters offered virtual and outdoor film viewing options, sold concessions to-go, and tried to stay engaged with their local communities, knowing their ongoing support was critical to keeping the projectors running.
There are signs that the dry spell of cinema may be beginning its slow fade to black. Nearly $100 million in tickets were sold across the U.S. over the Memorial Day weekend, half the normal tally for the holiday weekend, but a record for cinemas since the pandemic hit the United States. During the same weekend in 2020, cinema revenue was just under $1 million.
The increase is important to Scully, who said the Vickers typically makes a majority of its income in the summer months.
Scully said she's seen much more activity in downtown Three Oaks since the Vickers opened.
"It's as if the community is coming alive," Scully said.
'The 2020 Intermission'
Pandemic-related theater closings were about more than business for the small theaters that normally welcomed viewers to watch old classics or new summer releases. It created a social disruption in the towns and cities where the local cinema's buttery popcorn and towering marquee over the street are a fixture of their communities.
Scott Freeman, general manager of the Farmington Civic Theater, said the state's order to close was abrupt for the southern Oakland County theater and downtown. He called the change "depressing."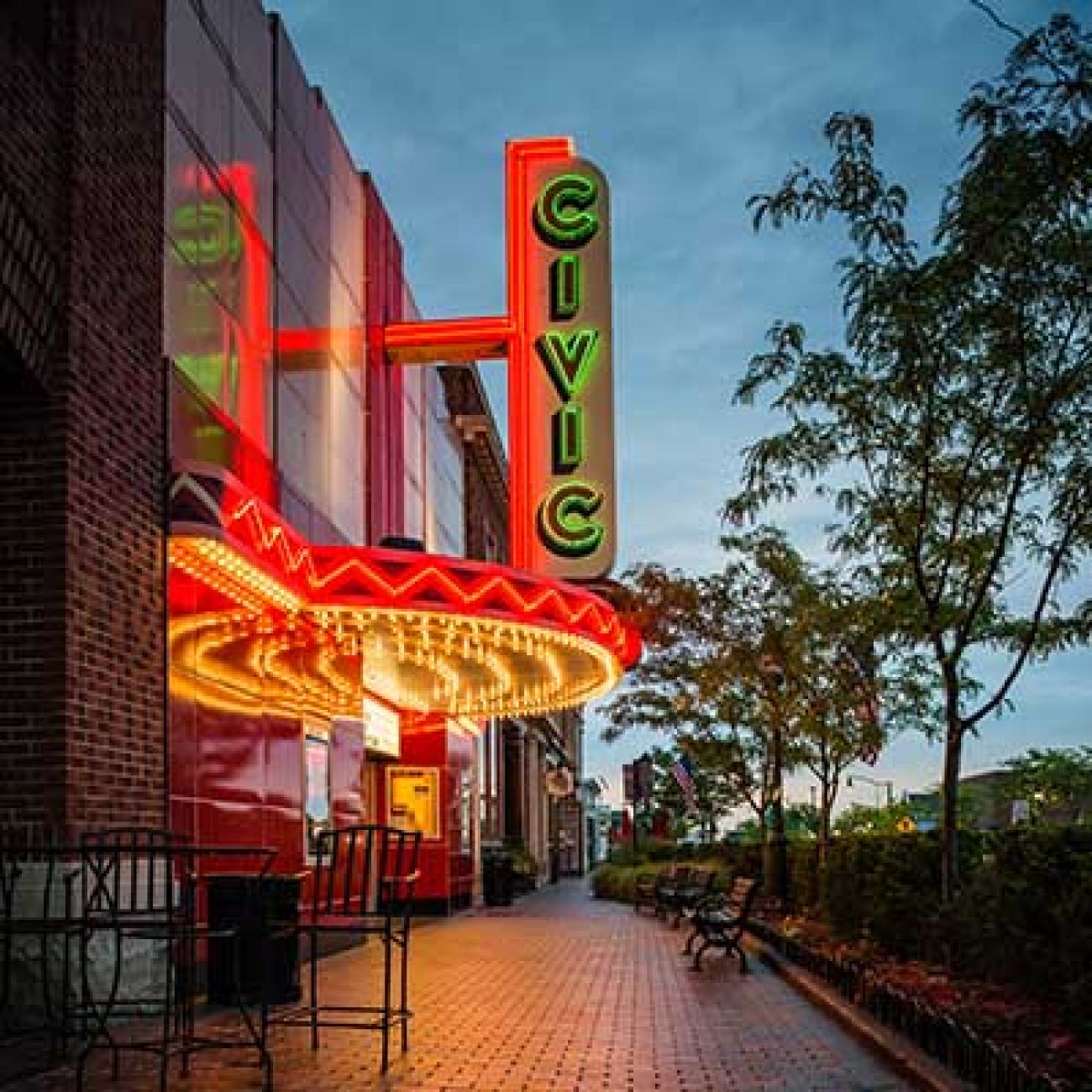 The small theater in southeast Michigan sold popcorn to go as part of its pandemic strategy. (Submitted photo by Dan Waskiewicz)
"You're used to having a vibrant business with friendly faces and longtime customers and new people coming in and kids enjoying their movies," Freeman said.
The Redford Theatre in Detroit normally offers film screenings, live performances, and a venue for guests to host special events. Instead, it cancelled or delayed all of its sold-out programming from March 2020 to the end of last year.
That came at a cost: The theater used up its emergency funds and pulled from other special project funding to pay for its insurance and operational costs, spending about $9,000 per month. The theater reopened briefly in the fall then closed again until it was allowed to operate at 50 percent capacity in March.
"If we had to pay staff during this time, we would have gone broke," said Steve Overstreet, vice president and special events coordinator of the Redford Theatre, which is owned by the nonprofit Motor City Theatre Organ Society and run entirely by volunteers.
Yet, like at the Vickers, 2019 had been a good year at the Redford Theatre, when theater operations generated over $600,000 in revenue, about 68 percent more than a year earlier. Overstreet estimated the theater has lost over $300,000.
The pandemic was uniquely challenging for theaters. While restaurants, for example, were able to increase their carryout or delivery services, small cinemas lacked an existing framework to provide a remote or socially distant film entertainment experience.
But they devised solutions. The Redford Theatre conducted free online watch parties while asking for donations. It also offered four outdoor drive-in films in the fall where patrons could purchase concessions and sit outside to enjoy their movies. The theater also received about $50,000 in donations since the pandemic began, according to Overstreet.
Overstreet thought the drive-in films in particular were successful, with each screening, capped at 100 patrons, selling out. The theater is considering offering another outdoor film later this summer.
"People were starving to be able to come back," Overstreet said. "The comments were overwhelming, they were so popular and [people were] so excited to be able to be there and do that, that they just saw nothing but fun."
Even when alternatives were not highly profitable, theaters did what they could to stay connected with customers, knowing that at some point in 2021, they'd be able to fully welcome them back.
The Farmington Civic offered virtual streaming options and began selling popcorn to-go. While the profit from these efforts was minimal, Freeman said the intention was to "keep our name out there" and stay engaged with patrons who would be critical to the theater once it was able to reopen.
"We had a choice where we could have said, 'No, we're just going to keep (it) shut down,'" Freeman said. "I didn't think that was a good idea because the more people get used to you not being someplace to go to, the easier it is for them to forget you."
'Now playing in theaters'
In May, the Vogue Theatre in Manistee reopened after being closed since November. Over the Memorial Day weekend, the Vogue had sold-out showings of the popular films "A Quiet Place - Part II" and "Dream Horse" for three consecutive days.
"Everyone we talk to wants to go to the movies," said Steve Brower, chair of the board that manages the Vogue, in a news release.
That's the response small theaters are hoping for as more people in Michigan become vaccinated and fewer COVID-19 cases are reported. Scully, of the Vickers Theater in Three Oaks, said she was concerned about safety as cases surged ahead of its reopening, and Overstreet said some regulars were concerned about the virus as the Redford Theatre reopened.
At the Vickers, patrons will still need to wear masks. However, the Redford and Farmington Civic, following the recent CDC recommendation, are not requiring fully vaccinated guests to wear a face covering when inside the building.
While movie theaters are preparing to screen for bigger audiences, just operating at full capacity is not a magic fix to the problems facing the industry as it recovers from massive revenue declines.
The Main Art Theatre in Royal Oak temporarily closed in April due to low attendance and revenue. The closure was made permanent in June.
Todd Fenton, economic development manager for Royal Oak, said the decision was made by Landmark Theatres, which manages the Main Art Theatre, because the theater had been struggling before the pandemic. COVID-19, he said, made it even harder for the independent cinema "to try to run profitably."
While Fenton said it would be difficult to quantify how the closure would affect downtown Royal Oak, he said he thinks the city will experience a cultural loss, noting the Main Art Theatre was an icon that drew many film lovers and patrons to the city.
"That sort of history cannot be replicated very easily," Fenton said.
Some financial support from the state and federal governments helped theaters. Many theaters were eligible for loans from the Paycheck Protection Program, but businesses that were closed and not paying employees didn't have a chance to have the loans converted to grants. The December and March federal economic relief bills also established the Shuttered Venue Operators Grant, a $16 billion fund that was part of the $1.9 trillion American Rescue Plan approved in March. The fund offers movie theaters and other venues up to $10 million or 45 percent of a business' total revenue in 2019 to support payroll and operational costs.
The head of the National Association of Theater Owners told Variety in November that not providing federal support to movie theaters would be "devastating" and lead to 70 percent of the association's mid-size and small theaters going bankrupt.
Unclear is how many small theaters in Michigan could close permanently as a result of the COVID-19. Nationally, there were about 5,800 theaters before the pandemic, and IBISWorld data researcher reports that number is down to about 4,600 this year.
Under the Michigan Economic Development Corporation, the Michigan Council for Arts and Cultural Affairs (MCACA) has also distributed over $500,000 in emergency relief grants and over $9 million in additional funding for arts and cultural organizations in the state.
The Farmington Civic, owned by the city of Farmington, received two loans totalling $154,000 that were approved by the city council to support its operations. Freeman said the council viewed the theater as a "magnet" that could help attract patrons to other businesses in the city.
Aside from funding issues, staying connected with patrons and lining up shows also have not been easy. The pandemic that kept people home let them satisfy their entertainment needs with in-home streaming services, including Netflix, Hulu, and Disney+.
At the same time, film distributors are opting to exclusively stream their movies or simultaneously release them at home and in theaters, leaving public cinemas facing a shortage of original content – and without the blockbusters that can bring crowds.
But places like the Farmington Civic are finding that people will still come out, even if a streaming version of a film is available. The theater is showing the Disney movie "Raya and the Last Dragon," an animated film that was previously available on Disney+ with a $29.99 "Premier Access" fee but is now free to stream with a subscription.
Community theaters avoid some of this competition with streaming platforms by screening old classics. Overstreet said The Redford Theatre screened "The Goonies" on May 23 and offered free entry to children, and the theater had about 160 patrons attend, an amount Overstreet said was "unheard of right now." The theater is set to screen "Harold and Maude" and "Monty Python and the Holy Grail," both films that were released in the 1970s, in July.
At the current limit of 50 percent capacity while maintaining six-feet of distance between patrons, Three Oaks' Vickers Theatre has only been able to welcome around 45 audience members into its screenings. Yet Scully said the theater was able to fill that capacity several times in the nearly two months it has been partially open.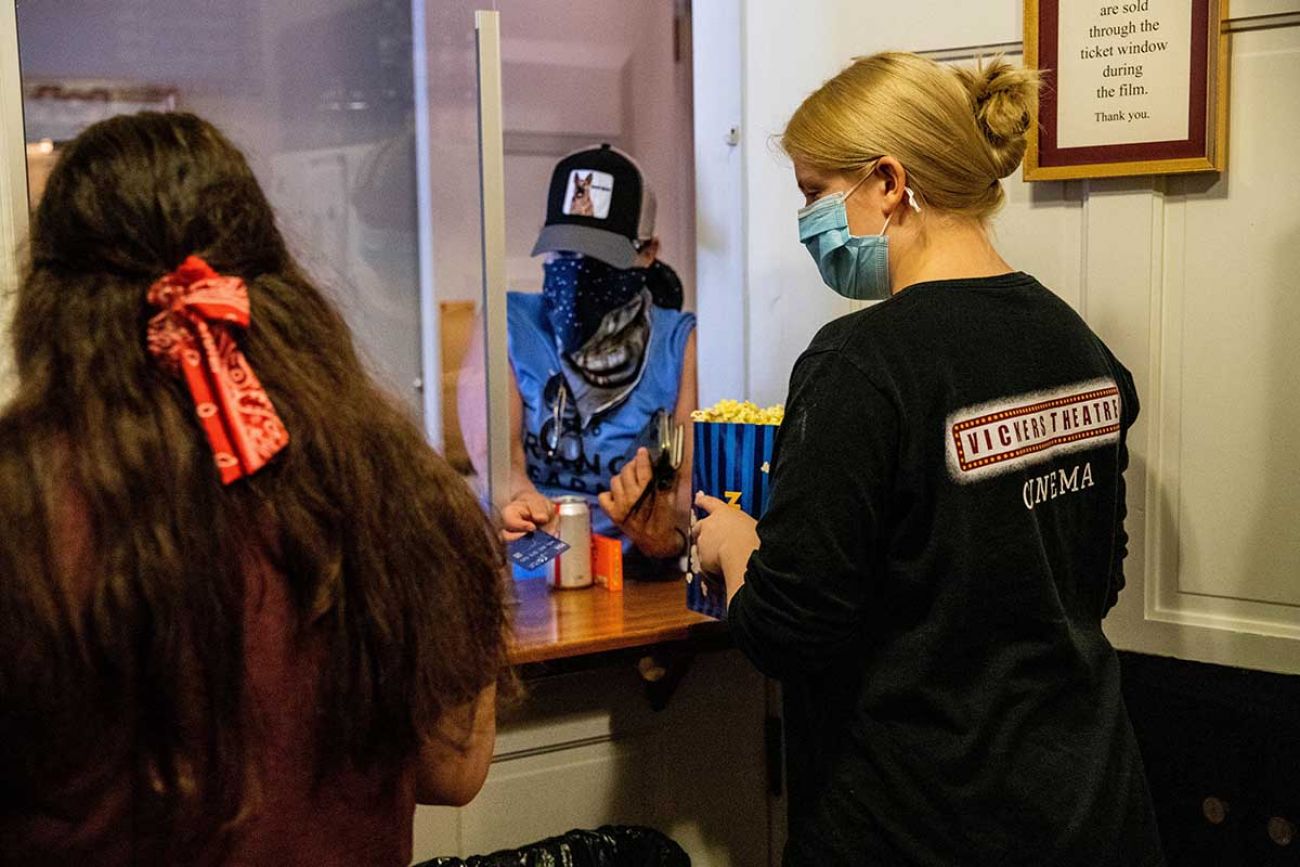 Concessions worker Olive Adnson passes a bag of popcorn to a customer at the Vickers Theatre in Three Oaks. (Bridge Photo by Daytona Niles)
Even when the film "Nomadland," winner of the Oscar for Best Picture, was available for streaming on Hulu and at the Vickers, Scully said the theater got the maximum number of audience members in to watch the movie.
Increasing the potential audience as of July 1 should mean a good summer at the Vickers, Scully said, and she's eager to chart the future of the theater, uncertain as it is.
"Now whether or not we will be able to fill the theater is another story," Scully said, chuckling. "But we'll try and do our best."
The situation is similar in Farmington. All of the efforts while the theater was fully or partially closed have been dedicated to keeping patrons engaged and bringing them back once restrictions are lifted, Freeman said.
The message to patrons all along, Freeman added, was simple: "When we do reopen our physical doors, we'd love to see you."
Business Watch
Covering the intersection of business and policy, and informing Michigan employers and workers on the long road back from coronavirus.
Thanks to Business Watch sponsor:

Support Bridge's nonprofit civic journalism. Donate today.
Only donate if we've informed you about important Michigan issues
See what new members are saying about why they donated to Bridge Michigan:
"In order for this information to be accurate and unbiased it must be underwritten by its readers, not by special interests." - Larry S.
"Not many other media sources report on the topics Bridge does." - Susan B.
"Your journalism is outstanding and rare these days." - Mark S.
If you want to ensure the future of nonpartisan, nonprofit Michigan journalism, please become a member today. You, too, will be asked why you donated and maybe we'll feature your quote next time!