DETROIT–A few years ago, the one-time Corktown Inn booked rooms by the hour and sold underwear from a vending machine.
Now, after an ownership change and $11 million renovation in 2016, it's been rebranded as the "authentic artisan" Trumbull and Porter Hotel, featuring outdoor fire pits, poetry readings and exhibits from local artists.
Its industrial chic dining room lately has become the meeting spot for residents to discuss neighborhood changes the hotel itself seems to embody.
"Not too long ago, we'd wonder if the bread at stores was stale. Now, you can't find any under $8 a loaf. It'd be nice if there was something in between," longtime resident Sarah McKay said at a meeting last month.
Indeed, property values in the Corktown neighborhood are soaring so fast its representative on Detroit City Council, Raquel Castañeda-López, is moving her district office because she can no longer afford the rising rent. Housing developments – including one on the site of the former Tiger Stadium – will more than double the population of the 1,500-resident enclave when they open in the next few months. And that's before Ford Motor Co. opens its mobility campus in the neighborhood in 2022, a $740 million investment to rehab the long-closed Michigan Central Depot and bring 5,000 jobs to the area.
RELATED: Sheila Cockrel on Corktown's transformation: 'This is capitalism, baby'
"There's a lot of excitement, but some are anxious too because Ford is the icing on the gentrification cake," said McKay's husband, Tim, a longtime neighborhood activist who has worked to preserve Corktown's historic worker row houses.
"There's tension based in fear of losing connection to the neighborhood you grew up in," McKay said.
The Ford development – along with Fiat Chrysler's $2.5 billion plans to expand two plants on the city's east side – have accelerated a long-simmering debate in Detroit about how much say neighbors should have in their own backyards.
To be sure, the mere existence of discussion about managing growth and maintaining neighborhood character is remarkable for a city that eight years ago was debating downsizing by shutting services to entire neighborhoods.
And it's a debate largely confined to a few pockets of the impoverished city. But experts say decades of decline, disinvestment and policy changes have left Detroit with few robust neighborhood-based development groups, giving city hall an outsized influence in shaping Motown's comeback.
"The mentality right now is the city will decide what happens in the neighborhoods," said Maggie DeSantis, a longtime east-side activist who founded Building the Engine for Community Development in Detroit to enhance neighborhood development.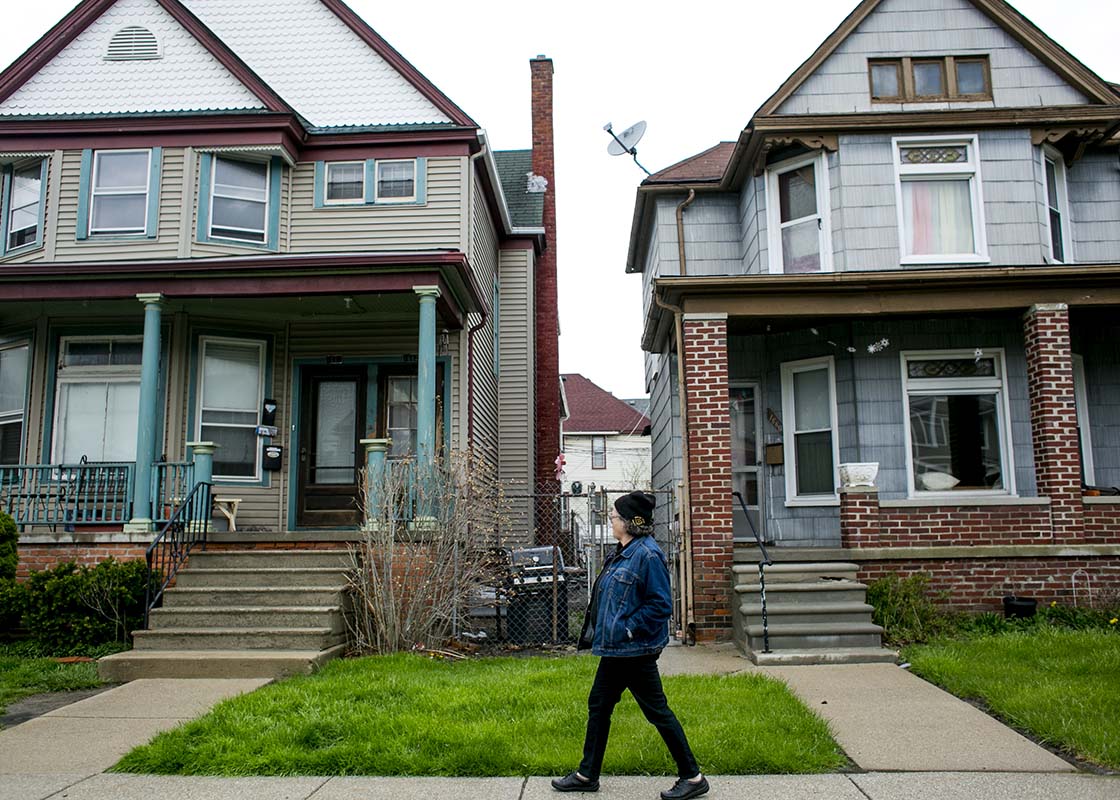 Roseann Micallef walks the streets of Corktown, the Detroit neighborhood where she grew up and returned a few years ago. She said she fears the tight-knit neighborhood of close houses and walkable streets could lose its character. (Bridge photo by Anthony Lanzilote)
The city's $130 million Strategic Neighborhood Fund to redevelop 10 neighborhoods, for instance, is largely overseen by city hall. Ditto for a fund city officials hope to grow to $250 million to maintain and build affordable housing in corners of the city where rent is rising fast.
McKay and others in Corktown said residents are upset when new developments don't mesh with the old-world aesthetic of Detroit's oldest neighborhood, which was founded by Irish immigrants in the 1840s and whose main street, Michigan Avenue, is still paved with bricks.
Among their beefs: Developments such as a mammoth fence around the hip restaurant Takoi approved by city zoning officials, and apartment complexes and in-fill housing that deviate from the community's vibe.
Also: Perceptions of rudeness among newcomers, as stories abound about real-estate agents offering residents cash for homes. Some townhouses that were worth $100,000 five years ago are on the market for $385,000.
Until recently, Corktown didn't even have a neighborhood association or formal channel to lend its voice to city government, despite being one of the city's stablest communities.
Roseann Micallef, who grew up in the neighborhood and returned to her childhood home six years ago, founded the Corktown Neighborhood Association last year.
"I'm not the old man, shaking my fist at the sky, saying 'No change,'" said Micallef.
"I just want the neighbors to have some sort of say in what happens in the neighborhood.
"Maybe that's impossible."
'Feel-good process'
Mayor Mike Duggan is sensitive to criticism that too much of Detroit's comeback is focused on a few neighborhoods, and won re-election in 2017 with the slogan "Every Neighborhood Has a Future," and a pledge to seek input from each community.  
"The days of government coming in from outside telling you what to do are over," Duggan said in a Friday speech at the Detroit Regional Chamber Mackinac Policy Conference. "People know what they want in their neighborhood. We talked to neighbors about what they want."
In 2016, city voters approved a community benefits ordinance that establishes neighborhood advisory councils to negotiate with developers on concessions for projects worth more than $75 million or that receive more than $1 million in either tax breaks or city land.
The ordinance was used to extract $10 million in investment from Ford in exchange for $240 million in tax breaks on the train depot project in Corktown; and to get $34 million from Fiat Chrysler for $276 million in tax incentives for the east side plants approved by the City Council and state last week.
Before the ordinance, city council would have negotiated the deals directly. Still, opinion remains split on whether the new method increases or decreases neighborhood input.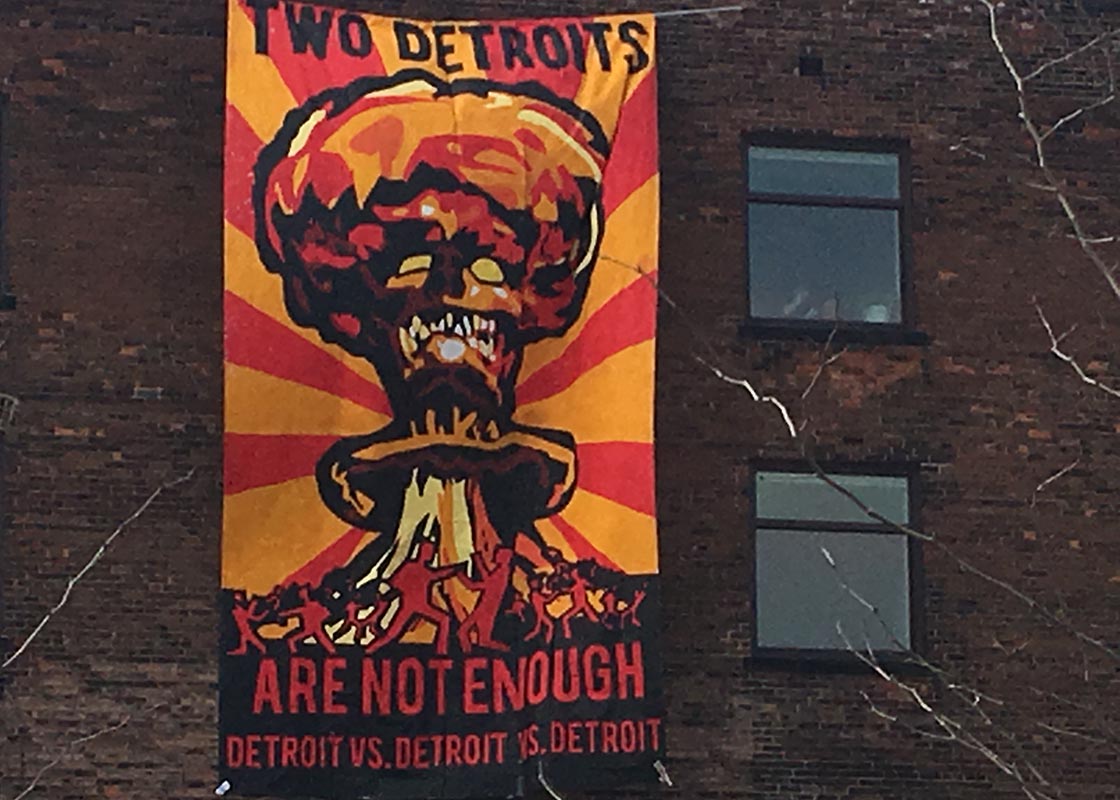 Detroit Mayor Mike Duggan is sensitive to a narrative of "Two Detroits," one impoverished and another, mostly white, that is coming back. A sign on a house in Midtown, hung during a March parade, suggests there are more than just two Detroits. (Bridge photo by Joel Kurth)
In Corktown, residents met over three months last year and developed a wish-list of dozens of neighborhood-specific investments from the Ford deal.
Ultimately, Ford committed $2.5 million to the city's affordable housing fund, with promises that priority for that money would go to Corktown properties. Another $5 million went to citywide job training efforts and $2.5 million for city neighborhood improvements such as streetscapes and home repair loans. The commitment could grow to $22 million if the city is able to leverage federal and state grants.
Micallef said many Corktown neighbors felt duped by what she described as a "feel-good process that, at the end of the day, most of the money goes to the city" rather than staying in Corktown.
That argument offends Sheila Cockrel, a former member of the city council who chaired the advisory council and lives in the neighborhood. She pointed out the agreement contains neighborhood-specific benefits including money to preserve pheasants in adjacent North Corktown.
"I will challenge the notion that too much went to citywide projects. I'm shocked about such narrow thinking that would politicize this," Cockrel said.
"I personally believe we have an opportunity to create a benefit, it should be as broad as possible to help the entire city."
Sheila Cockrel, a former Detroit City Council member and Corktown resident, said she feels the city got a good deal from Ford Motor Co. in exchange for a tax break to redevelop the Michigan Central Depot.
Another member of the advisory council, Jerry Paffendorf, said he's "super excited" about Ford's plans and feels the split between neighborhood and city benefits was fair.
Still, he said he wishes the city had won more overall dollars from Ford in the deal, considering the size of the tax break. He said he succeeded in getting Ford to throw in a fund that will eventually grow to $750,000 for Corktown neighborhood improvements, but that will be over many years.
"Ford and the city arrived together at some sort of price, then they listened to people about what they wanted, then went back to that price," said Paffendorf, who has lived in Corktown about a decade and is CEO of Loveland Technologies, a Detroit-based data mapping company.
"There wasn't a lot of control over what sort of form (the local benefit agreement) would take. I probably should have seen it coming."
Back on the east side, residents voice similar frustration over the local pact with Fiat Chrysler on plant expansions.
Neighborhood advisory councils that negotiate with developers are comprised of members from "impact zones" which themselves are drawn up by city hall, and are at times controversial. According to city ordinances,  neighbors elect two of nine members, while the remainder are political appointments by the city planning department and city council members.
In the FCA deal, the offices of longtime neighborhood development group the Eastside Community Network are a stone's throw from the planned plant expansion. Yet the group's leaders weren't eligible to serve on the council, nor were business owners or leaders of schools within the impact zone because they don't live in the area.
Ultimately, a majority of the panel came from gated communities rather than residents of the impoverished neighborhoods closer to the Jefferson North Plant, said Donna Givens, director of the Eastside Community Network.
Local concerns about the FCA deal, such as the absence of job guarantees for city residents and the project's environmental impact, should have been negotiated by the advisory council that met for a little over a month, Givens said. She said the group's long-range plans of neighborhood concerns and land use weren't considered by the neighborhood advisory council.
And the deal's biggest sticking point – city land swaps worth $75 million to companies affiliated with Ambassador Bridge owner Manuel "Matty" Moroun and other property owners – came after the neighborhood council negotiated its agreement.
City Council President Brenda Jones criticized the agreement for what she called a  "lack of community engagement," while Givens said the process "stifles important voices."
Even so, East Side neighbors won a number of concessions from FCA for the neighborhood, including $5.9 million for 300 housing demolitions; $500,000 for workforce training at nearby Wayne County Community College District; $800,000 to repair nearby homes and $7.1 million for a wall and stormwater retention basin to mitigate noise from the plant.
City officials say that collaboration with local neighborhoods is a work in progress. With each big-ticket deal, the process is improving, said Cockrel and Arthur Jemison, a top aide to Duggan and the city's group executive of services and infrastructure.
"This is a moment where we keep working at this, to create an expectation that development is something that all neighbors are going to have a voice on," Jemison said.
Arthur Jemison, Detroit's group executive of services and infrastructure, said the city is getting better at including neighbors in development projects.
"And it will be better. My experience is development is better when people's voices are heard."
Live with the experiments
Those voices had quieted following decades of decline that left Detroit with too few neighborhood groups, local advocates say.
The city of 672,000 has 33 community development corporations, nonprofits run by professionals that plan and provide support to neighborhoods, said DeSantis, the East Side community developer who noted that many of those groups are small operations or not viable.
As part of Detroit's bankruptcy in 2014, Emergency Manager Kevyn Orr abolished what was left of the city's Citizen District Councils, advisory groups that reviewed developments and informed City Hall about neighborhood concerns.
Power for neighborhood development was consolidated along with money, DeSantis said. Philanthropic donations that would go to community development groups now are steered toward city-controlled funds for neighborhoods and affordable housing, she said.
"There's no mechanism anymore to ensure ongoing conversations between neighbors and city hall to redevelop neighborhoods," said Jonathan Kinloch, the 13th Congressional District Democratic Party chairman who got started in politics as a teen volunteering for a citizen district council.
"Now, planning is so centralized that Detroit is becoming a personal canvas for city planners with no buy-in from people who have to live, sleep and eat in these little experiments."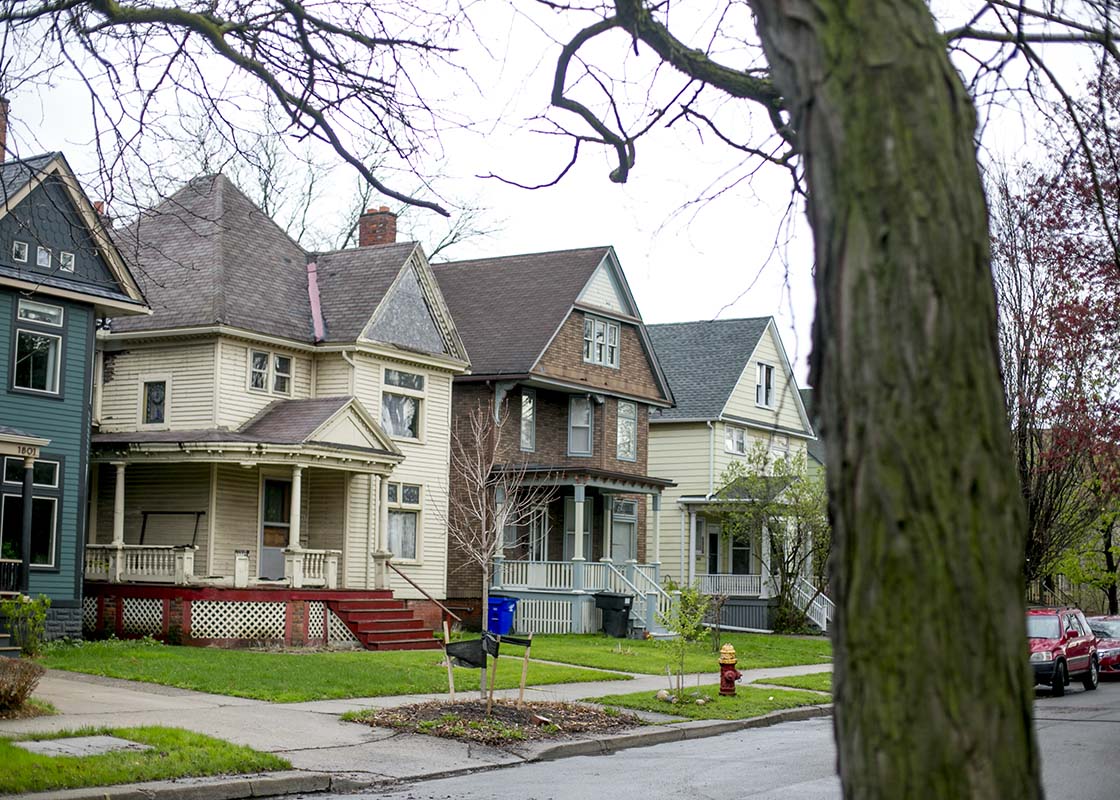 Property values are rising so high in Corktown that the neighborhood's representative on the Detroit City Council, Raquel Castañeda-López, said she is moving her district offices because the rent has grown too high. (Bridge photo by Anthony Lanzilote)
That's left folks like Micallef in Corktown worried the neighborhood of small houses will lose its character and become what she calls a "soulless version of Midtown," a chic neighborhood to the northeast. There are similar concerns about city hall-driven efforts to revive other neighborhoods the city is pouring money into, DeSantis said.
"The fear is they are going to replicate the success of Midtown throughout the city, but not every neighborhood wants to be Midtown," said DeSantis, who added she is working with several foundations to steer money back toward community groups.
Perhaps the most glaring example of city government's "broad brush, one-neighborhood-fits-all" philosophy, Kinloch said, is the rapid expansion of bike lanes on more than 125 miles of streets throughout the city.
The lanes, which have reduced the size of major roads and forced cars to park away from the curb, are a key part of city planners' goal to make neighborhoods more walkable. They're such a frequent source of neighbor  complaints that Duggan has threatened to scrap the lanes, The Detroit Free Press has reported.
"You cannot tell me that every area of the city asked for those doggone bike lanes," Kinloch said.  
Cockrel and Jemison noted it was Detroit voters who approved a switch to elect council members by district (rather than citywide) in 2012 to guarantee better neighborhood representation.
Cockrel said officials need to balance concerns of what's good for specific neighborhoods against what benefits the entire city. She noted the most robust local activism in Detroit's history produced disastrous results: neighborhood associations in the 1940s and 1950s that worked to keep blacks out of white neighborhoods.
"There are strong organizations out there and we want to engage in them," Jemison said of today's community groups. "We want to get even more connected to neighborhood organizations out there."
History of survival
Micallef walked through her Corktown neighborhood on a recent sunny afternoon, pointing out where she went to grade school and the planned apartment complex on an urban farm.
"We're really excited about Ford's plans. Nobody wants to be part of the ruin porn industry, where Japanese and German tourists would come into our neighborhood, posing in front of the train station and flashing peace signs," Micallef said.
"It's the people [and developers] who come in after Ford, who ride in on their coattails that we are all a little scared of."
For decades, even when it had stronger neighborhood groups, Corktown has been under threat.
The city razed 75 acres of homes and businesses on the neighborhood's southern end after World War II to create an industrial park. In the 1960s, city hall declared Corktown a slum and leveled homes for the Lodge Freeway. Besides Central Depot, the other anchor in the neighborhood –  Tiger Stadium – stood empty and rotting for 10 years after the Detroit Tigers moved to Comerica Park until it was razed in 2009.
Now that the neighborhood's future seems secure, the city last month hired a team of international firms –  led by Perkins + Will of Chicago –  to map the future of Corktown and determine the look, shape and location of development.
"It is what it is," said McKay, the historic preservationist. "This neighborhood has always survived. Let's just see what happens."