The campaign signs are in the trunk of the car. Political flyers overflow in everyone's arms. The door-knocking is about to start in Northwest Detroit.
But first, Monique Baker McCormick's mother has a question: Is this what you really want to do?
"I applaud her, but at the same time, I don't really want her to get involved," her mother, Gloria Ross, tells Bridge Magazine. "I just worry about what will happen if she wins. Will she have to get a script for anxiety medicine?"
Forgive her for the doubts. McCormick wants to join the Wayne County Commission, and it's all but ruined her life.
Her five failed runs for office, McCormick says, have contributed to her bankruptcy, led to public accusations about her romantic life and forced McCormick, a black woman, to answer allegations that she is racist.
Over the years, she's been offered a job with the county to drop out of politics, run against challengers bankrolled by her opponent to split the vote, and been in court for years about election issues.
Even now, although she is the only candidate on the ballot in the Aug. 7 Democratic primary, some voters tell McCormick they prefer her longtime opponent.
Who is dead.
"People don't have many expectations of their elected officials," said McCormick, 49, a real-estate agent and investment adviser. "It's so sad we don't expect more. If we don't expect more, we won't ever get more."
But now, McCormick is facing accusations that she uses the same scorched-earth politics that she claims to loath – and some say her quest may show why good people avoid government service.
"Politics is always dirty, and sometimes people want to win at any cost anywhere," said Ernest Johnson, a political strategist in the city who most recently served as Mayor Mike Duggan's deputy campaign manager.
"But here in Detroit, we have poli-tricks."
Dirty tricks 101
Detroit's playbook of dirty political tricks – known as "poli-tricks" – includes some familiar tactics. Here are a few political consultant Steve Hood cites as the best known:
Crowding ballots – preferably with candidates who have similar names as challengers, to confuse voters and split the vote (see: Mike Dugeon, a Detroit barber who challenged then-Detroit mayoral candidate Mike Duggan in 2013.)
Egregious accusations – See: 2005 ad by an independent PAC featuring images of black corpses hanging from trees and likening media criticism of then-Detroit Mayor Kwame Kilpatrick to lynching
Stealing lawn signs – "Always works," Hood says.
Incompetent petition gatherers – Hire circulators to gather petitions for opponents and "make sure they (foul) them up" so the signatures are invalidated.
Johnson knows all of them in Detroit, a Democratic stronghold whose primaries invariably decide elections. His first campaign was for former U.S. Rep John Conyers Jr. in the 1960s, and he worked on Coleman A. Young's successful bid for mayor in 1973.
In 2010, when Johnson was working for former Wayne County Executive Robert Ficano, Ficano's top aides summoned McCormick to county offices in downtown Detroit.
She was running for county commission, and they had an offer: Get a job for the county that had loose hours, paid $60,000 per year and was safe from layoffs, according to Johnson and McCormick.
There was one condition: Drop out of the race against incumbent Burton Leland, a Ficano ally, and agree not to run against him again.
McCormick refused. Since then, she said, she's been an "outcast" to what she calls the "cliques that run county politics."
'A joke'
McCormick's longtime foil, Leland was "one of Michigan's most memorable political characters," said Wayne County Commission Chairman Gary Woronchak, D-Dearborn.
Before he died in February, the goateed, wise-cracking Leland often conducted business in the commission chambers while munching on snacks fit for a second-grader: cheese sticks, yogurt and juice.
Burton Leland died in February, two months after resigning from the Wayne County Commission.
Involved in politics since 1980, Leland was a former state representative and senator who joined the commission in 2007. Unlike state offices, the county commission is part-time, has no term limits, and pays nearly as much ($62,000-$66,000 for commissioners compared with $71,685 for state reps.)  The commission, whose members represent geographic districts, is largely comprised of former mayors and term-limited pols: Seven of 15 members are former state lawmakers.
Leland, the father of Detroit Councilman Gabe Leland, was beloved for his old-school approach to retail politics, visiting senior centers and sending birthday cards to voters, said political consultant Steve Hood.
So constituents overlooked well-known public doubts about whether Leland actually lived in Detroit, Hood and McCormick said.
Residency for elected officials is difficult to prove, and Leland claimed he lived in a modest co-op in northwest Detroit rather than a colonial he owned for decades in East Lansing, where his two kids went to school.
"Everyone knew and treated it like a joke," McCormick said.
An Army veteran, McCormick got the political bug in 2004, when she volunteered on John Kerry's Democratic bid for president.
Four years later, as the national economy melted down and Detroit inched toward bankruptcy, McCormick ran for commissioner.
Her platform: Raise hell against "wasteful spending," such as the county's $50 million purchase and renovation of the downtown Guardian Building (which the county would try to sell in 2015 to resolve a deficit.)
"It was never about running against Burt Leland," McCormick said.
"It was about challenging a system with no accountability."
Lesson in dirty tricks
The system, and Leland, fought back.
In 2010, weeks after McCormick turned down the county job, a flyer accused her of fanning racial flames and pitting blacks against whites (her step-father is white).
Two years later, the cousin of a county employee entered the race. Campaign records show the candidate, Lakeshia Finn, received only one donation: $5,000 from Burton Leland.
And in 2016, the ex-wife of McCormick's fiance sent thousands of letters to voters on pink stationery. It alleged his relationship with McCormick ended their marriage. "She says she can help people stay in their homes – she destroyed mine," read the letter. (McCormick says she met her fiance after the marriage dissolved and sued the author for defamation and won a $500 award. Leland denied involvement; McCormick says she has proof of it.)
In each election, McCormick's support increased. But each time, more candidates entered the race, splitting the challenger vote and allowing  Leland, the incumbent, to win comfortably.
"This is a case study in all the tricks," said Hood, the consultant who says he likes McCormick but hasn't worked on her campaign.
"Politicians will do anything to keep their jobs."
'Take the high road'
Most would have quit. McCormick is tough and "doesn't give up," Hood said.
She spent two years in court challenging Leland's residency. The case bounced from county to federal court and back again before ending in 2014 when Wayne County Circuit Chief Judge Robert Colombo Jr. fined her $2,000 on a claim of bringing a frivolous suit.
McCormick filed for bankruptcy that year, citing court costs and mounting debts incurred from years of campaigning and neglecting her business, court records show.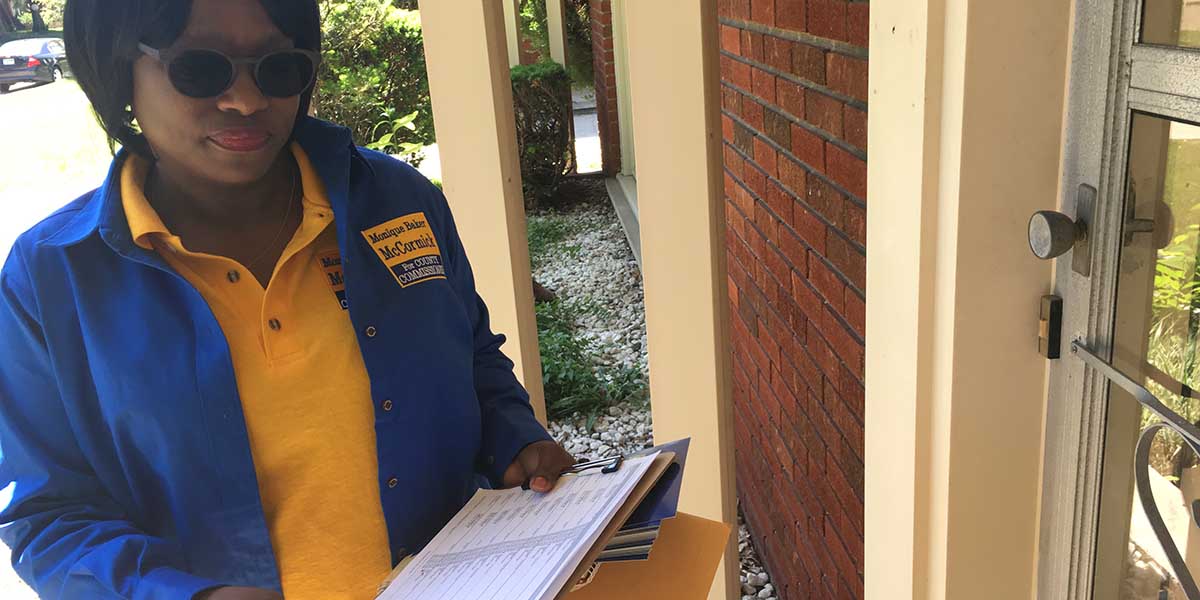 Monique Baker McCormick says her business suffered because of her frequent campaigns, prompting a 2014 bankruptcy. (Bridge photo by Joel Kurth)
"My daughters have grown up with all of this: the court challenges, the name-calling, the allegations," McCormick said of her two children who are now adults.
"I hope the lesson they learn is when you set out to do something good and are the right side of things, you should keep fighting until you win."
Johnson said McCormick learned another lesson.
"She's learned how to do it: how to fight," he said with a chuckle. "All those campaigns against Leland must've taught her well."
In December, dying from cancer, Leland stepped down from the commission.
Custom allows commissioners to hand-pick successors. Leland deviated from tradition by bypassing a relative and selecting Duggan aide Reggie "Reg" Davis, a well-known former radio personality.
In May, after the candidate deadline passed, McCormick successfully petitioned to remove Davis from the ballot because he failed to include his birth name in county candidate filing forms.
Reggie "Reg" Davis was appointed to the Wayne County Commission in January, but removed from the Aug. 7 ballot because he failed to include his birth name on candidate paperwork.
The irony of the technicality isn't lost on Davis.
"I'm a believer in reciprocity: Whatever you put in the universe comes back at you tenfold," Davis said.
"She won't stop at nothing. ... That woman is something else."
Just one week after he was removed, old accusations of domestic violence and child support debt against Davis were aired on local TV.
Davis is now running for the seat as a write-in.
That's seen as a near-impossible task, but McCormick isn't taking chances. She highlighted the abuse and child support accusations in her emailed newsletter to constituents, mocking Davis for claiming he quit his radio job and missed child support payments because "GOD TOLD HIM TO."
"This is what makes people uneasy about her," Jonathan Kinloch, chairman of the 13th Congressional Democratic District, which endorsed McCormick.
"She's won. He's off the ballot. Take the high road."
McCormick said she has nothing to apologize for and is shocked she hasn't received more endorsements.
"I'm running like I'm 50 points behind even though I'm the only one on the ballot," McCormick said.
Davis and McCormick agree on one thing: This stuff turns people off on government.
"As long as these dirty politics continue, the apathy continues," Davis said.
Back in Northwest Detroit, on a hot June day, McCormick takes a moment to assure her mother and step-father that she won't sell her soul if she wins a seat on the commission.
"Maybe I can influence others on the board to do better for Detroit?" she offers.
Knocking on doors, she gets support from three voters in the first half-hour. An older man, though, isn't so sure.
He still likes Leland, he tells McCormick. But death perhaps may make him reconsider.