On a July evening after dusk, a man was walking along the train tracks in Lincoln Park, downriver from Detroit, when he was summoned by an officer in plain clothes.
The man, a 29-year-old industrial supply salesman, was carrying a bag of spray paints on his way to an art event in a nearby park. He also, it turns out, had an unregistered gun holstered to him.
He was arrested and taken to the Detroit Detention Center for suspected illegal gun possession. It took three days before he was shipped to Wayne County Jail and arraigned in court. After pleading not guilty to the weapons charge, he was forced to remain in jail because he didn't have $750 to pay the bail. Embarrassed, and with no lawyer assigned to advise him, the man said he missed days of work as friends scrambled to raise money to get him out.
Related: Lawmakers to introduce bills to reform bail in Michigan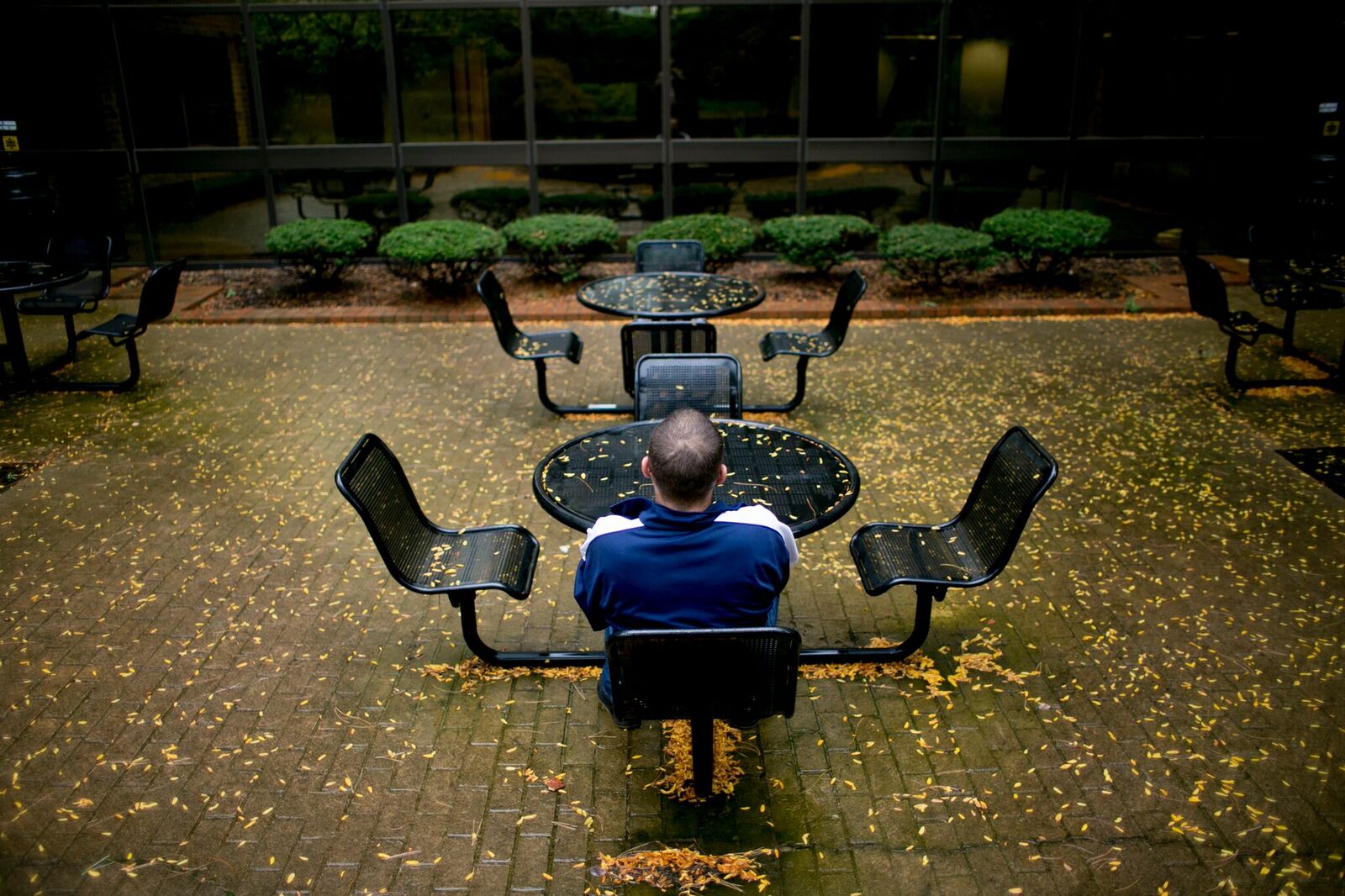 This 29-year-old man was bailed out of the Wayne County Jail by a national group after his arrest for an alleged gun offense. He missed several days of work because he couldn't afford to pay bail. He has plead not guilty to the charge and his case remains pending. (Bridge photo by Anthony Lanzilote)
Suddenly, on Day Four, he was freed from the jail, where more than half the inmates remain locked up because they can't afford bail. His bail had been paid by strangers from the Bail Project, a nonprofit started by public defenders from the Bronx, N.Y. to reduce mass incarceration of poor people.
"It's like an angel was watching over me," said the man, who spoke to Bridge on condition his name not be used for fear that it might affect his employment. "My first court date was a month after the incident. I would've had to stay in jail all that time" without the Bail Project's help.
His criminal case is still pending.
The Bail Project's nationally-touted effort comes to Michigan amid new efforts to help poor people within the jail and court system. There's are growing calls to eliminate cash bail because poor people and people of color are more likely to remain behind bars, often for minor offenses, because they don't have cash to be released before their case is heard. At the same time, counties statewide are moving to better ensure poor people get assigned a lawyer to help them in bail hearings.
In 2016, 65 percent of inmates in U.S. jails were defendants who had not yet been convicted of a crime. A majority, 52 percent, were people of color, according to U.S. Bureau of Justice Statistics.
In Michigan, approximately 41 percent of an estimated 16,350 jail inmates at the end of 2013 were awaiting trial or arraignment, adding more than $180 million a year in costs largely paid by local taxpayers, the federal data show.
In places as diverse as California, Georgia, Kentucky and Washington, D.C., lawmakers are limiting or eliminating cash bail for many offenses to prevent income-based disparities, and reduce the cost borne by taxpayers for jailing low-income defendants.
Mary Sheffield, Detroit City Council president pro-tem, is pushing Lansing to pass legislation to allow cities to eliminate cash bond for those people detained for violating a city ordinance.
"We need criminal justice reform in general. These problems disproportionately affect people of color and people in poverty," said Sheffield, who used to be a disciplinary hearings counselor in the county jail and has vowed to help the Bail Project raise money.
Mary Sheffield, Detroit's city council president pro tem, recently released a package of "people's bills" that included a proposal to end cash bail for people accused of violating city ordinances.
"That's why I wanted to bring cash bail (elimination) to Detroit."
Those who want to keep the cash bail system in place, which includes many police and crime victims groups, point to high-profile cases where defendants released from jail without bond or a low bond commit more crimes.  
Peter Henning, a Wayne State University law professor, said the arguments for keeping cash bail vary: chiefly, that bail helps ensure that people attend court hearings and it keeps those charged off the street who may pose a threat to society or a flight risk.
"The question will be if (cash bail) is eliminated, what will be the ill effects of it? Somebody is going to commit a crime when they are out ‒ what will be the public reaction to that?" Henning said.
Cash bonds also ensure that when defendants skip town, the government doesn't have bear the costs of finding them, Henning said. Bounty hunters, or private bail bonds companies, do that.
This 29-year-old man said he would likely still be behind bars because he could not find the money for bail on a gun charge. Critics of cash bail cite studies showing poor people and people of color are disproportionately impacted by the bail system, which too often keeps them behind bars before they are even found guilty. (Bridge photo by Anthony Lanzilote)
If there's no bail or bail bonds companies, the government will have to absorb costs to find people who do not return to court for trial, he said.
No money, no freedom
Bail is what a person pays as collateral to the court system to get out of jail. If the person returns for court proceedings, the money is returned. If they don't return to court, the money goes into the local government's coffers. A judge remains free to set a high bail or no bail at all for defendants deemed likely flee or endanger society, and for the most serious of violent crimes.
Critics of the bail system note that poor defendants who can't make bail often face the prospect of losing their jobs or losing custody of their children while behind bars.
Bail also can be costly to taxpayers, who often collectively pay thousands more to jail a person than the cost of that person's bail. It costs about $75 a day to jail inmates in the U.S., a 2017 Bridge analysis found, or nearly $29 million a day and more than $10 billion a year.
Defendants short on cash also are more likely to plead guilty, rather than contest an offense, just to get out of jail sooner, noted Amanda Alexander, founder and executive director for the Detroit Justice Center, which provides free legal service for indigent people and houses the Bail Project's Detroit operation.
Amanda Alexander, founder and executive director of the Detroit Justice Center, said Michigan needs to follow the lead of other cities, states that are getting rid of cash bail for some crimes
Alexander wants Michigan to follow the lead of Washington, D.C., California, Colorado, Kentucky, New Jersey and Georgia that are emptying out jail beds and cutting costs by curtailing or eliminating cash bail.
Critics of cash bail say the Washington experience shows payments can be eliminated without a major threat to public safety.
Since adopting bail reform in 1992, Washington courts largely have not imposed cash bonds. In 2016, 94 percent of defendants in the district were released without payment.  And 90 percent of those who were let out returned for all court dates; 91 percent were not arrested for any more crimes pending trial, 2015 data from the D.C Pretrial Services Agency show.
"What the data does show is that if people get a text message reminder of their court date, that can be effective. Cash bail is just not necessary," Alexander said.
Authorities often use alternative ways to determine if a person should be jailed because they are either a flight risk or likely to commit other crimes. Electronic ankle tethers are one way to keep track of defendants released from jail; risk-assessments tools use crime statistics and algorithms to help predict future offenses by someone charged with a crime, though these tools are not without criticism.
Wayne County is building a new $533 million jail that will house 2,280 inmates, about 500 more than the current jail. Alexander said spending millions in taxpayer dollars to jail more poor people who can't make bail is a step in the opposite direction of where other cities and states are going.
"It's absurd," she said. "The fact that we're building a jail this enormous would take us down the path of mass incarceration for several generations."
Wayne County red tape
Shelton McElroy, national deputy director of operations for the Bail Project, said he was shocked to learn the wheels of justice in Wayne County move so slowly that arrestees can wait as long as three days before they're arraigned.
Poor people across Michigan commonly have no lawyer present with them when they first appear before a judge to hear their charges, said Loren Khogali, executive director for MIDC.
A 2008 study by the National Legal Aid and Defender Association found not a single one of 10 counties studied in Michigan provided timely, adequate defense for poor people and that Michigan ranked 44th out of all 50 states in per capita indigent defense spending.
The problem is particularly troublesome in Wayne County because the jails and courts handle 16,000 felony cases per year and about 30 percent of the state's cases where defendants cannot afford their own attorney and need a court-appointed lawyer.
"Here you have a fragmented system for lack of a better word," McElroy said of Wayne County's court system.
In response to standards recommended by Michigan Indigent Defense Commission, an agency created by state law in 2013 to make sure the state's public defense system is fair and cost effective, counties in Michigan must make efforts to ensure defendants meet with a lawyer before the first court appearance.
Wayne County is updating its databases and administrative processes to address to make sure all indigent clients get a lawyer before they see a judge and should be fully compliant by mid-2019, said Loren Khogali, executive director for MIDC.
Get out of jail free
The Bail Project has been in Detroit for only a couple months, but its staff said it already has seen cases where jailed people have seen their lives unhinged because they could not afford bail: A grandmother was stuck in the Wayne County jail after a fight with her boyfriend for four days because she couldn't afford the $3,500 bail. Family had to scramble to find emergency housing for the grandchild she was raising. The charges were dropped.
Another Detroiter was held for three days before his charges were dropped, long enough for him to lose his job, said Rasha Almulaiki, client advocate for the Bail Project.
Rasha Almulaiki, client advocate for the Bail Project in Detroit, said the cash bail system has led poor people charged, but not convicted, of a crime to lose their jobs because they are stuck in jail.
The Bail Project is operating or soon opening sites in seven other cities nationwide - The Bronx, Queens, Tulsa, St. Louis, Compton, Louisville and San Diego -  and aims in the next five years to open 40 more sites and bail out 160,000 low-income people.
The group collects donations to pay someone's bail. If that person shows up for court dates, the group gets the bail payment back and uses the money for another bail payment.
Eligible inmates are those with a bail of $5,000 or less who say they can't afford to pay and do not have warrants for their arrest in other jurisdictions.
The Wayne County Jail is a willing participant in the Bail Project's efforts,  providing Almulaiki with a list of inmates with bonds less than $5,000.
So far, the project has bailed out about two dozen people in metro Detroit, a slower pace than in other cities where the process is more streamlined through a public defender's office. The goal is to bail out at least one person per day, McElroy said.
Dunlap, the chief of jails in Wayne County, said his office is providing the inmate list to the Bail Project because so many inmates need the help.
"What's neat and interesting about the project is the work between us is not biased in any way. Bonding someone out is not suggesting that the person is innocent or guilty," he said.
"A lot of these individuals have bonds that even if it was just $200, financially, they can't afford it so they remain in jail."
Blaine Koops, executive director for the Michigan Sheriffs' Association, said that the group is not opposed to the elimination of cash bail for some offenses, as long as there's assurance that it won't endanger the public.
"Our number one concern has always been public safety," he said. "If indeed we can do it and keep the public safe, let's look at it."