In 2014, more than 100 elderly people were shuffled out their apartment building in downtown Detroit and forced to move.
Their longtime home, Griswold Apartments for low-income seniors, was sold, rehabbed and renamed The Albert, chic luxury apartments where one-bedroom units now rent for $1,700 a month and up.
One man didn't leave. Two weeks after the deadline for the seniors to move, construction workers found the 61-year-old man dead from an apparent heart attack in the building.
Since then, The Albert has become a cautionary tale for housing activists worried that Detroit's revival could drive out low-income residents from subsidized housing that is sold and rehabbed into costlier units.
So far, widespread displacement often associated with gentrification has yet to occur in Detroit, but activists fear that thousands of low-income families are in jeopardy when tax breaks that keep their rent low expire in the next few years.
"It's on our minds, it keeps us up at night," said Tahirih Ziegler, executive director of the Detroit Local Initiatives Support Corp., a community development group working in Detroit and other cities across the nation.
From 2016 to 2022, tax credits for 7,000 apartments and homes are reaching the 15-year mark of their existence, according to a study by University of Michigan researchers, called Saving Decent Affordable Housing in Detroit.
Once the housing units hit year 15, owners can apply to state housing officials to stop setting aside units for low-income families.
A disproportionate number of subsidized housing units are in highly desirable neighborhoods such as Midtown and Corktown, where Ford Motor Co. plans to invest $1 billion to redevelop the old Michigan Central Train Station.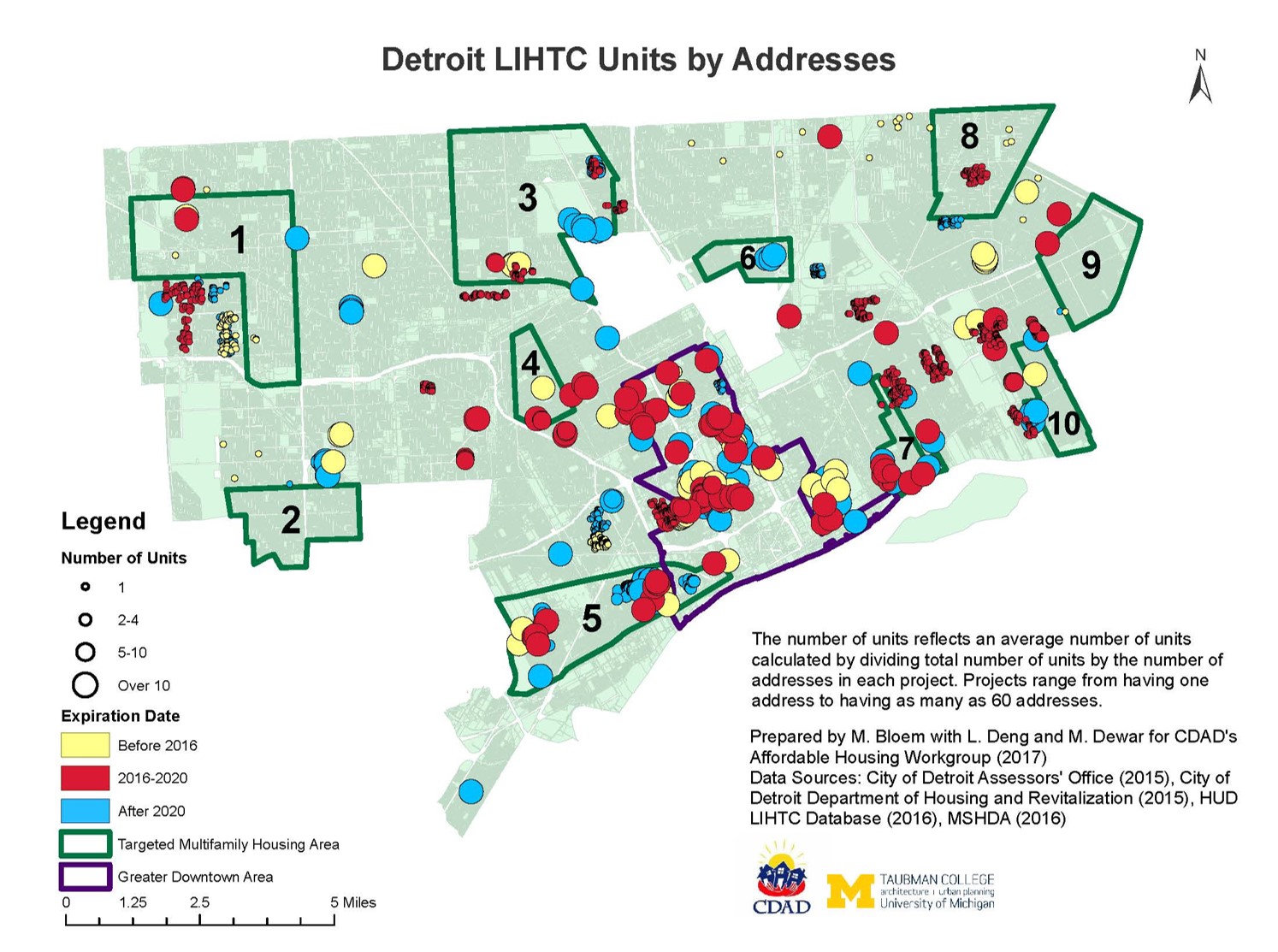 Here is a map showing the location of subsidized housing in Detroit that is due to expire in the next few years. A disproportionate number are located in some of the city's trendiest neighborhoods, including downtown and Midtown. (Courtesy of Margaret Dewar)
Margaret Dewar, an urban planning professor who leads the U-M research, called the number of units with expiring tax credits "huge."
"That's a little more than half the projects ever financed. … Therefore, it's really essential these are preserved," Dewar said.
Low-income housing tax credits were created by the federal government in 1986 and are responsible for the vast majority of affordable rental housing in the nation, some 3 million units.
Here's how they work:
Since there's little or no profit in low-income housing, the

credits provide a dollar-for-dollar reduction in developers' federal income tax, if they agree to set aside a percentage of low-rent units in their buildings, typically 20 to 40 percent.

The units are occupied by lower-income residents –  typically those who earn no more than 60 percent of an area's median income.

In Detroit and surrounding suburbs, that income is capped at about $42,540 for a family of four

. That's 60 percent of the median household income of $70,900 of the region, (which is comprised of Detroit and several suburbs.)

Eligible families pay 30 percent of their income, meaning rent would be $1,075 a month for a family making $43,000 a year or $650 a month for those making $28,100, the median household income in the City of Detroit.
The fear is that, when the credits expire after 15 years, building owners will have no incentive to provide low-rent units and raise the rent.
And already there isn't enough low-income housing in Detroit, which the U.S. Census Bureau considers the nation's poorest big city.
Research from Dewar and her colleagues at U-M suggest the city could use another 21,000 affordable rental housing units for households who make less than $20,000 a year.
Margaret Dewar, a University of Michigan urban planning professor, said the number of Low Income Housing Tax Credits set to expire in Detroit soon is "huge."
Across the region, there are only 28 subsidized units for every 100 low-income households, according to research from the Urban Institute, a nonprofit research organization based in Washington, D.C. shows.
Fearing a crisis, housing advocates have formed a work group, which includes city officials and developers, to come up with solutions.
This mix of people has power and influence to help save low-income housing for Detroit families, said Sarida Scott, executive director of Community Development Advocates of Detroit, a neighborhood development nonprofit.
"There are people working and living in these neighborhoods," Scott said. "We want to want to preserve (their) housing so that in five years we don't look up and say their displacement was a foregone conclusion."
The City of Detroit is the process of raising $250 million from foundations, federal grants and other sources over the next five years to save 10,000 units and create another 2,000 units.
The money  help the owners offset operational costs and maintenance to keep the units affordable. About 90 percent of the low-income housing units with tax credits in Detroit are multifamily units, the rest are single family homes.
"It's important to say to people who stayed in Detroit, 'We're going to keep your units affordable,'" said Arthur Jemison, the city of Detroit's chief of services and infrastructure who oversees the housing and revitalization department.
Detroit is raising $250 million in an effort to preserve 10,000 low-income housing units and develop 2,000 new ones. Arthur Jemison, who heads the city's housing department, says the city is doing so partly to keep its promise to longtime Detroiters who stayed in the city through hard times.
So far no low-income housing projects with expiring tax credits have applied for permission to get out of the affordable housing market and start to charge market rate rent, according to the Michigan State Housing Development Authority that administers the programs.
But rents are rising citywide, up about a quarter to more than $800 a month, according to the city. And there are no guarantees owners won't try to cash in and displace poorer residents.
"Those people are part of the fabric of those neighborhoods in a city that has a place for everyone," Jemison said. "It's why we're trying to get ahead of this."
Another fear is that owners of the subsidized housing will neglect maintenance once the tax credits expire, Dewar said.