DETROIT— Candace McGlown grasped the hand of her 3-year-old niece as they navigated their way home from breakfast, down crumbling streets, overgrown lots and sidewalks that seemingly begin and end at random.
The walk from a nearby restaurant was only a few blocks. But it revealed deep-rooted frustrations among the 25 percent of Detroit residents who, according to the U.S. Census, don't own cars.
"How can you walk down this?" asked McGlown, gesturing to dilapidated sidewalks in the McDougall-Hunt neighborhood on the city's east side.
"But it's only like this in Detroit. Once you cross Eight Mile, it's not like this, where you've got to make shortcuts just to walk home."
In a city where public transportation and infrastructure are often a mess, Detroiters have carved vast networks of off-the-grid shortcuts across vacant land, according to a recent University of Michigan-led study.
The research, published in September in the academic journal Landscape and Urban Planning, found that abandonment, poverty and lack of access to autos led to the creation of 5,680 footpaths through lots, fields and behind homes, totaling 157 miles in 2010.
The informal trails are known by urban planners as  "desire paths" because they show where people actually want to go, rather than where streets and sidewalks lead them. 
Comparing satellite images from 2010 with those in 2016, the study found that footpaths declined 13 percent overall in Detroit – and by more than 70 percent in the lower east side where McGlown walked. The area extends roughly from Eastern Market to Chandler Park and the Jefferson-Mack neighborhood.
The trails are disappearing because of changing land use – more fences, more private ownership of vacant land – but also because some paths disappeared when weeds grew too long, said Joshua Newell, a co-author of the study and professor at U-M's School for Environment and Sustainability.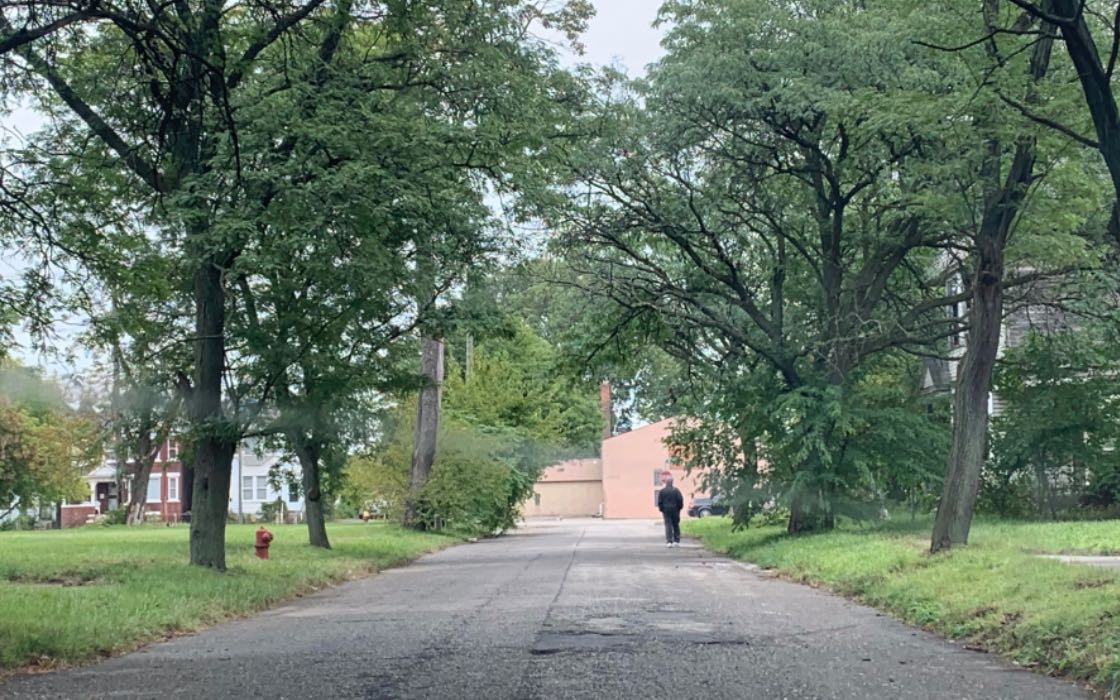 On Heidelberg Street on Detroit's east side, neighbors often walk in the street or through lots because sidewalks are in sorry shape. (Bridge photo by Joel Kurth)
"What strikes me most is the size and scale of abandonment in Detroit. There were more [footpaths] than I expected," Newell said. 
Essential tool or poverty porn?
The study comes as Detroit officials are exploring creative uses for vacant land, which comprises 17 percent of the city whose population has plunged by more than 1 million since 1950, according to Data Driven Detroit, a research firm. 
Viewed for years as a scourge, fallow property is treated as an asset nowadays by City Hall, from assembling 200 acres for the $1.7 billion Fiat Chrysler plant expansion on the east side to plans for a 31-mile Joe Louis Greenway biking and hiking path around the city. 
Newell said his study – which he believes is the first of its kind in a big city – could be a key tool in that planning, because the paths document "where residents vote with their feet," particularly in poorer neighborhoods.
"We've got an issue in Detroit –  what are we going to do with all this vacant land, and this study is definitely part of the puzzle," said Newell, who partnered on the study with Alec Foster, a geology professor at Illinois State University.
"As we think about redevelopment we could use this to improve the welfare [of people] in such a car-centric culture."
On the east side, some lost trails were due to the creation of Hantz Woodlands, a controversial tree farm created when Detroit sold some 2,000 vacant lots at bargain prices in 2013 to a developer.
Newell called the disappearance of paths a "lost opportunity" to create communal spaces and a matter of social justice since so many are in poor areas of the city. 
"These paths are the neighborhoods expressing their desire for how the land should be used by walking across it," Newell said.
Nonsense, said Donna Givens, CEO of the Eastside Community Network, a development group whose neighborhood was studied. 
A former member of her nonprofit assisted with the study, which Givens called the study "patronizing." She contended it glorifies footpaths typically used by poor people with few other transportation options. The study likens the paths somewhat reverentially to Native American trails that later grew into modern highways.
"This is sort of a nostalgic, poverty porn exercise," said Givens, who read the report at the request of Bridge Magazine. 
"When I talk to people about vacancy, they speak to the loss of housing, loss of economic value and loss of safety. They're not talking about foot paths. No one would mourn the loss of desire lines in Birmingham," an affluent suburb.
A sign of progress?
Vacant land is hugely emotional in Detroit because it's connected to so many city problems, from crime to foreclosure. But also because of what preceded it: occupied homes. 
In the past 15 years, more than 100,000 houses have been foreclosed, leading to roughly 30,000 demolitions. The decline in homeownership created a host of problems, from vacant homes being converted to drug dens, to schoolchildren walking past open, dilapidated eyesores.
The disappearance of footpaths may not be a negative, said Megan Owens, executive director of Transportation Riders United, a metro Detroit nonprofit that advocates for public transit improvements.
"There are pluses and minuses in every aspect of redevelopment," she said. "Sure, some people may need to walk a little further, but if that's because we now have more productive use of the land, it's not necessarily a bad thing." 
The study follows other research about the negative impact of vacant land, and citywide efforts to improve safety around it or sell foreclosed property.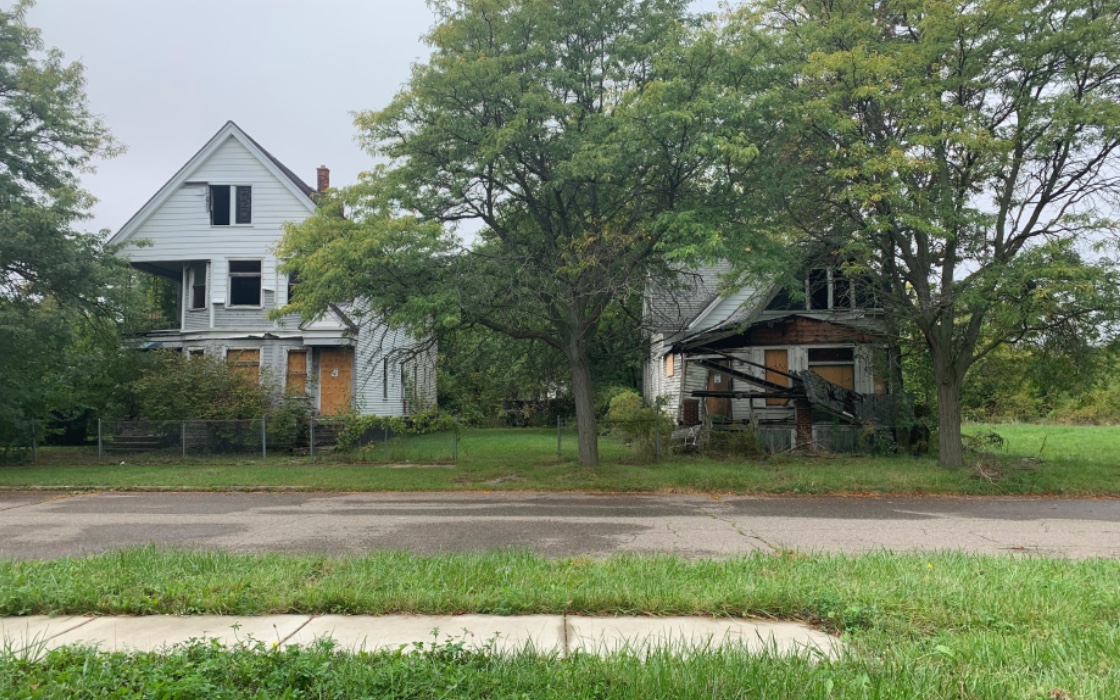 Detroit Mayor Mike Duggan has replaced more than 200 miles of sidewalk since 2017, but the city's network of 4,200 miles of walks is still in rough shape. In many blocks, such as this one near Eastern Market, walks seemingly begin and end at random. (Bridge photo by Joel Kurth)
Earlier this year, two Wayne State University professors published a study that found a link between home demos and crime reductions. For every three demolitions, crimes dropped 1 percent, according to the study.
Detroit school officials were so concerned about kids walking through vacant fields and blighted neighborhoods they created a program in 2011, Safe Routes to School, to increase police and volunteer patrols and remove blight around routes to school.
Ralph Godbee, police chief for the school district, said the effort recommends alternative routes around "sidewalk and other infrastructure impediments [such as] overgrown lots, vacant and unsecured buildings."
"The safety and security of students to and from school is a critical component to meeting the district's priorities," Godbee said. "We cannot be aloof to the challenges our students have to overcome to get to and from school safely."
The U-M study on footpaths also focused on years when the city's 4,200 miles of sidewalks were in their roughest shape, immediately before and after Detroit's historic bankruptcy in 2013.
Detroit paid out so much money in lawsuits over injuries related to sidewalks that Mayor Mike Duggan successfully lobbied state lawmakers in 2017 to pass a law shielding cities from suits if damage to the walks is  "open and obvious"
That same year, Duggan launched a $317 million effort to fix streets and walks. Since then, the city has replaced about 200,000 squares of sidewalk, or roughly 230 miles, and added 43 miles of bike lanes, said John Roach, Duggan's spokesman.
Roach noted the city has dramatically increased mowing efforts of fallow fields, mowing 100,000 vacant lots four times a year, up from once every year before Duggan was elected in 2013. The city also has sold 13,000 side lots and about 9,000 homes that were acquired out of foreclosure and later rehabbed.
Back on the east side, McGlown said she's noticed some paths have vanished including one to a corner store that is now unusable because of weeds. 
Walking on the street is sometimes dangerous because "people fly up and down" in cars, she said. 
McGlown said nearby streets and sidewalks have been fixed in recent years, but sidewalks in her neighborhood remain "raggedy-ass" and walking can be a hassle even on short errands.
"You need to make a lot of shortcuts," she said.