Dana Nessel's office drops charges in Flint water contamination case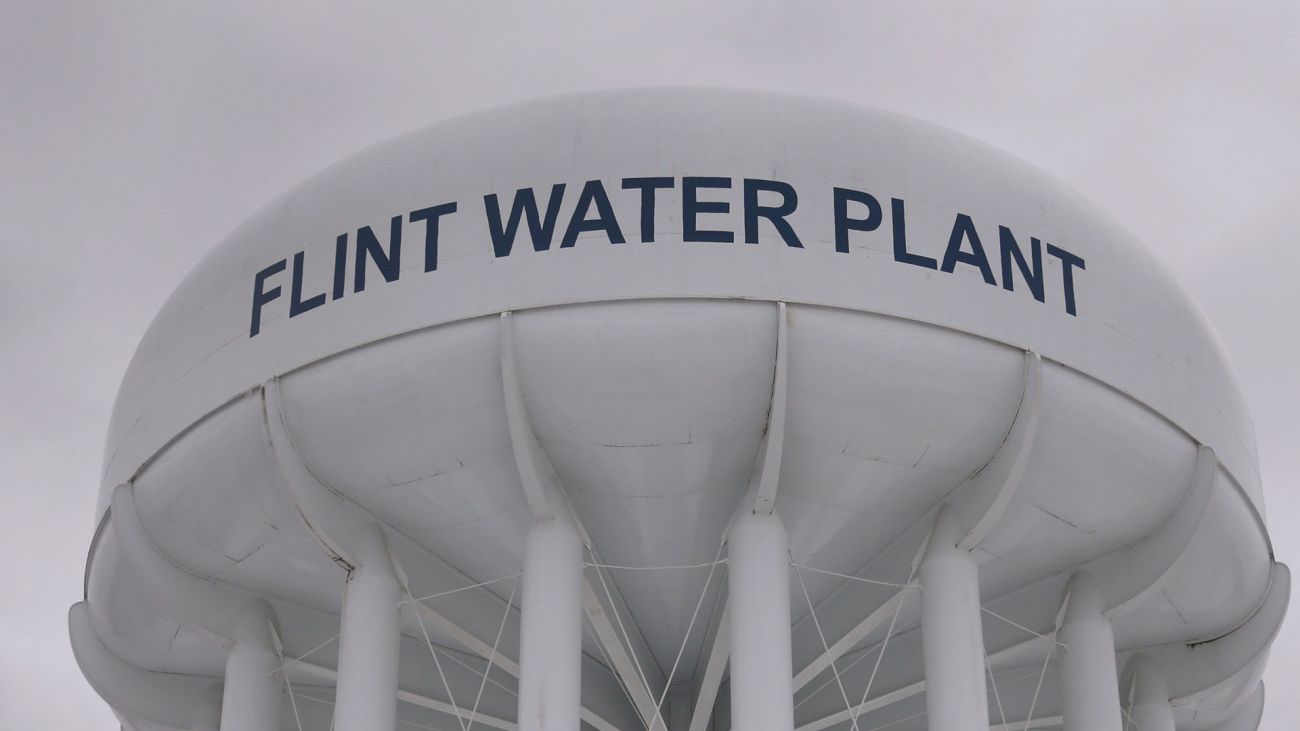 June 29: New Flint water prosecutors face a skeptical hometown crowd
LANSING — Prosecutors in Michigan Attorney General Dana Nessel's office have dismissed all remaining cases against those charged with Flint water crisis-related crimes, officials said Thursday.
But the office's Flint Water Crisis prosecution team said it would pursue a fresh investigation and could refile the dropped charges or add others.
In a joint statement Thursday, Solicitor General Fadwa Hammoud and Wayne County Prosecutor Kym L. Worthy — leaders of that prosecution team — said the new start was necessary because "all available evidence was not pursued" by a previous team of prosecutors assembled under former Attorney General Bill Schuette, a Republican. Nessel is a Democrat.
Related: Flint mayor satisfied, but others outraged after water charges dropped
"Legitimate criminal prosecutions require complete investigations. Upon assuming responsibility of this case, our team of career prosecutors and investigators had immediate and grave concerns about the investigative approach and legal theories embraced by the [former office], particularly regarding the pursuit of evidence," the statement said. "After a complete evaluation, our concerns were validated."
The statement said neither would take questions from the media until they can "speak directly to the people of Flint" at a community event event in Flint scheduled for June 28.
The development affects cases against eight defendants who had still faced charges brought by the former Office of Special Counsel, including former Health and Human Services Director Nick Lyon and former Chief Medical Executive Eden Wells, who were facing trial for involuntary manslaughter and other charges.
Others affected include former Flint emergency managers Gerald Ambrose and Darnell Earley. They were previously charged with felonies including committing false pretenses. Cases were also dropped against: DHHS employees Nancy Peeler and Robert Scott; Department of Environmental Quality drinking water specialist Patrick Cook and former Flint Department of Public Works Director Howard Croft.
But all charges were dismissed "without prejudice," meaning they could be refiled.
From 2016 through January of this year, the state spent more than $30.7 million prosecuting and defending state employees wrapped up in the Flint scandal, according to a Flint Journal analysis.
Thursday's suprising announcement comes nearly four months after Nessel shook up how her office was handling civil and criminal cases relating to the Flint water crisis. That included tapping Worthy to work with Hammoud, allowing Nessel to focus on resolving dozens of civil suits against the state. And in April, Nessel's office fired special prosecutor Todd Flood, who had been hired by Schuette.
The announcement comes just weeks after news broke that Nessel's team had secured search warrants for state-issued electronics equipment from former Gov. Rick Snyder and others. Snyder has since downplayed the warrants, saying he had already turned over the equipment.
"The depth and breadth of concern for a fair and just prosecution and justice for the people of Flint is precisely why I appointed and entrusted Solicitor General Fadwa Hammoud and Wayne County Prosecutor Kym L. Worthy to lead the Flint criminal cases," Nessel said in a statement Thursday. "I trust them and if this step is necessary for them to do a comprehensive and complete investigation. I am in absolute support."
Schuette did not immediately respond to a message Thursday. But he defended his handling of the case in a series of tweets, saying his Flint team and others in high-profile cases were "staffed and conducted with the highest level of professionalism and expertise."
"Combined, the team brought more than 200 years of legal experience to bear on the Flint investigation," Schuette tweeted, adding in another tweet: "We had an experienced, aggressive and hard-driving team. Everything we did was for the people of Flint."
During my tenure as Attorney General, the department initiated three major investigations: Nassar, the Catholic Church and the Flint Water Crisis.
All three were staffed and conducted with the highest level of professionalism and expertise.

— Bill Schuette (@SchuetteOnDuty) June 13, 2019
We had an experienced, aggressive and hard-driving team. Everything we did was for the people of Flint.

— Bill Schuette (@SchuetteOnDuty) June 13, 2019
Flood said his team's work "met the highest professional and ethical standards."
"The focus of myself and our team remains as it always has been: justice for the people of Flint," he said in a statement.
"Two independent judges bound defendants over for trial based on our investigation and the evidence it gathered and then presented in open court. Additionally, we obtained pleas with cooperation agreements. I stand behind our work that included interviewing hundreds of witnesses and assessing millions of pages of evidence and technical data."
During his tenure, 15 state and local officials were charged with a wide range of crimes as serious as manslaughter. Seven struck deals, pleading to misdemeanor charges and none went to prison.
A Democrat in her first year in office, Nessel was highly critical during last year's campaign of how Schuette handled the prosecutions. In shaking up her office's handling of the cases, Nessel has said she wanted career prosecutors to oversee the criminal cases rather private law firms.
In their statement Thursday, Hammoud and Worthy said their predecessors had given private law firms representing several state agencies and Snyder "a role in deciding what information would be turned over to law enforcement."
"We cannot provide the citizens of Flint the investigation they rightly deserve by continuing to build on a flawed foundation," the statement said. "Dismissing these cases allows us to move forward according to the non-negotiable requirements of a thorough, methodical and ethical investigation."
Peter Henning, a law professor at Wayne State University and former federal prosecutor, said it's rare for prosecutors to scrap the cases and start fresh.
But "it's hard to try a case based on someone else's charges," referring to the turnover from Schuette's team to Nessel's.
"The involuntary manslaughter [charges were] going to be a tough one to win at trial. They may just decide that maybe it's better that we just back off for a little while and make sure we have a good case," Henning said.
Flint, led by an emergency manager appointed by Snyder, switched drinking water sources to the Flint River in 2014 to save $5 million. The state approved the change but didn't require any treatment to control corrosion of aging water mains.
The highly corrosive Flint River rusted the mains, causing lead to leach into drinking water, exposing families to the neurotoxin that damages development of the brain and nervous system.
State regulators first ignored the problem, then tried to discredit whistleblowers. And experts suspect a spate of Legionnaires disease cases in Flint was connected to poor water treatment after the city switched sources.
Hammoud and Worthy said their team "has already identified additional individuals of interest and new information relevant to the Flint Water Crisis" to pursue. Prosecutors will also evaluate culpability for the Legionnaires deaths— something their predecessors didn't do, they added.
Lawmakers representing Flint said Thursday they are tired of delayed justice.
"Let me be clear: I want to see people behind bars. Words cannot express how disappointed I am that justice continues to be delayed and denied to the people of my city," Senate Minority Leader Jim Ananich, D-Flint, said in a statement. "Months of investigation have turned into years, and the only thing to show for it is a bunch of lawyers who have gotten rich off the taxpayers' dime."
Rep. Sheldon Neeley, another Flint Democrat, added in a statement: "At this point we're not talking in weeks or months but in years that have been lost, not in hundreds or thousands, but in millions of dollars that have been wasted."
The statement continued: "We've been told to wait, to be patient, that justice was coming, but where is that justice today? My city is losing faith in our government, and that distrust was justified today when it once again failed them so miserably."
Lindsay VanHulle contributed.
We're not just a news organization, we're also your neighbors
We've been there for you with daily Michigan COVID-19 news; reporting on the emergence of the virus, daily numbers with our tracker and dashboard, exploding unemployment, and we finally were able to report on mass vaccine distribution. We report because the news impacts all of us. Will you please support our nonprofit newsroom?